Article Origin
It seems only fitting that a major celebration of lacrosse next year will be staged in Montreal, and more specifically at McGill University.
Plans for the 150th Anniversary of Lacrosse Celebration were announced at a news conference on Wednesday. The event is scheduled for a year from now, June 16 to June 18 in 2017.
The festivities will include re-created games, showing the transition of lacrosse through the years. These games will not only feature participants with authentic sticks from yesteryear, they'll also be adorned in wardrobe from those who played the game more than a century ago.
Various First Nations rituals, which were staged before and after games, will also be incorporated into the re-created games.
Besides various tournaments (it has yet to be determined what ages will be involved), the event will also include presentations and lectures on the history of lacrosse, as well as numerous other topics involving the sport.
Officials from the Canadian Lacrosse Hall of Fame will have a travelling interactive exhibit on hand.
The majority of the activities during the three-day event will be held at McGill University. Back in 1925 the university site was recognized with a historical marker stating an Iroquois village previously stood on the grounds.
Today there is a rock and plaque marking the Hochelaga National Historic Site of Canada, just to the left of the university's main entrance.
Besides this lacrosse celebration, which will honour the country's national summer sport, there will be another pretty good reason to be in Montreal next summer. That's because the city will be celebrating its 375th anniversary.
"I'm pretty confident we'll get a good contingent from across Canada and North America coming to this event," said Alain Brouillette, the communications and marketing manager for the Canadian Lacrosse Association (CLA).
Tim Murdoch, who has served as the head coach of the McGill men's lacrosse team since 2003, agrees.
"I would say anybody within a five-hour drive would look at this as being a fun weekend in Montreal," he said. "Montreal itself is celebrating its 375th anniversary. So I think we will see a lot of members of the lacrosse communities in North America show up for this."
Details have yet to be finalized on whether there will be any admission charges for any of the events.
"The objective is to make as much of it as possible available to the public," Murdoch said.
While First Nations people have been playing lacrosse for hundreds of years, it wasn't until 1867, the year of Confederation, that the CLA's predecessor, the National Lacrosse Association (the sport's governing body in the country) was founded.
It was also in that year that the association adopted its first set of written rules, thus making lacrosse a formal sport.
Recorded games in Montreal were held long before that. In the 1830s, lacrosse players from Kahnawake and Akwesasne would be brought in to showcase their skills in front of spectators in various exhibition matches.
"There's a lot of (lacrosse) history in Montreal in part because of its proximity to Kahnawake and Akwesasne," Brouillette said.
Brouillette said he is especially looking forward to the re-created matches that will be staged on the university grounds.
"That's a very powerful thing to do on that field, especially since games will be played where before McGill and even Montreal existed," he said.
As for McGill, the university's first men's lacrosse team is believed to have operated in 1873. The club operated until the First World War.
The program was revived in 2001. McGill's team now competes in the 14-squad Canadian University Field Lacrosse Association, which features entrants from Quebec and Ontario schools.
Murdoch has guided McGill to a pair of league championships; in 2012 and then again this past fall. Murdoch's teams have been a powerhouse in recent years, losing just one regular season contest in the last four seasons.
Though he has tried to recruit various Aboriginal players to McGill, Murdoch has not had any First Nations athletes on his teams while at the university. That will change this coming season as Kieran McKay, a highly touted Cree player from Richmond, B.C. will join the McGill roster.
As for the tournaments that will be staged next year in conjunction with the lacrosse celebrations, the Quebec Lacrosse Federation will run those in conjunction with Kahnawake Lacrosse and Westmount Lynx organizations.
Murdoch founded the Westmount Lynx program in 2006.
"It's a year out and we're still working out the details," Brouillette said.
Both female and male divisions are expected to be held. And both box lacrosse and field lacrosse events are likely to be staged.
"The age groups though are still up in the air," Brouillette added.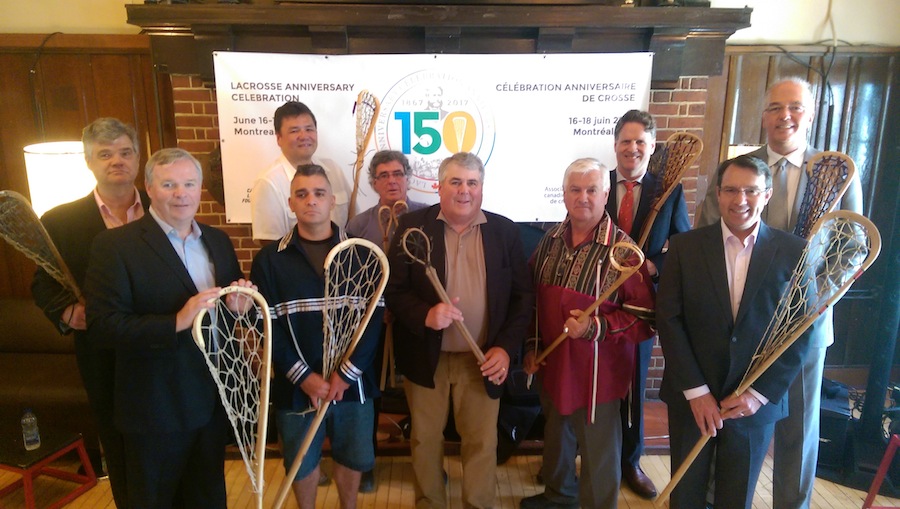 FRONT ROW (left to right): Jim Burke (President, Canadian Lacrosse Foundation); Travis "Tionatakwente" Gabriel (Traditional Stick Maker, Kanasatake); Jim Calder (Event Manager, 150th Anniversary of Lacrosse Celebration); Louis "Tewenhnitatshon" Delisle (Representative, Kahnawake Lacrosse); Peter Zabierek (Westmount Lynx Lacrosse Club).
BACK ROW (left to right); Terry Rowland (Director of Marketing and Communication, Canadian Lacrosse Association); Rusty Doxtdator (Aboriginal Director, Canadian Lacrosse Association); Pierre Fillion (Executive Director, Quebec Lacrosse Federation); Tim Murdoch (Head Coach, McGill Men's Lacrosse); Marc Gélinas (Executive Director, McGill Athletics & Recreation)
Photo courtesy Canadian Lacrosse Association.