Review: Traditional Narratives of the Rock Cree Indians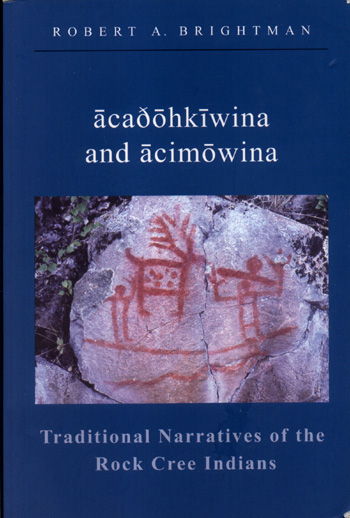 Book examines the history of the Rock Cree through stories
Traditional Narratives of the Rock Cree Indians
Compiled by: Robert A. Brightman
Canadian Plains Research Center185 pages (sc)
$29.95
Review by L. Christine Suthers
Traditional Narratives of the Rock Cree Indians was first published in 1980 by the Canadian Museum of Civilization and later released in 2007 by the Canadian Plains Research Center.
The stories presented in the book were compiled by Roger Brightman and are narratives from the Rock Cree in northwestern Manitoba. There are over 100 narratives. The folk literature includes medicine stories, humourous stories and stories of animal marriages and transformation.
The folklore narratives included in Traditional Narratives of the Rock Cree Indians are told to Brightman in English, some related to him in Cree and translated to English. Some of the narratives were from either Cree or English transcriptions.
The Cree expressions used by the narrators are retained in the Cree dialect. Some of the narrations are presented completely in the Cree dialect with the full English translation following.
Brightman includes a short history of the various dialects of the Rock Cree and in which regions these dialects are located. He includes a discussion of the structure and sequencing of w+sahk+chk the trickster-transformer stories between the different versions of some stories told.
Brightman includes bibliographical references within the text of the book and a list of the citations at the end.
Traditional Narratives of the Rock Cree Indians is for anyone who has a serious interest in learning more about the Rock Cree, their myths, legends and history through the stories and discussions presented in this book.
Follow Us
Share this with friends
Essential Reading
Key Links
Upcoming Issues
Advertising
Subscribe & Donate
Writer Guidelines