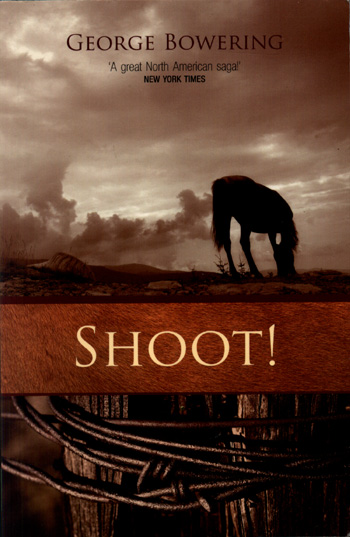 A refreshing tale told with imaginative short stories
Shoot!
By George Bowering
New Star Books
253 pages (sc)
$19.00
Review by Chereise Morris
Shoot! Is set in the late 19th century in British Columbia and focuses on the little known McLean gang which was notorious in their day.
Shoot! begins with the McLean boys' parents background, going on to pieces of the boys lives, then illustrating how their hatred for rich ranchers and 'land grabbers' eventually leads them to their execution.
The McLean gang consisted of three McLean brothers Allan, Charlie, Archie and one friend Alex Hare; they are all Métis and come from abusive or negative parents. Raised with no real place in the world the boys seek to carve out their own place with lives full of crime and bragging.
They rampage across the high Chilcotin ranch country of British Columbia in the 1870s, cattle rustling, stealing and eventually murdering two men in cold blood; this act sparks the change from wanted posters to a posse of over 100 men giving chase. At the time of their execution the youngest of the gang was 14 years old.
With approximately 60 books under his belt the British Columbian, award-winning author George Bowering began writing fiction novels in 1967. Born in 1935 with a B.A. in history as well as a M.A. in English literature, Bowering has been recognized as one of the foremost Canadian writers of his generation.
The book has so many threads of different 'side' stories, readers will have to pay close attention to grasp the complexities of the tale. At random, the book will wander from the McLean's to provide imaginative short stories in the same premise of the times, further illustrating the machinations of the storyline.
Shoot! is a book of historiographic metafiction filled mainly with examples of the prevalent prejudice of that century and followed closely by injustice, greed and violence.
The book is loaded with examples of racism in part when referring to the Mclean brothers. Near the end of the novel, when the judge is 'explaining' to the courtroom the 'epidemic' of 'half breeds' and states that the mixture of the white man with an Indian woman provides the offspring with a level of 'training' from the fathers blood but still not up to the 'father's grade'.
Shoot! is made interesting by the detailed attributes of each member of the gang, provided or imagined by Bowering, which when mixed with the little published facts about the gang makes for a refreshing tale.
Follow Us
Share this with friends
Essential Reading
Key Links
Upcoming Issues
Advertising
Subscribe & Donate
Writer Guidelines