A collection of opinions and perspectives on the issues impacting you. Postings are from a variety of sources including our staff as well as other media.
Follow the latest news releases on twitter @windspeakernews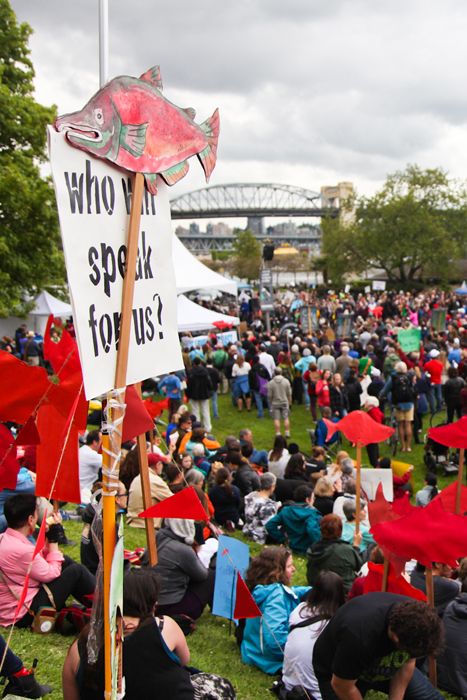 ---
Pipeline Approval: Watershed moment and an act of betrayal
By Shari Narine - Windspeaker
"We are not about to stand down and go quietly into the night. That's not going to happen," said Grand Chief Stewart Phillip of the Union of British Columbia Indian Chiefs.
Phillip was speaking an hour after Prime Minister Justin Trudeau announced approval for Kinder Morgan's Trans Mountain pipeline and Enbridge's Line 3.
Trudeau rejected Enbridge's Northern Gateway project and promised to pass legislation for a moratorium on oil tanker traffic off the British Columbia north coast.
Rueben George with the Tsleil–Waututh Sacred Trust Initiative went a step further saying what's happening in Standing Rock, North Dakota could happen in Canada.
"I think it's inevitable. People have a right to express themselves," he said, noting that over 100 First Nations spanning from Quebec to BC have signed a treaty alliance against tar sands expansion.
"We talked today about having a mass action together. Trudeau is uniting the Indigenous people."
George said Indigenous representatives met with Natural Resources Minister Jim Carr on Monday to present scientific information as to why the Trans Mountain pipeline project was unsafe both for people and the environment. He said six world-renowned scientists wrote the 1,200 page document. He also said the meeting with Carr did not constitute either a protocol document being drawn up, nor consultation. Carr offered no hint to the decision that was to come down on Nov. 29 despite being asked, said George.
Phillip accused Trudeau of going back on campaign promises to revamp the Canadian Environmental Assessment and the National Energy Board processes before any major resource development project got the go ahead.
Phillip said it isn't good enough that Indigenous people are promised a spot on a committee to oversee the 157 conditions outlined by the NEB before Trans Mountain can go ahead.
He also said that the rejection of the Enbridge's Northern Gateway pipeline project and the promised legislation for a moratorium on oil tanker traffic off the BC northern coast are not concessions.
"The Enbridge's Northern Gateway pipeline proposal has been dead in the water now for a very long time. That was no genuine offering or effort to balance. That was a cheap political public relations ploy to suggest there was some sort of balancing in the decision making," said Phillip.
George said that the rejection of Northern Gateway proves that Indigenous rights are strong.
Trudeau said Northern Gateway was rejected because the Great Bear Rainforest was no place for a pipeline. He said the approvals were made based on scientific proof and not politics and that moving oil by pipeline was safer than moving it by rail.
Kinder Morgan's $6.8 billion Trans Mountain pipeline will triple the capacity of its northern Alberta-to-Burnaby pipeline system to 895,000 barrels a day.
Read more: http://www.ammsa.com/publications/windspeaker/pipeline-approval-watershed-moment-and-act-betrayal
---

English Bay (Vancouver) oil spill: Coast Guard defends cleanup response time
Coast guard says it notified proper agencies within minutes, but message not passed on to everyone
Via Windspeaker
In response to the MV Marathassa spilling about 2,700 litres of bunker fuel into English Bay in early April, the Musqueam Fisheries Department notified its fishers to get their gear out of the water, including the removal of crab and prawn traps. The Musqueam Nation closed all aquatic harvesting until further notice.
"We are very concerned about how long it took to notify officials and Musqueam about the spill in English Bay," said Chief Wayne Sparrow. "Musqueam must be part of the solution to improve emergency response to spills, accidents and emergencies, especially in our waterways. Canada has an opportunity to improve this relationship and role with Musqueam."
This recent incident in English Bay highlights the need to improve relationships between Musqueam, Coast Guard, Port Metro Vancouver and the City of Vancouver, reads a press statement from the nation. "We must put the environment and our waters at the forefront. Musqueam has the knowledge and expertise in our waters," Sparrow said.
---
Who will pay for Harper's cuts? [editorial]
It was in May of 2000 when the people of Walkerton, Ont. began to present with symptoms of E. coli contamination from the small town's water supply. Seven people were to die from drinking the water, and about 2,500 people became ill.
Though two men were jailed for their part in the tragedy, admitting to falsifying reports and concealing laboratory tests that had found evidence of the contamination, well before the public was warned, it was the Walkerton Commission of Inquiry, led by Justice Dennis O'Connor, that eventually placed some of the blame for the tragedy at the foot of the Conservative provincial government for cuts made to regulating water quality and enforcement of the environmental guidelines that had been in place.
A friend of this magazine reminded us about this incident in recent history, and noted that many of the same players in the provincial government then are very much operating on the federal level now, and instead of learning from that past, today the Conservatives are chopping away at a whole new set of environmental standards.
At the time of the Walkerton inquiry report, O'Connor concluded that the tragedy could have been prevented. And we fear that there is another preventable tragedy just waiting around the next corner.
Cost savings and budget balancing, as well as Conservative ideology, are driving today's big cuts.
The Harper government has its hopes set on $1.6 billion in cuts to environmental initiatives, and cuts of up to 1,211 jobs and $222 million from Environment Canada alone.
Federal cuts at Environment Canada will force the agency to reduce some its wastewater monitoring programs, for example.
Said Maude Barlow, national chairperson of the Council of Canadians, "The Harper government is clearly abandoning its responsibility to steward our freshwater heritage for future generations. All life and livelihoods come from our watersheds and ecosystems, and this government is abandoning them to fend for themselves."
Read more: who-will-pay-harper%E2%80%99s-cuts-editorial
---
Federal court appeal of Northern Gateway Pipelines Project approval
Alberta Sweetgrass - December 2014
The Federal Court of Appeal has granted leave to Gitxaala Nation to apply for Judicial Review to challenge the approval of the Northern Gateway Pipelines Project. The court's decision means it will hear and decide on the Gitxaala Nation's lawsuit challenging cabinet's approval of the Enbridge project. Gitxaala contend the federal government relied on an unlawful and unreasonable Joint Review Panel report when it approved the Northern Gateway pipeline. In addition, Canada failed to provide reasonable accommodation and consultation regarding Gitxaala's Aboriginal rights and title. The Gitxaala says it's unlikely the court will hear the case for months because several other lawsuits have been filed and other parties are involved. The government's approval came with 209 conditions for the proposed pipeline carrying bitumen — a molasses like crude — between Alberta and B.C.'s coast.
---
Hundreds protest Northern Gateway pipeline approval in Vancouver
Photos by David P. Ball
More photos: in our gallery
---

Government of Canada Accepts Recommendation to Impose 209 Conditions on Northern Gateway Proposal
Proponent must demonstrate how conditions will be met, undertake further consultations with Aboriginal communities as part of next steps in regulatory process
Government of Canada - June 17
Natural Resources Canada
The Honourable Greg Rickford, Canada's Minister of Natural Resources, today issued the following statement outlining the Government of Canada's decision after the Joint Review Panel's independent review of the Northern Gateway Pipelines proposal to construct and operate two parallel pipelines to transport crude oil between Bruderheim, Alberta and Kitimat, British Columbia, and a marine terminal at the port of Kitimat. The proposal was submitted by Northern Gateway Pipelines Limited Partnership to the National Energy Board (NEB) for an environmental assessment and regulatory examination in 2010. This constituted the beginning of the regulatory process.
The Joint Review Panel for the Northern Gateway Project was an independent body established by the Minister of the Environment and the National Energy Board to review the project. The Panel's rigorous science-based review included feedback from over 1,450 participants in 21 different communities, reviewing over 175,000 pages of evidence and receiving 9,000 letters of comment. The NEB is responsible for regulating some 73,000 kilometres of pipelines transporting crude oil, natural gas and petroleum products across Canada.
"In December 2013, the Joint Review Panel found that construction and operation of the Northern Gateway Pipelines project is in the public interest, subject to 209 conditions being met by the proponent. After carefully reviewing the report, the Government accepts the independent Panel's recommendation to impose 209 conditions on Northern Gateway Pipelines' proposal.
"Today constitutes another step in the process. Moving forward, the proponent must demonstrate to the independent regulator, the NEB, how it will meet the 209 conditions. It will also have to apply for regulatory permits and authorizations from federal and provincial governments. In addition, consultations with Aboriginal communities are required under many of the 209 conditions that have been established and as part of the process for regulatory authorizations and permits. The proponent clearly has more work to do in order to fulfill the public commitment it has made to engage with Aboriginal groups and local communities along the route."
The National Energy Board will now issue Certificates of Public Convenience and Necessity.
Read more: Government of Canada Release
Read more: Here are the 209 conditions

---

Enbridge: Not now. Not ever.
RicochetMedia.ca - June 11
The Conservative government of Stephen Harper is on the cusp of announcing whether it will approve the Enbridge Northern Gateway pipeline proposal, which was conditionally approved by the National Energy Board (NEB) in December. Many consider the outcome of this decision a foregone conclusion. What is not a foregone conclusion is whether shovels will ever hit dirt on the controversial project.
The Enbridge pipeline, proposed in order to ship more than half a million barrels per day of diluted bitumen from Alberta's tar sands across northern British Columbia to the Pacific coast, would stretch over 1,177 kilometres that includes hundreds of rivers and streams. The proposed route also cuts through the unceded territories of many First Nations, and the nations of the Yinka-Dene Alliance have been strongly opposed to the mega-project from the beginning.
Even if Harper gives Northern Gateway the green light, Enbridge faces an uphill battle. An unprecedented movement in British Columbia promises to practice civil disobedience on a mass scale, and use protesters' bodies to block the pipeline. Communities along the pipeline route have voted against allowing the pipeline to pass, two thirds of B.C. residents consistently oppose the pipeline in polls and over 130 First Nations are opposed to the pipeline. Some of these nations are also well positioned to fight the plan in court, because the Indigenous territory the pipeline crosses was never ceded to the government.
Through an inconvenient display of popular power, the anti-Enbridge coalition has frustrated the Prime Minister, and proven to be a more effective thorn in Harper's side than even his parliamentary opposition.
Over the years the Harper government has made clear that rapid expansion and development of the tar sands is a key strategic priority. Through an inconvenient display of popular power, the anti-Enbridge coalition has frustrated the Prime Minister, and proven to be a more effective thorn in Harper's side than even his parliamentary opposition.
Over the past two years the country has seen a highly polarized debate over Enbridge. As the project's prospects grow dimmer, the rhetoric used to demonize its opponents has become increasingly outlandish. Former Natural Resources Minister Joe Oliver tried to paint anti-pipeline activists as "foreign-funded radicals," while Sun News' Ezra Levant has led a crusade against charitable environmental groups.
Read more: here
---

Tsleil-Waututh file lawsuit against feds over Kinder Morgan
By David P. Ball - Windspeaker
Tsleil-Waututh Nation has launched the first Indigenous legal challenge to oil sands pipelines crossing B.C. with a federal appeals court lawsuit filed on May 2.
The First Nation's battle against Kinder Morgan's proposed expansion of its Trans Mountain pipeline from Alberta is heating up with the legal challenge against the National Energy Board's review process.
"I feel the government has let us down again," Chief Maureen Thomas told reporters May 2, announcing the suit. "They have not learned from past lessons. They are once again trying to ignore us, leave us behind, to walk over us, to treat us like we don't exist here.
"When they continue to do things that are wrong, it's not only important to us First Nations people, it's also going to impact the rest of Canada. We cannot stand back and let this continually happen. We have to take a stand, to stand up for what we believe is right."
The Texas company is boasting its $5.4 billion pipeline, which would nearly triple the diluted bitumen flow from 300,000 to 890,000 barrels, will boost economic growth and offer long-term jobs, including to First Nations. The project would see a seven-fold increase in oil tanker traffic from a Burnaby terminal through the Salish Sea.
Criticism of Kinder Morgan's proposal intensified in the past month with the cities of Vancouver and Burnaby ratcheting up their vocal opposition with a number of council resolutions. The firm also faced ridicule after claiming in NEB filings that "pipeline spills can have both positive and negative effects on local and regional economies," a claim immediately rejected by the NEB itself. The company insisted the statement was a required section of the application form.
The pipeline route travels through dense urban areas and populated coastline of the Burrard Inlet. Burnaby Mayor Derek Corrigan told Vancouver's council, a 2007 rupture in the Texas firm's existing pipeline, bursting 250,000 litres of crude into the streets, left a bad taste in his mouth towards the company.
Read more: Tsleil-Waututh Lawsuit
---

Enbridge Northern Gateway hits a hurdle with referendum loss
By David P. Ball - Windspeaker Contributor
Despite winning the National Energy Board's support last year, Enbridge Northern Gateway took a hit on April 12 after the town of Kitimat, B.C. voted 58.4 per cent against the controversial project, despite being the job-rich terminus for the pipeline.
A spokeswoman for the Yinka Dene Alliance applauded the referendum results, but said that regardless of the outcome it wouldn't have changed the minds of the more than 130 First Nations, which signed the alliance's anti-pipeline Save the Fraser Declaration.
"It was a great victory for many people in B.C. but also across Canada," said Jasmine Thomas of Saik'uz First Nation. "It's an expression of the solidarity being shown across this country.
"You can see why they wanted to amp up their media campaign and door-to-door efforts, but we've said from Day One that we'll be there making sure this project never goes through."
Thomas said the next steps for oilsands pipeline opponents will be to continue invoking Indigenous law as part of their "unbroken wall" of resistance to a project with a high risk of ruptures, spills and tanker accidents.
One day before the plebiscite, Indigenous leaders and land defenders gathered in northern B.C. to reiterate their position that pushing the project through would amount to a violation of their traditional laws, which are based on mutual respect and a relationship with the environment.
"The Save the Fraser Declaration is an expression of our law, but it's not where our law comes from," she explained. "We live our law.
"(This) gathering was the start of seeing that happens ... It affirmed for our people that our decision is legally binding. We must ensure that the Enbridge ban is respected and enforced as part of living our law."
Although largely a symbolic vote by Kitimat residents, which saw roughly three-in-four eligible voters take part, the plebiscite represents "a turning point in the overall campaign" against the pipeline, said Kai Nagata.
Read more: Referendum Loss
---

Pipeline rupture report raises questions about TransCanada inspections
2011 report criticized TransCanada's 'inadequate' inspections
Via CBC - February 4
A CBC News investigation has unearthed a critical report that the federal regulator effectively buried for several years about a rupture on a trouble-prone TransCanada natural gas pipeline.
On July 20, 2009, the Peace River Mainline in northern Alberta exploded, sending 50-metre-tall flames into the air and razing a two-hectare wooded area.
Few people ever learned of the rupture — one of the largest in the past decade — other than the Dene Tha' First Nation, whose traditional territory it happened on.
In an early 2011 draft report about the incident, the National Energy Board criticized TransCanada, the operator of the line owned by its subsidiary NOVA Gas Transmission, for "inadequate" field inspections and "ineffective" management.
Final reports are typically published by the investigative bodies, either the NEB or the Transportation Safety Board, but this report wasn't released until this January when the CBC obtained it through an access-to-information request.
The NEB said the delay was caused by an "administrative error" when an employee left without transferring the file over.
TransCanada did not respond to a CBC request for an interview. Members of Dene Tha' First Nations community of Chateh, about 50 kilometres away from the site of the blast, also want to know why the report was not released until now.
Read more: Pipeline Rupture

---

Peak Harper?
Via Desmog Canada - January 27
It turns out we have yet to reach peak oil, after all. And in this topsy-turvy world where the U.S. now produces more oil than it needs to import, it may be Prime Minister Stephen Harper's power that has peaked instead. Why? Because in his quest to build an "energy superpower," Harper tied his political fate to the price of Canadian crude.
Harper won his long-coveted majority in May 2011, with a simple promise to energy producers: he would do whatever necessary to get their wares to market. Higher export prices would unlock deeper, more marginal reserves. And for the Tories, the resulting spurt of growth could pay for tax cuts, helping to paper over voters' concerns about environmental tradeoffs. But Harper's plan, like a runaway oil train, is going off the rails.
The day before the last federal election, Canadian heavy crude was trading at $82.87 a barrel. Since then the price has gone up and down, only to end up right back where it started. Thanks to fixed-date election laws he himself brought in, Harper has at most twenty months to fulfill his promise to energy producers — or they will find someone else who can.
If your profits depend on getting crude oil to saltwater, you need the right political salesman. Right now those companies are looking for someone who can reboot Canada's relationship with First Nations, maintain trust with voters, and ultimately secure social license for development. On all three, Harper is poised to fail. His current troubles may be largely self-inflicted, but they were set in motion by events beyond his control.
---
Seen through this lens, a pattern of events over the past two years comes into focus. The use of CSIS to spy on environmentalists and First Nations, on behalf of oil and gas companies. The use of the NEB to stifle citizen input on project proposals. The use of the RCMP to break anti-fracking blockades at Elsipogtog. The use of millions in public money to buy ads for the energy industry.
With a four-year deadline, Harper bent the mandates of federal ministries and agencies to serve his "top strategic priority." And yet it's doubtful any new pipelines will be under construction before the next election. Meanwhile, international energy markets are shifting. On all fronts, time is running out.
Strongman tactics tend to conceal fear and weakness.
---

Energy companies struggle with Aboriginal needs on pipelines
Globe and Mail - December 8
Calgary-based TransCanada has hired Phil Fontaine – former national chief of the Assembly of First Nations – to help it win the support of native communities from Alberta to New Brunswick.
TransCanada is just the latest company to grapple with the challenge of how to work with aboriginal Canadians to develop pipelines, oil and gas projects, mines and electricity generation, while maintaining the commercial focus on speedy execution and cost control.
The country is at a critical juncture in relations between government, industry and aboriginal communities.
The federal government estimates there is $650-billion worth of resource projects to be developed in the next decade, and virtually all of them are in areas claimed by various aboriginal groups as part of their traditional lands.
Native leaders are demanding to be treated as not just another stakeholder group but as full partners who have treaty rights that must be respected and historical grievances that must be addressed. But they often don't have the capacity to be properly engaged in the process, sometimes lacking business acumen, an educated work force or financial resources needed to prosper in a modern economy.
And industry is now being asked to fill gaps left by government – an uncomfortable position for many companies that simply want to win quick approval for a project.
---
Alberta Orders Lake Drained To Contain Bitume
Via CBC.ca and Huffington Post - September 30
First Nations near Cold Lake, Alta., are angry an oilsands company is draining a lake close to their home without consulting them.
Canadian Natural Resources Ltd is emptying two-thirds of the lake in an effort to stop a bitumen leak from its oil production plant.
Cecil Janvier, a member of the Cold Lake First Nation, says he has never supported oilsands production.
"It shouldn't have gotten this far," he said. "It's just common sense that something was bound to happen."
More than 1.5 million litres of bitumen — a mixture of oil sands, heavy crude and water — has leaked on CNRL's Cold Lake Site. So much, so fast, Alberta Environment ordered CNRL to drain the lake near Janvier's home immediately.
Trevor Gemmell, with Alberta Environment, says it was an emergency, and because it was an order, no consultation with the First Nation was required.
"Most pipeline spills are over in a matter of days, but this has been going on for a while," he said. "And the temporary measures that are in place right now that are containing the release, they won't be effective during the winter months."
But Janvier says draining the lake isn't acceptable.
"Now what? What does CNRL get? A slap on the wrist? What about us? What about my heritage? What about my traditions? My culture? Am I just chopped liver?"
Alberta Environment says CNRL is aiming to refill the lake by next summer.
---
'Fort McMurray is a wasteland': Neil Young slams oil patch, Keystone plans
Via Globe and Mail September
Canadian rocker Neil Young has waded into the bitter debate over Alberta's vast oil sands and the controversial Keystone XL pipeline planned to funnel one million barrels a day of Canadian crude to huge refineries in Texas and Louisiana.
Mr. Young said in a news conference on Monday that oil sands extraction was killing native peoples, igniting a new firestorm in the ongoing battle between proponents who want the massive reserves extracted and an array of opponents who argue that burning the carbon-heavy crude will seriously exacerbate global warming that threatens the planet.
"The fact is, Fort McMurray looks like Hiroshima," Mr. Young said in Washington. "Fort McMurray is a wasteland. The Indians up there and the native peoples are dying."
Keystone opponents were quick to cheer Mr. Young's blunt intervention.
Sierra Club spokesman Eddie Scher said: "Neil Young has been expressing and exposing hard truths his whole career," adding: "Looks like he's at it again."
Natural Resources Minister Joe Oliver – who was in Washington himself on the same day for a meeting with U.S. Energy Secretary Ernest Moniz, took a different view.
"I am a big fan of Neil Young's music," Mr. Oliver told the Globe. "But on this matter we disagree because Keystone XL will displace heavy oil from Venezuela which has the same or higher greenhouse gas emissions, with a stable and secure source of Canadian oil."
The singer is among a growing number of well-known activists speaking out against Keystone XL "Neil Young is speaking for all of us fighting to stop the Keystone XL," said Jane Kleeb, Executive Director of Bold Nebraska, a coalition of landowners and others opposed to the $5.3-billion Keystone XL pipeline. "When you see the pollution already caused by the reckless expansion of tar sands, you only have one choice and that is to act."
Read more: Neil Young

---
Mysterious oily sheen spreads down Athabasca River, killing fish
A mysterious oily sheen on the Athabasca River in northern Alberta appears to be spreading and has reached the shores of Fort Chipewyan.
Residents report finding dead fish in the affected area and the town's water intake is closed.
The sheen is visible along more than 100 kilometres of the Athabasca, sometimes covering the water from shore to shore.
Alberta government officials are trying to determine its source.
They say no energy companies have reported releases and they suggest the sheen is probably from natural bitumen deposits.
Either way, people in Fort Chip say they're concerned about their water and want answers.
Read more: Mysterious Sheen

---
Northern Gateway: First Nations To Make $70,000 Per Year From Equity Offer, Report Says
Via Huffington Post June 23
The equity offer from Northern Gateway to Aboriginal groups along the route of a controversial oil pipeline would amount to an average of about $70,000 a year for the bands, which would be obliged to borrow the millions of dollars needed to purchase equity from Calgary-based Enbridge itself.
It's a far cry from the path out of poverty the company claims, say some aboriginal leaders, who are among the minority who have rejected the offer.
"Only minimal economic benefits were offered," Chief Rose Laboucan, the six-term chief of the Driftpile Cree Nation northwest of Edmonton, told the federal panel assessing the project during final arguments about the controversial project.
Laboucan said the band sat down to negotiate with Calgary-based Enbridge but would not sign the equity agreement "for ethical reasons."
"I remember being in that room and having that binder: 'Here is the agreement. Take it or leave it.' Many nations agreed, but we didn't," she said.
Aboriginal buy-in is a major road block for the $6-billion project that would deliver heavy oil from just outside Edmonton to a tanker port in Kitimat, B.C.
Read more: Northern Gateway

---
Kinder Morgan's TransMountain Pipeline Spills Near Merritt
Huffington Post BC - June 13
Kinder Morgan's TransMountain Pipeline has spilled near the town of Merritt in B.C.'s Interior region, although the size of the spill has yet to be determined, the National Energy Board says.
The board said in a Thursday news release that there is no safety concerns for nearby residents.
News release from the National Energy Board:

CALGARY - The National Energy Board (NEB or Board) is responding to a crude oil release on the TransMountain Pipeline southwest of Merritt, BC owned and operated by Kinder Morgan Canada. The size of the spill has yet to be determined by the NEB. There is no immediate safety concern for local residents and precautions are being taken to ensure continued public safety.

The NEB received an incident report late yesterday afternoon. The release is located on crown land along the pipeline right-of-way (a map of the area is included below for reference). The pipeline has been shut down to prevent additional oil from being released into the environment and the company is currently in the process of contacting area residents.

The NEB's Emergency Response Team has been deployed and will be onsite to monitor and assess the companies' immediate response, investigation and clean up. Representatives from the affected company are also onsite along with local first responders.

In an emergency, the Board works with federal, provincial and territorial partners to coordinate the regulatory response. The NEB's priority in any emergency is to make sure that people are safe and the environment is protected.

The National Energy Board holds regulated companies fully responsible and accountable for responding in a manner that protects the public, property and the environment. This includes clean-up and site remediation. The Board's long-term goal with any incident is the full restoration and re-vegetation of the site including any potential effects on sub-surface groundwater. We do not relax our expectations of a company, or our response, regardless of the size of the incident.
Read more: Kinder Morgan

---
Toxic waste spill in northern Alberta biggest of recent disasters in North America
Globe and Mail - June 13
The substance is the inky black colour of oil, and the treetops are brown. Across a broad expanse of northern Alberta muskeg, the landscape is dead. It has been poisoned by a huge spill of 9.5 million litres of toxic waste from an oil and gas operation in northern Alberta, the third major leak in a region whose residents are now questioning whether enough is being done to maintain aging energy infrastructure.
The spill was first spotted on June 1. But not until Wednesday did Houston-based Apache Corp. release estimates of its size, which exceeds all of the major recent spills in North America. It comes amid heightened sensitivity about pipeline safety, as the industry faces broad public opposition to plans for a series of major new oil export pipelines to the U.S., British Columbia and eastern Canada.
In northern Alberta, not far from the town of Zama City, the leak of so-called "produced water" has affected some 42 hectares, the size of 52 CFL fields, in an area less than 100 kilometres south of the Northwest Territories border.
"Every plant and tree died" in the area touched by the spill, said James Ahnassay, chief of the Dene Tha First Nation, whose members run traplines in an area that has seen oil and gas development since the 1950s.
Apache spokesman Paul Wyke called the spill "salty water," with "trace amounts" of oil. The Energy Resources Conservation Board, Alberta's energy regulator, said it contained roughly 200 parts per million of oil, or about 2,000 litres in total. But information compiled by the Dene Tha suggests the toxic substance contains hydrocarbons, high levels of salt, sulphurous compounds, metals and naturally occurring radioactive materials, along with chemical solvents and additives used by the oil industry.
Read more: Toxic Spill

---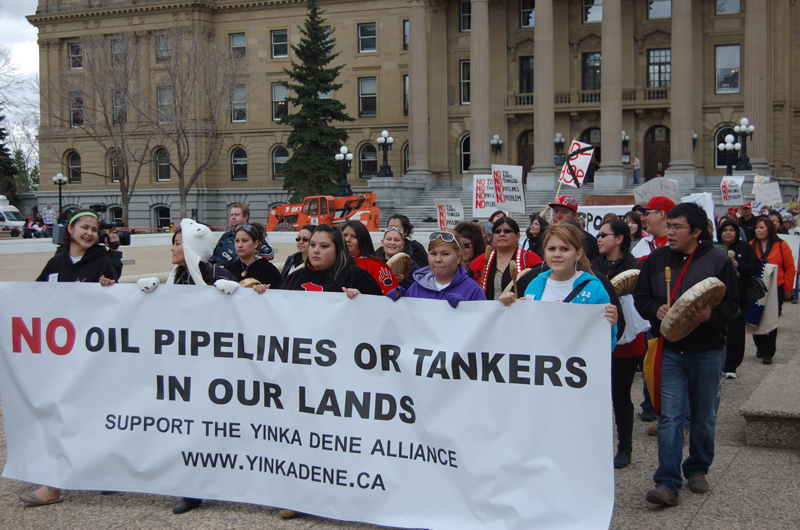 Yinka Dene Alliance rally and protest at Alberta Legislature May 2012 - Alberta Sweetgrass
First Nations say they will fight oilsands, pipeline
Canadian and U.S. aboriginal leaders in Ottawa promise legal challenge, other measures
Via CBC - March 20
An alliance of First Nations leaders is preparing to fight proposed new pipelines both in the courts and through unspecified direct action.
Native leaders from both Canada and the United States were on Parliament Hill on Wednesday to underline their opposition to both the Northern Gateway and Keystone XL pipelines.
The first would tie the Alberta oilsands to the West Coast, while the second would send bitumen to refineries on the American Gulf Coast.
Some of the chiefs brushed off the federal government's appointment this week of a special envoy to look at tensions between natives and the energy industry.
Vancouver-based lawyer Doug Eyford is to focus on energy infrastructure in Western Canada, but some native leaders say he has no credibility.
He is to examine First Nations concerns about the troubled Northern Gateway proposal, as well as the development of liquid natural gas plants, marine terminals and other energy infrastructure in British Columbia and Alberta.
He will discuss environmental protection, jobs and economic development, and First Nations rights to a share of the wealth from natural resources.
Some native chiefs, however, said Eyford has already failed. Although he is also the federal government's chief negotiator on comprehensive land claims, they said he hasn't accomplished much on that file.
Chief Allan Adam of the Athabasca Chipewyan First Nation said natives are determined to block the pipelines.
"It's going to be a long, hot summer," he said at a news conference.
"We have a lot of issues at stake."
Read more: First Nations Fight

---

Frank Brown speaks at a rally held in Victoria in October 2012
Enbridge says new pipelines "national priority," as whistle-blowers arrested
By David P. Ball - Raven's Eye
More than 1,000 people protested against the controversial Enbridge Northern Gateway project as its public hearings moved to Vancouver on Jan. 14, the largest anti-pipeline demonstration since the 4,000-strong "Defend Our Coast" protests in Victoria last October.
The next day, five demonstrators were arrested inside the hearings, where they blew whistles and spread "Climate Crime Scene" tape in defiance of the National Energy Board's (NEB) decision to close proceedings to the public. NEB instead video-streamed the hearing in a separate chamber to avoid protests.
"After the huge demo... a few of us decided it was disappointing not to get in," said Kim Heartty, one of those arrested. She has since had her assault by trespass charges dropped.
"The reason we did it was to further expose the illegitimacy of the hearing process because, of course, when the public gets arrested for going to a public hearing, that really speaks to how undemocratic it is.... It signified an escalation and a continuation of the resistance to the hearings."
Later this year, the NEB's Joint Review Process will make recommendations about Enbridge's proposed $5.5 billion, 1,172-kilometre Northern Gateway pipeline, a project which would transport diluted bitumen from the oil sands in Alberta to a tanker port in Kitimat, B.C.
With environmental organizations gearing up for civil disobedience to stop the project, which they say has too great a risk of oil spills, supertanker accidents, and climate change, the latest demonstration also rallied against last year's federal omnibus legislation, which stripped the NEB of its binding decision-making at the end of industrial reviews, allowing for a federal veto.

Read more: Enbridge and NEB

---

Tankers, Kinder Morgan pipeline opposed with armada of boats
David P. Ball - Windspeaker
As the flotilla of ocean-going Coast Salish canoes broached the rapids under Vancouver's iconic Lion's Gate Bridge Sept. 2, police boats followed with sirens flashing and officers keenly observing. To the north, hundreds of people gathered on a Tsleil-Waututh Nation beach to welcome the convoy.
But instead of heading straight to the waiting beach crowd, the armada of nine 20-person Tsleil-Waututh and Squamish nation vessels turned south–bearing drummers and traditional regalia–and joined kayaks, fishing boats and even one-man, paddle-boarders as it approached the Kinder Morgan oil refinery in Burnaby, B.C.
The day's two-hour paddle–undertaken from West Vancouver to Deep Cove–had significance both cultural and political. As Kinder Morgan proposes to more-than-double its Trans-Mountain oil sands pipeline from Alberta, and expand an oil supertanker port in Burrard Inlet, First Nations and environmentalists on the coast are escalating their opposition to the project.
The paddle journey culminated in the two nations' chiefs signing a declaration to protect the Salish Sea.
"By signing this declaration, our Nations are calling on people from all cultures to stand with us to protect our environment for future generations," Tsleil-Waututh Nation's Chief Justin George told a packed crowd. "This celebration reminds us all that there is room for many paddlers in one canoe. When we paddle together, with one heart, one mind and one spirit, great things can happen."
Squamish Chief Gibby Jacob welcomed environmental group representatives to join the journey in their own ocean-going canoe–an alliance he said is essential to protect the sea from the risk of an oil spill disaster from tanker traffic or a pipeline rupture.
"The potential for an oil spill is too high for our people, our community, and this region," Jacob said. "We are exercising our Aboriginal rights and title and will uphold our Nation's cultural and environmental values."
In front of Kinder Morgan's hopeful seaport site, one of the canoes–painted in traditional red-and-black designs–broke off from the convoy, making a wide arcing circle in front of the corporation's existing green storage silos as pullers conducted a ceremony, drummed, and cast protective prayers over the unsettled waters of the Salish Sea, also called Burrard Inlet.
---
Enbridge is not required to disclose the list of First Nations
Debora Steel - Windspeaker
Enbridge is not required to disclose the list of First Nations groups that have signed on for a share of the Enbridge Northern Gateway Project says the Joint Review Panel which met in Edmonton last month. The lawyer for Coastal First Nations said the list was a "matter of significant importance," and demanded it be shared. Enbridge has claimed a 60 per cent buy-in among Aboriginal groups within 80 km on either side of the 1,177-km pipeline route. But Enbridge claims the nations required legal confidentiality clauses be written into the agreement. The panel said the list isn't relevant—yet. "The panel does not see a need for the list for our purpose at this point," chair Sheila Leggett said. Final hearings were scheduled for Prince George, B.C., from Oct. 9 to Nov. 9 and Prince Rupert, B.C., from Nov. 22 to Dec. 18.
Read more: Enbridge
---
The Yinka Dene Alliance, a group of British Columbia First Nations...
Debora Steel - Windspeaker

The Yinka Dene Alliance, a group of British Columbia First Nations that has used its laws to ban the proposed Enbridge Northern Gateway pipelines and tankers in their territories, announced April 24 that it will embark on a "Freedom Train" journey beginning April 30. The goal is to protect their rights and their freedom from the threat of oil spills. The journey starts at Jasper in Alberta and ends May 9 in Toronto where Enbridge's corporate leaders will be attending an annual shareholders meeting. "Our journey on this Freedom Train is to build on the support from the people of Canada for the protection of our traditional lands. We will stand firm against all industries like Enbridge that are planning to destroy the environment and the future of all peoples," said Chief Martin Louie of Nadleh Whut'en First Nation, a member of the Yinka Dene Alliance.
"We need a healthy environment to ensure a healthy future for our children." The Freedom Train is expected to be greeted by demonstrations of support as it stops in major cities across the country. About 40 First Nations people from at least 10 different nations will be traveling. Additional First Nations representatives will join the train journey along the way, and more are expected to participate in events in cities along the route. The Freedom Train will stop for feasts, ceremonies, rallies and events in Edmonton, Saskatoon and Winnipeg before arriving in Toronto. In Toronto there will be two days of events, including a concert, rally, march and the attendance of First Nations representatives at Enbridge's Annual General Meeting on May 9.
"We're travelling across Canada to tell Enbridge that they will not be permitted to build their pipelines through our lands, period," said Chief Jackie Thomas of Saik'uz First Nation. "The fight against Enbridge is a fight for our freedom to govern ourselves and to choose our own future. We will not accept the government imposing a decision on us and forcing this pipeline through our lands."
Read more: Yinka Dene Alliance
---
Enbridge is grasping as ad campaign is launched
Shari Narine - Raven's Eye
An Enbridge official says it is not unusual for the company to undertake a nearly $5-million advertising campaign to promote a project.
Paul Stanway, spokesman for the company, said the Northern Gateway Project ad campaign that kicked off in British Columbia will consist of TV, radio and Internet spots until possibly the end of the year, and is not being done out of desperation. It is now the right time.
"We've put an awful lot of effort into public consultation along the right of way the last several years," he said. "The more people know about Northern Gateway the more likely they are to be comfortable with it."
But representatives from two First Nations organizations that are vocally opposed to the project say otherwise.
"I think the way to characterize (Enbridge's campaign) is it's kind of their last ditch effort. The project doesn't stand a chance without them being able to repaint the picture," said Art Sterritt, executive director with Coastal First Nations.
"They're trying to characterize this as somehow Enbridge's future is British Columbia's future and B.C. is not buying it…. Calling it a gateway to the future is not a pretty picture when you're sitting on our side of the fence," Sterritt said.
Coastal First Nations is an alliance of First Nations on the province's north and central coast and Haida Gwaii. Enbridge's Northern Gateway Project includes the construction of the Kitimat marine terminal, which would have two ship berths and storage for three condensate tanks and 11 petroleum tanks. The proposed tanker routes would travel along the Coastal First Nations.
"(Enbridge) tried the ethical oil campaign and, in my opinion, it failed dismally. They'll try every avenue they can take to convince British Columbians that this project is a good project when, in fact, it is not," said Chief John Ridsdale of the Wet'suwet'en First Nation. Ridsdale was one of a number of chiefs from the Yinka Dene Alliance to undertake the Freedom Train campaign that saw protestors cross the country in May and end with a demonstration at Enbridge's annual shareholders meeting in Toronto.
The Yinka Dene Alliance is a coalition of Carrier and Sekani First Nations in northern B.C. whose territory comprises 25 per cent of the proposed route for Enbridge's 1,172-kilometre pipeline that begins in Bruderheim, near Edmonton.
Stanway said the campaign to reach the B.C. public is important because the general populace is "totally unfamiliar with oil pipelines…. In that area, there's not a lot of experience with our industry."
Stanway said that having a coastal component to Enbridge's development is also new to the company as it has never operated a marine terminal before.
"Nobody is trying to say there aren't environmental issues around building a $5.5 billion oil pipeline, (but) we've been dealing with these issues for almost a decade," he said. "An enormous amount of environmental work has gone into this project. People need to hear that we have looked at these concerns; that we have answers."
Sterritt said an advertising campaign like this is clear indication that Enbridge doesn't want a discussion.
"They're not interested in talking to people. They just want to get their message out," he said. "The difference on our side is that we're quite willing to debate the issue."
Sterritt added that 80 per cent of the B.C. public is opposed to tanker traffic on the coast.
Stanway said Enbridge's figures indicate that half the B.C. public supports the Northern Gateway Project.
Shortly after the campaign was launched, Enbridge announced that 60 per cent of the 43 First Nations and Metis groups within an 80 km radius of the proposed route have signed up for the company's 10 per cent equity share. He said there is an equal amount in B.C. and Alberta. Stanway cited confidentiality for not being able to release the names of the First Nations or Metis groups.
Ridsdale is cynical about Enbridge's tight-lipped stance.
"We're forthright with who's opposed to it. We've made that public numerous times with our declaration," he said.

Read more: Enbridge
---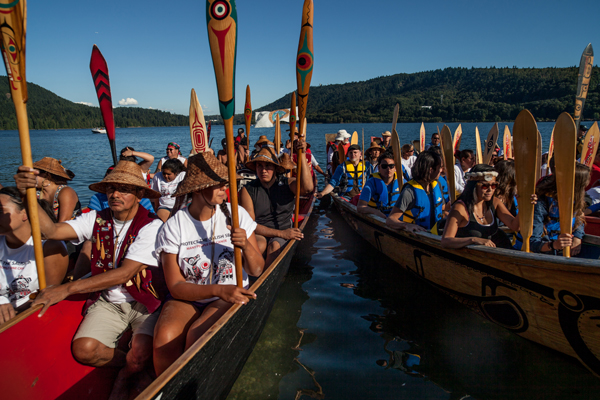 Follow Us
Share this with friends
Essential Reading
Key Links
Upcoming Issues
Advertising
Subscribe & Donate
Writer Guidelines