Nunavut to hold inquest into suicides
Padma
Suramala, a registered nurse and Nunavut's chief coroner, has called for
an inquest into the overwhelmingly high rate of suicide in the
territory, after 45 people took their own lives in 2013 — the highest
number of annual suicides since the territory's creation in 1999.
Suramala announced the inquest at a news conference on Jan. 16 in
Iqaluit. She plans to convene a jury of six people to examine two or
three of the 2013 deaths, selected at random from the 45 suicides, the
youngest being an 11-year-old boy in Repulse Bay and the oldest was 72.
"We would like to highlight the risk factors and the warning signs,
raise public awareness and make recommendations on how to prevent these
preventable deaths," Suramala told CMAJ . The majority of those who
killed themselves in the territory last year were young men between the
ages of 15 and 25. Males accounted for 33 of the suicides. Given
Nunavut's small population of approximately 31 000, the deaths have a
devastating impact on communities, from the family and friends of those
who die to front-line workers.
---
Sinclair inquest moves onto waiting times in ER
The
inquest into the death of Brian Sinclair, an Aboriginal man who waited
34 hours in the emergency room at Winnipeg's Health Sciences Centre in
September 2008, has now moved into the next phase, which is the broader
subject of hospital overcrowding and delays. Sinclair, a double-amputee,
had been viewed by staff as a homeless person seeking shelter and was
left unattended despite his deteriorating health status. Sinclair's
family wants the inquest, led by Judge Tim Preston, to examine the
racism that led to lack of care. However, Preston says his mandate does
not include that aspect but instead is to look at the delays in the
waiting room and what can be done to remedy the situation. The inquest
is scheduled to resume sitting Feb. 18 for two weeks and then for
another week in June before it wraps up. The inquest began in the summer
and has sat periodically since then.
---
MN-S launch youth suicide prevention program
Métis
Nation-Saskatachwan has launched a blue ribbon campaign aimed at
training trainers to help prevent suicide amongst Metis youth. "This
program has been created to support the unique needs of our Métis
communities and expands the capacity that already exists," said Sandra
Youngchief, interim director of MN-S Health, in a news release. A
training manual and tool kit has been developed as the vehicles for
taking the program into communities and raising awareness around the
issue of youth suicide. A blue ribbon will represent the campaign and be
distributed to raise awareness of the program and its goals. Suicide
rates have been identified as one of the top priorities in the Métis
Health and Well Being Strategy.
---
Needs of homeless Inuit addressed with service point expansion
The
first service point for the homeless has been expanded to five downtown
metro stations in Montreal for a three-year period. Positive results of
Phase 1, which was launched in December 2012, led to the extension of
this service. Expanding the service points for the homeless will bolster
the support provided to people living on the street. "Homelessness
among Inuit living in the city is one of the serious consequences of the
housing crisis in Nunavik and one that calls for immediate special
attention," said Jobie Tukkiapik, Makivik's president, in a news
release. Makivik is one of the partners in this extension of services.
"We plan to continue implementing the strategy aimed at preventing Inuit
homelessness in Montreal."
---
Baseline report for cancer in First Nations
The
recently released First Nations Cancer Control in Canada Baseline
Report provides a baseline against which progress can be measured over
the coming years. It also looks at the patient experience from screening
and diagnosis through to survivorship or palliative care, as well as
challenges experienced by First Nations patients through their cancer
journey. "First Nations view health from a holistic perspective, so when
we are presented with a problem, we look at it using many different
lenses," said Dr. Evan Adams, board member for the Canadian Partnership
Against Cancer, in a news release. In 2014, the partnership will release
separate baseline reports for the Inuit and Métis baseline which will
further examine emerging priorities for action among these communities.
The majority of information within the series of baseline reports for
First Nations, Inuit and Métis cancer control are sourced from
environmental scans completed in 2012.
---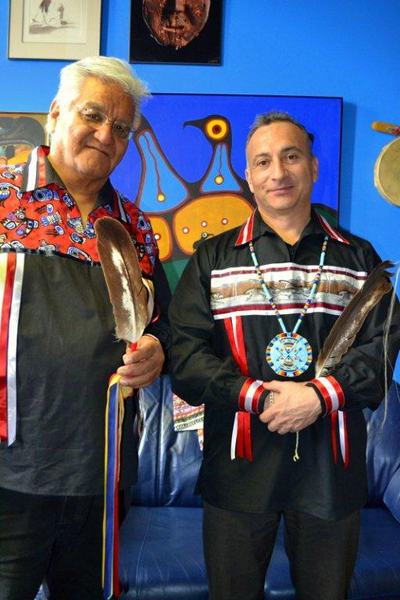 Elder Terry McKay and Program Coordinator Mark Marsolais who are with the Odawa Aboriginal Community Justice Program, Odawa Friendship Centre in Ottawa.
Healing the focus of justice program
Barb Nahwegahbow - Windspeaker Contributor
OTTAWA
On April 19, the Odawa Friendship Centre held a thanksgiving and unveiling ceremony at Ottawa's Elgin Street courthouse attended by about 300 people.
"We wanted to publicly acknowledge our partnership with the courts and give thanks to them, the Crown Attorney's Office and all our other supporters," said Mark Marsolais, a citizen of Whitefish River Ojibway First Nation in Ontario with over 20 years' experience in the justice system.
Marsolais is also the coordinator with the Odawa Aboriginal Community Justice Program (OACJP), a diversion program for First Nations, Métis and Inuit people charged with summary conviction offences in Ottawa. The maximum penalty for such offences is six months imprisonment, a fine of $5,000 or both.
Three years ago, the Odawa Centre decided to tackle the problem of Aboriginal over-representation in the criminal justice system. Discussions with the Crown Attorney's office resulted in the OACJP.
"The individual is pulled from the collective justice system and into our diversion program and their charges are dealt with through a traditional justice program."
The focus is on healing rather than punishment, he stressed.
Read more: http://www.ammsa.com/publications/windspeaker/healing-focus-justice-program
---
FNHA takes over delivery of health services in BC
As of Oct. 1, the First Nations Health Authority will take over all duties previously assigned to Health Canada in British Columbia. FNHA chair Lydia Hwitsum said her organization is committed to providing more access to primary care for Aboriginal people in rural and remote parts of the province, including the north. "I think we can do it better by working together on priorities of First Nations," she told the Prince George Citizen. "We would not be doing this if we didn't think we could do it better." Years in the making, the FNHA began assuming some of the responsibilities previously held by the federal government in July. Under the Canadian Constitution, the federal government has held the responsibility for providing health care to Aboriginal people, while provincial governments are responsible for delivering it to the rest of the population. The phased transition started with the FNHA taking over policy and planning activities as well as the non-insured health benefit headquarters. In October, FNHA takes over service delivery. To make the transition easier, the FNHA is hiring about 250 former federal government employees. Those hires will join the existing staff of about 60 people and will be able to provide stability as the new leadership team takes over.
---
Nunavut gets voice on CMA
The Ontario Medical Association has agreed to sponsor a delegate from Nunavut at the Canadian Medical Association, the national body representing Canadian physicians. "I'm very pleased that Ontario can step forward and help bring greater attention to the needs and concerns of Nunavut's medical community," said Dr. Scott Wooder, president of the Ontario Medical Association, in a news release. "Ontario doctors have always participated in the treatment of Nunavut patients, so it's fitting that physicians from both jurisdictions are now formally linked. The relationship will benefit patients in this underserved area." The Inuit people of Nunavut have the highest infant mortality in Canada, a cancer death rate that is three times that of the national average, a TB rate that has been reported as 64 times the national average, and a suicide rate that is dramatically higher than that of the rest of Canada, said Dr. Katherine Canil, a surgeon in the territory for the past 18 years. Through the CMA, Canil said, Nunavut physicians hope to bring focus and leadership to these and many other Inuit health issues.
---
Socio-economic status plays role in violence against women
A new study conducted by researchers at St. Michael's Hospital in Toronto indicates that the socio-economic position is a major factor influencing risks of abuse for Aboriginal women. The study indicates that if Aboriginal women had the same income and education levels as non-Aboriginal women, their risk of being abused by a partner could drop by 40 per cent. Dr. Janet Smylie and Dr. Nihaya Daoud's findings appear online in the Canadian Journal of Public Health. The study used data from the 2006-07 Canadian Maternity Experiences Survey representing more than 50,000 Canadian-born women, including more than 3,000 off-reserve First Nations, Inuit and Métis mothers. Researchers collaborated with the Native Women's Association of Canada. Poverty can lead to violence through financial and social stress, as well as alcohol or drug-abuse to cope with these stressors. The cost of moving or living alone can prevent Aboriginal women from leaving violent situations. The authors believe this is the first quantitative study to examine socio-economic position as a factor explaining high rates of gender violence among Aboriginal women.
---
Province kicks in funding for Membertou sports centre
The Membertou Sports and Wellness Centre has received funding from the Nova Scotia government. The project, a 1,250-seat arena plus an indoor walking track and a 3,000-square foot community fitness centre, will help promote the health and wellness of people living in the community. There is room to add a second ice surface. "I am absolutely delighted that government thinks this is an important project for Membertou and the whole area," said Chief Terrance Paul, in a news release. "This is a tremendous boost for the fundraising for the arena and entire project." The province is contributing a $3 million grant over three years toward the $18 million project. The funding supports the Mi'kmaw physical activity leadership program memorandum, announced in February, between the province and five Mi'kmaw communities, including Membertou.
---
New health program created through partnership
The Canadian Jewish Humanitarian and Relief Committee has embarked on a new health initiative in conjunction with seven First Nations communities in Kenora, Ont. Bri'ut is designed to improve the long-term physical and mental health of Aboriginal populations by strengthening the delivery of community-based health promotion programs. This summer, the organization received a grant of $238,500 from the Ontario Trillium Foundation in support of implementing the program with Aboriginal communities in Canada over a four-year period. "It is my experience that individuals and communities benefit greatly when they are directly engaged with issues related to their health and well-being, and when they are invited to contribute to creative strategies to address health issues of concern in a manner that is community-focused and sustainable," Chief Joe Barnes, executive director of the Kenora Chiefs Advisory, said in a statement.

---
Jordan's Principle decision has far-reaching implications
Shari Narine - Windspeaker Contributor
PICTOU LANDING FIRST NATION, N.S.
The successful argument of Jordan's Principle in federal court could have major implications for other battles First Nations are waging for equity in funding and service.
On April 4, the Federal Court of Canada ruled that Jordan's Principle is legally enforceable and not simply a policy, as the federal government had been claiming.
"The court agreed with our arguments that it is a responsibility that the federal government has assumed and therefore they can be held accountable," said Paul Champs, lawyer for the Pictou Landing Band and Maurina Beadle.
The band and Beadle challenged the federal government to support Beadle's son Jeremy Meawasige, a severely disabled youth, at the same level of support Jeremy would receive if he were living off reserve. Jeremy lives with his mother Maurina on Pictou Landing First Nation. Champs invoked Jordan's Principle, a concept which received unanimous support from the House of Commons in 2007. Jordan's Principle was developed in response to a Manitoba case involving Jordan Anderson, a severely disabled First Nations child who remained in hospital due to jurisdictional disputes between the federal and provincial governments over payment of home care services. Jordan died at age five without being able to live in a family environment.
"It's absolutely an awesome, awesome decision for us. It's like justice has finally been done in this situation," said Philippa Pictou, director of Pictou Landing Health Centre.
The commitment to funding ensures that the First Nation can provide Jeremy's care.
"Having that security makes a huge difference. Up until now we're constantly under threat of not being able to provide (funding and care)," said Pictou.
Jeremy's situation came to the fore when his mother suffered a stroke in 2010 and couldn't care for him. The band stepped in to provide the services so Jeremy could remain at home and would not need to be institutionalized outside of his community. The band asked the federal government to reimburse its costs. Aboriginal Affair and Northern Development Canada refused to provide funding at an equivalent rate.
Read more: http://www.ammsa.com/publications/windspeaker/jordan%E2%80%99s-principle-decision-has-far-reaching-implications
---
---
Follow Us
Share this with friends
Essential Reading
Key Links
Upcoming Issues
Advertising
Subscribe & Donate
Writer Guidelines