Elsipogtog and Fracking protests
A collection of opinions and perspectives on the issues impacting you. Postings are from a variety of sources including our staff or other media.
Follow the latest news and developments on this issue via twitter by following Windspeaker @windspeakernews
---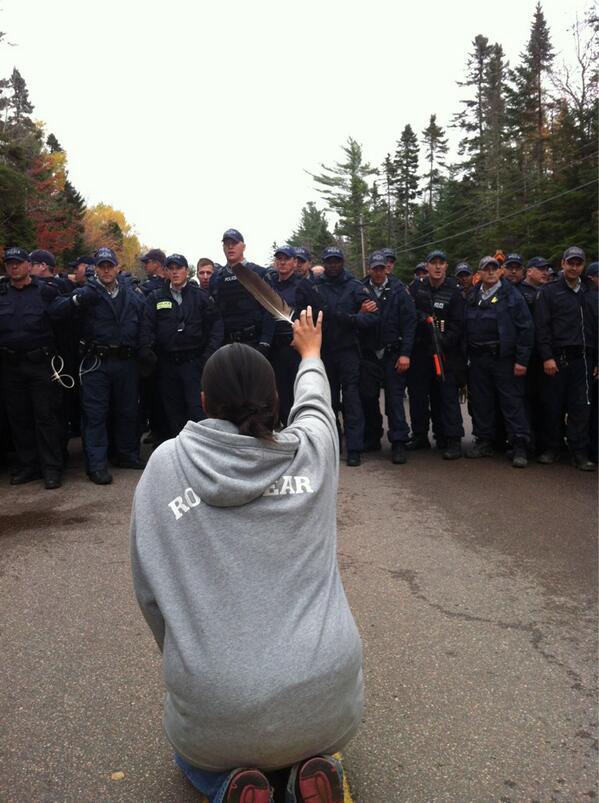 Photo by Ossie Michelin, APTN
Elsipogtog hopes for healing, braces for treaty fight
"All these bruises," Amy Sock recalls her retired RCMP father lamenting, "and you can't even walk."
With those words, the Elsipogtog First Nation anti-fracking blockader said her dad wept as he vowed to burn his Red Serge uniform upon her release from police custody.
Sock's arrest was part of the massive Oct. 17 standoff that saw hundreds of RCMP officers swarm the blockade camp at Rexton, guns drawn, to enforce a company injunction and help it recover its equipment. Elders were pepper-sprayed, police cars torched, and 40 arrested.
On Dec. 6, SWN Resources announced it was halting its shale gas exploration for the year, incomplete. Now, as the community awaits the Texan firm's likely future return, Windspeaker has learned the community is launching healing circles to deal with the trauma of the police raid, as well as contemplating a court battle over their treaty rights.

"I looked at him and said, 'Dad, please don't do that,'" Sock said.

"When it's your turn to leave this world, that's what you're going to be wearing ... This fight is not against the RCMP or against the SWN workers. (It's) with the actual company."
Mostly, Sock revealed, New Brunswick's largest Indigenous community is "trying to heal" from the police raid, as blockaders continue to face the courts and support pours in from across the continent. As reported by Windspeaker, Sock was among the first arrested on Oct. 17.
read more: http://www.ammsa.com/publications/windspeaker/elsipogtog-hopes-healing-braces-treaty-fight
---
The often-ignored facts about Elsipogtog
The majority of Canadians have been woefully under-informed about what is really going in Elsipogtog.
Opinion - Chelsea Vowel - Toronto Star
Despite the plethora of informative articles about the ongoing struggle at Elispogtog First Nation, north of Moncton, New Brunswick, and the RCMP raid there last month, most mainstream media outlets have been underemphasizing some very important aspects of the conflict. As a result, many Canadians are focusing solely on the image of burning vehicles, and some are even going as far as to brand native protestors as terrorists.
Before engaging in a back and forth about who is more in the wrong, I suggest addressing some outstanding issues that for some reason are not treated as central to these events.
First is the issue of the way in which mainstream Canadian media so often fail to comprehensively report on indigenous issues. In their book, "Seeing Red," Mark Anderson and Carmen Robertson researched English-language portrayals of indigenous peoples in the mainstream media since 1869. They found that media reports since that time have remained essentially the same, too often depicting natives as inferior morally, physically, mentally and historically.
What that research could not take into account, is how social media has made alternative media a viable option for a wider range of people. Thus, for those interested in this issue, there is much reportage and commentary that can be easily accessed beyond what little we've seen in mainstream media.
It is essential that we dig deeper, and form our opinions based on as wide a range of perspectives as possible. The majority of Canadians have been woefully under-informed about what is one of the most important outstanding issues related to the events in Elsipogtog: land and resource ownership.
In 1997, the landmark Supreme Court Decision in Delgamuukw finally clarified that even under Canadian law, Aboriginal title to most of the land within British Columbia's provincial borders had never been extinguished. This ruling had immediate implications for other areas of the country where no treaties ceding land ownership were ever signed. One day, Canadians woke up to a legal reality in which millions of acres of land were recognized as never having been acquired by the Crown, and that elephant has been occupying our national room ever since.
Unfortunately, this glaring issue did not seem to percolate into the wider Canadian consciousness, and many people remain unaware of it. In 1999, the Supreme Court passed down another judgement confirming that the Peace and Friendship Treaties of 1760-1761 did not cede land or resources. This cannot be emphasized strongly enough: the Mi'kmaq never gave up legal rights to their land or resources. Canada does not own the land that the people of Elsipogtog are defending.
This is not conspiracy theory, or indigenous interpretation. This is Canadian law, interpreted by the Supreme Court of Canada, applying Canadian constitutional principles. Yet somehow, this most important fact is left out of most reports on Elsipogtog as though it is barely relevant.
Read more: http://www.thestar.com/opinion/commentary/2013/11/14/the_oftenignored_facts_about_elsipogtog.html
More Resources on Elsipogtog: http://apihtawikosisan.com/2013/10/23/resources-on-elsipogtog/
---
RCMP crackdown on Elsipogtog anti-fracking blockade spurs over 50 protests in support
By David P. Ball Windspeaker Contributor Rexton, N.B.
"Oh my gosh, they're going to kill me before hearing me out," Mi'kmaq anti-fracking blockader Amy Sock thought as camouflage-clad tactical police with assault rifles and attack dogs chased her down.
"My spirit told me to just run," she told Windspeaker. "I've never seen rifles like that; they were really big, Afghanistan-style guns. When I saw them, when I saw those outfits with the dogs, I knew, 'This is it' ... I could have easily been shot. But my spirit is unharmed, it's still strong."
Sock, a member of Elsipogtog First Nation involved in a months-long fight against shale gas exploration by SWN Resources, arrived at the blockade on Oct. 17 after dropping her children off at school.
When she saw hundreds of riot police lined up across the road near the protest encampment – ostensibly to serve a court injunction in favour of the company – she approached waving a white towel in hopes of negotiating a solution.
Instead, she claims an officer punched her in the head so hard her glasses flew off, sparking an escalating confrontation that ended with 40 arrests, six torched police vehicles, and RCMP allegations they found bombs, rifles and bear spray in the camp. Media were barred from the site, and could not verify those claims, and some have speculated that several new faces that morning could have been police infiltrators.
Despite social media speculation about police provocateurs torching their own cars, an eyewitness said the vandalism was carried out by known anti-fracking warriors. Police also said someone attempted to burn down the local RCMP station in the middle of the night Thursday after the raid.
The massive police raid – with estimates between 200 and 700 officers deployed with live ammunition and armoured troop carriers – sparked a flurry of at least 50 solidarity protests across Canada and even in some American and European cities. But police insist they swept in because of alleged threats against private security contractors the night before.
"The weapons and explosives we seized show that this was no longer a peaceful protest and there was a serious threat to public safety," RCMP assistant commissioner Roger Brown told reporters on Oct. 18. "Some in the crowd threw rocks and bottles at (police) and sprayed them with bear spray.
"Setting police cars on fire created a dangerous situation for everyone in the area, and it was at that point that police were forced to physically confront some in the crowd who refused to obey the law."
Since early this summer, Sock has been part of a group of Mi'kmaq and non-Native protesters raising the alarm about SWN Resources. Residents fear seismic testing and search for shale gas will lead to polluted water through the controversial fracking process, in which high-pressure chemicals explode the earth deep underground.
Read more: http://www.ammsa.com/publications/windspeaker/rcmp-crackdown-elsipogtog-anti-fracking-blockade-spurs-over-50-protests-sup
---
Chatter on Elsipogtog
After the stunning display of force by RCMP at a peaceful anti-fracking protest at Rexton, N.B., First Nations across the country were quick to pledge their support to the Elsipogtog First Nation members that took the brunt of the assault.
The Grand Council of the Crees (Eeyou Istchee) "categorically condemns" the RCMP, it said in a news release, and "unconditionally supports the Elsipogtog First Nation in exercising their Aboriginal and human rights." The council said legitimate concerns about the environmental impacts of shale gas fracking were being raised by the protesters. Fracking could have serious and negative impacts on Elsipogtog's traditional territory and the health of its citizens, the release continued. Rather than being able to raise concerns about the issues of shale gas fracking, the Elsipogtog Nation "was met with pepper spray, rubber bullets and arrest."
Grand Chief Matthew Coon Come stated: "At a time in Canada's history when the intensified search for natural resources presents an opportunity for this country to address fundamental Aboriginal concerns in an honorable and dignified way, the decision to meet the concerns of the Elsipogtog First Nation with brute force is shameful. There is another path, a path of authentic dialogue, reconciliation and inclusion, which is the only honorable way to move forward. To miss this historic opportunity will be disastrous for Canada. The response to the Elsipogtog First Nation sends a very provocative and ill-advised message to Aboriginal peoples across the country."
National Chief Shawn Atleo of the Assembly of First Nations called the RCMP raid in the early morning hours of Oct. 17 an "extreme use of state force and control." In a letter to New Brunswick Premier David Alward, Atleo said the "peaceful protest" on Elsipogtog First Nation was "disrupted through police and military intervention." "The actions of police this morning have been completely unacceptable," he wrote.
In a letter to Elsipogtog Chief Arren Sock, who was also arrested, Atleo offered his support and called the RCMP and province's actions "heavy-handed." "I am aware that your community has engaged in good faith negotiations towards a peaceful resolution," he stated. And the raid was "a direct affront to your efforts at reaching a diplomatic solution."
The Union of BC Indian Chiefs, through President Stewart Phillip, said the "display of brute force is completely ugly, outrageous and harkens back to the Oka, Ipperwash and Caledonia conflicts." In spite of Elsipogtog's best efforts to resolve the issue peacefully, the heavily armed RCMP aggressively moved to enforce an injunction.
"Canada cannot continue to viciously cast aside our Aboriginal title, rights and treaty rights," said Chief Bob Chamberlin, vice-president of the UBCIC. "In light of Dr. James Anaya's, UN Special Rapporteur on the Rights of Indigenous Peoples, recent visit to Canada, this type of severe action by the RCMP reflects a government that continues to ignore Indigenous land rights—our human rights—to pretend it has a productive relationship with Indigenous peoples founded on reconciliation and respect."
The St'at'imc Chiefs Council out of Lillooet, B.C., called Elsipogtog the "latest victim of Canada's refusal to acknowledge and negotiate honorably concerning the issue of Aboriginal title and rights in this country."
The council said Prime Minister Stephen Harper has paid "ample lip-service" to reconciliation, but his government has "utterly failed to honor the concept of reconciliation. Harper has chosen to champion the exploration and development of natural gas, oil and associated pipelines—"hoping tear gas and water cannons will resolve the 'Indian problem'," said Chief Garry John, the council's chairperson.
"It is predictable this is the same type of 'negotiations' Canada will unleash when they meet resistance against the controversial Northern Gateway and the Trans-mountain pipeline projects in British Columbia," said the chief. He said he wished to remind Harper that Indigenous People were not going to disappear, would prefer respectful negotiations, but will join "our brothers and sisters on the road if we are forced to."
Chief Perry Bellegarde of the Federation of Saskatchewan Indian Nations said his organization fully supports and stands in solidarity with First Nations in their quest to protect lands and water, and called on the province of New Brunswick and industry to respect and honor the duty to consult Aboriginal peoples and accommodate their concerns. Bellegarde said the United Nations Declaration on the Rights of Indigenous Peoples calls for free, prior and informed consent as a minimum standard for engagement with Indigenous peoples on matters of significant concern. "We ask for a peaceful resolution through thoughtful, informed and committed dialogue from all parties concerned. We offer our support toward a peaceful solution to the events unfolding in New Brunswick and across our territories.
The Assembly of First Nations' Chiefs in New Brunswick called for the provincial government to suspend shale gas exploration permits until a peaceful solution to the dispute can be negotiated. Assembly co-chair George Ginnish said such a step would be part of the "cooling off period" agreed to by Elsipogtog Chief Arren Sock and Premier Alward in the wake of the violent confrontation in Rexton.
"We have been saying that this process has been rushed from Day 1," said Ginnish, chief of Eel Ground First Nation. "There is concern in many areas, not just the First Nations."
Read more: http://www.ammsa.com/publications/windspeaker/chatter-elsipogtog
---
Edmonton Rally in support of Elsipogtog on October 18
Photo Gallery: http://www.ammsa.com/content/edmonton-rally-support-elsipogtog-blockade
---
Police come down hard on anti-shale fracking protest
By David P. Ball Windspeaker Contributor ELSIPOGTOG, N.B.
At least 31 people have now been arrested in anti-shale gas fracking protests in New Brunswick, including a journalist who alleges police attempted to pay him to become an informant.
Most of those arrested trying to stop SWN Resources Canada's seismic testing have been Indigenous land defenders at a Sacred Fire encampment organized by local Mi'kmaq opponents from Elsipogtog First Nation.
"As Mi'kmaq people in the east, when any law or anything to do with the land happens, we react, because it is ours to protect," explained Elsipogtog resident Amy Sock. She said Aboriginal and non-Aboriginal residents are not only concerned about pollution from fracking, but also the industry's man-made earthquakes.
"I just don't want shale gas to come to New Brunswick.
"Our priority is Mother Earth... To be honest, we have a big nuclear plant in New Brunswick. Once fracking goes on—once we start getting earthquakes—I'm afraid that thing is going to blow up."
While a dozen protesters were arrested while conducting a smudging ceremony June 21, on National Aboriginal Day, a second wave of arrests saw others jailed by RCMP.
SWN Resources Canada, which is hoping to begin its shale gas explorations pending seismic testing in Kent County, asserts that its operations are within the law and environmental regulations.
"It's a highly monitored, highly industrial extravaganza that's going on here," said Miles Howe, a journalist with the Halifax Media Co-op who has been covering the protests since their beginning. "(There's) the potential for really catastrophic environmental damage through the process of hydraulic fracturing, and what that might mean for water tables and aquifers."
On June 24, shortly after the second round of arrests, one of the company's machines–known as a shot-hole driller–was allegedly set ablaze. Howe was the first-responder at the scene, but despite filing a report with police about the apparent arson, Howe told Windspeaker police sent another force's officers to his house in Nova Scotia to inquire about him.
When he then presented himself at the Kent County police station, Howe alleges police took him aside and offered to pay him "financial compensation," he said they termed it, if he became an undercover police informant against illegal activities associated with the protest.
Read more: http://www.ammsa.com/publications/windspeaker/police-come-down-hard-anti-shale-fracking-protest
---
"A gun to our heads" Pressure to sign new funding agreement more widespread than first thought
By David P. Ball Windspeaker Contributor OTTAWA
"Against the wall." "Despicable." "A gun to our heads."
First Nations from coast to coast of Canada are using strong language in reaction to changes in this year's financial contribution agreements from the federal government, with one Alberta band even planning to take a complaint to the United Nations if Aboriginal Affairs doesn't budge, Windspeaker has learned.
In a problem that is affecting bands in almost every province, chiefs and councillors say some First Nations are being required to "sign off" or "endorse" controversial omnibus legislation, which has come under fire for gutting environmental review processes, imposing changes to band governance, and easing industrial development of reserve lands.
"Bills C-38 and C-45 are in the Comprehensive Financial Agreements (CFAs)," Chief Craig Makinaw, of Ermineskin Cree Nation in Alberta told Windspeaker. "Right now we're talking to (Aboriginal Affairs) about that.
"It's saying that – for the bands that sign off – they're making reference to both of those bills, and most of us are against that. We're kind of put up against the wall, especially if you're a band that really depends on the CFAs... You're put up against the wall: if you don't sign off by a certain date, you lose your funding. Our education funding is really affected."
But the government insists the concerns are misplaced, and that this year's agreements in no way pressure bands to agree to legislation. As well, several Aboriginal leaders argue the agreements have always been contentious, and some wonder if Idle No More has simply woken up band members to an older problem around funding pressures on their leaders.
Makinaw, whose band receives roughly $13 million through the agreements, told Windspeaker that Ermineskin First Nation is hoping to pressure Aboriginal Affairs into removing the contentious clauses, but if that fails, the chief vowed to take a complaint to James Anaya, the UN's Special Rapporteur on the Rights of Indigenous Peoples.
It's a move Makinaw made headlines for last year over the Conservatives' omnibus legislation, and led to media headlines when Canada refused to allow Anaya entry into the country to investigate.
Read more: http://www.ammsa.com/publications/windspeaker/%E2%80%9C-gun-our-heads%E2%80%9D-pressure-sign-new-funding-agreement-more-widespread-first-
---
Follow Us
Share this with friends
Essential Reading
Key Links
Upcoming Issues
Advertising
Subscribe & Donate
Writer Guidelines