Confidential: Derek Miller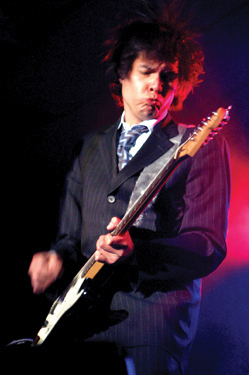 Derek Miller

May - 2009

Windspeaker: What one quality do you most value in a friend?
Derek Miller: Laughter
W: What is it that really makes you mad?
D.M.: When I get pulled over for speeding.
W: When are you at your happiest?
D.M.: When I wake up.
W: What one word best describes you when you are at your worst?
D.M.: What?
W: What one person do you most admire and why?
D.M.: I admire Rihanna because she is very pretty.
W: What is the most difficult thing you've ever had to do?
D.M.: Be patient.
W: What is your greatest accomplishment?
D.M.: I can cook. Barely!
W: What one goal remains out of reach?
D.M.: Can't seem to get that girl outta my mind. Elvis dance chops.
W: If you couldn't do what you're doing today, what would you be doing?
D.M.: Funk if I know?
W: What is the best piece of advice you've ever received?
D.M.: Once you're past the tang, you got 'er licked!
W: Did you take it?
D.M.: Yes
W: How do you hope to be remembered?
D.M.: Fondly. I'm sorry if I have wronged you. Forgive Me. Until we meet again.
A chance meeting with his grandfather's warp-necked Fender, languishing in a forgotten closet until someone handed it to the 13-year-old, launched Derek Miller's astounding music career.
"It was as though my grandfather's spirit was saying `take this, talk to your mystery through it and everything will be fine'," says Derek.
The teen, born in 1974, discovered what that old guitar could do by listening to Muddy Waters, Stevie Ray Vaughn and Eddie Van Halen tracks from his mother's record collection. Putting his own fingers to the strings, it wasn't long before he was playing in pick-up bands and local outfits, practicing and writing music until he released an EP called Sketches in 1999. The production was impressive, but due to its independent release it didn't amount to many sales.
Touring with Buffy Sainte-Marie and winning a Canadian Aboriginal Music Award followed, as would a move to the United States. Leaving his Six Nations of the Grand River, Mohawk Territory behind, Derek made a career move to Arizona, where he worked with Keith Secola and The Wild Band of Indians. He co-produced Secola's award-winning Fingermonkey CD and developed his touring chops as he traveled with the group to dates across America and Europe.
It was the release of 2002s Music is the Medicine that earned Derek status in the blues-rock world. He won a Juno with it and hit the road with a vengeance, performing in festivals and opening for the likes of George Thorogood and David Clayton Thomas' Blood, Sweat and Tears.
But by 2005, as Derek began to record a new CD called The Dirty Looks, he felt he had "lost my soul completely" as the perils of touring caught up with him. Exhausted, he knew he needed help so he went through rehabilitation and "wrung out the laundry.
"Through native culture, ceremony and trauma recovery I felt I'd won my soul back and you can hear that torture on that record. I'm just grateful I lived through it. I am very grateful."
When The Dirty Looks finally debuted in 2007, it cemented Derek as one of the finest musicians of his generation. According to one reviewer "the songs as part of his spiritual journey serve as a catalyst for the curing of a troubled soul." Another said the mood on this CD may be somber but his guitar playing is all fire and brimstone.
Derek is also adding to his resumé the role of entrepreneur with his project Derek Miller Enterprises "DME", a multi-media entertainment company. He's excited about helping future performers and is "confident the business ventures I am committed to will help build an infrastructure to benefit the generations to come."
Just how much of a blues-rock virtuoso is Derek? He's been touted in the Year's Best for New York's Village Voice, on the heels of his making the Top Ten of the Year in the Detroit Metro Times Critics poll, alongside the likes of Alice Cooper and the White Stripes.
Follow Us
Share this with friends
Essential Reading
Key Links
Upcoming Issues
Advertising
Subscribe & Donate
Writer Guidelines