2015 Review: My Story: The Riverton Rifle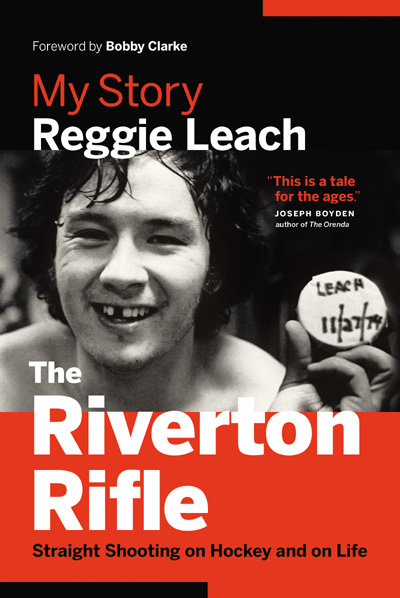 Hockey's Reggie Leach a straight shooter in new book
Written by Reggie Leach
Reviewed by Sam Laskaris
Windspeaker Contributor
When he was in the prime of his professional playing days, Reggie
Leach was one of the National Hockey League's most prolific scorers.
It's little wonder then that Leach continues to be a straight shooter
these days. His recently released autobiography published by Greystone
Book called The Riverton Rifle tells it just like it was.
He manages to stay humble and doesn't omit the bad parts, which
included his excessive drinking, the breakup of his first two marriages
and a stint at a rebab facility in New Jersey.
The Riverton Rifle concludes with a chapter titled Full Circle, in
which Leach, who has been sober for 30 years, talks about his current
life. Married for a third time, Leach lives in Aundeck Omni Kaning on
Manitoulin Island in Ontario.
He spends a good chunk of his time assisting his son Jamie, who was
also a pro hockey player, with the Shoot To Score hockey school. The
elder Leach is also a sought after motivational speaker, who prides
himself on being an Aboriginal role model.
Leach preaches the importance of making good choices in life. As he
himself knows, at times bad decisions are made. He stresses to never
blame anyone else for those choices.
Leach, a member of the 1975 Stanley Cup champion Philadelphia Flyers,
netted a career high 61 goals in 80 matches the following season.
The Ojibwe, who grew up in the Manitoba community of Riverton, played in more than 1,000 games during his 13-season NHL career.
Leach devotes a chapter in The Riverton Rifle (a nickname he acquired
for his accurate shooting) to his championship season with the Flyers.
The chapter, simply dubbed The Cup, includes numerous recollections
of the Flyers' playoff run. Though he was part of a Philadelphia club
nicknamed The Broad Street Bullies because of their aggressive and
intimidating play, one can't help but secretly cheer for him as he
describes the pandemonium inside the club's locker room after clinching
the Cup.
Leach also details the bedlam in the ensuing championship parade
through Philly streets, which included a nude woman running alongside
the players on the route.
Even those who did not grow up as Flyers' fans can be forgiven for
feeling happiness for Leach as he concludes the chapter by stating how
special it was – even more so today than back then – to have his
childhood dream come to fruition thanks to plenty of hard work.
The expression It Takes A Village To Raise A Child is certainly true
in Leach's case. He was born to a pair of young unmarried parents in
Winnipeg. But when he was a mere few weeks old he was sent to live with
his paternal grandparents who raised him in Riverton.
Starting from a young age, members of the community would give Leach some odd jobs to do.
It wasn't until Leach was 11 years old that he found out the man who
would drop by for visits for a few days was his biological father.
Despite ups and downs, The Riverton Rifle details how Leach became a winner on and off the ice.
Personalized signed copies of The Riverton Rifle ($35, plus shipping)
are available by contacting Leach directly at zreg27@yahoo.com or by
sending him a message via Facebook through his page at
www.facebook.com/reggie.leach.16
Photo caption: My Story: Reggie Leach, The Riverton Rifle, Written by Reggie Leach, Published by Greystone Book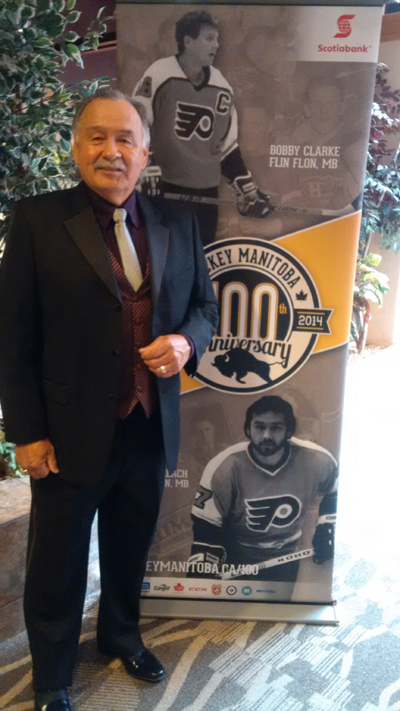 Follow Us
Share this with friends
Essential Reading
Key Links
Upcoming Issues
Advertising
Subscribe & Donate
Writer Guidelines