2011 Review: Gabriel Dumont: Li Chef Michif in Images and in Words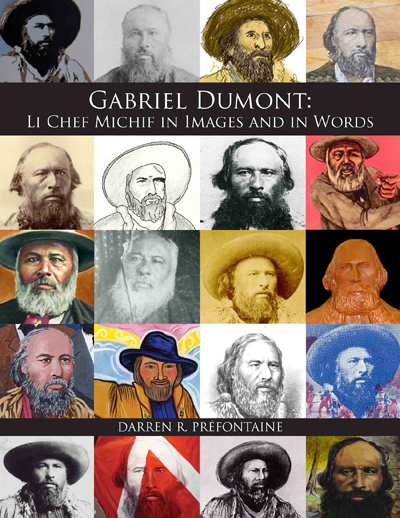 New book examines Métis leader through the eyes of his time
Review by Bernadette Friedmann-Conrad Sage Writer REGINA
A new book called Gabriel Dumont: Li Chef Michif in Images and in Words shows the life and times of the Métis leader through a new and different lens.
Author Darren Préfontaine said he wanted to compile this book because there was so much information about Gabriel Dumont in the oral histories and archival records that had never made it into the public sphere.
"The big story has always been about Louis Riel. There are only a couple of biographies on Gabriel Dumont and they don't talk about how he was viewed by Métis and non-Métis people. So I thought it would make a compelling story how this old rebel, if I may use that term, became a Canadian hero," said Préfontaine.
The book is a compilation of images and journalistic accounts of Dumont. With the help of staff at the Gabriel Dumont Institute, housed within the University of Regina, Préfontaine worked for three years to assemble photos, artist renderings and newspaper articles from around the world about this Plains Métis hero who was born in the Red River area in 1837 and died near Batoche in 1906. The book also shows material culture related to Dumont's life such as his pool table, artefacts he had in his possession, and his gravesite.
During their research, Préfontaine's team was surprised to discover that the 1885 Resistance and Dumont were very well covered in the newspapers and not just all over Canada but throughout the English speaking world. Préfontaine said he found out many things he didn't know about Dumont before.
"A lot of things came through serendipity during the research. For instance, there was a rich widow in Montreal who proposed to him; he saved some kids in a fire in the 1890s in Montreal, and he looked after orphans in Montana during 1885 — little vignettes like that. There are also some things in the book people might find unsettling, not so much about Gabriel Dumont, but about how 1885 played out," Préfontaine said.
Until the 1950s Dumont or the Resistance were hardly discussed in books. Préfontaine said Canadian society in general was under the impression that 1885 was over and didn't need to be talked about; it also wasn't going to recognize the bad things that had gone on, like how Métis people were marginalized and mistreated and what happened with the road allowance people. In the 1950s a few things changed however.
"For one, the prime minister at the time, John Diefenbaker, had met Gabriel Dumont as a young child and considered him one of his heroes. This is especially interesting since John A. MacDonald who smashed the Métis and First Nations in 1885 was Diefenbaker's hero as well. I think that led a lot of people to think that Dumont, even though you may not agree in the end with the actions he took, could be respected as a man of principle."
The book also includes a reference section that shows the oral traditions and archival documents about Dumont that were used in researching the book. Préfontaine included these in the hopes that readers may get inspired to write their own stories.
"My hope is that once this book is published more images and more things relating to Gabriel Dumont can come to life, and that'll only increase our knowledge of the man. Not only that, why not write a story about Madeleine Dumont, Gabriel's wife, why not about Poundmaker, why not Big Bear or Starblanket, why not any leader? The possibilities are endless; the Internet has made it so easy; all the old newspapers have been digitized. You don't have to live in Saskatoon, Calgary or Toronto any more to have access to the archives to do a book like this."
Follow Us
Share this with friends
Essential Reading
Key Links
Upcoming Issues
Advertising
Subscribe & Donate
Writer Guidelines