2011 Review: Broken Circle: The Dark Legacy of Indian Residential Schools—A Memoir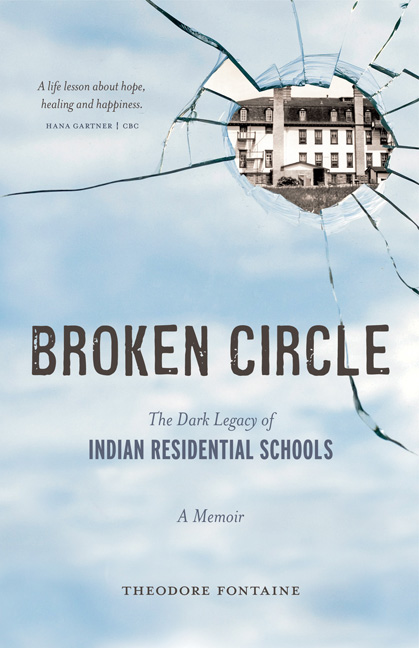 Light fades to dark in residential schools
Broken Circle: The Dark Legacy of Indian Residential Schools—A Memoir
By Theodore Fontaine
Published By Heritage House Publishing Company Ltd
Review by Christine McFarlane
"Broken Circle: The Dark Legacy of Indian Residential Schools—A Memoir" is a powerful book that gives testimony to the resilience of one residential school survivor and is also a hopeful and inspirational story that tells its readers that one can pick up the shattered pieces of life and use them for good.
Theodore Fontaine lost his family at the age of seven after his parents were forced to leave him at Fort Alexander Residential School, just days after his seventh birthday. It is poignant how he is able to capture the memory of his trip to the residential school, and the reader can envision Fontaine skipping down a dirt road on his reserve between his two parents and the excitement he felt at being able to go to school.
He writes about how he thought that he was on his way to a new adventure.
"I am going to be a 'school kid.' I'll learn to read; I'll be where my older brothers and sisters were, where they learned new things, coming back smarter, bigger and ready to find jobs and make money like Dad, my uncles and our older cousins. I will be a school kid, and I am excited!"
The excitement he felt quickly changes, however, and his experiences over the next 12 years would shape and control his life for the next 50 years. He recounts the courage it took him to climb up from a darkness that only a survivor of Canada's residential school system could understand.
While attending residential school, Fontaine realizes that his life would not be his own.
"I would no longer be a son with a family structure. I would be parented by people who'd never known the joy of parenthood and in some cases hadn't been parented themselves."
Fontaine explains how the "pounding into their minds that they were less than their keepers took its toll with more than two-thirds of his schoolmates dying early, mostly from lives lived trying to forget."
Ways of forgetting took form in many harmful behaviors, and while there are many stories about residential schools and the physical, sexual, spiritual and mental abuse endured there, Fontaine does an incredible job of humanizing the story of his experience.
The book confronts the truth and legacy of the Indian residential school. In its writing, Fontaine not only demonstrates the resiliency required to survive such experiences, he has taught himself that there is hope.
Follow Us
Share this with friends
Essential Reading
Key Links
Upcoming Issues
Advertising
Subscribe & Donate
Writer Guidelines