2010 Review: America's Gift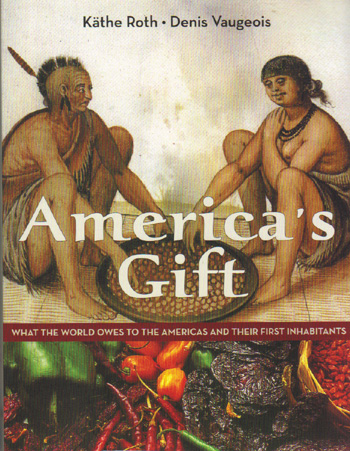 Review by Shari Narine
America's Gift
By Kathe Rothe and Denis Vaugeois
Published by Baraka Books
December 2009
Originally published in 1992 in French, America's Gift, by Kathe Rothe and Denis Vaugeois, came out in English in 2009.
The authors say the book "started with the idea it would be built on etymology," and while it is, it's also a strong testament to what Native Americans contributed to European culture and the enduring quality of those contributions.
The goal of the book is twofold, say Rothe and Vaugeois: to both point out what the Indigenous people gave (both willingly and unwillingly) to the explorers and to look at what the "discovery" of the Americas meant to the rest of the world.
The fact that the first Europeans, who arrived in the Americas, tried to learn the Indigenous language, is one reason why many words spoken by the Indigenous peoples became part of the mainstream language. It is believed that the Native people of the Americas spoke 2,200 different dialects.
It is fascinating to learn that the food we eat, the clothes we wear, our system of government, the animals we watch and the stars above our heads all have a heavy influence in the Indigenous language.
The book lists approximately 300 words in easy-to-follow alphabetical order and includes the language of origin. As well, an easy-to-use reference in the back of the book separates the words into their languages of origin as well as subjects such as animals, plants and objects.
The Algonkian language supplied the most words to French and English, just a small sampling being the common North American animals woodchuck, opossum, moose and raccoon.
Much of our fruit and vegetables have their roots in Native American words: papaya (Carib), avocado (Nahuatl), squash (Naragansett), and potato (Taino).
Other words that are common in the mainstream household include toboggan (Micmac), barbecue (Taino), tobacco (Maya), and hammock (Carib).
Even obviously Native American words are part of the mainstream language: sasquatch (Salish), moccasin (Ojibway), and anorak (Inuktitut).
Authors Rothe, who is a translator, and Vaugeois, who is a historian, have worked together for 15 years producing history books.
America's Gift is a strong collaboration that uses the strength of both Rothe and Vaugeois to present an interesting look at Native American linguistics, its longevity and its adaptability and how it has made the English and French languages stronger, and in some ways, poetic.
The way in which America's Gift is organized makes it not only an easy read but also an easy reference guide.
Follow Us
Share this with friends
Essential Reading
Key Links
Upcoming Issues
Advertising
Subscribe & Donate
Writer Guidelines