2009 Review: Shedding Skins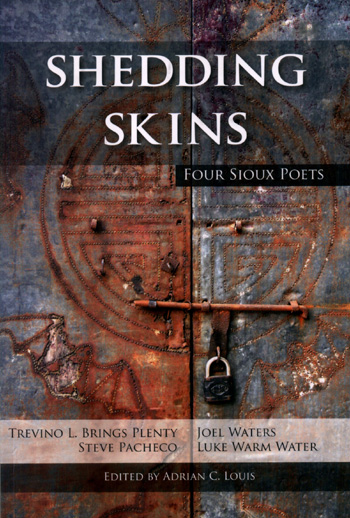 Poetry book breaths inspiration and reflection
Shedding Skins
By Trevino L. Brings Plenty, Steve Pacheo, Joel Waters, and Luke Warm Water
Michigan State University Press
123 pages (sc)
$15.95
Review by Thomas J. Bruner
In order to illustrate the power of poetry, one should have passion, must know pain, and must be able to breathe it onto the page. Shedding Skins is poetry in the truest sense of the word.
Shedding Skins is the brilliant result of a consortium of four Sioux poets. Each one of them bring something unique and powerful to the pages. Some of the poems play with the mind, while others punch you in the stomach with their brutal honesty.
"I don't dream anymore, I only remember." – an excerpt from Building Rooms To Sell Dreams, by Trevino L Brings Plenty.
The first of the poets is Trevino L. Brings Plenty, who not unlike his name brings plenty of thoughts to the book. His poetry is both clever and sharp, in the way that he conveys a thought and could force one to either laugh or cry, but at the same time, could have you shaking your head in disbelief at how he managed to say it. His poetry manages to be the words when everyone else is speechless.
"The afternoon smell of fish frying in the kitchen, masking the smells of the night before" – excerpt from Indian Country, by Steve Pacheo.
Steve Pacheo, as second contributor to this book, cleverly speaks of old family memories, and you kind of get the feeling that he wishes that his past didn't hold so much pain and dysfunction while at the same time you sense a thinly veiled fondness for it as well. It is yesterday's memories spoken from today's mind.
"I will never put anything before the importance of my own skin" – excerpt from Wannabe, by Joel Waters
The third poet is Joel Waters who conveys either the pride of being Native American or the lack thereof. The anger, pain, or impatience with the world can be felt with every carefully chosen word.
"This has been the gospel according to Luke Warm Water" –excerpt from The Jesus Of Pine Ridge, by Luke Warm Water.
Last, but certainly not least in the quartet of poets is Luke Warm Water who appears to be the most seasoned of the poets. His poems are the "full meal deals" of poetry and require a sit down and read regimen to gather the true meaning. Shedding Skins is like walking through four abandoned homes with every memory in tact. All four poets are brilliant regarding their ability to turn something as ugly as the past into something as beautiful as a poem.
Follow Us
Share this with friends
Essential Reading
Key Links
Upcoming Issues
Advertising
Subscribe & Donate
Writer Guidelines