2009 Review: Meshom and The Little One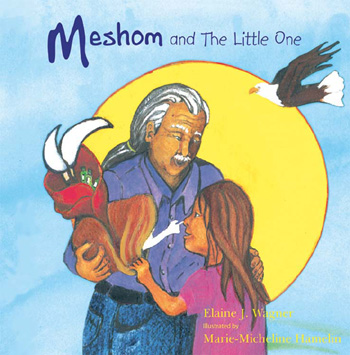 Children's book promotes culture and respect
Meshom and The Little One
By Elaine J. Wagner
Illustrated by: Marie-Micheline Hamelin
Theytus Books
56 Pages, (sc)
Ages 3 and up
Review by L. Christine Suthers
Meshom and The Little One is published by Theytus Books, a First Nations publishing house based in Penticton British Columbia. Theytus Books produces and promotes Aboriginal authors, illustrators and artists. Meshom and The Little One is Elaine J Wagner's first book.
It is full of vivid descriptions of landscape and expresses the feelings of her characters' with we can relate. In Meshom and The Little One, Wagner has found a way to enlighten us to some of the Ojibwa culture and language that adds an educational element and enhances the story.
The illustrations in this book are the work of Marie-Micheline Hamelin. They complement the story of Meshom and The Little One perfectly. The drawings are playful and full of life. Hamelin has captured the essence of the story and the love shown by the characters in her drawings.
Meshom and The Little One is a story about a young Ojibwa girl, Shawna, and her difficult time adjusting to moving across the country with her mother. Her new home is very different from what she is use to. The small town on the prairies in Manitoba changes to a city near the mountains of British Columbia. Ten-year-old Shawna is sad and lonely. She misses her friends and cousins but she misses her grandparents the most.
Shawna sees her Meshom (Grandfather) and Kokum (Grandmother) when they fly in to visit and to celebrate her birthday. Her grandfather gives her an unpainted plaster figure of a Ka-agashinshidig, a Little One, to watch over and protect her. He explains to her how the Little Ones' were tricksters and how they liked to play jokes and mischievous games. Meshom told Shawna that the Ka-agashinshidig was as unique as she was and that she should paint it by herself.
After her grandparents leave, Shawna and her mother visit a craft store and buy paints. Shawna sets about painting her Little One. She paints him in the colours that remind her of the traditional clothing of the Ojibwa. While she is painting she thinks of her Meshom and Kokum, the Elders, the lake her grandfather fished, and the colour of her father's eyes who died when she was very young.
Shawna talks to the Little One while she is painting. She tells it of the colours she is using, what she is feeling, and the friends she was looking forward to making when she started school. Shawna was happy.
She names her Little One Ogi-ma, which means Man of Esteem. As Shawna finishes painting Ogi-ma, Meshom and Kokum surprise her with a return visit. Her grandfather brought another a Ka-agashinshidig to paint and as a friend for Ogi-ma. Shawna names her new Little One Ogi-ma-kwe which means Woman of High Esteem.
Meshom and The Little One is an endearing story with characters full of love for each other and the Ojibwa culture. You and your children will enjoy this book. It is definitely worth the read.
Follow Us
Share this with friends
Essential Reading
Key Links
Upcoming Issues
Advertising
Subscribe & Donate
Writer Guidelines