2010 Review: she walks for days inside a thousand eyes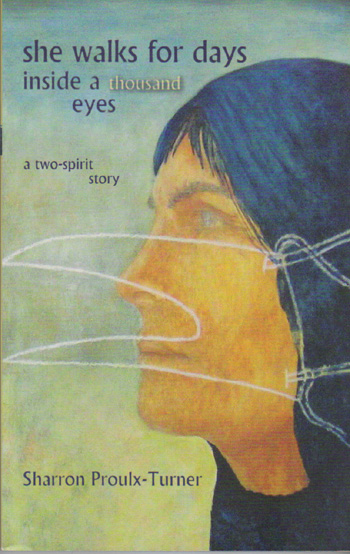 Review by Shari Narine
she walks for days inside a thousand eyes: a two-spirit story
By Sharron Proulx-Turner
Turnstone Press, 2008
December 2009
she walks for days inside a thousand eyes: a two-spirit story is a riveting mixture of prose and poetry, myth and modern day. Sharron Proulx-Turner's combination in telling the tale is part of the beauty and intrigue of the two-spirit story.
The story is ambitious; it's a story of confirmation and pride; a plea for two-spirit people to accept their role in today's society as they accepted it in the past. It's a plea to fulfill the roles of leader, mentor, warrior, protector, provider and mediator. It's a plea to accept that "two-spirit people are not a typo but are here for good, for all time to ensure balance in body, mind, heart, spirit."
she walks for days inside a thousand eyes is told in the voices of many as the "fleshly woman" seeks out understanding of who she is in a sweat lodge. Fleshly woman's journey is told through myth, where she learns of the lives of two-spirited people, what they suffered, what they endured, and what they accomplished. At the end, fleshly woman's visions tell her what she must do: "what you've learned here will return home with you and you're to share this knowledge as far and as wide as your remaining years will allow you."
Part of Proulx-Turner's myth includes the role of the European in shaming the two-spirits, by forcing man-woman unions "without heart and mindlessly label the union of two-spirits an abomination."
Proulx-Turner follows fleshly woman's movements and growth through the words of Small Spotted Eagle, Young Crow, Maw-Caw and Gopher (With One Eff), and fleshly woman addresses her grandmother Germaine on her journey to discovering who she is and what it means to be two-spirits. Proulx-Turner's literary devices make for interesting reading, in which even the prose is as poetic as the verse. And in the end, Proulx-Turner reveals that all her talking, learning animals are poetic devices, much to Young Crow's disappointment. Explains Maw Caw to Young Crow: "you, because you and your ego were brought back to life by the fleshly woman when she was still a girl and you were just a chick-kak. Small Spotted Eagle because she holds the history for the two-spirit women. And me? Because of our centuries with the Metis."
In revealing the proud history of the two-spirits, Proulx-Turner works to convince two-spirited people that they need "to break out of the mold that's been created by centuries of terror."
she walks for days inside a thousand eyes is a journey about learning about one's self and being open to accept what is revealed. And once accepting what has been revealed, the journey continues in using those gifts of who we are. "The fleshly woman is returned to her home knowing the gifts of the two-spirits, and ever so slowly, she'll begin to understand her role, a crucial role in opening the doors that resist opening."
In she walks for days inside a thousand eyes,Proulx-Turner makes it clear that the history of the two-spirits is proud and the future can be just as proud.
Proulx-Turner is a Metis writer raised in the Ottawa River valley. She has taught writing and literature at the University of Calgary and presently resides in Calgary.