Footprints
Presenting biographies of some outstanding Indigenous people who have left a legacy for others. We thank them for their contributions to their communities and their people and we strive to always remember them. Follow in their footprints...
Albert Diamond - Footprints
Trapline made Albert Diamond ready for business

By Dianne Meili
Living shoulder-to-shoulder with three other families on the trapline from September to March taught Albert Diamond about equality.
The president of Air Creebec Inc., who passed away suddenly from a heart attack on Sept. 9, 2009 at age 58, carried his childhood values into the boardroom to establish unprecedented economic success for Northern Quebec Cree.
The traditional values of caring and sharing, responsible for the fact "there were never really any arguments" and "everyone depended on each other" during the fall and winter cycle, are the same ones Diamond touted in speeches to global organizations that continually sought his advice.
"One of our best values is to share," he said in a video on the Grand Council of the Crees Web site. "And in business, health issues, or anything, if we (James Bay Cree) have knowledge, we'll share it with other communities when they ask."
"I learned early on, if I don't have the resources, not to be afraid to go to the people who do," he added.
Diamond was the first to admit he was not always a traditional person. He was away from home in Moose Factory for schooling 10 months of the year from the age of six.
"I was assimilated into the non-Native culture," he explained, and though he yearned to be with his parents on the land while away at school, he found reason to value his education when he came home in the summertime.
"My dad, as the chief of our community, would have a suitcase of letters for us kids to translate when we got home. He told us 'I wish I could read and write and speak English, then I could do more for our people.' Reading those letters, I could see the government wasn't giving him the time of day and he was frustrated.
Diamond recalled asking himself 'what do you have to do to make changes happen?' and deciding at a young age the answer was in education.
But in his second year of university, a call from his brother, Chief Billy Diamond, changed his life. Robert Bourassa had announced the James Bay Project and Billy was taking the government to court.
At a time when land claims and agreements were unheard of, the Cree won the case to protect their traditional way of life. In 1975, the James Bay Agreement was signed with Quebec and the Grand Council of the Crees was born.
"During the two-year period of negotiations, we tracked down Crees who had college educations and who could come and work for us," Albert Diamond said in his video. "And all this time I was thinking 'this sounds very familiar," because my father always tried to get people to work together'."
Diamond was elected by the chiefs to oversee management, investment and distribution of the money paid to the Crees under the agreement. From its inception in 1978 to 1990, as chairman of the Cree Board of Compensation, he made decisions that saw subsidiaries like Cree Construction, Air Creebec, Servinor and other business ventures flourish.
Under his leadership, the business volume of Creeco grew from $4 million to over $100 million, including $62 million from the Cree Construction Company.
Over the years he lent his expertise to direct ventures other than those with a financial focus, like the board of health and social services.
Despite the money, Diamond acknowledged his peoples' struggles with violence and drug and alcohol abuse.
"There has been a fast pace of change. Yes, we have the negative aspects that result from that, but we also have our own people to deal with it. We have Cree social workers. On the whole, our quality of life has improved and we have made room for sports arenas, gathering places and homes for the Elders."
Add to this a Cree school board where Cree language is taught exclusively during the first three years of a child's life, and wherein a mandatory four-week canoe expedition teaches students respect for the land, customs and traditions, and it is obvious Diamond had a hand in keeping his peers' priorities straight.
Air Creebec Inc. Chairman Jack Blacksmith worked alongside Diamond for almost 20 years.
"I am serious when I say no one will ever compare with Albert," Blacksmith said. "He was our "go-to" guy.
Whenever we had someone new and they wanted to get direction, off they'd go to Albert."
"It's not just anybody who can take three or four companies and totally turn them around. He made it work.
"He was always ready to share, and he was totally respected. His very large presence is gone, and he will be missed."
Alex Decoteau - Footprints
Alex Decoteau:Difficult beginnings, life of achievement
Cheryl Petten
Deceased: October 30, 1917
Each spring, students in Edmonton gather to take part in a five-kilometre race named in honor of Alexander Wuttunee Decoteau. To the children, Decoteau is a role model, an example of what people can accomplish with their lives. And although Decoteau's life was a short one, almost 90 years after his death he still inspires others with his example.
Alex Decoteau was born on Nov. 19, 1887 on the Red Pheasant Reserve near North Battleford, Sask. He was the second youngest of five children born to Mary and Peter Decoteau. When he was just three years old, his father was murdered and his mother, left with no means to support herself and her family, asked that three of her children be placed in the nearby Battleford industrial school.
Peter Decoteau had been employed by the Indian department for many years up until his death, and the department agreed to Mrs. Decoteau's request, and young Alex began his studies at the industrial school.
Decoteau was a good student and an exceptional athlete. He excelled at a number of sports, including boxing, cricket and soccer. He also demonstrated his ability as a runner.
When he finished school, Decoteau moved to Edmonton where a job awaited him in a machine shop owned by his brother-in-law. He also continued to run, and soon made a name for himself as a middle and long-distance runner.
He ran his first competitive race in Fort Saskatchewan, Alta. in May 1909 and came in second. He had greater success in his next race the following month, a five-mile race held during the Edmonton Exhibition. But it would be his next race that would make people sit up and take notice. It was the Mayberry Cup in Lloydminster, located on the Saskatchewan/Alberta border, another five-mile race. When he'd crossed the finish line that day in July, Decoteau had set a new western Canadian record, finishing in 27 minutes, 45.2 seconds.
In 1909, Decoteau left the machine shop for a career in policing. He joined the city of Edmonton's police force, becoming Canada's first Aboriginal police officer. And he continued to run and to win.
In 1910, he entered the Alberta provincial championships held in Lethbridge. Decoteau competed in four events-the half-mile, one-mile, two-mile and five-mile races-and took first place in each of them.
His list of racing accomplishments includes winning the Calgary Herald's Christmas Day Road Race three times, the Hon. C.W. Cross Challenge Cup in Edmonton five times, and the annual 10-mile race in Fort Saskatchewan three times.
In 1912, Decoteau was given a leave from his policing duties so he could represent Canada in the Olympic Games in Stockholm, Sweden, competing in the 5,000-metre event. Decoteau finished second in his qualifying heat and in the final was running in third place after the fourth lap when he began getting leg cramps. When the race was over, he had finished in eighth place.
Despite not winning a medal, Decoteau arrived home from the Olympics to a hero's welcome, complete with a parade down Jasper Avenue, right through the heart of downtown Edmonton.
After the Olympics, Decoteau returned to policing. He was promoted to police sergeant and was given his own station. He also continued to run, winning almost every race he entered.
Then, in 1916, Decoteau answered a call to another kind of duty.
He enlisted with the Canadian army in April 1916. He would use his athletic abilities in aid of King and country, serving as a runner in the trenches during the Second World War. The following May, he shipped out overseas with the 49th Canadian Battalion, arriving in France.
In a letter to his sister written in early September 1917, Decoteau talked about his experiences in the war. He spoke fondly of all the people from Edmonton he'd run into in France, and told her about a bout of trench fever he was just beginning to recover from. He asked her not to tell their mother he'd been ill. He didn't see any reason to worry her needlessly.
By the end of October, Decoteau found himself in Belgium, and in the thick of the battle on Passchendaele Ridge. British and Australian troops had been battling at Passchendaele for months, with little to show for their efforts other than mounting casualties.
The battle to take the ridge was an important one to the allies, as the high ground would give them footing to launch attacks on ports on the Belgian coast, under the control of German troops and being used as bases for their submarines. The allied forces launched their assaults from the only part of Belgium they still held, around the town of Ypres. The Canadian troops would try to take the ridge battle by battle, bit by bit.
The Canadian effort was eventually successful, but at a huge cost. By the time the Canadians had secured the ridge on Nov. 10, 16,000 Canadian soldiers had been killed or wounded or were missing. One of those 16,000 was 29-year-old Alex Decoteau, who died in the morning hours of Oct. 30, killed by a sniper's bullet during an attack on the German line.
The bodies of some of those who fell at Passchendaele were never recovered but were instead claimed by the mud of the battlefield. Those who were recovered lie in a number of cemeteries surrounding the battle site, some identified, but many more buried as the unknown dead.
Alex Decoteau was buried in the Passchendaele New British Cemetery north of Passchendaele, alongside 649 other Canadian soldiers killed.
In 1985, Decoteau's friends and family gathered in Edmonton to hold a special ceremony to bring his spirit home. In attendance were members of the Red Pheasant band council, First Nations veterans, representatives from the Canadian Armed Forces and a 10-member honor guard from the Edmonton Police Service. A drum group performed a burial song, then a piper from the police department played Amazing Grace.
Decoteau's many achievements continue to be recognized and remembered to this day.
He has been inducted into the Edmonton City Police Hall of Fame, the Alberta Sports Hall of Fame, the Saskatchewan Sports Hall of Fame and the Saskatchewan First Nations Sport Hall of Fame. He was also named one of the 100 Edmontonians of the Century as part of that city's centennial celebrations being held this year.
Alfred Scow - Footprints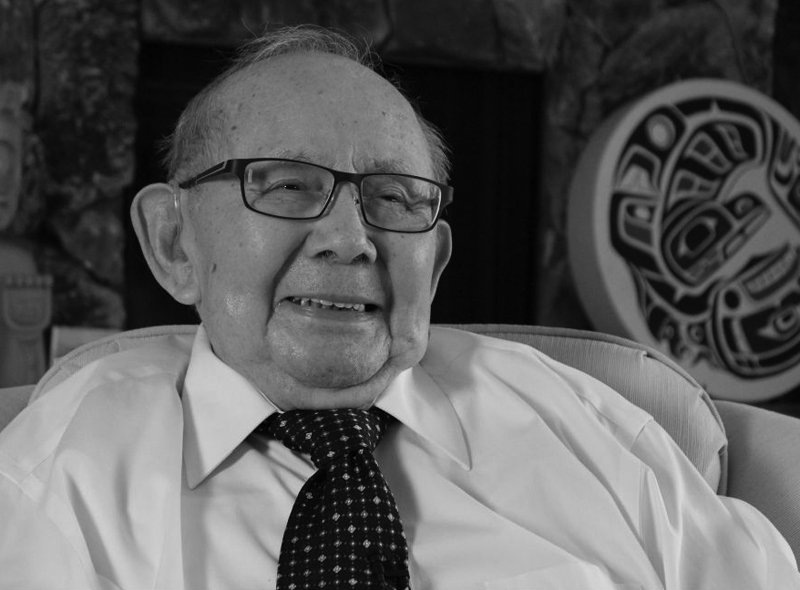 Retired judge worked to bridge equality gap
By Dianne Meili
Deceased February 26, 2012

Alfred Scow, the first Aboriginal judge ever appointed to B.C. court, had much to celebrate.
But he refused the "role model" moniker, taking more pleasure, it seemed, in the idea he may have played a part in reconciling the gap between Aboriginal and mainstream Canada.
Placing no blame and fuelling no anger, Alfred chose a passive approach to educate Canadians about the disparate Aboriginal experience. In his retirement years, for example, he published Secret of the Dance, imparting the true story of how he, as a nine-year-old child, snuck in to watch his father dance at a potlatch, ceremonies prohibited at the time by the Indian Act.
Written with Andrea Spalding and Darlene Gault, the book was selected as one of the 2007 Best Books for Kids and Teens by the Canadian Children's Book Centre.
Tina Dion, a Cree lawyer in Vancouver, met Scow in 1996 when he appealed to her University of British Columbia law class for help.
"He had a question for us," recalled Dion. "He wanted Aboriginal students to advise him in his efforts to combat misinformation about Aboriginal people in the media." Dion sensed his genuine purpose and helped him establish the Scow Institute for Communicating Information on Aboriginal issues, of which she is currently president.
The institute was named for Scow without his knowledge.
"He and Joan (his wife) missed one meeting and that's when the committee came up with the name. We joked, 'That's what you get when you miss a meeting,'" Dion explained in a 2010 article in the Law Society of British Columbia's Bencher's Bulletin.
The Scow Institute is responsible for making available unbiased information about specific laws that affect Aboriginal people and shape their experience.
According to Dion, "Alfred was a decade shy of not being able to be a lawyer." A law was passed in 1919 preventing First Nations and other minorities from being admitted to the legal profession, because they were barred from voting in government elections.
"Aboriginal people were only allowed to vote in 1960, and Alfred graduated in 1961, so he just made it in," Dion said. Before that, he was not considered a Canadian citizen.
Not only was Scow the first Aboriginal judge in B.C., he was also the first Aboriginal to graduate from law school in B.C., and also the first called to the bar in that province. He was awarded the Order of Canada in 2000 and the Order of B.C. in 2004.
Born April 10, 1927 in Alert Bay, Scow's parents were Chief William Scow of the Kwicksutaineuk Nation, and his mother's name was Alice. The couple valued formal education and used subtle cohersion to keep their son in school.
As Scow recalled in an article published in 2005 in the UBC Law Alumni Magazine, at 15 he told his parents he wanted to quit school to fish and support the family of 18. They agreed, and Scow was secretly disappointed they didn't argue with him. A few days later he overheard them talking about arranging his marriage now that he was a working man. He tiptoed out of the house and went for a long walk, pondering this unexpected turn of events. The next day he announced he would stay in school and continued his studies for the next 20 years.
Scow's story has an epilogue: years later, at a family gathering he took his parents aside and asked if they knew he could hear their conversation of so many years ago. Smiling, they nodded "yes."
Alfred could have been the poster boy for the saying 'slow and steady wins the race.' He had fished with his father from the time he was six, and financed his law degree on halibut and salmon boats. At first, he found the concepts of the western legal system to be foreign, and claimed to be far from an academic. He found school difficult and lacked good study habits, struggling with his classes but never giving up. Fortunately, the UBC Dean and some of the professors encouraged him and he finally graduated at 34.
"For a long time, it really didn't strike me as significant that I was the first (Aboriginal to graduate in law)," Scow is quoted as saying in the law alumni magazine, even though the head of the Indian Affairs Department for B.C. attended his ceremony. "I want to do whatever I can to show my gratitude because (it) really changed my whole life."
Scow began private practice in 1962 and married his English wife Joan Heaton-Peterson in 1964. The couple had no children.
As a lawyer with only two years' experience, he was asked by a Fort Rupert couple to defend their daughter, charged with murder. He deferred, insisting they hire a senior lawyer, but they wanted him. Finally, he asked a top criminal lawyer what he should do. "You're a lawyer, aren't you?" the man asked. Scow replied in the affirmative and was told "Well then, take the (expletive) case!" He did, and his client was acquitted.
Scow was appointed to provincial court in 1971, and expected to hold the job for the rest of his career. But in 1967, he was appointed as a representative of Canada on a fact-finding commission in Guyana, and was later appointed chair of a board of review for the B.C. Workers Compensation Board.
He also served on the management council for UBC's First Nations House of Learning and was a lifetime member of the Vancouver Aboriginal Friendship Society, where he was the founding president.
In his retirement years, Scow broadened his scope to include activities that would better the position of Aboriginal people across Canada.
"He didn't sit idle," said Dion. He quietly developed organizations and set up scholarships to help individuals, and Canadian society, as a whole, she explained. Significantly, he established a bursary fund with the Provincial Court Judges for needy law students at UBC, and the Scow Institute for Communicating Information on Aboriginal Issues.
Scow would have been 87 on April 10, and would have celebrated his 50th wedding anniversary this August. He died at home surrounded by his extended family on Feb. 26. "We all die. The goal isn't to live forever; the goal is to create something that will," reads a post on the Facebook page developed after his passing.
Angela Sidney - Footprints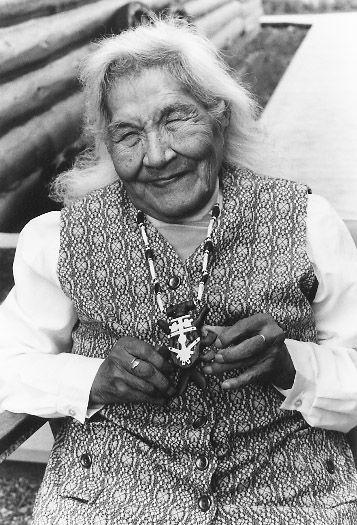 Angela Sidney: Preserving the culture, a personal endeavor
Cheryl Petten,
Windspeaker Writer
As a young girl, Angela Sidney loved to sit and listen to her parents, aunts and uncles tell stories. She loved to hear them talk about the traditions and culture of her people, and recount the histories of the Tagish and Tlingit people of southern Yukon through the ancient stories that had been passed down from generation to generation.
Angela Sidney devoted much of her life to preserving the stories of her people, the Tagish of the southern Yukon. Her legacy is left in
the many books she authored and a storytelling festival held each summer that she inspired.
But Sidney was living in a time of transition and as she grew older, she noticed that fewer and fewer of the people around her were telling the old stories. She worried that the Tagish language, in particular, and the history and culture of the Aboriginal people of the southern Yukon, would be lost.
So Sidney, one of the last fluent speakers of the Tagish language, decided to take on the responsibility to preserve the language and the stories. The result of her effort can be seen, not only in the number of books she authored, but in an annual storytelling festival that she inspired.
"I have no money to leave for my grandchildren," Sidney once said. "My stories are my wealth."
For centuries, the Tagish people traded with the neighboring Tlingit, and often there was intermarriage. By the middle of the 1800s, the Tagish people began to use the Tlingit language more than their own, and to practice Tlingit customs as well. The Tagish culture and language were further eroded in the 1900s when white prospectors came to the Yukon in their quest for gold.
Sidney was born near Carcross on Jan. 4, 1902. Her mother was Maria John, a woman of Tlingit ancestry, her father Tagish John.
When she was born, she was given three names. She was called Ch'óonehte' Ma in Tagish, Stóow in Tlingit, and Angela in English.
Sidney spoke Tagish only until she was about five years old. After that, she spoke Tlingit, and then English. Yet after 80 years, she could draw from the memories of her early childhood and still speak Tagish fluently.
Sidney and her older brother Johnny, born four years earlier, were the start of a new family for her parents, who had lost four children a few years earlier when a series of epidemics-German measles, dysentery, smallpox and jaundice-swept through the territory. Sidney's mother, too, had taken ill during that time and, although she survived, the experience left her weak.
As the oldest daughter, the responsibility to care for her mother fell to Sidney and she had ample opportunity to ask questions about family history and about the culture and stories of the people. She added to this wealth of knowledge with her own experiences, gained over almost a century of living.
It was perhaps the transitions the community was experiencing that fueled Sidney's desire to record the stories and language of her people. Often while growing up, she would hear stories about the way things had been done in the past, and then was disappointed when her experiences did not match those stories. For example, she didn't receive a potlatch name because when it was time, there was no Elder in her clan that could give it to her, because the people with that knowledge had passed on. And her puberty seclusion, a tradition among young Tagish girls, wasn't taken as seriously as it had been in the past, and was actually cut short so that Sidney could return home to help her mother.
Living through this time of transition meant that, in many aspects of her life, Sidney had to live in two worlds. As a young girl caring for a sick mother, she learned traditional healing, and as an adult, she studied medical textbooks. She used both this old and new knowledge to care for the people of Carcross as their unofficial nurse.
She married her husband George Sidney in the custom of her people, but the couple was also married in the Anglican church. (Sidney was only 14 when she married; her husband twice that age. When he referred to her in the traditional Tlingit way-which in English translates into auntie-she was embarrassed, even though she knew he was using the term to show respect. She thought it was too old-fashioned, and was worried that white people would think she'd married her nephew.)
More often than not, however, Sidney embraced both worlds and tried to pass on her affection for both to her own children. She didn't want them to be "old-fashioned," but at the same time, she didn't want them to forget the ways of their ancestors. This is the approach Sidney took in her life.
When her son was overseas with the Canadian Army during the Second World War, Sidney bought a radio so she could keep up with the latest news from the front. Later, on his return, she welcomed him home with a gift of an ancient Tlingit song.
Sidney began to focus on the preservation of the history, traditions, language and stories of the southern Yukon in the mid-1970s. She had some of the stories included in two books-My Stories Are My Wealth, published in 1977, and Tagish Tlaagu, published in 1982. She also published a book documenting Tagish and Tlingit place names for locations around the territory's southern lakes.
In 1983, Sidney joined with long-time collaborator Julie Cruikshank to produce Haa Shagoon: Our Family History, a record of Sidney's family tree, dating back to the mid-1800s and covering six generations.
Sidney also had a chance to share her own life story when, in 1990, she collaborated again with Cruikshank, as well as with two other Yukon Elders, Kitty Smith and Annie Ned, for the book Life Lived Like a Story.
Sidney shared traditional tales about how Crow created the world, how the animals were born, and how the seasons came to be. Her stories were filled with animals that could speak and transform into human form.
She told stories to teach children the way they should behave, and to explain why things are done a certain way. And she told stories recounting events that happened in the lives of her own family.
Skookum Jim, her father's cousin, was one of the people credited with starting the gold rush in the Yukon. In one of Sidney's stories, Jim rescues a frog trapped in a ditch, and the frog, in turn, heals Jim when he becomes injured. The spirit of the frog later comes to Jim in a dream, in the form of a beautiful woman, and tells him he will find his luck down the Yukon River. A year later, Jim goes down the river, and discovers gold.
Sidney and her stories were the inspiration behind the Yukon International Storytelling Festival, which was created in 1988 by fellow storytellers Anne Taylor and Louise Profeit LeBlan, when they learned that Sidney had had to travel to Toronto to share her stories in a festival setting. The Yukon International Storytelling Festival is held in Whitehorse every summer, and features storytellers from across Canada and around the world. This year's festival will be held July 5 and 6.
Sidney became a member of the Order of Canada in 1986, when she made history as the first Native woman from the Yukon to receive the honor.
Annie Pootoogook - Footprints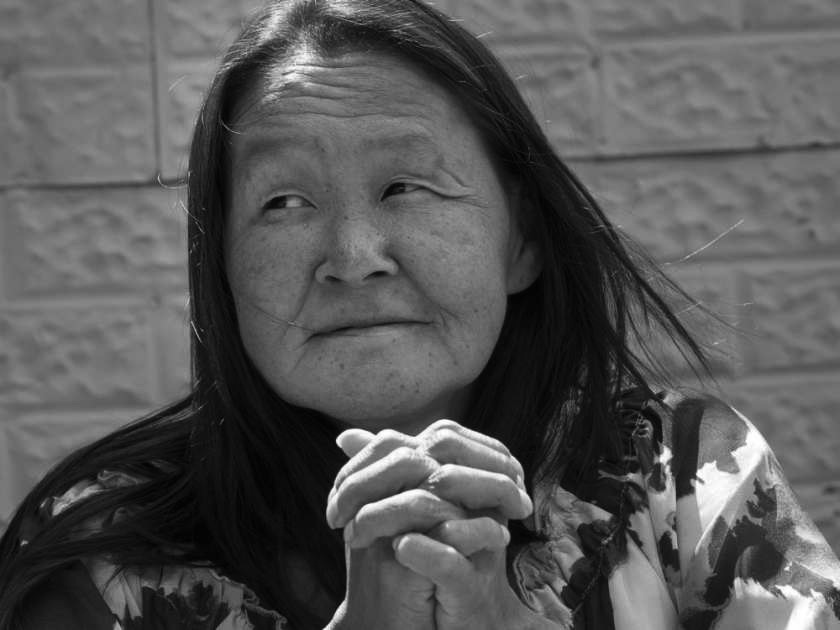 Death of Inuit artist unleashes flood of emotion
By Dianne Meili
Deceased: September 19, 2016
The sudden passing of Annie Pootoogook, 47, in Ottawa this past Sept. 19 brought two waves of emotion. There was initial grief amongst those who knew her as a friend and influential artist, and a flood of national anger as discrimination within law enforcement surfaced.
Police initially refused to investigate suspicious conditions surrounding Pootoogook's death, even though her body had washed up on the shore of the Rideau River. An Ottawa police officer then wrote on social media that the artist's death "could be a suicide, accidental, she got drunk and drowned" and in a second post he wrote "much of the Aboriginal population in Canada is just satisfied being alcohol or drug abusers."
The comments were widely condemned as racist and gave rise to an internal investigation of the officer's conduct.
Acclaimed artist, Annie Pootoogook was from Kinngait, the Inuktitut name for Cape Dorset. As the daughter of Napachie and Eegyvudlu Pootoogook, and granddaughter of Pitseolak Ashoona – all acclaimed artists – she was always drawing.
Despite the fact southerners at first rejected her art, which depicted real life, modern scenes around Kinngait instead of the preferred visions of traditional life like seal hunting and drum dancing, Pootoogook stuck with her aesthetic.
Even though she knew she would have made more money drawing pictures to please buyers, she continued to draw raw, intimate scenes of her life, as harsh as they sometimes seemed.
Her independence paid off, and her drawings caught the attention of Toronto art dealer Pat Feheley, who initiated Pootoogook's trajectory to fame by giving her a solo exhibition in 2003 at Feheley Fine Art.
She promoted the young artist's "honest" artwork to Toronto Power Plant curator Nancy Campbell, who asked Pootoogook to try a large format drawing for a show at her facility.
Cape Dorset Freeze– an image of northerners peering through the glass doors of a supermarket freezer–was the highlight of the show and was later purchased by the National Gallery of Canada.
Two months after the Power Plant show, Pootoogook won the prestigious $50,000 Sobey Award in November 2006. She travelled to Montreal to accept the award, and then went home to Cape Dorset to spend some, and give much of it away.
Another artistic coup came in 2007 with the inclusion of her work in Germany's Documenta 12, for which she made national headlines and became the pride of her home community.
Pootoogook travelled to Europe for the event, and returned to Kinngait to stay for a while after the trip.
Deciding to live in Montreal and then Ottawa, she found a freedom in the city she couldn't have in her close-knit Kinngait. She began working with oil stick, a more sophisticated medium than pen, ink and crayon.
Another large-format drawing emerged called Drawing my Grandmother's Glasses. It was purchased by the Art Gallery of Ontario. A solo exhibit in The National Museum of the American Indian in New York displayed her artwork from 2009 to 2010.
Though her work seemed technically simple, her themes were wide-ranging and often playful, though her heavier themes of domestic violence challenged southern stereotypes of traditional life on the land.
Eschewing outdoor pursuits, Pootoogook loved to draw simple domestic scenes of people watching television or even cutting up a seal on the kitchen floor. A more hard-hitting picture illustrates a man advancing toward a woman sitting up in bed, his arms bent backward holding a large stick with which he's about to hit her. The man is her boyfriend, and she is the woman in bed.
She is often quoted as having said she could only draw what she had lived.
"I didn't see any igloos in my life," Pootoogook says in a 2006 documentary about her art. "Only Skidoo, Honda, the house, things inside the house."
Pootoogook and her cousin Shuvinai Ashoona are credited with altering the predictable stream of traditional artwork coming out of Kinngait which was considered more craft than art.
They altered the public's idea of what Inuit art was and could be, opening doors for younger artists to experiment in their wake.
"Many of her drawings touch upon the devastation that alcoholism and suicide have wrought – both of which occur in epic proportions in the north, where communities are still healing from the open wounds of colonialism and the radical severing of lives once lived in rhythm with the land," wrote Jasmine Budak in a 2012 blog.
Former Kinngait studio manager Bill Ritchie described Pootoogook as "engaging … hip, cool, and smart as a whip." Jason St-Laurent of Ottawa's SAW Gallery described her as a shining light, a free spirit who lived life on her own terms.
Pootoogook has also been described as humble, kind, vulnerable, and generous to a fault. She struggled with the success that her practice brought and for a period it was as though everyone wanted a piece of her.
At the annual vigil for Missing and Murdered Aboriginal Women, held just days after Potoogook's death, her second cousin Sytukie Joamie told a huge crowd, which included Prime Minister Justin Trudeau, "Annie was afraid to go near the water, yet she was found in the water. One of our sisters was found under very suspicious circumstances, yet … the police said there was no suspicion. The Inuit community, when we heard about Annie being found, we knew right away that it was suspicious because nobody walks into the water."
Pootoogook's boyfriend William Watt also stated she was afraid of water and would only enter it up to her knees.
A memorial service for Pootoogook was held in Ottawa, and then her body was flown to Kinngait for burial. The funeral service was held entirely in Inuktitut and was highly emotional. The artist's youngest daughter, Napachie, 4, was brought to the funeral by her adoptive parents. It was the first time she met her extended Inuit family and her first visit to the north.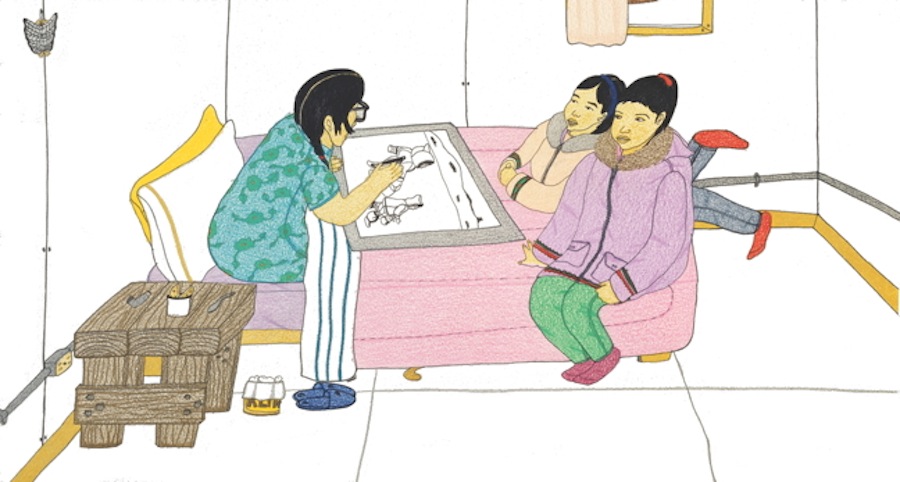 Ben Michel - Footprints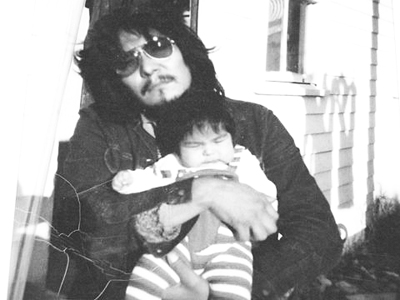 Ben Michel: Innu leader believed in creating a better future for his people
Deceased: Summer 2006
By Heather Andrews Miller
The passing of Ben Michel this past summer at the age of 53 from a massive and unexpected heart attack has left a void in the leadership of the Innu Nation. For approximately 30 years, Michel advocated for Innu rights so his people could have control over their lives and their land. He devoted his entire working life to being a political leader and while still in his teen years and early twenties was actively participating in protecting the land and the way of life of his people.
Since those early years, Michel had passionately joined other leaders of the 2000-member Innu Nation to achieve partnerships with the government of Newfoundland and Labrador and the federal government. Even before his election as president of the Innu Nation in 2004 he had been at the table of many comprehensive land rights negotiations and participated in numerous protests and evictions of mining companies who had begun development on Innu lands without permission or negotiation.
Ben—Penote in Innu — Michel was born on June 28, 1953 to Shimun Michel and Mani-An Michel of Sheshatshiu, Labrador, the fourth child of the 12 who would eventually be born to the couple. The English schools he attended at Sheshatshiu and Wabush gave him bilingual abilities, a skill he would find helpful later in his life when dealing with industry and government officials, but he always remained fluent in his Native Innu tongue.
Michel and his siblings were taught by their parents (who are still alive and are respected Elders in the 1,200 resident community of Sheshatshiu) to honor the land, and the family often enjoyed a traditional lifestyle. Later, he would pass on the same values to his own four children as he travelled the country to conduct negotiations and hold meetings about pertinent issues that would affect their future. He chose to drive to the many meetings he attended so he could bring his children along with him rather than leaving them behind at home. The family travelled every year to an annual gathering in Quebec, meeting with the Montagnais people with whom the Innu share their language and culture, but holidaying and relaxing as a family as well.
Michel was one of the people who could remember the Innu as a sovereign people with their own sustainable economy based on hunting, fishing and gathering. He saw the damage that mining, forestry, and hydroelectric projects were doing to the land and sought to ensure the Innu had a say in how these developments would unfold so that the environment could be protected.
One of the Innu's first experiences with industrial development was the Churchill Falls power project in the early 1970s that proceeded to drown forever a portion of their hunting grounds, trap lines and ancestral burial sites without any consultation or negotiation with the Innu. The unfortunate experience taught a young Michel and the Innu leaders that they needed to insist on meeting with government and industry to ensure they were part of the planning for any further developments. This set the stage for most of Michel's career as he spent the rest of his life delivering this message and ensuring agreements were carried out. Members of the community united in showing great support in any action necessary to get the attention of those in control of non-Aboriginal development.
Michel was involved in protests concerning military low level flight training over Labrador and eastern Quebec in the 1990s. Canada and its NATO allies allowed supersonic jets to fly over the area, as many as 30 to 40 times a day, flying low to avoid radar detection and greatly disturbing the wildlife, causing caribou to miscarry and threatening the food that the Innu and other Aboriginal people in the area hunted for survival. Children were startled by the planes that appeared with no warning of their approach and, clipping the tree tops, flew over the home lands with a noise twice as loud as thunder. The protests went on for years.
When the extension of a logging road right next to the community was planned, again without consultation, Michel and other leaders gave an eviction notice to officials and workers and set up tents to ensure that once they left they did not return.
The protestors continued their presence until a series of meetings resulted in then-premier Clyde Wells agreeing to prevent the road from being extended. In 1994, the Voisey's Bay nickel deposit was discovered in the area and the Innu found they were once again protesting the apparent ignoring of their rights as exploration of the area began without consultation. Michel helped to organize and attend the protests, which were eventually effective and gave the development companies and governments notice that the Innu must be included in any further development. They were joined in this protest by nearby Inuit people, whose lands were also threatened by the mining development.
One of the many people Michel met during his years of political leadership was Dr. David Suzuki, and family members say that the two found they had many environmental concerns in common and a great mutual respect for one another and the work each was doing.
Michel wanted to share the spotlight as leader with those around him and he taught and trained others with his knowledge and skills, including Daniel Ashini, the new leader of the Innu Nation. The incoming president has said he will continue working towards the vision he shared with his cousin, who was attending mining rights negotiations in Quebec at the time of his death in August. Ashini is a strong negotiator in his own right and has represented the Innu Nation in past land claims and numerous other activities, but admits the work is ongoing.
At the funeral held in Michel's home community of Sheshatshiu, more than 500 overflowed a school gymnasium for a five-hour service of remembrance. In attendance were politicians, friends and family members. Condolences poured in from across the country and the Combined Councils of Labrador asked all communities across the province to fly their flags at half mast.
In a statement of condolence issued by the office of the federal minister of Indian and Northern Affairs Canada, Jim Prentice called Michel a man of the people, someone who spoke passionately about the right to self-determination and possessed both vision and the ability to carry out the work necessary to see that vision become reality.
Family members say near the end, Michel seemed always to be tired, as if his many years of political and leadership duties were beginning to take their toll.
He leaves behind his wife Janet, his four children— James, Yvette, Annette, and Megan—grandchildren, his siblings, nieces and nephews, and his parents. He also leaves an entire community that continues to mourn his too-early passing but which will be forever grateful for the difference he made in their lives through his efforts to preserve the culture and the way of life for so many people. He will be remembered as the father of the Innu people.
Bernice Sayese - Footprints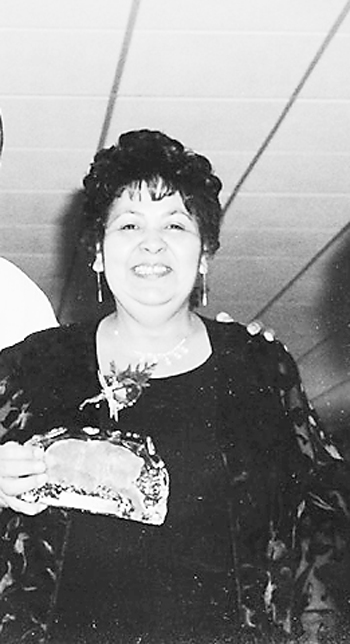 Bernice Sayese: Mama Bear gave selflessly for the betterment of her community
Deceased: March 4, 2004
By Heather Andrews Miller
Bernice Sayese has been gone almost seven years now, taken far too young at age 52. But the work she began is continuing.
The Métis woman, who was affectionately known as Mama Bear for the way she took all youth into her loving care, was born on June 5, 1951 in Glenmary, a Métis settlement located north of Kinistino, Sask. She lived most of her life in Prince Albert, a city that was enriched by her involvement in numerous organizations and institutions. She was mother to Shauna, Michael and James and unofficial mother to many of the youth of Prince Albert. Her untimely death on March 4, 2004 from cancer was mourned by friends and family, the citizens of Prince Albert, and countless others whose lives she touched.
One of her proudest moments occurred when she received the 2002 Prince Albert Citizen of the Year Award in recognition of her outstanding contributions to society, becoming the first Aboriginal women ever to receive the award. She was lovingly nominated by her daughter Shauna, who at the time stated that she had wanted her mother to be considered for the honour because she never blew her own horn so someone else had to do it on her behalf.
Sayese received the Citizen of the Year Award with humility, wondering why she was being singled out for recognition when there were so many others equally as deserving, and was thankful for receiving the honour not because it recognized her efforts, but because it shone a light on the contributions being made by Aboriginal people in general.
The list of community organizations with which Sayese was involved is a long and impressive one and includes the Play and Learn Daycare, the Integrated Youth Committee, the Métis Fall Festival, the Saskatchewan Child Nutrition Network, Won-Ska Cultural school, the Prince Albert Indian and Métis Friendship Centre, the Saskatchewan Police Commission and numerous others.
Sayese was a founding board member of the Prince Albert and Area Community Foundation, the Interval House Safe Shelter for Women and Children's Haven. She helped establish a lodge for homeless men and served as a community development officer with the City of Prince Albert and as a member of the Mayor's Task Force on Race Relations.
But the work for which she will always be especially remembered is the Voices of the North talent show, first held as part of the Prince Albert Winter Festival in 1992. Originally begun by Sayese, Sheryl Kimbley, Julie Roy and others as a way to showcase Aboriginal performers from northern Saskatchewan, the event proved so successful that talent from across Saskatchewan and beyond soon began to audition for the show.
Sayese opened up the program to all genres of music, whether it was country or rock or jazz. Last year's edition of Voices of the North, the fourteenth running of the show, promoted the theme of "Celebrating Our Diversity" and reflected the differing musical genres which the show has grown to feature. This year's event, to be held on February 15 to 17, promises to continue this diversity, which would without doubt meet with Mama Bear's approval.
Sayese is credited with coming up with the vision for the talent show as a way to promote and support youth in the performing arts because she recognized what having an opportunity to perform could do to a young person's confidence.
A number of performers that got their start through Voices of the North have gone on to great success in their musical careers and credit the show with giving them much-valued exposure. Chester Knight, Ray Villebrun, Vern Cheechoo, Krystle Pederson, Jay Ross and Teagan Littlechief are just some of the performers who have graced the Voices of the North stage over the years.
Through her involvement in Voices of the North, Sayese did more than just give fledgling artists a place to perform. Many times she became a guardian angel to band members, watching them, helping them find their audience and encouraging them in their chosen career. She cared about each and every one of them, and recognized that the music they performed for the show could pull some of them out of undesirable lifestyles.
Sayese made sure that every guitar player had a gig for the upcoming weekend and kept each in mind when hearing about a job that would suit a particular individual. She remembered birthdays, anniversaries and graduations and kept a supply of spare guitar strings on hand just in case.
Former Saskatchewan MP Rick Laliberte got his start in the entertainment world at Voices of the North, and served as master of ceremonies for the event for several years after making the jump from entertainer to politician. To mark the tenth anniversary of the event in 2002, Laliberte presented a guitar to Sayese as a symbol of all she had done for Aboriginal music. When Voices of the North was held in 2004, just weeks before Sayese's passing, the guitar was placed on stage as a tribute to Mama Bear, alongside a teddy bear draped with a Métis sash. That guitar has had a place on the Voices of the North Stage each year since as an ongoing tribute to Sayese and her years of work and dedication to making the event a success Those who have taken over the organization of the talent show have vowed to ensure the guitar remains as a remembrance of Sayese at every show in the future.
Sayese always wanted to see Aboriginal people in a good light, and the talent show was just one way she worked toward that goal. She also worked to improve race relations by her work in the community, and devoted her time and energies to assisting the homeless and the hungry, the young, people in penitentiaries, visitors at the friendship centre, and women who were struggling to put their lives back together after coming out of an abusive situation. She treated all those she met as equals, and greeted them always with kindness and a caring heart.
Sayese's hard work and dedication continued to be recognized after her passing. In March 2006, she was inducted posthumously into the Council of Women Hall of Fame in Prince Albert and the West Flat Community Centre in Prince Albert was renamed the Bernice Sayese Centre in her honour.
Since her passing, those who knew Sayese and worked closely with her have tried to step in and ensure the work she began is continued. They believe that by demonstrating how much one person can accomplish she has set an example that will become her lasting legacy, encouraging others to get involved in organizations that benefit the whole community. She remains a wonderful role model to all.
Her loss is still felt, but friends and family can take solace in the fact that Sayese would not want them to sit around mourning, but would encourage them to get on with doing what needs to be done.
Bill Reid - Footprints
Bill Reid: Caught between two worlds
Cheryl Petten
Deceased: March 13, 1998
Artist Bill Reid began his life in Victoria on Jan. 12, 1920. William Ronald Reid was the first of three children born to Sophie and Billy Reid. His mother was Haida from Skidegate, his father, an American whose mother was German and father Scottish.
After her marriage to Billy Reid in 1919, Sophie Reid had distanced herself from her Haida heritage. She knew that her children's mixed blood made them less acceptable to white society than they would have been if they'd been full-blooded Indians. But although she adopted a white way of life, she still kept in close contact with her family back in Skidegate, and continued to wear silver bracelets adorned with traditional Haida designs, some of which were created for her by her father, Charlie Gladstone.
The relationship between Sophie and Billy Reid was tumultuous, with Sophie and the children dividing their time between Victoria and Hyder, a community on the border between B.C. and Alaska where Billy Reid owned and operated hotels. When the young Bill was 13, he made the move from Hyder to Victoria for the last time, leaving behind a father he would never see again.
Growing up in Victoria, Reid never acknowledged his Native roots, nor did he acknowledge them during the year he spent at Victoria College, or the next year when, at the age of 18, he began his career in radio.
He worked as a radio announcer in B.C., Quebec and Ontario for a decade before joining the CBC in Toronto in 1948. That same year, he began studying jewelry making at Ryerson Institute of Technology. It was during his time at Ryerson that Reid first told his acquaintances of his Haida lineage, when his studies rekindled his interest in creating jewelry that incorporated Native designs.
Reid's interest in Native art and design dated back to his childhood when his mother would take her children home to Skidegate for visits. Reid admired the jewelry and carvings created by his grandfather, as well as those created by others in the community, including those made by his grandfather's uncle, Charles Edenshaw, whose work now stands alongside Reid's as the epitome of West Coast art. During these visits, Reid would spend much time with his grandfather, watching him create silver bracelets or argillite carvings, in much the same way as his grandfather had learned his craft by watching Edenshaw.
At Ryerson he began to incorporate West Coast themes into his work. At first, he was simply replicating the work created by his predecessors, but later began to adapt the traditional designs, creating work that merged Native and Western art into one. This renewed interest in his Native heritage also spilled over into his broadcasting career, where he documented attempts to salvage totem poles that were succumbing to the elements in now deserted Native communities.
Reid has been described as a bridge between the Native and non-Native worlds. But he has also been portrayed as someone who lived between those worlds, never truly accepted in either. He took his inspiration for his art from the creations of the great Haida carvers who had come before him. But inspiration also came from books on Native art created by non-Native ethnographers, and from studying the works of non-Native artists.
His technical knowledge had the same fractured origins. He learned carving at the side of Native artists such as his grandfather and Kwakwaka'wakw artist Mungo Martin, but learned jewelry making from non-Native instructors and artisans.
As his skills as a jeweler improved, and his interest in Haida design increased, Reid transformed from a radio personality who made jewelry on the side into a world-renowned Haida artist.
While much of his success lay in his talent for translating Haida imagery into something visually beautiful, his career was buoyed by his willingness to get to know the right people and cultivate the right connections, something other Native artists of the time either couldn't or wouldn't do.
Reid brought about a change in the way the work of Native artists was viewed by the Western world through his ceaseless work to have Native jewelry and carvings accepted as fine art rather than viewed as handicraft.
While his most famous works are his large scale carvings-The Spirit of Haida Gwaii on display outside the Canadian Embassy in Washington, D.C. and the Raven and the First Men, found at the University of British Columbia's Museum of Anthropology -Reid saw himself primarily as a maker of jewelry.
His goal from the outset was to create beautiful, modern jewelry, and many times he swore to abandon Native art all together so he could pursue that goal. But each time the path he traveled returned him to the art form with which he is most closely associated.
At the height of his career, Reid was earning more than any other Native artist. In the early 1990s, gold replicas of the Raven and the First Men were fetching $125,000 each. And in 1995, he earned the largest commission in the history of Canadian art when the Vancouver International Airport paid him $3 million for another version of The Spirit of Haida Gwaii, this time created with a green patina and named The Jade Canoe.
One of the ironies of Reid's life was that, as he became more successful in his artistic career, he also became less physically able to continue his work. In the early 1970s, he was diagnosed with Parkinson's disease, a chronic and progressive neurologic disorder that can cause hand tremors and stiffness of the limbs. As the disease progressed, he grew less and less able to create with his own hands, and grew more and more reliant on his assistants to transform his visions into solid form.
In the end, the disease made it difficult for him to speak, and to think clearly. Then, on March 13, 1998, at the age of 78, Bill Reid passed away.
Two separate memorial services were held to honor Reid after his death, the first in the Great Hall of UBC's Museum of Anthropology, just a stone's throw away from the Haida village Reid had helped recreate on the campus in 1959. More than 1,000 people came to pay their respects to Reid-mainstream politicians, First Nations leaders, Elders, fellow carvers, family and friends among them-during a service that lasted more than six hours.
The second ceremony took place at Skidegate, the birthplace of his mother, and at T'
After a three-day journey, the Lootas arrived at its final destination, and on the beach where T'anuu had once stood, some of Reid's ashes were scattered, and the rest buried. Bill Reid had found his final resting place, but not before leaving a substantial and impressive artistic legacy.
Billy Diamond - Footprints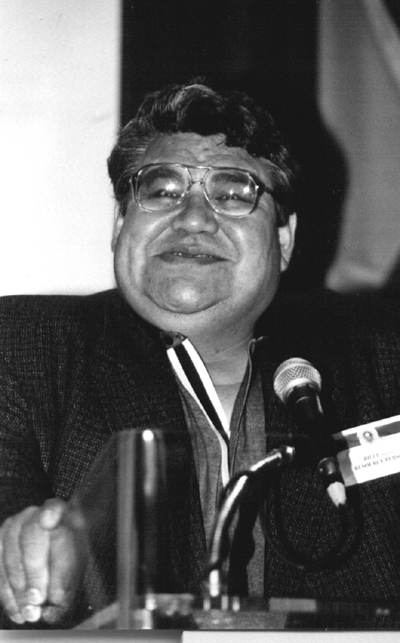 The diamond in the rough became a polished gem of a man
Dianne Meili

When Billy Diamond was a skinny, seventeen-year-old he watched young Cree leader Robert Kanatewat tell bureaucrats that English would be the language used in the new community school to teach students, not French.
The government officials agreed with him, and the visiting Kanatewat flew out of the reserve, then known as Rupert House, but not before he'd left a lasting impression on the politician-to-be.
"He was carrying a briefcase – a briefcase in Rupert House!" recalled Billy in Chief, The Fearless Vision of Billy Diamond, a biography written about him by Roy MacGregor.
"Every eye was on him, not because of the way he was dressed or anything, but because of the way he carried himself … so calm and so sure of himself," he added. For the first time in his life, Billy saw "the kind of authority a real chief should have."
Back in his Sault Ste Marie high school, Billy was beginning to feel Indian pride and become politically aware. He helped set up the first Indian Students' Council in the city and edited the group's newspaper.
After high school, Billy returned to his community, now known as Waskaganish First Nation in Quebec, and helped his father Chief Malcolm Diamond with political affairs.
He quickly established himself as a major player in his small village, organizing grant applications, handling welfare cheques, and becoming the first resident to own a shiny new skidoo.
In 1970, at the age of 21, Billy was elected as chief of his community. A month later, eight bedraggled Cree elders walked into his office saying they had met land surveyors in the bush who told them their magnificent lake was going to be flooded.
It was true. Premier Robert Bourassa wanted to harness the power of James Bay in a $6-billion hydroelectric project that would give Quebec economic stability and create 125,000 jobs.
Even though the Cree had hunted and trapped for more than 5,000 years along the coastal rivers, they were forgotten in development of the "project of the century." Billy took on the government like the fighter he was, and he brought out the battling instinct in his people.
He showed trappers maps indicating the devastation of the flooding to their livelihoods, and began organizing meetings so the government would have to listen to a galvanized front. In 1974 he became the first Grand Chief of the Grand Council of the Crees of Quebec and later signed one of the biggest land claim settlements in Canada – The James Bay and Northern Quebed Agreement – with the provincial and federal governments.
Billy created national and international media attention to spotlight the plight of the Cree and Inuit of the north, and went to the United Nations to argue the Aboriginal case. His land claim action set a new standard for how government engaged with Aboriginal communities.
In his personal life, though, Billy was so caught up with the fight over the flooding that he barely noticed his wife Elizabeth was almost to term with her second pregnancy.
His wife wanted him home for the birth and she complained it was all she could do to care for their toddler with him away so much. He promised to be there for her – the first of many he would not keep – but arrived late to a feverish newborn and distressed mother. At the community medical clinic the parents watched helplessly as their daughter took a final shallow breath and died.
Billy didn't have long to mourn; he took on the role of businessman and entrepreneur, as well. The Cree were awarded $136 million in cash and investment infrastructure that totalled more than $1.4 billion, and he helped establish companies that would take his impoverished community into new prosperity: Air Creebec, the Cree Construction Company, and Cree Yamaha Motors.
Billy's next big battle came in the 1980s around the table with Pierre Trudeau and Jean Cretien regarding the Canadian Constitution.
"He took a tremendous negotiating role in those talks," recalled Chief Patrick Madahbee, of the Anishinabek Nation Grand Council. "He took a hard line and he always knew his stuff. He was the quickest man to counter any argument."
Billy's efforts resulted in Section 35 of the Constitution being amended so that "treaty rights" would include current rights that existed by way of land claims agreements or those that may be acquired. There was now no question that the country's Constitution protected the claims of his own Crees and all other Aboriginal Canadians.
Though Billy was such a prominent leader "he stayed down-to-earth and was likeable," said Madahbee. "He kept us laughing through all the political strife. He was an excellent impersonator and he was quite the comedian with his impressions of some of the government politicians we were dealing with."
In 1982, a coup in Billy's career came when he sought an audience with Pope John Paul II. Seeking favor with his Cree people who had become suspicious of his high-profile dealings, Billy knew the Catholic church held power over them. He announced the meeting before even fathoming how he would arrange it, but managed to cut through levels of command to find himself at the Vatican telling the pope about the neglect his people experienced in their own country.
As his public life flourished , the chief's personal life deteriorated. At 34, he had four children but he was seldom home to see them. Away from his community, he smoked and drank hard with business associates and peers, and he was becoming alienated from his wife.
She had joined the local Pentecostal church and was "reborn." Billy tore up the simple religious messages Elizabeth left pasted on the refrigerator door and even showed up drunk to an evening service she was attending.
Billy's residential school days had left him hating God, and he was sure nothing good could come of his wife's obsession with this judgmental and punishing icon.
After binge drinking and terrorizing his family, he was alone and sick. Overweight and overworked, he was seeing double and his heart raced periodically.
In Val d'Or one night, as he drove himself to the hospital, he turned into the local Pentecostal church. There, he fell to his knees and prayed for himself. A warmth came over him and he stayed "basking in the glow of what was happening to me," for a long time, he recalled.
The pain in his chest, arms and hands was gone.
Renewed, Billy became a spiritual man, reuniting with his wife and family and quitting booze and cigarettes. In 1984 he informed the Grand Council of the Crees of Quebec that he was stepping down as grand chief.
"I feel the age of confrontation is now basically over and now it's down to nation building," he told delegates.
Retiring to his home community, Billy created and fostered groundbreaking businesses like Air Creebec and even brokered a deal with Yamaha Motor Canada to re-design old-style river boats and manufacture stream-lined, fibreglass, Waskaganish-built craft.
He would even become chief of his community once again before his passing.
The much-lauded business and political leader, and father of six, died on the morning of Sept. 30 from a heart attack, his wife Elizabeth at his side.
Black Elk - Footprints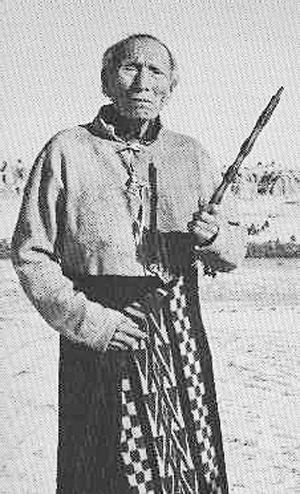 Black Elk: Black Elk spent his life staying true to his vision of life
Deceased: Aug. 17 or 19 (sources differ) in 1950
By Dianne Meili
At the age of nine, the spirits entrusted Black Elk with no less a task than saving his Lakota nation.
No doubt other "wakan" – sacred men and women – received visions to help their people as well, but Black Elk's story is the only one so well publicized. John G. Neihart, an American poet, immortalized the medicine man in the flawed "Black Elk Speaks" and he became a cultural icon.
In the "moon of the Popping Trees (December) in about 1863, a baby named Black Elk was born to Black Elk Sr. and his wife White Cow Sees on Little Powder River in present-day Wyoming. This Oglala Lakota child, of Big Road's band, was second cousin to the luminary Crazy Horse.
In the summer of 1872, when his band was moving slowly towards the Rocky Mountains, Black Elk was eating when he heard a voice say, "It is time; now they are calling you."
The next day he was riding with some boys and his legs crumpled under him when he dismounted from his horse. He rode in a travois as the camp moved, his face puffed up and his legs and arms badly swollen.
Falling into a coma for the next 12 days, he travelled with two "spirit men", who took him into the clouds where he observed his vision. Black, white, sorrels and buckskin horses danced before him and transformed into "every kind of animal and all the fowls that are."
Ahead of him, heaped-up clouds formed a tipi with a rainbow over the open door and inside sat six old men.
Black Elk, in Neihart's book, said he "shook all over with fear" because he recognized the grandfathers were "the powers of the world" or powers of the six directions. He was blessed with thunder being medicine and given a special "four-rayed" herb with blue, white, red and yellow blossoms that could help his people be healthy. In the course of his vision he saw his Lakota people "thin, their faces sharp, for they were starving", but he later saw them dancing in a "sacred hoop" around one mighty flowering tree.
Black Elk saw all of his people well and happy, except for one "lying like the dead." That was himself, on the earth, lying in a coma. As one of the old men sang a sacred song, Black Elk returned to his body and sat up, to the delight of his heartsick parents who had kept vigil over their sick son.
In his teen years Black Elk told no one of his vision and strange things continued to happen to him when he was alone. He was confused about what he was supposed to do and he became terrified of rainstorms, lest the thunder beings come to him again.
During his early years, the first signs of great upheaval occurred. Europeans were beginning to travel through the sacred Black Hills, his Lakota homeland, and Black Elk found himself fighting, at 12, in the infamous 1876 Battle of Little Big Horn.
In his sixteenth year, Black Elk could think only of his vision during the sun dance and how he had not yet done anything about it. He stopped sleeping and became "queerer than ever."
His concerned parents asked an old medicine man, Black Road, to help their son, and Black Elk finally told the Elder about the vision that was bothering him. To his relief, Black Road said he would help his nephew perform the vision on earth because that is what the grandfathers wanted him to do. During the vision's re-creation, Black Elk saw his revelation again and feared it no longer. In fact, the thunder clouds came "as relatives came to visit me" and he began rising each morning with the daybreak star. Medicine people came to discuss his vision and he immersed himself in ceremony and healing.
Until he was 23 Black Elk cured the sick, but by 1886 he was depressed by the decimation of the buffalo and his nation's hoop falling apart. In an attempt to understand white ways, he traveled "across the big water" to England with Buffalo Bill's Wild West Show. There he danced and sang one day for Queen Victoria, whom he described as "little, but fat" and for whom he professed a great fondness.
When he missed his boat back to America, Black Elk joined another show and found himself deathly homesick in Paris. His girlfriend invited him to dinner, but suddenly, as he sat at the table, the roof opened up and he rose to "cling onto a cloud" and travel over "towns and green land" back to his Black Hills. In this out of body experience he saw his parents' tipi and his mother standing outside it, then the cloud whisked him back to Europe.
When he finally returned, the ghost dance movement to eliminate Europeans and restore harmony, led by spiritualist Wovoka, was in full swing. As Black Elk danced, he "floated" upward into a different version of his original vision.
The huge conflict of his life – to satisfy his vision to save his people in the face of oppressing reality like the Wounded Knee Massacre, came into focus.
Though Niehart hardly mentions it, other historians say Black Elk was baptized and given the name 'Nicholas' after the death of his first wife in 1903. He became a catechist.
He continued to encourage his people as a spiritual leader, seeing no difference between his tribal traditions and what he found valid in Christianity.
He passed away on Aug. 17 or 19 (sources differ) in 1950, and published accounts of his life began to win wide interest and acclaim by the late 1960's. Perhaps he has filled his duty to the grandfathers in death because so many people all over the earth have been inspired by his life.
Bob Boyer - Footprints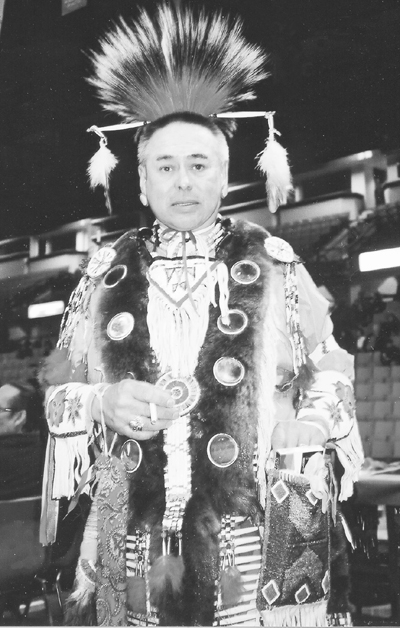 Bob Boyer: Boyer's true legacy lies within the future artists he inspired
Deceased: Aug. 31, 2004
By Heather Andrews Miller
Celebrating and strengthening Aboriginal culture was an important part of the life of Bob Boyer.
The Saskatchewan-born painter used his art to both showcase Aboriginal culture and comment on the treatment Aboriginal people have been subjected to since the colonization process began.
Born near Prince Albert in 1948, Boyer graduated from the University of Saskatchewan's Regina campus (now the University of Regina) in 1971 with a bachelor of education degree specializing in art education.
Always proud of his Métis heritage, Boyer's earlier work featured the traditional designs of the Northern Cree people. He was inspired early in his artistic career by the works of Ted Godwin, the award-winning artist and teacher known for a rich palette of styles and colours and whose prairie heritage is expressed in his paintings.
He also admired Norval Morrisseau, who some critics say is the most original and important artist, Aboriginal or otherwise, that Canada has ever produced, and who was the first to paint the ancient myths and legends passed down for generation to generation through the oral tradition.
Initially, Boyer worked in acrylics on canvas, but a trip he took to China and Japan, where he saw works of art created on cloth rather than canvas, inspired him to explore alternative mediums for his paintings This new broadening of his artistic horizons was coupled with a growing desire to bring about an awareness of Aboriginal art and history, and to address issues impacting on Indigenous peoples.
It was during this period that he began to create the artistic work he would become best known for, a series of paintings on blankets the he called his blanket statements. Through these paintings, Boyer sought to inform observers about the way Aboriginal people had been treated throughout the years.
The use of the blanket itself was an important part of that message, referencing the fact that, during the early years of colonization, European settlers distributed blankets infected with smallpox, which contaminated and exterminated thousands of Aboriginal people. Boyer had the courage to highlight this infamous chapter in Canadian history and most critics appreciated the political statements.
Boyer created one of his most famous blanket statements—entitled A Minor Sport in Canada—in 1988. At the time, Boyer said he was inspired to create the piece after having a conversation with someone about the fact that First Nations children have to be twice as good in hockey to make the team, a reality that repeated itself in other sports, in school, and indeed in all areas of life.
At about the same time, he read an article that said the troops at the Battle of Batoche looked at the opportunity to fight Indians and Métis as a form of sport. Combining the historical facts with contemporary themes, he created a powerful statement in the resulting art work, which features the image of a Union Jack merging into a background of traditional Plains Cree design, combined with splotches of red paint representing the blood spilled at Batoche.
But not all of Boyer's works were so political and controversial in nature. Some of his pieces commemorated the sacrifices made by Aboriginal soldiers in times of war. One installation paid homage to Nathan Crazy Bull, who was one of the first Aboriginal people to die during the Vietnam War. Another told the story of a friend mistakenly declared dead after he had been shelled during the Korean War but who arrived home alive and well to a surprised family.
In the mid 1990s, Boyer's work took a sharp turn away from the strong political statements of his blanket works, and he instead turned his focus to friends, family, and celebration of culture.
Boyer chose to celebrate his culture not just through his art, but through his actions as well. He developed a love of the powwow and participated in dances all over North America. He saw it as a celebration of a strong, vital Aboriginal culture on both sides of the border. It was while he was on the powwow trail, attending a powwow in Nebraska, that Boyer suffered a sudden and fatal heart attack. He died on Aug. 31, 2004 at the age of 56.
While Boyer will be remembered as a courageous and talented artist, many feel his true legacy lies not in the art he has left behind, but in the young artists he inspired before his passing.
Before beginning his long association with the Mackenzie Art Gallery in Regina as community program director, Boyer taught art and drama in Prince Albert. By the 1980s, he was running a successful series of much-appreciated programs at the gallery, which included erecting a full-sized tipi, demonstrating powwow dances in full regalia, inviting Elders to meet with school groups, and teaching art programs for teens during the summer months. He could often be found addressing a group of attentive youth, sharing the story of his life, and urging them to make the most of theirs. He served on the board of trustees for many years and was guest curator for many exhibitions over his 30 years with the gallery.
He also had a long-standing relationship with the First Nations University of Canada, where he was a professor and department head in the fine arts department for many years, and where he worked to pass on his belief that Aboriginal art should be viewed on par with all other types of art forms and to educate future generations of Aboriginal artists.
Bob Boyer the man will be remembered as quiet and kind; as a man who was passionate and had a great sense of humour and who liked to ride his motorcycle on Saskatchewan's wide-open highways and spend quiet time with his wife, Ann, in their home in Rouleau, just south of Regina. Bob Boyer the artist will be remembered as a man of incredible talent who made bold political statements, and for his artistic celebrations of Aboriginal history culture and spirit. And Bob Boyer the teacher will be remembered for his dedication to molding young artistic minds and inspiring them to follow in his footsteps.
Charlie Hill - Footprints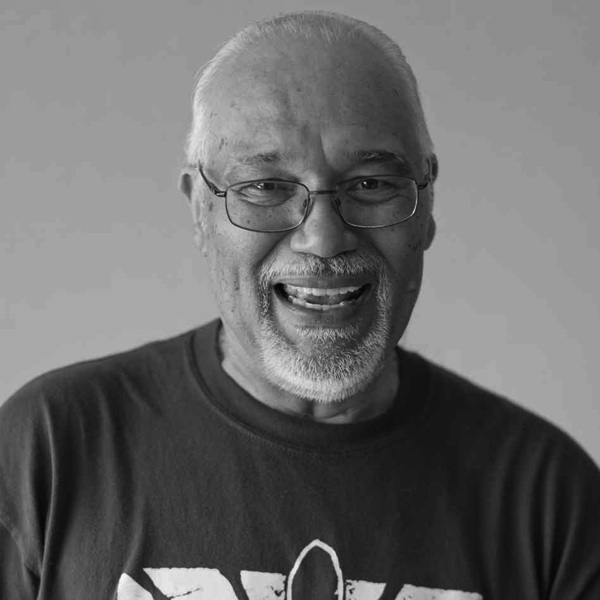 Veteran comedian explored racial divide
Fans of comedian Charlie Hill wished him a good journey into the spirit world and imagined the impact of his razor-wit on 'the other side'.
"Nelson Mandela has a front row seat at Charlie's first stand-up show in heaven" posted one Facebook supporter, while another claimed "God is slapping his knee at Charlie's jokes as we speak."
Here on earth, signage in front of the famous Laugh Factory in Los Angeles where the comic often performed read "Charlie Hill, Rest in Peace, Make God Laugh".
Designing the blueprint for today's Indigenous comedians, the comedy legend remained one of the best over his decades-long career. Battling lymphoma cancer for a year, he succumbed to it on Dec. 30, 2013.
"He broke all the barriers," said Winnipeg comedian Don Burnstick, 18 years in the business himself. "I think there's about 60 of us out there doing (Aboriginal) comedy now and it if wasn't for Charlie Hill, we wouldn't have a career."
"Just like Redd Fox and Richard Pryor did for black people, Hill did for Indian people. Charlie hung out in Los Angeles in the early days with guys like Pryor, who was so 'on the line' and ahead of his time … well, it doesn't get any better than that."
As a kid growing up in Oneida, Wisconsin, Hill wrote down the jokes of classic television comedians like Jackie Gleason and Red Skelton. Hitting Los Angeles in the mid-seventies, he watched other stand-ups perform before eventually stepping onto the stage himself. He impressed Richard Pryor enough to be invited to guest on the top entertainer's show in 1977. In iconic footage from The Richard Pryor Show, a slight, innocent-looking Hill with long, wavy hair, slings zingers like 'I'm Oneida … we're originally from New York
but there was a real estate problem' and 'I know for a long time you white people didn't think Indians had a sense of humour. Well, we didn't think you were too funny either.'
Hill once told an interviewer that Pryor advised 'whatever hurts you the most, talk about it and it'll be your funniest comedy'. Encouraged, the protégé merrily attacked the racial divide with insightful, autobiographic jokes to make his audiences think, all the while laughing out loud.
"What I do, I don't really call 'Indian humor'," Hill said, quoted on the Native-Arts Live Journal website. "It's more of a satire. Real Indian humour is something in your community or your home, and the funniest people are maybe your uncle, or a cab driver, or someone on the rez. It's something only people with Indian experience get. It's something that's personal to us. It's something beautiful. Often, I don't like guys who get off-stage and you know nothing about them. You watch Cosby, you learn something about him."
Hill became the darling of television programs like The Tonight Show, Late Night with David Letterman and Merv Griffin. He also wrote for the hit television show Roseanne.
He turned down many roles, standing up against stereotypes and misrepresentation of Aboriginal people.
"Charlie was instrumental in breaking down stereotypes and cultural misnomers about Native Americans in the national spotlight," wrote Ernest L. Stevens, chairman of the National Indian Gaming Association in Washington D.C. His letter appears on the EverRibbon website where The Charlie Hill Fund has been set up to receive donations to help the family offset medical expenses.
"We honour Charlie's memory … he
was always there for us, taking us to a better, happier place,
interrupting the mundane and historical bitterness through his comedy.
He taught us to heal our generational trauma through the medicine of smiles, belly laughs and humourous insights," Stevens' letter read.
He also shed light on Hill's efforts to empower Native Americans to take their place in the entertainment industry, and that he "carved a path for Native artists and entertainers throughout the Indian gaming
industry (in the United States), advocating for the hiring of Indians in Indian casinos and expanding Native-to-Native business relationships."
The funny man called Winnipeg his second home, according to Winnipeg Free
Press columnist Don Marks. Marks, who was the producer of the CTV variety show Indian Time, which featured Hill and the likes of Buffy Sainte Marie, Kashtin, and Tom Jackson, recalled Charlie's parting lines when it was time to leave. 'I'm off to New York, Chicago and Los Angeles, and if I can't find work there, I'll be back here'.
"Charlie's gift of laughter to Winnipeg … had healing powers," Marks wrote. When humour is combined with insight and enlightenment, it "allows us to
laugh at ourselves and others in a spirit of camaraderie and friendship that breaks down barriers. With the way things are between First Nations people and many Canadians, we could use Charlie Hill more than ever."
Hill disliked leaving his wife and four children (whom he referred to as
'Oneida-ho's because their mother is Navajo) preferring to commute from Wisconsin to Los Angeles for work. Marks wrote that Hill was generous with his time when it came to charity fundraisers, though, traveling to even the smallest of communities to help. Because of the disproportionate representation of Aboriginal people in jails, he also devoted much of his time to performing in penitentiaries, joking that he
did so because he enjoyed a "captive audience".
Marks had the chance to speak with Hill as cancer took its toll. The comedian said he was not afraid to die but was "going to miss my family and friends a lot."
"Not as much as we'll miss him," Marks concluded, speaking for many.
Chief Archie Jack - Footprints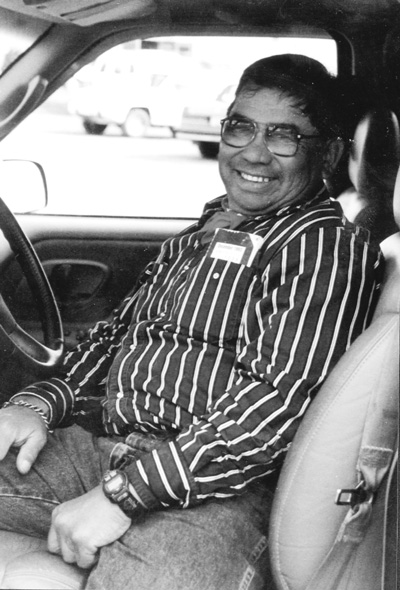 Community says goodbye to respected leader and teacher
Deceased: Aug. 3, 2005
By Cheryl Petten
Hundreds of people came out to the Penticton Indian Band ball diamond on Aug. 9 to pay their final respects to Union of British Columbia Indian Chiefs (UBCIC) Grand Chief Archie Jack, who lost his life on Aug. 3 in a single vehicle accident. Jack, 70, had been driving to Manitoba when his van overturned near Swift Current, Sask. Jack was born in Penticton on Aug. 14, 1934.
In 1969, he was one of the founders of the UBCIC, the first provincial Aboriginal organization created in B.C. to represent First Nation people living on reserve. He served as leader of the organization. The union was set up in part in response to the federal government's White Paper on Indian Policy, which threatened to eliminate the Indian Act and, along with it, any special status for Aboriginal people. Jack served as councillor of the Penticton Indian Band and was elected as chief on three separate occasions, serving in the role for a total of 10 years. He also served as chairman of the Okanagan Tribal Council.
During his time as chief, the Penticton Indian Band organized a number of protests, including a blockade that was successful in its efforts to stop a planned expansion of the Apex ski resort. Band members also occupied the Penticton airport during a dispute over ownership of the airport land, and set up a blockade for 87 days to show support for the Mohawk people during the Oka crisis. Tensions ran high during each of these protests, and Jack's strong leadership was credited with keeping each situation from turning violent.
In 1996, Jack left band politics behind him and turned his attention to the area of education. In 1997, he became the first member of the Penticton Indian Band to be elected as a school trustee for School District No. 67 (Okanagan Skaha) and served two terms. During his time on the school board, he was instrumental in getting much needed renovations and expansions approved and completed for two schools in the rural area he represented, one in West Bench, the other in Kaleden.
Even after he was no longer a trustee, Jack continued his involvement with the school district as a member of the district's Aboriginal education advisory committee. On top of his achievements in the political and education arenas, Jack also made his mark in the world of rodeo. Earlier in life, he had been a championship saddle bronc rider. Later, he and Joyce, his wife of 32 years, raised horses on their ranch and he worked as a rodeo stock contractor.
Over the years, he also served as a mentor to many younger cowboys. Jack was a devoted father to his children, Joleen, A.J. and Shane. Supportive and encouraging, he was always there to watch as they took part in school activities. His supportive attitude spilled over for the benefit of other children as well. He liked to see all children involved in positive activities, and at one point helped to create a rodeo club at Penticton secondary school to give Aboriginal students something they might be interested in getting involved in. In 2004, Jack enrolled at the En'owkin Centre in Penticton where he earned his B.C. teacher's certificate. It is estimated that there are only about 250 fluent speakers of the Okanagan language left. Jack was one of them, and he dedicated much time and energy to passing his knowledge on to the next generation.
He taught the Okanagan language and culture to the young people of the Penticton and Osoyoos Indian bands, and was the Okanagan language teacher at SEN*POK*CHIN school in Oliver. He also worked at the En'owkin Centre, helping to get a Web site up and running that would give people across the globe access to information about Okanagan language and culture. His continuing efforts to revitalize Okanagan language and culture were recognized during an Indigenous traditional knowledge conference held in Penticton in May and on July 26, he was awarded an honoary doctorate of Nsyilxcen language by the Okanagan Indian Education Resources Society at the En'owkin Centre.
He was a member of the Penticton Indian Band's Elder council, and helped develop a relationship between the school district and the council, helping the other members of the council feel comfortable enough to agree to have the Okanagan language and culture taught within district schools. At the time of his death, plans had been in the works for Jack to play a role in bringing that programming into the schools. Those that knew Jack remember him as a good leader who brought common sense and an even hand to bear in all that he did. He brought with him a wealth of experience gained through his many years in Indian politics, and a level-headedness that helped him diffuse potentially volatile situations. They remember him as a man who never reacted emotionally, but would give everyone a chance to speak, think about what had been said and then respond.
He was never judgmental, and had a way with people that made them feel at ease when speaking to him. He was also quick to remind the people of the community that he might be their leader, but direction for his actions and decisions must come from them. Jack had a great sense of humor, which he used to good effect in both good and bad situations. People who knew him say they will remember his laugh and his animated personality. He was also known for his ability to see people just as people, not as being Native or non-Native. Jack was more than just a teacher to his many young students. They saw him as a grandfather figure, and were devastated by the news of his passing. The crowd that gathered to say their goodbyes to Jack at his memorial service spoke volumes about the impact he had made during his 70 years. Native leaders were joined by non-Native leaders from all levels of government-municipal, regional, provincial and federal.
School trustees who had come to know Jack through his work ineducation stood next to cowboys who knew him from his involvement in the world of rodeo. All of them were there to honor a man who had touched their lives in some way. Whether as political leader, educator, mentor or father, Jack dedicated himself to creating a better world for future generations. His sudden passing meant he will be unable to complete all of the work he had planned to do, but hopefully the many people he has inspired will step in and carry on.
Chief Crowfoot - Footprints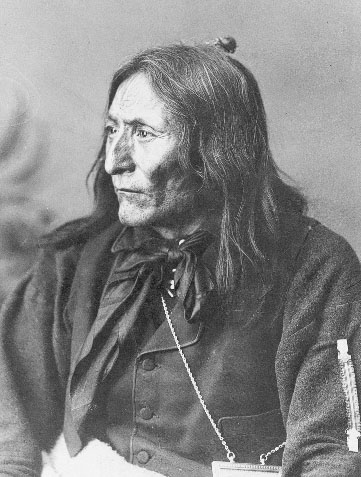 Chief Crowfoot: Determined leader, difficult times
The year was 1830, and in a camp along the banks of the Belly River in what is now southern Alberta, a boy was born. His parents named him Astoxkomi-Shot Close. As he grew older, he was known by many other names, as was the way of his people.
In his youth he took the name Kyiah-st-ah, or Bear Ghost, and still later he took the name of his late father, Istowun-eh'pata, or Packs a Knife, who was killed when Shot Close was only a few years old during a raid on the Crows, bitter enemies of the Blackfoot Nation.
It was in his teens that Shot Close would demonstrate his bravery during a raid against the Crows, and earn the right to a new name-Isapo-muxika, Crow Indian's Big Foot. Interpreters translating the language of Blackfoot into English would shorten his name. They called him Crowfoot.
The boy, who would one day become a legendary leader of the Blackfoot people, wasn't even a member of the tribe until he was five years old. He was born into the Blood tribe, a neighboring group that spoke the same language as the Blackfoot. The Siksika (Blackfoot), Kainai (Blood) and the Pikani (Peigan) made up the nation called the Blackfeet by white traders. The Blackfeet called themselves Ni-tsi-ta-pi-ksi-the Real People.
It was a few years after the death of Crowfoot's father that a group of strangers road into camp-warriors from the Blackfoot tribe returning from a successful raid on the Crows. Crowfoot's grandfather, Scabby Bull, invited the men to stay and one, Akay-nehka-simi, or Many Names, stayed longer than his companions. He eventually married Crowfoot's mother, Axkyahp-say-pi, Attacked Toward Home.
When it was time for her to go and live among her new husband's people, Attacked Toward Home made a difficult decision. Crowfoot and his grandfather had grown close in the years since the child's father had died, and the two were inseparable. She decided to leave the boy with his grandfather. What Attacked Toward Home hadn't counted on, however, was her young son's determination and his love for her and his young brother, Mexkim-aotani, Iron Shield. He followed after them on foot.
Hours after he set out, the young boy caught up with his mother, and Attacked Toward Home and Many Names were forced to turn around and return to Scabby Bull's camp, where all agreed the best solution would be to take both the boy and his grandfather with them to live among the Blackfoot people.
The bravery and determination shown by young Crowfoot were qualities that would shape his life. As a young man, he took part in several raids, showing himself not only to be a brave warrior, but also a skilled leader.
Crowfoot became a member of the Biters band. When Three Suns, the chief of the band, died, the members were divided as to who should be his successor. Some favored the late chief's son, also called Three Suns, while others felt Crowfoot should become chief. In the end, the band split and Crowfoot and his followers formed the Big Pipes band, with Crowfoot becoming their chief.
While the old chiefs had friendly relations with the white traders, Three Suns and many of the other new chiefs hated the white people. Crowfoot, for his part, viewed them simply as people-some good, some bad-and dealt with them as such. He was often a voice of reason when relations between the two groups became strained. His gifts as a speaker and his power of persuasion often swayed other leaders to see things his way.
Life began to change for the Blackfoot in 1869, when the Hudson's Bay Company sold its western territory to the Dominion of Canada. With the sale, the Hudson's Bay Company gave up its control of trade in the West, and the rules the company had operated under no longer existed. Trading liquor for furs had not been allowed when the company ran the show, but American traders who came to Canada set no such standard. The problems that the liquor trade had caused in the United States swiftly spread to the "British" Indians. With liquor flowing so freely, quarrels between Indians and whites increased, often with violent results.
Finally the government was forced to step in. The North-West Mounted Police arrived in 1874 and Crowfoot and the other chiefs were willing to let them build forts on Blackfoot territory based on a promise that the police would put an end to the liquor trade and that justice would be meted out equally to both Indians and whites.
With the help of the Mounted Police, the liquor trade was ended, and gone was the violence it had caused. But with the police came new rules for the Blackfoot, and Crowfoot told his warriors they could no longer raid enemy camps for horses. Other chiefs followed Crowfoot's lead, and soon the warring between tribes also came to an end.
This new peace marked the beginning of the end for the Blackfoot Confederacy, however. The once feared warriors were no longer considered a threat by the Cree and Métis in the north, who also enjoyed the protection of the Mounted Police. These groups began moving into traditional Blackfoot territory, without fear of retaliation.
The now peaceful territory also became an attractive destination for homesteaders and American traders.
Crowfoot knew changes were coming. The settlers were becoming greater in number, the buffalo fewer, and the leader realized his people's very survival was at stake. So a treaty between the Queen and the Blackfoot Confederacy was negotiated.
Some Blackfoot chiefs were wary of signing such an agreement, but Crowfoot trusted the Mounted Police and the Queen's representatives, and in September 1877, after much deliberation, the Blackfoot, Blood, Peigan and Sarcee bands signed Treaty 7.
In 1885, Crowfoot was forced to make another difficult decision. Louis Riel had been successful in gaining the support of a number of Native groups, and a resistance against the Dominion government's European settlement of theWest had begun. Crowfoot was torn about whether or not to lead his people into the battle. His faith in the Mounted Police and Dominion was wavering. The Indian agents appointed to the new reserve areas were at best indifferent, and at worst hostile. Food rations had been cut, freedom of movement off reserve curtailed, and the once impartial Mounted Police were now often seen as siding against the Blackfoot. But Crowfoot realized there was little chance Riel's rebellion would meet with success. And he knew, that by siding with the resistance, the Blackfoot would risk retaliation by the government, a government the Blackfoot people relied on for their food now that the buffalo were scarce in the territory.
Some of the younger warriors disagreed strongly with Crowfoot's decision, but when Riel's resistance failed, they came to believe his choice was a wise one.
After a long period of failing health, Crowfoot died on April 25, 1890. People across the country, both Native and white, joined the Blackfoot people in mourning the loss of their great leader.
Chief Dan George - Footprints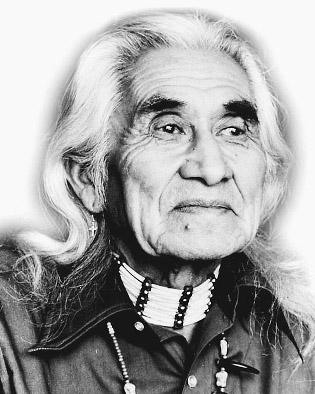 Chief Dan George: Acclaimed actor, gentle soul
Cheryl Petten,
Windspeaker Writer
#When Chief Dan George died on Sept. 23, 1981 at the age of 82, he had become an icon of gentleness and quiet humor in households across North America. While most people knew him as the Indian who became a movie star, there was much more to this man than the image flickering larger than life on the silver screen.
Chief Dan George took his responsibility to his people seriously and understood that his achievements paved the way for others to achieve.
Geswanouth Slahoot was born July 24, 1899 on the Burrard reserve in North Vancouver. He went by the name Dan Slahoot, the English version of his childhood nickname, Teswahno, until he went to St. Paul's boarding school at the age of five. There, where the students weren't allowed to speak their Native languages, they changed his name to Dan George, taking his new surname from his father's English name, George.
He became Chief Dan George in 1951 when he took over as chief of the Burrard band from his father. He continued in that role until 1963, when his acting career began. Chief Dan George was made honorary chief of two other bands, the Squamish and Shuswap.
George was in his sixties when he first started acting. He had worked as a longshoreman for 27 years before that, but had to give that up after he was hit by a load of lumber. When he recovered from his injuries, he did some construction work and some boom work, and was working driving a school bus when he got his first acting job, playing Old Antoine in Caribou Country, a series on the CBC. George received acclaim for his portrayal, and when one of the episodes of the show was to be transformed into a Hollywood movie called Smith, George reprised the role, starring along side Keenan Wynn and fellow Canadians Glen Ford and Jay Silverheels, Tonto in the Lone Ranger series.
George's biggest film role came in 1970 when he starred in Little Big Man with Dustin Hoffman. That role, as Old Lodge Skins, won George the New York Film Critics Award and the National Society of Film Critics Award. It also earned him an Academy Award nomination in the best supporting actor category, and marked the first time a Native person had been nominated for an Academy Award.
While a great time for George professionally, the recognition from the Motion Picture Academy coincided with a time of great sorrow and personal loss. When his nomination was announced, his wife Amy of 52 years lay in a hospital bed, admitted after treatment for a chronic ulcer condition.
A few weeks later, and less than a month before George was to walk down the red carpet at the Academy Award ceremony, Amy died.
George received acclaim for his work on stage as well. In 1967, he appeared in The Ecstasy of Rita Joe, playing the role of Rita Joe's father. Originally a minor character, playwright George Ryga expanded the part specifically for George. The play, which tells the story of a young Native girl who moves to the city only to meet a tragic, violent death, first opened at the Vancouver Playhouse and was later performed at the official opening of the National Arts Centre in Ottawa. The play was also staged in Washington D.C., and received critical acclaim wherever it was performed.
His success, and the celebrity that came with it, made George's life busier, but there were few outward signs that he had become a Hollywood star. He continued to live on the reserve in the same little house he had built for his wife and six children.
Throughout his acting career, George was always aware that in addition to being seen as a talented actor, he was also seen by many as a representative of the Indian people. He wanted to succeed, not so much for himself, but for the Indian people that would have their own self-confidence boosted by his success, and who would look at what he had accomplished and believe they too could accomplish more. That was a responsibility he took very seriously, worried that any failure he had in his career would mean he was failing the Indian people. And, throughout his career, he refused any role he felt was demeaning to Native people.
George's determination to use his celebrity to benefit Native people was demonstrated on Canada Day, 1967, as the country celebrated its centennial. On that day, George stood on the stage of the Empire Stadium in Vancouver in front of 35,000 people and, accompanied by his family who drummed and chanted, he performed his soliloquy, Lament for Confederation.
---
Lament for Confederation
How long have I known you, Oh Canada? A hundred years? Yes, a hundred years. And many, many seelanum more. And today, when you celebrate your hundred years, Oh Canada, I am sad for all the Indian people throughout the land.
For I have known you when your forests were mine; when they gave me my meat and my clothing. I have known you in your streams and rivers where your fish flashed and danced in the sun, where the waters said 'come, come and eat of my abundance.' I have known you in the freedom of the winds. And my spirit, like the winds, once roamed your good lands.
But in the long hundred years since the white man came, I have seen my freedom disappear like the salmon going mysteriously out to sea. The white man's strange customs, which I could not understand, pressed down upon me until I could no longer breathe.
When I fought to protect my land and my home, I was called a savage. When I neither understood nor welcomed his way of life, I was called lazy. When I tried to rule my people, I was stripped of my authority.
My nation was ignored in your history textbooks - they were little more important in the history of Canada than the buffalo that ranged the plains. I was ridiculed in your plays and motion pictures, and when I drank your fire-water, I got drunk - very, very drunk. And I forgot.
Oh Canada, how can I celebrate with you this Centenary, this hundred years? Shall I thank you for the reserves that are left to me of my beautiful forests? For the canned fish of my rivers? For the loss of my pride and authority, even among my own people? For the lack of my will to fight back? No! I must forget what's past and gone.
Oh God in heaven! Give me back the courage of the olden chiefs. Let me wrestle with my surroundings. Let me again, as in the days of old, dominate my environment. Let me humbly accept this new culture and through it rise up and go on.
Oh God! Like the thunderbird of old I shall rise again out of the sea; I shall grab the instruments of the white man's success-his education, his skills- and with these new tools I shall build my race into the proudest segment of your society.
Before I follow the great chiefs who have gone before us, Oh Canada, I shall see these things come to pass. I shall see our young braves and our chiefs sitting in the houses of law and government, ruling and being ruled by the knowledge and freedoms of our great land.
So shall we shatter the barriers of our isolation. So shall the next hundred years be the greatest in the proud history of our tribes and nations.
Christine Quintasket - Footprints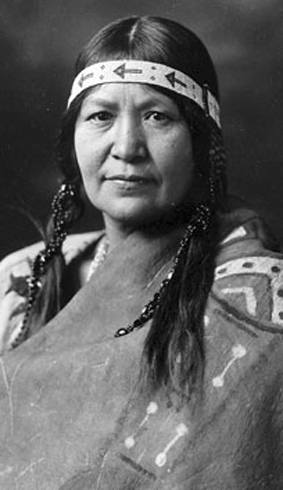 Christine Quintasket: Author found literary success as Mourning Dove
Deceased: 1936

By Heather Andrews Miller
Christine Quintasket was born in 1888 to Salish parents, Lucy Stukin from the Colville reservation in north-central Washington State and Joseph Quintasket, an Okanogan from British Columbia.
The Colville reservation was Quintasket's early home. It was a traditional household where her mother encouraged her to learn Native medicinal knowledge. With the family continuing cultural practices at home and also attending the local Catholic church, the young woman truly grew up in two worlds.
When Quintasket was 14, her mother died and the responsibility fell to her to help raise her younger siblings. She spent a few years at a mission boarding school and learned to read from paperback novels, but her lack of a formal education didn't discourage her from pursuing her dream, one that she had held onto since early in life—to become a novelist. She was also inspired by an elderly woman who lived with her family for a time and who shared many wonderful traditional stories with the children.
As an adult, Quintasket was plagued by chronic illness and poverty but she worked as a housekeeper and fruit picker to support herself and eventually was able to purchase a typewriter. In 1912, she began her first novel. She first began to write under her traditional name, Humishuma, but apparently changed it in the 1920s after seeing a Mourning Dove at a Spokane bird exhibit. At the time she stated that the often-sad content of her writing was better suited to the pen name of Mourning Dove.
Quintasket was encouraged by the writings of Aboriginal women who had preceded her, such as Mohawk poet Pauline Johnson and Gertrude Simmons Bonnin, a Sioux writer who created short stories and wrote of traditional tales. Mourning Dove decided early on she wanted to write fiction. Struggling with written English, she attended a business college in Calgary from 1913 to 1915, then took a position as school teacher on the Inkameep Reserve in British Columbia. Here she flourished among her father's Okanogan people, close to family once again. She made time in the evenings to work on her writing, and became inspired to start a collection of legends.
In 1915, Quintasket met a businessman named Lucullus Virgil McWhorter, who was an activist working to preserve Indian culture. For his help in gaining awareness of irrigation rights, he had been adopted into the Yakima tribe. McWhorter became her literary mentor, editing her works but often changing them in ways he felt would improve their chances of being published. In the meantime, Quintasket became ever more aware of the need to continue collecting the traditional stories of her people to preserve the oral history for all time. Soon, she put away her fiction and turned her attention to interviewing the Elders of many Aboriginal communities.
The stories she heard from them were ones she had heard all her life, told to her by relatives and by visiting Elders. Quintasket continued to work at various jobs during the daytime, then worked late into the night recording the stories and legends. Heister Dean Guie, a writer for the Yakima city newspaper, helped her along, and McWhorter continued to offer encouragement.
In 1919, Quintasket married Fred Galler, a Wenatchi man, and returned to her mother's people at the Colville reservation with her husband, although the couple frequently left the reservation to work as migrant fruit labourers, camping in orchards and fields.
In 1933, Quintasket's efforts to collect and preserve traditional stories were rewarded—her collection of legends was published as Coyote Stories, a work for which she was intensely proud.
Although she had put her western romance fiction away for many years it, too, had eventually been published, in 1927. Entitled Cogewea, the Half-Blood, Quintasket drew on her contact with both Aboriginal and non-Aboriginal cultures to write the novel, which chronicles the dilemmas and prejudice encountered in living in the white man's world. The story is about the sufferings of three sisters attempting to remain true to their heritage while each going in different directions in a post-European-contact world.
The author informed a newspaper reporter who interviewed her after the release of the novel that she wanted to show readers that Indian people felt as deeply as non-Indians. She also used the book to relate how often non-Aboriginal men took Aboriginal wives, and then abandoned them, leaving behind families who could not claim the European rights that were theirs because of their mixed-blood heritage.
This first novel by an American Indian woman, she explained, was a preliminary attempt to open the eyes of the world to the Native point of view.
Quintasket became much more than a novelist. Her exposure to non-Aboriginal people brought a renewed awareness of the differences between them and her people. She used the fame she had gained as an established author in her efforts to advocate for Aboriginal land rights and became the first woman to be elected to the Salishan tribal government. In her writing and in her other works, she attempted to represent Aboriginal culture to a dominant non-Aboriginal world, and she challenged the popular accounts of the Native American stereotype that had been perpetuated by ethnographers. She joined with other Aboriginal women to form social and craft clubs, and worked hard to form the Colville Indian Association. She led the group in its efforts to obtain over-due land payments, address unresolved land claims and expose misuse of reserve funds by non-Aboriginal officials. The group also worked to have the overly-large staff of officials at the reserve reduced. And she took on a company who was leasing land in the area when it didn't hire reserve members as employees as it had promised.
As Quintasket became more active in Native American affairs, she also became increasingly ill. She died in 1936 at the age of 48 from what her death certificate lists as exhaustion from manic depressive psychosis. In 1990, 54 years after her death, the University of Washington Press published her autobiography, Mourning Dove: A Salishan Autobiography, which has been described as a personal memoir as well as a rich documentation of the Salish people and culture. She had been working on the story of her life over the years, and the unfinished manuscript was found in the attic of her friend, Guie, who died before having read it. Guie's wife eventually discovered it and worked to have it published, with editor Jay Miller's help.
The book contains a wonderful description of tribal life, rites, ceremonies and traditions and provides a glimpse into the life of a woman who defied the odds to achieve her dream and who used her success to forward the cause of her people.
Clarence Campeau - Footprints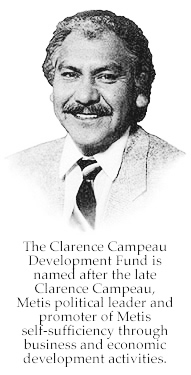 Clarence Campeau: Metis visionary leader, promoted education success
Deceased: 1997
When people say someone is so generous they'd give you the shirt off of their back, they are usually speaking figuratively. With Clarence Campeau, that statement could be taken at face value.
Campeau was a man known for his generosity, for his sense of humor and for his dedication to improving the lot of the Métis people of Saskatchewan.
Campeau was born in 1947 near Rose Valley, Sask. The community he grew up in was predominantly white, but he never noticed any differences between himself and the rest of the people living there. That changed when he was in his early teens and he began dating. He was very handsome and all the girls in town had crushes on him, which made the local boys jealous. Whenever he would go out with a girl the boys would tease her, calling her an Indian lover. Campeau began to feel that he didn't fit in within white society so he decided to try living on reserve. Then, after being thrown off more reserves than he could remember, he discovered that he didn't belong there either. He wandered for a while, lost, without a sense of identity, turning to alcohol to help escape from his problems.
Then when he was 18 he met Napoleon LaFontaine, who was working to establish the Association of Métis and Non-Status Indians of Saskatchewan, the forerunner of today's Métis Nation-Saskatchewan (MNS). LaFontaine told Campeau he was of mixed blood. He was
Métis. He now knew who he was, where he fit. He gave up drinking for good and, once he got his life back on track, he began dedicating himself to helping other Métis people do the same.
Campeau was area director of the MNS Eastern Region II on an off over the years. He left the position once while he was sick with cancer, other times after unsuccessful election bids, but he always came back to it.
While area director he worked to bring in a number of programs designed to improve the lives of Métis people in the region. Looking for ways to create economic opportunities, Campeau formed a construction crew that built homes for Sask. Housing. When that ended, the region branched out into cabinet-making and other ventures. But Campeau aspired to move beyond these types of projects, wanting instead to work toward having Métis people become full and active participants in the mainstream economy.
What Campeau envisioned was to see economic development among the Métis people integrated into mainstream society. That didn't mean assimilation, and it didn't mean segregation. What it meant was continuing to protect and promote Métis culture while working with non-Métis people in true partnership arrangements, where each partner has equal ownership and equal control. He knew the province couldn't afford to run three parallel structures, one for the Métis, one for First Nations and one for non-Aboriginal people. What was needed was one integrated structure shared equally by all three groups, and designed to work for everybody.
He was a strong supporter of the idea of Métis self-government, but he knew that for self-government to work first the Métis people would have to be self-sufficient. And before they could be self-sufficient, they had to deal with the social challenges facing Métis people, addictions and family violence among them.
Under Campeau's leadership the region began offering programs that addressed all of these needs. Social programs were started, along with education and training programs that took a holistic approach, dealing not only with the students but with their families and communities to help students overcome the challenges they faced in trying to get an education.
Campeau, who only had a Grade 8 education, was by and large a self-taught man who could hold his own with anyone regardless of how educated they were or how highly placed. But he knew the value of an education, and spent much time and effort getting the message out to Métis youth that they needed to stay in school. They needed to get an education in order to be successful. He'd often tell them that once you had an education, no one could take it from you.
The region started offering a preparatory class, then added a two-year business administration class and a social work program.
Someone once asked Campeau why the region would run a social work program when there were already too many social workers. He answered that there may have been too many social workers, but there weren't enough Métis social workers.
His dedication to the Métis people went far beyond just offering programs. He also got personally involved in helping people as well. It wasn't uncommon for him to give a person down on their luck clothes right out of his own closet, or to bring a young person who had lost their way into his home until they could get back on their feet.
Those who knew him call him a statesman and a visionary. He was a gifted negotiator, able to diffuse even the tensest of situations. He had a great sense of humor and loved to tell stories. He treated everyone with respect, with no regard to skin color or social standing. And he brought out the best in everyone he had dealings with. He had a way of making everyone feel special, from his wife and children to the people he dedicated his life to helping.
In 1997 Campeau was having problems with his heart. His arteries were clogged and he needed bypass surgery. He went into the hospital for tests and doctors injected dye into his veins so they could see where the blockages were, but it proved too much for him and his arteries collapsed.
He was only 50 years old when he died. When family and friends think back on what he'd accomplished, they also wonder how much more he could have done if he'd only had more time.
Campeau's name and legacy live on through the Clarence Campeau Development Fund (CCDF), which was established by the Métis Society of Saskatchewan in 1997. Campeau had been involved in the negotiations with the provincial government that would lead to creation of the fund, but passed away before the organization became a reality.
The aim of the CCDF, which gets funding from the province's gaming revenues, is to help improve the economic circumstances of Métis people in the province by providing funds for business development and community economic development. It also provides assistance with business planning and training to help new Métis-owned businesses succeed. It provides a first step towards Campeau's goal of self-sufficiency for the Métis people.
His legacy also lives on in the cultural camp he started 10 years ago for Métis youth age eight to 12 where they go and learn about who they are, where they fit in, and what the future holds for them if they stay in school and get an education.
It lives on through his friends, family and colleagues who still speak of him often, remembering the way he touched their lives. And it lives on through the many programs that he started and that others have carried on out of their own commitment to the Métis people and their commitment to Campeau himself. His picture still hangs in the main office of the Eastern Region II office and, even though he's been gone for seven years, in a way the people working there feel like they still report to him. Even now, they don't want to let him down.
Crazy Horse - Footprints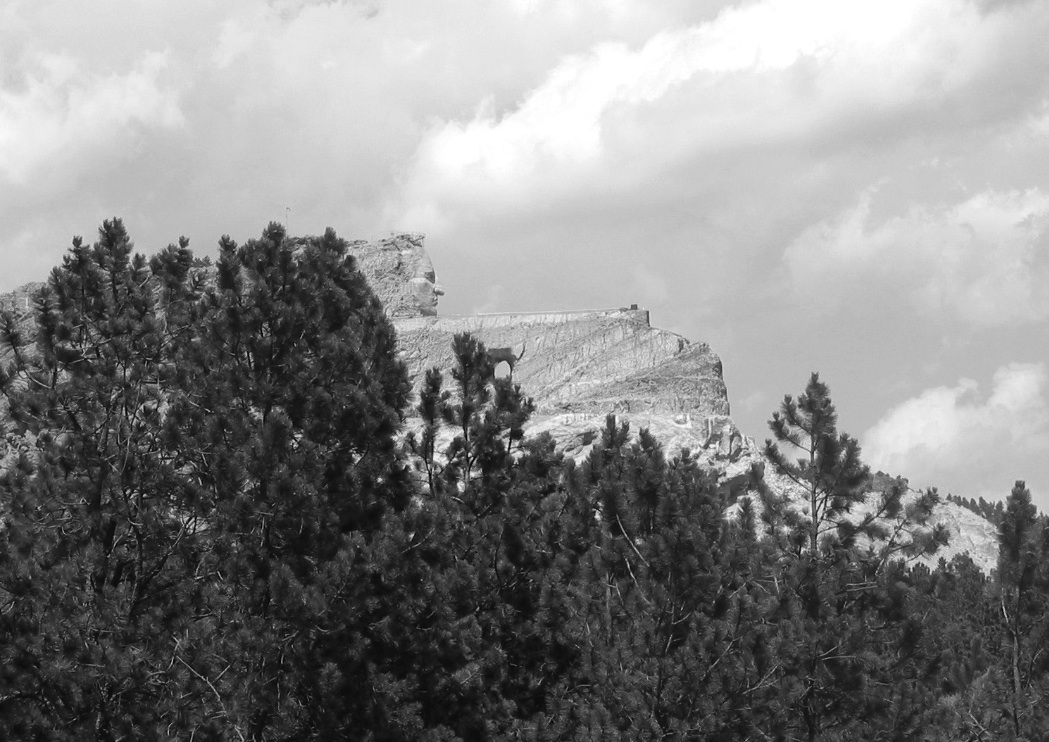 Crazy Horse remains an enigma
Deceased: September 5, 1877
By Dianne Meili
History is full of quirky turns of events, but who would've thought it would be a jealous wintke homosexual named Woman's Dress who would help bring down the career of one of North America's most famous warriors, Crazy Horse.
The two were childhood friends, but their relationship soured perhaps when a teenaged Crazy Horse rebuked Woman's Dress' advances. Angered at the rejection, Woman's Dress vowed revenge and, years later, helped set into motion a series of events that resulted in the Oglala chief's death.
Crazy Horse was known to his mother as "Curly" or "Light Hair" and his birth in a Lakota camp near a sacred monument known as Mato Sapa, or Bear Butte, caused his mother, Rattle Blanket, concern.
The baby was healthy in every way, except his skin was the light color of the wasichu (white man) and his hair was not dark and straight, but, rather, sandy and curly.
His father, Crazy Horse (senior), went to the mountains to pray with his pipe and find out why his son was born the way he was. While up on the butte, he received a visit from a bear, who gave him powers to conquer all earthly beings, including the wasichus, who were arriving in droves upon the land.
"But I am not a warrior. I am a holy man," Crazy Horse said after his vigil. "No, I conclude the gift was given to me to give to my son, who will grow strong. He will use the gift of the bear spirit to become a great leader of our people."
The boy knew nothing of his father's vision. Young Sioux boys had great freedom and could do what they liked. Because Curly looked different, he felt he had to do better than other boys to be accepted. At a young age, he fought harder than other boys in their mock battles and took more risks, but he was also considered a little strange because he was a loner.
Early on he established his physical superiority, but it was on one of his many solitary journeys into the Plains that he decided to be a great warrior.
Perhaps he decided that such renown might ease the pain of being different from others. Whatever his reasoning, he was determined to be prepared to make choices that would lead him to warriorhood.
As years passed and Curly grew up, he witnessed bloodshed and death associated with attacks on his people by army generals like Grattan, Harney, and Sumner. After he witnessed the unwarranted killing of Chief Conquering Bear, who had only wanted peace, at the hands of the wasichus, Curly's thoughts turned to revenge. Even though he harboured distaste for ritual and ceremony, he knew he needed spiritual assistance if he was to fight off the newcomers.
While fasting, no vision was bestowed upon him and, discouraged, he walked back down the mountain. But when he reached his horse he fainted and slipped "into the world where there is nothing but the spirit of all things ... the real world behind this one" he later told his cousin.
In his vision, a warrior approached him riding on a horse that seemed to float above the ground. The warrior told him never to wear a war bonnet and never to take the spoils of a raid for himself. The warrior's progress was sometimes impeded by his own people clutching his arms and making his riding difficult, a portent of what was to come.
When he was a teenager, after showing great skill on a raid against the Shoshone, Crazy Horse sang outside his son's lodge and bestowed upon him his own name.
"Long ago, my father, Makes The Song, told me of a dream," he told Curly. "He saw that one day my son would have the spirit of a wild horse, powerful and untamable. Behold the warrior, Crazy Horse!"
Crazy Horse had taken an arrow in the leg during the raid, and it was sore. As he rested in the woods, Woman's Dress came to see him and ask him how his leg was healing. He tried to rub the sore muscles, but as his hand slipped up to his childhood friend's thigh, Crazy Horse brushed him away and stood quickly. Rebuffed, Woman's Dress vowed revenge as he watched Crazy Horse limp away.
In 1865, a group of Big Bellies who were elder warriors, called for a ceremony to install new shirt wearers in which warriors would be named to a certain high ranking brotherhood.
When his name was called, Crazy Horse knew he had been selected because of his ability as a warrior and his status as a man with superior responsibility to his people. Since he cared little for the bragging and bravado warriors shared after a victory, he found the office of the shirt wearer easy to uphold, with one exception. He was in love with Black Buffalo, who had ignored his youthful advances and married a more senior warrior, No Water. He found himself hanging around her lodge and, eventually, ran off with her.
As the two lovers camped some distance away from their people, No Water found them and shot Crazy Horse in the face, just below his left nostril.
The office of the shirt wearer suffered irreparable damage after this. As an adulterer, Crazy Horse felt humiliated and depressed by his lack of integrity and the fact he had put his own interests before the community's.
There was more devastation to come as his little daughter, with a later wife, died of cholera and the buffalo became increasingly scarce. Crazy Horse vowed he would fight harder than ever to protect his people's way of life from the invading wasichus. To that end his personal courage played a big role in the Battle of the Little Bighorn and the killing of George A. Custer. Sioux battle participant, Little Soldier, said "the greatest fighter in the whole battle was Crazy Horse."
But after that victory, life for Crazy Horse took a turn for the worse. In 1877, after fighting his last major battle in Montana against the United States Cavalry, his people were weakened and hungry after a harsh winter. In May of that year he surrendered to the troops at Camp Robinson in Nebraska.
At Red Cloud Agency, near Camp Robinson, Crazy Horse lived out his days. Now in his late 30s, he found himself to be something of a legend and an object of attention to army officials and younger warriors. Red Cloud and Spotted Tail, leaders who had earlier adopted white ways, were jealous and spread rumors that Crazy Horse would betray the army and that he only wanted his own freedom.
Woman's Dress added to the smearing of Crazy Horse's reputation. As officers planned a large council to make peace with another tribe, Woman's Dress told General Crook that Crazy Horse planned to kill the tribe's leader and escape, taking the camp with him as his followers.
There has never been any evidence that Crazy Horse planned to do this.
On the morning of Sept. 5, 1877, Crazy Horse travelled with Lieutenant Lee to a camp where Lee had orders to arrest him. As he was being taken to the guardhouse, Crazy Horse struggled and attempted to escape. He was stabbed with a bayonet by one of the members of the guard, perhaps by his old friend Little Big Man, a fact rumoured to have been hushed up to avoid interclan disputes
Crazy Horse was tended by the camp surgeon, Dr. Valentine McGillycuddy, but died late that night. His body was turned over to his heartbroken parents, who moved him to a place somewhere on the Plains he had loved.
His final resting place remains unknown.
No pictures of Crazy Horse exist, but a modern day monument of him is being carved into a mountain in the Black Hills of South Dakota in the tradition of the Mount Rushmore National Memorial.
Daphne Odjig - Footprints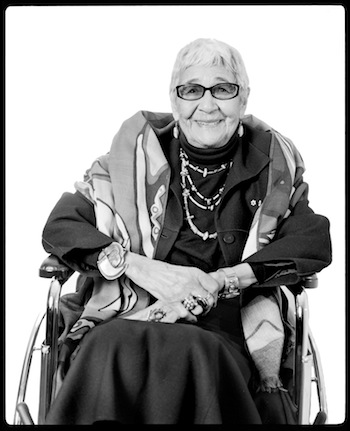 Woodlands meets Picasso in artist's vibrant style
By Dianne Meili
Deceased: October 1, 2016
Even as a young girl, Daphne Odjig was resourceful and creative, turning the family farm pig house into a play school to teach local children math and reading.
When they tired of her instruction, she converted the school to a play church, sitting in priest-like serenity to hear her students' confessions.
Growing up, Odjig designed needlework patterns for Jesuit Mission church linens, but it would take a meeting with Elders at a powwow on Manitoulin Island to turn her sights from Christian themes and realism to sought-after images of Manitoulin mysticism.
"Some Wikwemikong women told her 'you have a chance now, you have a voice and you need to start painting our myths and legends to tell people who the Ojibway people are'," said Jackie Bugera, owner of Edmonton's Bearclaw Gallery where Odjig's final 2011 retail gallery exhibit was held.
"She always called herself an 'Indian' but she admitted she didn't know what an Indian was back in the 60's. She and her sisters were walking around the powwow in buckskin dresses and headbands, but they really didn't know if that was their Ojibway culture," Bugera added.
Odjig painted the legends the community women shared with her and soon after mounted her first exhibition. Prime Minister Lester B. Pearson saw it and purchased the entire collection.
Born in 1919 on Manitoulin Island in Ontario, Odjig sketched for fun with her grandfather, Jonas Odjig, who carved monuments and tombstones, and her father Dominic, who painted war scenes and portraits of soldiers from the Great War.
Her family was among the Potawatomi who migrated north and settled in Wikwemikong after the War of 1812.
Rheumatic fever forced her out of school and into bed for three years; she hated to quit school but never regretted being able to spend time with her mother and grandfather at home. Both passed away within weeks of each other in 1938.
By 1942 she left home and found factory work in Toronto, changing her name to "Fisher", an old English interpretation of Odjig, in response to racism. On her days off, she frequented the gallery at the Eaton's College Street store, inspired to teach herself to paint by trial and error.
In 1945 she married Paul Somerville, a Mohawk Métis war veteran, moving with him across the country to British Columbia.
While raising her two boys, she experimented with oils on homemade stretchers and recycled tent canvas. She became dissatisfied with realism, choosing to experiment with Cubism and Abstract Expressionism she saw in books and magazines.
"If you look through old catalogues of Daphne's work, you can see how she began altering space and dimension by analyzing and copying artists like Picasso and Van Gogh," said Bugera. "At the same time, she's using dark lines and connecting images which shows the Ojibway woodland influence."
Initially jolted by her husband's death in a car accident, Odjig soldiered on and planted the family farm's strawberry fields in the summer of 1962, finding time to paint during the winter, still interpreting the works of European impressionists.
Her second husband, Chester Beavon, moved the family to northern Manitoba in his work as a development officer. Odjig's drawings of the hardship faced by the Chemahawin Cree displaced by the Grand Rapids dam, along with paintings of Ojibway legends, figured largely in her first public solo exhibition at the Lakehead Art Centre in Thunder Bay.
Next, she was commissioned by Dr. Herbert Schwarz to paint erotic illustrations for his book Tales from the Smokehouse – artwork that comprised an exhibition in Brandon, Manitoba.
"I laughed when Daphne told me what Dr. Schwarz said when he saw her first efforts at erotica: he told her to make the genitalia larger, much larger," recalls Bugera.
Odjig's Earth Mother exhibit at Japan's Expo 70, viewed by Picasso himself, reflected a looser and more expressionistic style. She learned to scale-up her drawings to paint murals, completing The Great Flood at Peguis High School in Hodgson, Manitoba.
In 1972, Odjig's art took her to Winnipeg for a pivotal exhibition, Treaty Numbers 23, 287 and 1171, with Jackson Beardy and Alex Janvier. In the two men, she found support and strength as the only female Aboriginal artist struggling for recognition in mainstream galleries, a situation made all the more trying because she was a self-taught artist without an art degree.
She was the sole woman, again, in the Professional Native Artists Association (known as the "Indian Group of Seven") she co-founded along with Carl Ray, Joseph Sanchez, Eddy Cobiness, Norval Morrisseau, Beardy and Janvier.
Emboldened, she opened the New Warehouse Gallery in Winnipeg, a venture featuring emerging Aboriginal artists. With increased demand for their art, she and her husband expanded the business in 1974.
Commissions, invitations for artistic residencies, honorary university degrees, and awards flowed in throughout the next decades.
Odjig and her husband moved back to British Columbia in the late 1990's. Officially retiring in 1999, she continued to draw and paint even though she had arthritis in her right hand.
The 2011 show Bugera mounted at the Bearclaw Gallery consisted of works from Odjig's private collection, works she had saved for herself during her lengthy career.
"Even though she wasn't well enough to attend, I had line-ups of people waiting to get in. I finally shouted 'if you want a painting, pull the tag off the wall and hang onto it' because everyone was grabbing whatever they could," Bugera said.
Odjig was a nurturing and caring person who was a joy to work with, according to Bugera. "She was tall and elegant, always well put-together. She loved her turquoise jewellery and when she'd bring art in, she'd trade for pieces she just had to have."
The artist hoped young people would follow in her footsteps and create expressions of their heritage more openly and joyfully than even she had.
Odjig passed away on Oct. 1 in Kelowna, with her family at her bedside. She was 97.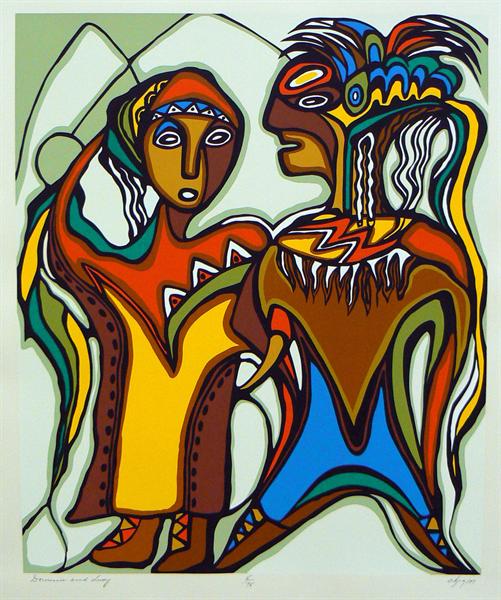 Dekanawidah - Footprints
Dekanawidah: The peacemaker inspired democracy
Cheryl Petten
Deceased: Date unknown
"I am Dekanawidah and with the Five Nations' Confederate chiefs I plant the Tree of Great Peace." With these words begins Gayanerekowa, the Great Law of Peace, also called the Great Law or the Great Peace, under which five nations-Mohawk, Oneida, Onondaga, Cayuga and Seneca-ended their years of warring to form the Iroquois Confederacy.
The speaker of these words was called the Peacemaker, his name deemed so sacred it could only be spoken at certain times.
Accounts of the life of the Peacemaker show he was destined for great things even before his birth. His mother was of the Wendat Nation, but she and her mother fled from their home during an attack by a neighboring nation. Once they were away to safety, the older woman realized her daughter was pregnant. She was puzzled by this turn of events, as her daughter had never been with a man, but all was explained to her in a dream.
In her dream, a spirit told her the child had been chosen by the Creator to bring a message of peace to his people.
The message he had to share was clear. Even as a young boy he would speak of kindness, understanding, love and respect.
His people heard his words and his call to return to the ways of the Creator, and they took those words to heart. The Peacemaker then turned his attentions to the surrounding nations, who also needed to hear and heed his words. He carved a canoe out of white stone, and his mother and grandmother watched in amazement as he floated down the river in it.
The Peacemaker brought his message first to the Mohawk and then to the Oneida, where his words of peace were accepted. Two Oneida men were chosen to bring his message to the Cayuga and the Seneca. The message was accepted by the Cayuga, but the Seneca leaders were afraid the other nations would attack them if they listened to the words of peace. When he learned of the Seneca reluctance, the Peacemaker travelled to Seneca territory himself. There he found two warriors who had accepted his message, and he appointed them as representatives of their nation. The two men travelled with him to a special council meeting on Onondaga Lake where representatives from the other nations had already begun to gather.
The representatives then travelled with the Peacemaker to Onondaga territory to confront the great sorcerer who lived there and who inspired fear among all who knew of him. The Peacemaker convinced the sorcerer to accept his message and he became the council's fire keeper and keeper of the wampum.
With eleven chiefs in place in the grand council, The Peacemaker created the laws of the Great Peace and presented them to the council.
Once the laws were in place, the Peacemaker again appealed to the Seneca, who realized that this was a true peace they were being offered and joined the council. With all five nations now represented, the League of the Iroquois Confederacy had come to be. Eventually 50 chiefs would sit as members of the grand council, which would meet at Onondaga, at the centre of the territory of the five nations.
To symbolize the Great Peace and the unity of the confederacy, the Peacemaker chose a white pine tree, one that was tall, with long branches that would cover the nations of the Confederacy, and with long roots that would reach out to other nations that would hear the laws of the Great Peace and want to follow them as well. Under the tree all the weapons of war would be buried, never again to be used by the nations of the confederacy to do battle against each other. On top of the tree sat an eagle, which would act as a guardian to the Great Peace, watching for anything that might be a threat.
The Peacemaker told the chiefs that the nations were now a family, and would live in harmony as long as the Great Peace was protected. To further cement this unity and harmony, the Peacemaker created a new clan system, with nine clans-Turtle, Bear, Wolf, Heron, Hawk, Snipe, Beaver, Deer and Eel-that would be found across the confederacy. In this way, the Peacemaker reasoned, members of the same clan would develop ties, regardless of which nation they were from.
He told them they now lived as a family in one longhouse, with the sky as a roof and the earth for a floor. The Mohawk would be the keepers of the Eastern Door, the Seneca keepers of the Western Door, and the Onondaga in the centre, keepers of the council fire. It was then the five nations took the name Hodenosaunee, people of the longhouse.
Then, his work for the Creator completed, the Peacemaker went away.
Under the Great Law, the five nations that made up the confederacy were divided into two groups. One group, the elder brothers, was comprised of the leaders of the Mohawk, Onondaga and Seneca. The other group, the younger brothers, included the chiefs of the Oneida and Cayuga. Despite the designation, neither group held sway at the council fire- unanimous support was required in all decisions.
Each topic that came before the council would be introduced by the Onondaga. The issue would be presented to the Mohawk representative. Once a decision was made, the issue would be passed on to the Seneca. Once a decision was reached that all three were in agreement with, their decision would be announced to the others-the Oneida and Cayuga-who sat on the opposite side of the council fire. Once they reached an agreement, their decision would be reported to the Onondaga council leader. If he agreed, the decision would be accepted. If not, the process would begin again. If no agreement could be reached, the issue would be set aside and the council fire covered with ashes.
When the countries of Canada and the United States were being formed and their governments created, the founding fathers found inspiration in the Great Peace, drawing from the Iroquois system the concepts of representational government and of the division of the governing bodies into two separate entities-in Canada, the House of Commons and the Senate-through which decisions must pass before being acted upon.
Although centuries have passed since the Peacemaker first brought together the five nations to form the Iroquois confederacy, the system he established is still in place today. In the 1700s, the Tuscarora took a seat at the council fire. And the border that runs through the confederacy territory has meant that there are now two confederacy fires, one in Canada on Six Nations of the Grand River territory and one in the United States at Onondaga. But even today, representatives of the whole confederacy still continue to gather around one council fire to deal with issues that affect its people on both sides of the border, continuing to follow the laws set down for them within the Great Peace.
Don Cardinal - Footprints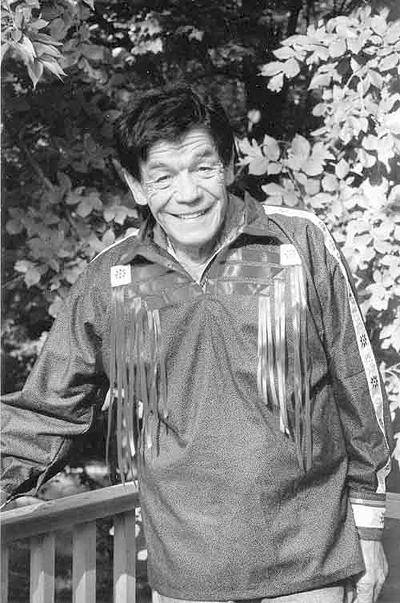 Don Cardinal: Dedicated his life to helping Aboriginal people in need of healing
Deceased: May 20, 2008
By Dianne Meili
If the worth of a father is reflected in the health and success of his family, then northern Alberta's Cree Elder Don Cardinal has every reason to walk the holy road to the spirit world with a tranquil soul.
He has two famous sons: Lorne Cardinal, well-loved actor of television comedy Corner Gas, and Lewis Cardinal, an Aboriginal Relations consultant who recently ran for Edmonton city council. His late brother Harold was a consummate promoter of Indigenous rights who published numerous writings on the subject and gained political ground for his people.
Though Lewis will "miss being able to pick up the phone and talk to his dad for guidance" he and Lorne agree they are blessed by being closer than ever after seeing through their father's wishes for a traditional burial. They also worked together to arrange complex memorial arrangements in Winnipeg and Edmonton so hundreds could pay their last respects.
"At the Winnipeg ceremony, a young man told me he'd be dead if it wasn't for my father," said Lorne. "He was a gangster who'd seen a lot of Elders but it wasn't until my father sat down with him that he changed his life.
"A homeless woman told my dad's wife, Allison, that she came to pay her respects because he bought her a meal and talked with her many years ago."
While in the Winnipeg hospital where Cardinal died of terminal lung disease on May 20, he disconnected his life support system to hold his final pipe ceremony.
"He did it for us, gathered around his bed, so that the grief and pain of losing him would be eased," Lorne observed.
Traditional values guided Cardinal's personal and political life and, according to Lewis, "we travelled many a bumpy road that seemed to go nowhere to find Elders and go into ceremony and council. That was when my father was vice president of what was then known as the Northern Alberta Indian Association, and he wanted the best of guidance from the old ones."
Cardinal, of Sucker Creek First Nation, once told Lewis he relied on his traditional knowledge as a hunter and trapper to read people and strategize for the fledgling political organizations he helped develop in the late 60's and early 70's.
"He said 'inside each person lives an animal – sometimes even two – and the nature of that animal governs how the person operates. I just used my knowledge of animals and kind of set the trap, so to speak'."
In 1967 he joined his brother Harold to kick-start an opposition to Pierre Trudeau's infamous 1969 White Paper that aimed to exterminate treaty rights. The brothers responded with The Red Paper, which was a factor in the formation of the national Assembly of First Nations that has led to treaty rights victories ever since.

According to Lewis, "Harold was the great communicator, the articulator, but my dad moved things along and brought people on-stream. A lot of people speak generic Cree, but he spoke high Cree, or the traditional, ancient woodlands Cree. He could work closely with the Elders and they counselled him along the way. At times he worked as a field organizer getting people in remote communities like Fort Vermillion in northern Alberta informed and organized."
Cardinal gathered information for his personal life, too, by plunging into a variety of ventures, once even setting himself up as a chicken farmer.
"But that only lasted a week after he realized the first batch of chickens he bought were all roosters," Lewis laughs.
"It wasn't for him to stay on the reserve. I guess the fact Lorne and I went to ten different schools in 12 years is a testament to that. The first part of his life was very physical as he worked in industry – mining and timber – and the last part definitely focused on the spiritual."
A personal vision ten years ago led Cardinal to position himself in central Canada to make himself available to calls from all directions. He travelled the province looking for the right place to settle, choosing traditional lands near Seven Sisters Falls that featured rocks inscribed with ancient pictographs. He believed these markings were left by ancestors across Turtle Island to guide people to the fires and the old ways that are not lost.
He travelled the four directions, re-opening ceremonial grounds throughout North America and unlocking spiritual fortitude in those who would listen. Crossing the country to build a sweatlodge was nothing to him if it meant helping people. He shared his traditional knowledge through programs in Geneva, the United Nations, Brandon University in Manitoba, Hofstra University and Manhattanville College in New York state, where he also conducted ceremonies for the general public.
In the aftermath of the Sept. 11, 2001 terrorist attack on the United States, Cardinal offered healing prayers for the 500 people gathered at New York's Ground Zero memorial ceremony.
Based on the traditional values of kindness, sharing, caring and truth, Cardinal dedicated his life to healing his people, but welcomed all sincere seekers to his pipe ceremonies, sweatlodges, vision quests and counselling sessions.
He played an instrumental role in the establishment of Winnipeg's Thunderbird House, designed by world-famous architect and cousin Douglas Cardinal. He assumed the role of Aboriginal doctor at the health and wellness centre there.
As a father "he wasn't a hard line traditionalist; he let us kids explore different things and then he'd dialogue with us afterwards," said Lewis. "He firmly believed each of us was put here by the Creator to do something and we each have a personal vision. To find it, the first place you go to is your heart. Listen to it, even if what you're about to do seems irrational, he always said."
Close friend Marilyn Buffalo, who attended Cardinal's Edmonton ceremony and burial soothed mourners in her response to Lewis's public e-mail detailing his father's life and passing. She wrote: "Don Cardinal is no longer in physical pain he is likely holding court under shady trees right now with his brother Harold, his father Frank and my grandfather John Tootoosis, Albert Lightning, John Samson, Robert Smallboy, Peter O'Chiese, Lazarus Roan, Eddie Bellerose and all of those great Treaty Rights Leaders that went before him."
Don Cardinal is survived by his wife, Allison, and his ten children: Jackie (Dennis) Lewis (Patricia), Lorne (Cheri), Lisa, Tami (Robin), Trevor (Lisa), Tara, Andrew, Megan and Sabrina; and his grandchildren: Pam, Mary, Jacqui, Hunter, Shelby, Michael, Shaina, Darryanne, Lane, Kale, Darius, Dakota, and Jessy; as well as his great granddaughter Delaney. He was predeceased by his mother Agnes, father Frank, his brothers Harold and Ronald, his sister Florence, and his grandson, Denny.
Dorothy Betz - Footprints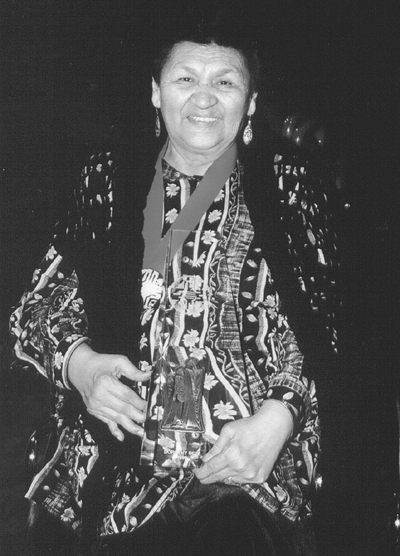 Dorothy Betz: Elder inspired others with her optimism and caring ways
Deceased: Sept. 9, 2007
By Cheryl Petten
There was something very special about Dorothy Betz. She had a way of putting people at ease, a way of making everybody feel special. When you spoke to her, you could tell that she was really listening, and was genuinely interested in what you had to say. This ability, along with her boundless optimism and kindness, go a long way to explaining why so many people were drawn to this remarkable woman.
Betz always expected the best from people, and most of the time, that's what she received. It was a lesson she shared with others who came to know her—if you expect the worst from people, that's more than likely what you'll get from them, but if you expect the best, they'll generally rise to the occasion and you won't be disappointed.
Her positive attitude and giving nature were truly remarkable, given the hardships and loss she experienced early in life.
Betz was born on June 26, 1929 on the Pine Creek reserve in Manitoba to parents Charles and Bernadette Nepinak. She spent 15 years of her childhood attending the Pine Creek residential school. Both her parents died when she was very young, and she was raised by her grandparents during her summers away from school. But by the time she reached adulthood, she'd lost her grandparents too, as well as a younger brother and an older brother, leaving her no immediate family except her sister, Rose.
When she turned 18, Betz was told she could no longer stay at the residential school. She was given 28 cents and a shopping bag with a few items of clothing in it and was sent on her way.
In 1948, she made her way to Winnipeg, and soon met and fell in love with Elmer Betz. The couple married on Dec. 2, 1950 and went on to raise six children together. Over the years, the family continued to grow, with the arrival of 18 grandchildren, 37 great-grandchildren and four great great-grandchildren, keeping Betz busy knitting gifts for each and every one of them.
Betz was the type of person who could see the good in anyone, and see the positive in any situation. She even managed to find a silver lining within her residential school experience. If she hadn't attended residential school, she reasoned, she probably wouldn't have learned to do two of the things she loved-sewing and knitting. And she might never have developed the resourcefulness that served her so well throughout her life.
Despite her ability to look on the bright side, Betz did have one regret about her time at residential school—the way her experiences there impacted on the relationship she had with her children when they were growing up. The regimented environment of the residential school provided her with her main model for parenting, so that was the approach she took with her children. She would line them up for inspection, treating them, she would recall later, like little soldiers. Her children knew they were loved, but Betz found outward expressions of affection-hugging her children or telling them she loved them, very difficult for a very long time.
Betz became deeply involved in Winnipeg's Aboriginal community, fueled by a desire to help Aboriginal people improve their lives. She would often help people find jobs, and would keep a large box of alarm clocks in her office so she could give one to each of these newly employed people to help them get up and get to work on time.
Betz was a woman of action. While some people will encounter a problem or need and look around for someone to do something about it, Betz was the type who would jump in feet first and tackle the problem herself. That's exactly what happened with development of the Native Court Communicators program in Manitoba. One day, Betz was called in to talk to an Aboriginal man who had spent months in jail on a relatively minor charge because he didn't speak English and no one could communicate with him. Betz spoke to him, then cleared things up with the police and soon the charges were dropped and the man was free to go. It was then that Betz recognized the language barriers that some Aboriginal people faced within the court system. She took it upon herself to start going to court and offering her services as an interpreter, and the seeds of the Native Court Communicators program were planted.
Betz had a chance to draw international attention to the shortcomings of the justice system when it came to accommodating Aboriginal people in 1975 when she travelled to Geneva, Switzerland as part of the Canadian delegation to the Fifth United Nations Congress on the Prevention of Crime and the Treatment of Offenders. When the delegation members were introducing themselves, she spoke in Saulteaux, which none of the interpreters could translate. When the translators protested, she simply indicated that this was the situation Aboriginal people found themselves in on a regular basis when they were forced to deal with a justice system where they couldn't function in their own language.
Betz was one of the founders of Winnipeg's Indian and Métis Friendship Centre and of the Kekinan Centre, an Aboriginal seniors residence, and was the first Native woman appointed to the National Parole Board. Over the years, she was involved in numerous other organizations, including the Manitoba Society of Criminology, Manitoba Correctional Institution, the Native Clan Organization, the Aboriginal Centre, the RCMP Aboriginal Advisory Committee, the Manitoba Association of Rights and Liberties, the Native Women's Transition Centre, the Centre for Aboriginal Human Resource Development, Ma Mawi Wi Chi Itata Centre, and the Keteyatsak Elders group. She was also in demand as a public speaker, giving inspiring talks to people about her own story and of how she overcame the hardships in her life and persevered.
Betz received a number of awards in recognition of her lifetime of work to improve the lives of Aboriginal people. In 1989, she received the Joe Zuken Citizen Activist Award and the Citizen Award for Outstanding Community Service and was named to the Order of the Buffalo Hunt, one of the highest honours bestowed by the province of Manitoba. The following year, she received the Aboriginal Wall of Fame Award and a tribute dinner was held in her honour. In 1999, she was presented with a National Aboriginal Achievement Award in the community development category.
As she grew older and her health began to deteriorate, Betz still continued to dedicate much of her time and energy to working for the benefit of others. She turned her love of knitting into a way to continue these efforts, creating baby booties and blankets, and then setting up a table at the Aboriginal Centre a couple of times a year to sell her wares and donating the proceeds to help fund programs for Aboriginal youth. Even after being admitted to the hospital she continued to knit, right up until the day of her death on Sept. 9.
As the Christmas season rolls around again this year, Betz and her table of hand knitted items will be sadly missed at the Aboriginal Centre, but the generosity she demonstrated throughout her life will be continued by others, thanks to a memorial fund established in her name that will provide funding for the Aboriginal youth programs she always worked so hard to support. The work she began will also be continued through the many organizations she gave her time and energies to, and by the many people she inspired with her dedication, caring and generosity.
Dr. Clare Clifton Brant - Footprints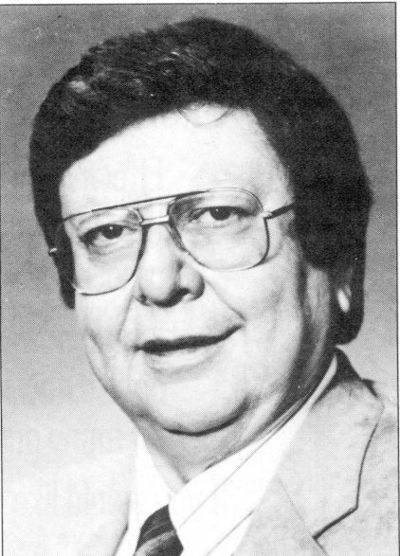 Mohawk man and doctor: bridging the divide
Deceased: March 12, 1995
By Cheryl Petten
"It seemed like a good idea at the time."
Those words were like a mantra to Dr. Clare Clifton Brant. He spoke them when things he did didn't quite turn out as planned, as well as when what he planned turned out more successful than he first considered.
Brant was born on July 7, 1941 in the Mohawk community of Tyendinaga on the northeastern shore of Lake Ontario. He was born into the Wolf Clan, the youngest child of Hubert Brant and Pearl Hill.
Brant knew from a young age that he wanted to become a doctor. It was the only thing he ever talked of becoming. And it was a goal he realized in 1965 when he received his medical degree from Queen's University in Kingston, Ont., becoming the first Native to graduate with a medical degree from the institution.
At the time it was uncommon for First Nations people to pursue post-secondary education, but it was not uncommon in the Brant household. His sister Lorraine had become a registered nurse, and his sister Marlene earned a masters of social work degree.
Brant worked as a general practitioner for a number of years, both in Kingston and in Montreal. Then he decided to come home and set up shop at Tyendinaga.
And what seemed like a good idea at the time, didn't quite go according to plan. There were only a scattering of Aboriginal doctors in Canada at the time, and the people in his home community were skeptical about going to Brant, who was not only a Native doctor, but a relative as well. He ended up setting up practice in nearby Belleville and treating non-Aboriginal patients.
It took a year or two and a few housecalls to people on reserve before Brant proved himself to the community. But from then on, he became the doctor of choice among the people of Tyendinaga. Eventually, Brant decided to go into psychiatry. Again, it seemed like a good idea at the time. It was a logical next step for him in his professional development. And it also flowed from his own personal experiences in trying to find a balance in his own life between being a doctor and a being a Mohawk man.
He commented once that it took five years at Queen's University to turn him into a doctor, and another five years in psychoanalysis to restore his identity as a Native person.
His quest to find that balance was made more challenging for Brant as one of only a handful of Aboriginal doctors practicing across the country. Because of that, he once explained, whenever he was in mainstream society he was expected to be more than, or less than, he was. He was either seen as an icon or as an Indian, with all the negative stereotypes that were attached to the word in Canada in the mid-1960s.
It was only at home on Tyendinaga, he'd explained, where he could just be himself-Clare, a human being.
His move into psychiatry meshed with the view he had of the practice of medicine. Although he never used the term holistic to describe his approach, he was well aware that ill health had a mental and spiritual component, as well as the physical one, and that all these components must be addressed in treating a patient.
Brant completed his psychiatry residency at the University of Western Ontario in 1981, becoming the first Aboriginal psychiatrist in Canada. In that same year he married Ann Scott, a psychiatric social worker, with whom he would raise two children, Charles and Melissa.
As a Mohawk man who developed skills as a physician, Brant tried to create a bridge between the Aboriginal world and the world of health. This was an important role, given the health community's commitment to Western medical models, which often did not fit with the Aboriginal way of healing.
To his medical peers, he became a source of information, a door into a community they previously could not access.
Brant never presented himself as an interpreter of Aboriginal culture. He never claimed to represent Aboriginal people as a whole. He spoke from his own experiences as a First Ntions doctor working with First Nations people.
Through his writings and teachings, he was able to help people in the mainstream realize that Aboriginal people in Canada have distinctive cultures and distinct ways, and that they didn't benefit from services imposed on them by people and organizations who thought they knew what was best for them.
Through his work, Brant was able to put information into an Aboriginal context, and stress the importance of healing the person, not just the symptoms; to look for the cause of the problem, not just how the problem manifests itself.
He was the first member of the medical community to recognize that addictions couldn't be dealt with just by treating the addiction, that the underlying causes that make a person turn to addictive substances as a way to cope must be identified and addressed.
In 1982, Brant became chair of the Native Mental Health section of the Canadian Psychiatric Association, which worked to make psychiatric professionals more aware of Aboriginal mental health issues, and to make them more culturally sensitive.
He worked to provide a network for professionals working in Aboriginal communities, which would grow into the Native Mental Health Association of Canada, with Brant as founding chair. Brant also worked as a clinical instructor at the University of Western Ontario, where his gifts as a teacher were allowed to flourish. He had a traditional teaching style, using stories and humor to reach his students. This was something he had learned growing up, where the evening's entertainment often consisted of the family sitting around the wood fire and telling stories. He used the same approach in the many presentations he made over the years to colleagues and members of the public as well.
Brant's accomplishments are many. In 1983 he was admitted as a Fellow of the Royal College of Physicians and Surgeons. He was a visiting lecturer at numerous universities. He was an advisor on Aboriginal health policy a both the provincial and federal levels, and for a dozen years was director of psychiatric services for Health Canada's Medical Services Branch.
Brant was a part-time member of the National Parole Board, and his discussion paper on the problem of suicide among Canada's Aboriginal people is included in the proceedings of the Royal Commission on Aboriginal Peoples.
Yet with all the demands on his time, he was still a good friend and family man who found time to farm his land in Tyendinaga and involve himself in the community. Brant died March 12, 1995 at the age of 53. Eight years after his death, he is still making a contribution. His writings are often cites as source material by researchers and doctoral students who build on the work he has done.
And those same writings continue to inspire Aboriginal people, who comment that Brant's words have helped them better understand themselves. A collection of his writings and lectures has been compiled by his wife and sister Ardith, and can be purchased from the Native Mental Health Association of Canada.
Brant has been characterized as modest and humble, as a man who did what he did, not to make a lasting mark, but because it was what he should be doing.
In his work, he wrote about the way the Mohawk people viewed such things. You don't congratulate someone when they've done what was expected of them. The belief is that you are expected to use the gifts you are given to their fullest potential and in the service of the community, without fanfare, without praise. That was Clare Brant's motivation for his work. Not to be recognized for his contributions. Not to leave a lasting legacy.
Just because it seemed like a good idea at the time.</p>
Dr. Dale Auger - Footprints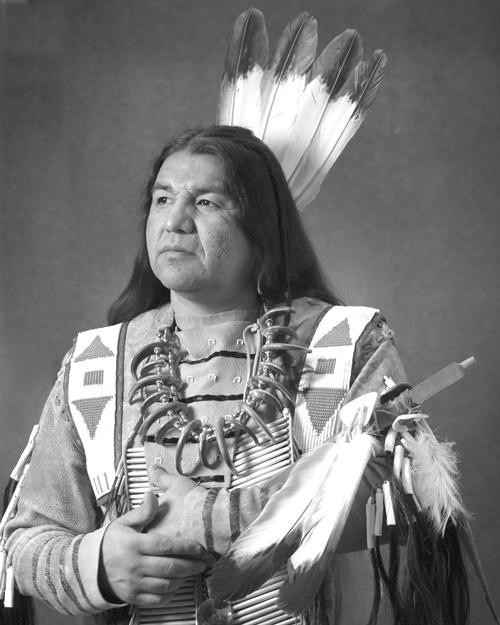 Dr. Dale Auger - Encouraged many artists to pursue and perfect their craft
Deceased: Sept. 23, 2008
By Dianne Meili
Outside the community centre in an artsy tourist town near Calgary, a white horse stands easily, indifferent to the burden laid across her back: a magnificent spotted loon skin spread upon a tanned animal hide.

The horse takes no heed of the hundreds of people milling about her, speaking animatedly, except to lower her head when a child breaks from its parents to come and pet her nose. The people are shifting from foot to foot, not nearly as patient as the horse. They want to enter the hall to begin this celebration of artist Dr. Dale Auger's life, a man who embodied the spirit of the loon and who admired its ability to live in many worlds ­ under the water, floating on its surface, or winging its way across the sky.

Finally, a word is given and the crowd ambles through the doors of the community hall. They are greeted by a room encircled with large and small canvases splashed with intense hues glowing in the showroom-like lighting: turquoise, lilac, yellow ochre and red.

"He brought colour into a black and white world," said Sekwan Auger, in homage to her father who passed away in a Calgary hospital on Sept. 23 in his 50th year. Her family has asked that owners of his paintings bring them to today's memorial ceremony; in total they constitute the largest showing of his work ever assembled.
It's overwhelming to take in all the images ­ a blue horse with white spots wheels under the bent willows of a sweat lodge, a raven-haired woman picks wild flowers under a fuchsia sky, and yellow-headed songbirds mysteriously jettison from between the lips of a fierce, top-knotted warrior.

Many come forward to share memories of Auger; the stories as varied and colourful as the paintings themselves. Close friend Stan Carscallen laughs about the time he was drafted to be a death-defying warrior riding a horse in one of the outdoor dinner theatre productions Auger produced for several years.
"At the last minute, the original actor didn't show up so Dale looked at me and said 'it's gonna have to be either me or you that takes his place, and I need to be here producing the show.' So, I didn't want to ride that wild horse, but how can you say no to Dale? " Carscallen asks the audience.

B.C. singer and songwriter Art Napoleon, who sang and played both the drum and guitar at the gathering, admits he was a "closet singer" before Auger urged him to "get out there and go for it in the music world." He tells the audience how much fun he had whenever he spent time with Dale and how the artist "brought out the mischievous side of me."

Two-time world champion hoop dancer Dallas Arcand, from Alexander First Nation west of Edmonton, performs for the crowd as a "gift" to the man who encouraged him to practice and excel in his music and dancing.
Auger, over and above his many other talents, had a gift for pushing people out of their comfort zones and nowhere was he more in his element than at a 2005 workshop held by the Sun and Moon Visionaries Aboriginal Artisans Society in Edmonton.

Standing before a group of 20 painters, from beginner to professional, Auger horrified his audience by wiping a crumpled paper towel dipped in black paint across an immaculate white canvas. Standing back, he identified shapes in the loose, random strokes and began dipping his brushes into various colours, eventually ending up with an animated scene of two people sitting on the ground, talking, their feathered hair ties blowing in the wind.

"For many years I was into realism and I would paint a still life down to the exact detail," Auger told his students. "But now, I just paint what the spirit world has to show me. I never paint from a photograph or picture. Try it! Paint as though you're not quite sure what will emerge on your canvas."

Auger often told audiences how proud he was to be a Sakaw Cree man and have access to the symbols and stories of his ancestors, given to him in teachings from his Elders and through his dreams.

"He loved passing on knowledge and sharing the ways of his people with others," Carscallen tells today's audience. "And he'd get excited about it. If he was doing something that portrayed some aspect of culture or spirituality or if you were, he'd get that look in his eyes and he'd say 'that's powerful!' I can still hear him saying it."
Auger especially enjoyed sharing the story of his life ­ from his teen-age years of driving around the back roads of northern Alberta with friends near High Prairie, to his venture into the halls of learning at the University of Calgary. He credited his mother, Rose Auger, who passed away two years before him, for giving him the drive to accomplish many of his greater undertakings.

While only a child, she would often leave him, much to his chagrin, with Elders and it was only when he got older that he understood she wanted him to be taught in the old way.

"And after learning about the ways of my own people, my mother urged me to learn about the Whiteman's ways. I went back to school after having only a grade six education," Auger is quoted as saying in a 2005 interview produced for the Aboriginal Peoples Television Network.
In 1999 he graduated with a doctoral degree in education and was in demand for his visual work, motivational lectures, workshops and keynote addresses.
His illustrated children's book Mkakwa ­ Talks to the Loon won the Aboriginal Children's Book of the Year award in 2006 and the 2007 R. Ross Annett Award for Children's Literature.

The family he cherished survives Auger: his wife Grace Auger, daughters Sekwan and Neepin, and son Sohkes.
Edith Josie - Footprints
World famous writer puts Old Crow on the map
By Dianne Meili
Whenever Vuntut Gwitchin First Nation Chief Joe Linklater traveled to Italy or Denmark, the first thing people asked him is 'How's Edith?'
They were referring to his Yukon community's ambassador, Edith Josie, who, for 40 years, penned a column in the Whitehorse Star called Here are the News. In it she wrote about the comings and goings of her people in Old Crow, and her syndicated columns kept readers around the globe hanging onto her every word.
Josie passed away of natural causes at the age of 88 on Jan. 31.
"When her column would come in, we would give it to the newest typist and she would try and correct it," recalls Whitehorse Star publisher Jackie Pierce. "And we would give it back to her and say 'You have to type it just the way it is.' That's what made it the column it is–just the way she spoke."
When Pierce took over the newspaper in the early 70s, Josie's column was already world famous. Josie started writing it in 1962, following it up with regular installments until 2005. It was also syndicated to Toronto and Edmonton newspapers, eventually gaining a presence on CBC's Gwitchin radio show.
The down-to-earth style of Josie's column struck a chord, and her writings were translated into German, Italian, Spanish and Finnish, and collected into the book Here are the News, named for the column.
"She wanted to let the outside world know what the community was all about, what people were doing in the community, about our way of life," her daughter, Jane Montgomery, told CBC News. She also mentioned her mother was used to receiving calls from all over the world about her columns.
Vuntut Gwitchin First Nation councillor Roger Kyikavichik said he never got over the far reach Josie's writing enjoyed.
"People would come through here–tourists–and they'd be from all over the world. I was always shocked when they said they were here to meet Edith Josie," he said.
Josie was born to Paul and Elizabeth Josie on Dec. 8, 1921 in Eagle, Alaska. The couple were married in Fort McPherson, N.W.T., and moved to Alaska in 1909. It wasn't until the 1940s when Josie was 16 that her family moved to Old Crow.
Josie spent her younger years trapping, hunting and fishing. When her father died, and later her mother, Josie looked after her brothers. She never married.
It was because she was single that the local reverend's wife Sarah Simon, responding to a request by Whitehorse Star publisher Harry Boyle, first approached her to work as an Old Crow correspondent for the paper. Not having a family to look after, Simon thought she might have time to write a regular column. Josie took her up on the offer and became a world-renowned writer. By the time the book containing her columns was published in 1993, she had been profiled in Life magazine and received the Canada Centennial Medal for her contribution to the nation.
Readers loved how she recorded the happenings of Old Crow, from spring hunts to airplane arrivals.
"It is a very small village here at Old Crow, but the news is getting better every week," she wrote in her April 1963 column. "I'm sure glad everyone gets my news and know everything what people are doing.
"A few will go up river for cutting wood. Just one or two families will move up river for drying meat and same time cut wood for sale.
"Even now the spring has come cause it is daylight around 11 o'clock p.m. Pretty soon we won't use light for night time. Everyone glad to see plane every day. Even the same plane come in one day, they all have to go down to see what is going on and what come in on plane.
"Edith loved the wilderness she lived in and she put our little community on the map," confirms Kyikavichik. "Beyond her writing, she was also a precious part of our community. She cared about everything, especially children. They were always visiting her and she'd make dry meat with them, or make bannock. That was her way of educating them in regards to their culture and being respectful.
"Edith was just so full of smiles. She always greeted everyone and asked 'how are you?' If we had difficult times in the community, maybe a loss in the family, she would come by your house to pray and ask God to strengthen you. She was definitely a spiritual leader."
Indeed, Josie acted as a lay reader for the Anglican Church in Old Crow, and preserved Gwitchin culture by teaching the language at the Yukon College Campus in the community.
Kyikavichik recalls Josie's encouragement at general assemblies and meetings in which the community was trying to resolve land claims.
"She would always get up and remind everyone to work together. She'd say, 'Don't fight within yourselves. If you listen to each other and be kind to each other, something good will come out at the end of the day.'
Josie is survived by two of her three children, and three grandchildren, including Tammy Josie, who said her grandmother gave her a start in learning and telling stories after she pulled her onto the stage at the annual storytelling festival in Whitehorse when she was only 14. Since that day, she's followed in her grandmother's footsteps, sharing cultural teachings and passing on the stories Edith Josie used to tell.
Elijah Harper - Footprints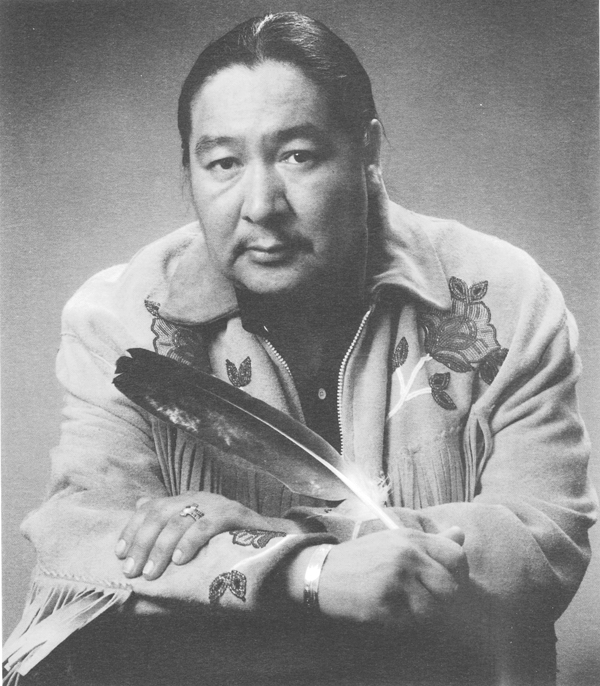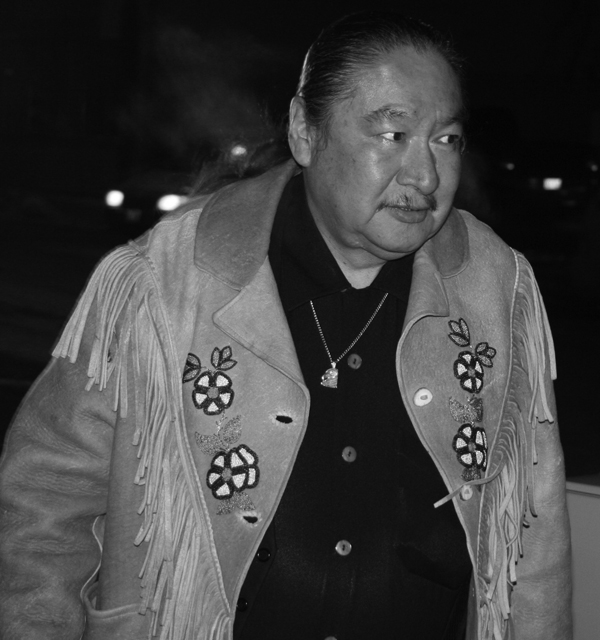 Cree leader gave a nation strength
By Dianne Meili

Deceased May 17, 2013
Posters of Elijah Harper holding an eagle feather pasted on walls around the world testify to his influence beyond Canadian borders.
Former Assembly of First Nations leader Phil Fontaine, in a tribute to Elijah last month, recalled seeing the image in a remote Mexican village during his travels. Jennifer Wood, ten-year executive assistant to the politician who scuttled the Meech Lake constitutional accord, said Elijah told her he encountered the poster himself during a trip to Korea.
"He gave people hope that they can stand up and speak, even if it goes against the grain of those in political power," said Winnipeg youth activist Michael Champagne, who mentioned he once skipped work so he could hear Elijah speak at a conference on the legacy of the residential school system.
Darcy Wood, an Aboriginal leader from Manitoba, who has known Elijah since the 1980s, said Elijah was the kind of leader "who gave you his business card and jotted his personal number on the back.
"His contributions went beyond federal politics and Aboriginal issues. They went to a spiritual level and empowered people of various socio-economic backgrounds everywhere."
The year was 1990 when the soft-spoken former chief of the Ojibwa-Cree Red Sucker Lake Indian Band in Manitoba prevented the accord from being ratified. It was a deal intended to win Quebec's signature on Canada's Constitution.
In consultation with other Aboriginal leaders, including Fontaine, he delayed the vote in Manitoba and made it impossible to pass the accord by the deadline, despite pressure by Prime Minister Brian Mulroney. Elijah held fast to his claim the accord ignored Aboriginal rights.
Later in 1990 he was voted The Canadian Press newsmaker of the year and also received the Stanley Knowles Humanitarian Award, the same award presented to Nelson Mandela of South Africa.
In 1992, he resigned from the New Democrats and a year later made a successful bid for the federal Liberal seat in the massive northern Manitoba riding of Churchill.
"He was always focused on northern communities," recalled Darcy. "He maintained that isolated places should have the same quality of life as the rest of Canada. In the early '90s in the northeast section of Manitoba there were seven communities using diesel generators while high voltage lines above them supplied power to the south. He was instrumental in having electricity brought into those places."
The CBC movie about Elijah Harper shows band members crowding into his tiny Red Sucker Lake reserve home to watch the CBC network on television. Though the range of the broadcast corporation was expanding, many remote communities were left out, so Elijah erected his own satellite dish in his yard.
"He was also instrumental in the Framework Agreement Initiatives," Darcy explained, negotiations which saw Manitoba First Nations manage the delivery of education, fire and safety services, and some programs and services at the municipal level.
One of 13 children, Elijah was born on March 3, 1949, to Alan B. and Ethel Harper. He attended residential and public schools, and then studied at the University of Manitoba. He became a community development worker, supervisor for the Manitoba Indian Brotherhood, and program analyst for the Manitoba Department of Northern Affairs.
His progression from chief of Red Sucker Lake to becoming the first status Indian elected to the Manitoba legislature came in 1981. He oversaw the Rupertsland constituency for the next 11 years and in 1986 was appointed to cabinet as Minister Without Portfolio for Native Affairs, becoming Minister of Northern Affairs in 1987.
In 1993, Jennifer Wood watched helplessly as her boss battled an illness doctors and traditional healers were at a loss to rectify.
"He was in extreme pain – beyond words," she said. "His right hip bothered him so much his blood pressure went up and he was vomiting. He was down to 127 lbs and suffering dehydration."
Friends and relatives rallied around him and called for spiritual support. He attended a church service and, as the prayers escalated, "we heard a loud snap in the room," Jennifer explained. "After that, he began to heal."
Elijah moved to the international scene and visited Great Britain, the International Court of Justice at The Hague, the European Parliament in France, South Africa, South America (Brazil and Chile), and numerous places in the United States. In 1992, he attended the launch of the International Decade for Indigenous Peoples at the United Nations in New York, as well as the Declaration of International Indigenous Day in the same city in 1997.
In 1996, he went to the Moral Rearmament (an international peace organization) Jubilee Anniversary in Caux, Switzerland, and later attended meetings on reconciliation in both Australia and New Zealand. He was a strong advocate for both Indigenous and human rights.
As the son of a layman minister, and a traditionalist who withdrew to the land every autumn to recharge, Elijah brought religious leaders together with the conviction that they all served one Creator.
His 1995 Sacred Assembly for promoting Aboriginal justice through spiritual reconciliation and healing between non- and Aboriginal peoples resulted in the government declaring June 21 as National Aboriginal Day.
Elijah's health issues continued to challenge him but failed to stop him. As his kidneys deteriorated due to diabetes, he made arrangements for dialysis in hospitals located in the foreign countries he visited.
But finally, after years as an activist, promoting human and Aboriginal rights, and as a registered lobbyist and advisor to various organizations, he suffered a heart attack. He died in the early morning of May 17, 2013 at the age of 64.
His body lay in state on May 20 at the Manitoba Legislature as hundreds lined up to pay their respects, overwhelming daughter Holly Harper. She was quoted on a CBC Web site as saying, "I am feeling the same support (as Elijah received after rejecting the Meech Lake accord) and it is giving me strength really."
A funeral was held at Winnipeg's Glory and Peace Church on Main Street before Elijah's body was taken for official burial on May 23 in his home community of Red Sucker Lake.
He leaves behind his wife, Anita Olsen Harper, his children Bruce and Holly, stepchildren Karen Lawford, Dylan, Gaylen and Grant Bokvist.
Elsie Knott - Footprints
First woman chief used creativity to solve problems

Deceased: Dec. 3, 1995
By Cheryl Petten
Elsie Knott made history when she became the first woman in Canada to be elected as chief of a First Nation. While that feat earned Knott a place in the history books, she chose to take on a leadership role not to make a name for herself, but to improve the lives of the people in her community.
Knott was born Elsie Marie Taylor in 1922. She grew up on Curve Lake First Nation, located just north of Peterborough in southeastern Ontario. At the age of 15, she married Cecil Knott and the couple had three children.
She was first elected chief in 1954, just three years after amendments to the Indian Act gave Native women the right to vote in band elections and hold positions on band councils. She served until 1960, then was elected to the position again in 1970 and held the post until 1976.
Even before she became chief of Curve Lake, Knott displayed her skills as a leader. When she was younger, her siblings would often come to her for advice, even though she wasn't the eldest in the family. Later in life, many members of the community cast her in the same role, frequently calling her up to ask her opinion or seek her guidance.
During the 16 years in which Knott held the position of chief she worked to improve the quality of life for members of the community, negotiating with government for funds to build new houses, dig new wells and pave the roads on the reserve. While she was chief, a grocery store, a post office and a daycare centre all opened in the community. She was a staunch advocate for Native people, and wanted the members of Curve Lake to have all the same opportunities available to non-Native communities.
There were many things that made Knott a successful leader. She always had good, creative ideas and always did her homework, making sure that, before suggesting a plan of action, she was prepared to back up her proposal with facts. She wouldn't just tell you what she thought should be done in a particular situation, she'd also give you all the reasons why.
She was a very outgoing woman and liked to make people laugh, character traits that served her well, helping her break the ice in meetings, putting everyone at ease.
With her well thought out plans, gregarious personality and ability to motivate, Knott never seemed to have problems rallying others around to assist with her many projects. Knott was always busy. It's been said of her that the only time she wasn't working on a project was in the time after she'd completed one task and was planning what to take on next. And she didn't believe in leaving any job unfinished once she'd taken it on.
She worked to organize activities like Boy Scouts and Girl Guides for the young people of the community and was instrumental in getting a senior citizens home and a new community centre built on reserve. She also owned and operated the Tee Pee Trading Post and served as Curve Lake's postmistress.
Knott recognized the value of an education. She never went further than Grade 8 herself, but she encouraged her children and grandchildren to get a good education. She provided the same encouragement to all the youth in the community and, for more than 30 years, she personally took on the task of driving them to the off-reserve schools each and every school day. When she began, she used her own car and, when the number of students needing a ride grew too unwieldy, she bought an old hearse and converted it into a school bus. When even that was insufficient to accommodate everyone, she found the funding needed to buy two school buses for the community.
Preserving and promoting the Ojibway language was also a priority for Knott, who would visit the jails and teach the language to prisoners. She was also instrumental in starting up an Ojibway language program at the Curve Lake First Nation school. That program is still running at the school, with Knott's daughter, Rita Rose, serving as languge instructor. Knott worked to revitalize cultural activities on the First Nation, helping to establish the Curve Lake powwow, which has since become an annual event for the community. She initiated an annual event where a day is set aside for the beautification of the local cemetery.
Whenever there was someone in the community in need of her help, Knott was there. Once, when tragedy struck the reserve and a young boy died, she organized a walk-a-thon to raise money to help the boy's family with burial costs.
Knott was also involved in the local United Church, serving as a Sunday school teacher and later as church superintendent. When the existing church was condemned, Knott co-ordinated efforts to get a new one built. Selling cassette tapes of herself singing gospel songs in English and Ojibway and organizing other fundraising activities, Knott's efforts were rewarded when the new Curve Lake Community Church was completed in 1992.
Knott served as an Elder with the Union of Ontario Indians. She helped found that organization's sports committee, and was involved in starting up events like the Little NHL as a way to get Native communities together.
Her work on behalf of her people took Knott to meetings and events across the country, where she met with other leaders, both Native and non-Native, and dined with prime ministers and even the Queen of England.
The determination that helped Knott be so successful in her work to improve conditions for the people of Curve Lake also served her well in overcoming challenges in her own life, including a battle with breast cancer. By the time she reached her 70s, Knott was forced to slow down her pace because of problems walking, attributed in part to those many years spent driving the community school bus up and down bumpy roads, and it bothered her that she couldn't dedicate as much time and effort to helping others as she always had.
She died of congestive heart failure on Dec. 3, 1995 at the age of 73.
Knott's efforts to improve the lives of the people of Curve Lake and Native people in general did not go unnoticed.
In 1992, Knott received an Outstanding Women Award. In 1998, her memory was honored as part of the Anishinabek Nation's Celebration of Women Conference, and in 1999, she was one of the recipients of a Lifetime Achievement Award, given by the Union of Ontario Indians to recognize her service to her community and to her nation.
Everett Soop - Footprints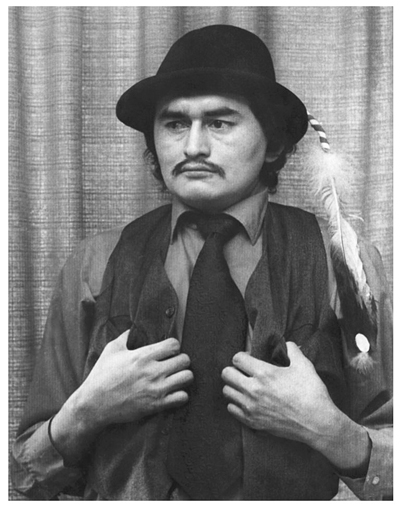 Everett Soop: Artist's legacy lies in cartoons reflecting realities of his time
Deceased: Aug. 12, 2001
By Gauri Chopra
In 2006, five years after his death, Everett Soop was awarded the Meritorious Service Decoration (Civil Division) by Gov. Gen. Michaelle Jean. The award was given to 14 individuals whose work brought honour to their communities and to Canada.
"An advocate for Aboriginal people and physically challenged persons, the late Everett Soop, who personally suffered from muscular dystrophy, worked unselfishly for the cause of First Nations peoples living with disabilities. His efforts during his tenure with the Alberta Premier's Council on the Status of Persons with Disabilities culminated in 1993 with the publication of a major report entitled, Removing Barriers: An Action Plan for Aboriginal People With Disabilities. Mr. Soop, who passed away in 2001, is remembered for his relentless quest for social justice for his people, as well as for his unique contributions to his province and his country," reads the description of Soop's contributions on the governor general's Web site.
Born 1943 on the Blood reserve in southern Alberta, Soop spent a large part of his life as a cartoonist for the local Aboriginal newspaper, Kainai News.
Soop lived until he was 58 years old, 28 years longer then expected by doctors. He was diagnosed with muscular dystrophy at birth and his parents were told that it unlikely he would live past his 30s. But there was no stopping Soop's passion for life.
"I think that the world is here for us to live, and that is what I'm going to do, is live," Soop said in Soop on Wheels, a documentary that focused on his accomplishments. "I'm not sick, I'm disabled, there is a difference."
The film was made in 1998, during a time when Soop's health was failing him. He agreed to take part in the project in hopes of bringing light to issues facing Aboriginal people with disabilities.
As a young child, Soop spent a lot of time with Elders, and was very close to his grandmother. He was her favourite, and she would bring fruit for him whenever she visited. Part of that close bond came from the fact that the two shared a similar sense of humour.
Though his jokes were often snide and hurtful, Soop still had an uncanny ability to make people laugh. His satirical sense of humour was reflected in the cartoons he created. Much of his fame came from his ability to represent painful truths about society and life on the reserve through his art.
His cartoons commented on the social concerns of Aboriginal people at the time. With thick strokes from his pen, he depicted scowling faces that often represented anger, fear or injustice. Soop was known for his ability to depict irony and truth in just a single image. Through this he was able to evoke emotion within readers. As a result, there were many fans of his work, and equally as many who didn't appreciate his sense of humour.
During his time at Kainai News, he was often accused of calling out band members in his cartoons. Needless to say, his relationship with some of them was strained.
Once, the board of the paper asked him to write an assessment of himself.
"It is quite well known to those who know me that I don't have a pleasant personality, completely incapable of giving a 'Good morning' smile—until after midnight. As a matter of fact I am known as the 'office grouch' who takes sadistic delight in picking on the staff in turns and most often telling them what I honestly think of them, sparing them only of the most cruel thoughts, which I save as ideas for my cartoons," he wrote.
This is who Soop truly was for much of his life.
But there was also a softer side to him, a side that he shared only with his family and close friends. He had a love of music, which he passed on to the younger generations of his family, who developed an appreciation for classical music, blues and jazz by listening along as Soop enjoyed songs from his music collection.
Soop worked at Kainai News from 1968 to 1986, drawing 2055 cartoons for the publication. But relations slowly went sour between Soop and the board of the paper, and Soop decided to leave.
His love for political satire, his interest in band issues and the popularity he gained through his cartoons lead him to run for a seat on the Blood band council. He won, but later said that it was the worst decision he had ever made.
Soop had entered into the political scene hoping to make changes, but was quickly frustrated by the lack of influence he as able to wield as a band council member. He served two terms, then decided to leave politics behind him.
He tried to return to his old job at Kainai News, but was not satisfied with the terms they offered. So he chose to remain unemployed as his health continued to deteriorate. By this time he was 43 and confined to a wheelchair, suffering from diabetes, and recovering from a broken hip.
But this still didn't stop him. He decided to shift gears and make advocating for the rights of people with disabilities his new focus. He began to travel and give talks on what it was like to live with a disability.
Near the end of his life Soop was admitted to the extended care centre on the Blood reserve. He sold many of his cartoons to the Canadian Museum of Caricature in Ottawa, left others in the care of his trusted friend, author and historian Hugh A. Dempsey. The remainder he willed to his grand-niece.
Through his life and work, Soop awoke the fighting spirits of many Canadians—Aboriginal and non-Aboriginal, disabled and able-bodied. His cartoons commented on and questioned the structure of society, and his art reflected a passion for the truth.
Soop passed away Aug. 12, 2001, but his spirit lives on through the many cartoons he created during his lifetime.
A collection of 2018 of the cartoons Soop created while working for Kainai News are contained within the archives of Calgary's Glenbow Museum, and an exhibition of his artwork, writings and personal artifacts is currently on display at the Nickel Arts Museum at the University of Calgary. The exhibit opened July 7 and will run until Sept. 28.
Floyd Red Crow Westerman - Footprints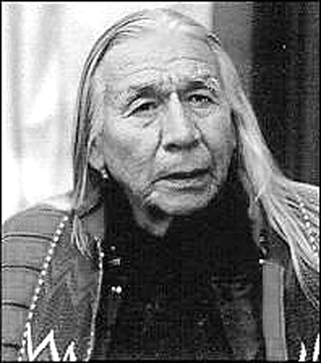 Floyd Red Crow Westerman: Creating awareness about Indigenous issues was important to Westerman
Deceased: Dec. 13, 2007
By Dianne Meili
One of the most recognizable Native Americans of the 20th century was Floyd Red Crow Westerman who died at the age of 71 on Dec. 13, 2007. The musician, activist and actor was living in Los Angeles where he died of leukemia.
Most recently seen by Canadian television audiences as the traditionally dressed, sincere spokesperson for "Lakota" brand topical pain reliever, more indicative of his immense talent was his portrayal of 'Ten Bears' in the 1990 Kevin Costner movie Dances With Wolves.
Though he became a familiar face in films and on television, friends said his identity as an Aboriginal person working to bring awareness to indigenous issues mattered most to him. He saw his work as an activist in promoting peace and protecting the environment as part of his cultural inheritance.
"He was really, really politically conscious," said his son, Richard Tall Bear Westerman. "He said the Iraq war is just another land grab, like they did with Oklahoma and the Midwest in America. Back then it was about land and gold, and now it was about oil."
Born in Veblen, South Dakota in 1936, Westerman was raised on the Lake Traverse Reservation. Orphaned as a child, by the age of 7 he was enrolled in the Wapehton Boarding School. While other students went home to their families for the summer, he stayed to clean and help out year-round. He filled the lonely hours playing his guitar.
That instrument would see him on his way to a music career, playing in coffee houses and lounges in Denver, Colorado, after a stint in the marines and college. His first love was music – country music – and his deep voice was well suited for it. In fact, he put that resonance to good use on his 2006-released album, Floyd Red Crow Westerman – A Tribute to Johnny Cash.
"I had the great honour to meet and be on the same bill with Johnny Cash. It was a night to remember," Westerman was quoted saying from a Web site.
The tribute album won him a Native American Music Award.
He released his first album in 1969, titled Custer Died for Your Sins, based on the "Native injustice" topic of a book by the same name, penned by the late author and activist Vine Deloria Jr., a close friend. Music from the album became the 'theme music' of the Red Power movement of the time.
"We lifted songs out of (the book) chapters," Westerman is quoted as saying in the Washington Post.
American Indian Movement (AIM) activist Dennis Banks, an old school friend, influenced Westerman to play a part in the deadly standoff at Wounded Knee in South Dakota, the historical site where, in 1890, the United States Army massacred men, women and children. In 1973, two FBI agents were killed following a 71-day siege; AIM organizer Leonard Peltier languishes in jail over the deaths.
"We saw injustice going on and we wanted to stop it," Westerman is quoted as saying.
Westerman's second album The Land is Your Mother, released in 1982, revealed his ever-growing connection to his own Sisseton-Wahpeton Dakota heritage and concern for the plight of indigenous peoples worldwide and the earth itself.
He joined singer Harry Belafonte in his fight against nuclear power and even battled the practice of naming sports teams. He became an activist in the American Indian Movement (AIM), traveling the world championing social justice for his people, and toured in the 1990's with Sting to raise money to preserve rain forests.
He performed with countless other musicians in his life, including Buffy Sainte-Marie, Willie Nelson, Kris Kristofferson, Jackson Brown, Bonnie Raitt, Joni Mitchell, John Trudell and Don Henley in large benefit concerts for Native American self-determination, human rights and environmental protection.
Caustic lyrics critical of American history in society contributed to the fact Westerman seemed to achieve greater popularity outside of the USA, making more than 60 foreign tours.
His musical success led to acting and in his fifties he started playing small roles in television shows like MacGyver. He made his movie debut in 1989's Renegade, playing the father of Lou Diamond Phillip's character.
In 1990 he played the pensive, wise Sioux chief Ten Bears in the Oscar-winning Dances with Wolves, a leader who realizes his people are in danger of invasion. He followed up the memorable performance playing Jim Morrison's spiritual guide in Oliver Stone's The Doors.
Likening his career to that of Will Sampson, and before him, Chief Dan George, Westerman played roles that upheld the quiet contemplation and wisdom of his ancestors.
Westerman had recurring roles in a number of television series, including Northern Exposure, Dharma and Greg, and as the code breaker Albert Hosteen in The X Files, a Navajo character fond of reminding his audience that "something lives only as long as the last person who remembers it."
He sought to bring complexity and not 'stoic Indian stereotype' to his roles, founding the nonprofit Eyapaha Institute to further, in part, his goal of encouraging and training young Aboriginal actors to bring integrity to their roles in the film industry. Westerman devoted his time and energy to bring honour to his people, going so far as to act as the co-chair of the Coalition Against Racism in Sports, campaigning to change the names of American teams such as the Redskins, Indians and Braves.
In the weeks preceding his death, his friend Darrell Standing Elk joined in a spiritual ceremony for Westerman.
"Floyd was such a good man. He couldn't stand injustice, and he never condemned anyone. He just wanted to help wherever and whenever he could. It was hard to see him the way he was – in pain and all – but he's in a far better place now, with his mother and family and all those who have gone before him," said Standing Elk in an article from Indian Country Today.
Surviving Westerman are his wife Rosie, four daughters, a son, and ten grandchildren.
Frances Pegahmagabow - Footprints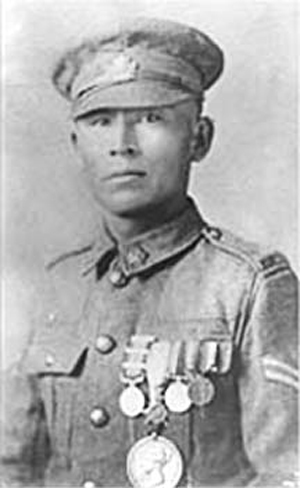 Frances Pegahmagabow: Most decorated Aboriginal soldier did battle when he returned home
Deceased: Aug. 5, 1952
By Cheryl Petten
When Great Britain declared war on Germany on Aug. 4, 1914, Canada joined the Brits in the fray. By the time the war ended on Nov. 11, 1918, more than 600,000 Canadians had gone overseas to fight in what at the time was called The Great War, or The War To End All Wars. At least 4,000 of those fighting men were Aboriginal. One of them was Frances Pegahmagabow.
Pegahmagabow was born March 9, 1891 on the Parry Island reserve, now Wasauksing First Nation, near Parry Sound, Ont. When war was declared, Pagahmagabow, who at the time was working for the department of Marine and Fisheries as a marine fireman on the Great Lakes, wasted no time in making his decision to fight as a member of the Canadian Expeditionary Force.
Pegahmagabow enlisted with the 23rd Regiment, the Northern Pioneers, and became a member of the 1st Canadian Infantry Battalion, part of the 1st Canadian Division. They spent the winter training in England, then were sent to the front.
They landed in France in February 1915 and soon Pegahmagabow and the rest of the division were in the thick of it, battling to drive the German forces out of France and Belgium.
Pegahmagabow's first real taste of war came during the second battle of Ypres, which played out in Belgium in April and May of 1915. The Canadians, who were being held in reserve during the initial stages of the battle, quickly moved to close the gap in the front line left when French and Algerian troops died or fled after the Germans released 168 tons of chlorine gas. It was the first time they'd used the chemical on the western front.
The Canadians fought through the gas, fashioning makeshift gas masks from handkerchiefs soaked in urine, and held their position, successfully keeping the Germans from breaking through.
Pegahmagabow, nicknamed Peggy by the other members of his battalion, was a skilled marksman, and soon after arriving on the European front his reputation as a sniper began to build. Although no official record of kills by snipers was kept, he has been called the most successful Allied sniper of the war, credited with killing dozens of German soldiers.
He also acted as a scout, a dangerous job that would take him out into no man's land, the stretch of earth that lie between the German and Allied trenches. Sometimes these trips were undertaken in search of information about the German troupes, sometimes to attack the enemy in trench raids.
During the Battle of the Somme, a long and bloody battle that raged from July to November in 1916 as the Allied forces tried to break through German lines along the Somme River in northern France, Pegahmagabow was wounded, shot in the left leg. The injury could have meant a ticket home, but instead, he rejoined his unit as soon as he was able.
In the fall of 1917, Pegahmagabow and his comrades returned to Ypres, taking part in attempts to capture the village of Passchendaele. The battle for Passchendaele was begun by British Forces in July, but their efforts were hampered both by the fact that the German army was prepared for the attack, and by the heavy rains that fell, turning the land into a muddy swamp.
The Allied forces made small gains in the following months, but seemed no closer to their goal of capturing the village. The Canadian forces joined the battle in late October. In early November, the rain pouring down upon them, the muddy ground they walked on threatening to pull them under, the Canadian troops were able to take possession of the village. About 20,000 Canadian soldiers took part in the battle. The casualty count was 16,000.
Pegahmagabow's role during the battle of Passchendaele was that of runner, racing back and forth across the battlefield, facing enemy fire, enduring the mud and an obstacle course of shell craters and corpses. His job was to deliver messages from the front of the battle to the command in the rear, informing them about the location of the Canadian soldiers so artillery bombardments that were thrown at the German forces did not hit the friendly.
In recognition of his bravery in battle, Pegahmagabow earned the Military Medal and two bars. This was equivalent to earning the Military Medal three times. He was one of only 39 members of the Canadian Expeditionary Force to be so honored, making him Canada's most highly decorated Aboriginal soldier.
It was his efforts during the battle of Passchendaele that earned Pegahmagabow his first bar. It's unclear when he earned the Military Medal and then the second bar, although it's believed he earned the Military Medal during the second battle of Ypres in 1916 or the battle of Mount Sorrel in June 1916, where he is credited with capturing a number of German soldiers. The second bar, it is believed, he earned at Amiens in August 1918, a battle led by the Canadians that saw Allied troops drive the German forces back 19 kilometres in one of the most successful engagements of the war.
Pegahmagabow served overseas until April 1919, remaining after the Armistice was signed. He had fought throughout the entire war and survived, an amazing feat when you consider that one in 10 of the Canadian soldiers who went over to Europe to fight didn't make it home.
With the war behind them, Canada's soldiers returned home to reclaim their positions in Canadian society, and Pegahmagabow was no different. He married and started a family.
But despite his accomplishments on the battlefield, the war hadn't changed much about the way Pegahmagabow was treated back home. When he'd fought for King and country he'd been treated as an equal, but once the war was over, he faced the same discrimination and limits to his rights he had before the war. But now he was determined to fight to change things.
He became a strong advocate for Native rights, working at the local and national level. In 1921 he became chief of the Parry Island band, just as his father and grandfather had done before him. He served as chief until 1925. He also served as band councillor from 1933 to 1936.
In 1943 he took part in a demonstration on Parliament Hill, part of a national delegation calling for Native people to be exempt from income tax and conscription. In 1945, Pegahmagabow became supreme chief of the Native Independent Government, one of the country's early Aboriginal political organizations, serving in the role for two terms.
He died on Aug. 5, 1952 at the age of 63.
Pegahmagabow's exploits during the war are recognized and celebrated in two sections of the new Canadian War Museum in Ottawa, making him the only person to be featured in two locations in the museum's exhibits.
He is one of about a dozen Canadian soldiers featured in the 1914 section of the exhibit dedicated to the South African War and the First World War.
He is also included in the Last Hundred Days section of the exhibit, chronicling the Allied forces' final push to victory against German troops, a victory that cost 45,000 Canadian lives.
Francis Flett - Footprints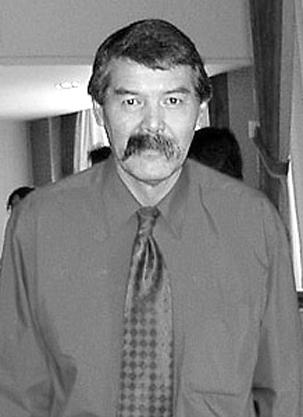 Tireless defender of the rights of his people in Manitoba's north
Deceased March 6, 2006
By Cheryl Petten
On March 16, people from across the country gathered on Opaskwayak Cree Nation (OCN) in northern Manitoba to pay their final respects to Francis Flett, a man who had dedicated much of his life to improving the lives of First Nation people from across the country. In the early 1990s, Flett was elected chief of his home community of OCN and was re-elected to the position three times.
During his time as chief, Flett accomplished many things that benefited both his own community and other First Nation communities, across Manitoba and the country. As OCN chief, Flett negotiated the first-ever gaming agreement for a First Nation in Canada. The agreement was signed in 1990 and established The Pas Indian Band Gaming Commission, now the Opaskwayak Cree Nation Gaming Commission, allowing the First Nation to have direct control of licensed gambling on reserve. Two years later, the OCN also became the first First Nation in the country to sign an agreement for the licensing of video lottery terminals on reserve. Flett played a lead role in negotiating the First Nations Land Management Agreement, signed in 1996 between the federal government and 14 First Nations from across the country, including OCN.
Under the agreement, First Nations have the ability to opt out of the sections of the Indian Act dealing with land administration, choosing instead to establish their own systems for management of lands and resources. In 2002, the initiative was opened up, allowing other First Nations from across the country to gain more control over management of their lands. Flett was also a key player in the negotiation of the Treaty Land Entitlement agreement in Manitoba, signed at OCN in 1997, under which 20 Manitoba First Nations received compensation for the land they were entitled to under treaty but did not receive.
On the economic development front, he helped to develop the Kikiwak Inn. Opened in 1996, the 60-room inn is the only three-and-a-half star Canada Select hotel in Northern Manitoba. Flett also wanted to provide opportunities for northern youth, so he worked to bring the OCN Blizzards Junior A hockey team to the community in 1996. Over the years, a number of young players have been given an opportunity to develop their skills on the ice in OCN thanks to the team, including Jordin Tootoo of the Nashville Predators.
Flett also worked to help build better relations between Opaskwayak Cree Nation and the nearby community of The Pas.
Flett served two terms as grand chief of the Manitoba Keewatinowi Okimakanak Inc. (MKO), which represents 26 First Nation communities in northern Manitoba. As grand chief, Flett signed an agreement with the provincial and federal governments that allowed member First Nations to develop their own police forces or enter into an agreement with the RCMP for police services.
He also worked to negotiate a memorandum of understanding between the Manitoba government, the Assembly of Manitoba Chiefs and the MKO that paves the way for First Nation involvement in establishment and management of protected areas in the province. He helped to develop a child welfare agreement that gave Manitoba First Nations jurisdiction over the care of their children, regardless of where in the province they live. The specific agreement dealing with the MKO member communities was signed in July 2000, and paved the way for First Nation agencies in northern Manitoba to deliver services under the Child and Family Services Act, as well as adoption services under the Adoption Act. Similar agreements were also signed between the province and southern First Nations in the province, as well as with the Manitoba Metis Federation. From 2003 until 2005, Flett represented all of Manitoba's First Nations on the national stage as Assembly of First Nations regional chief for Manitoba.
It has been said that Flett was a great leader because he was a great man. If anyone had a problem or concern, Flett would take time to listen to what they had to say. He treated everyone equally, with respect and compassion, regardless of position or social status. And no problem was too small, or too large, for Flett to take on. He had the ability to laugh, and make others laugh, which could help diffuse even the most tense situation.
Despite his many accomplishments, Flett tended to shun the limelight, never seeking recognition for the work he did. After he spent two years trying to get the federal government to the table to negotiate and rights of the Dene in northern Manitoba, the Dene chiefs invited him to the signing ceremony so he could be recognized for his efforts. Flett declined, sending his vice-chief in his stead.
He developed a reputation as a person who would take on a fight and not give up until the battle was won, and as a leader who never lost sight of who he was fighting those battles for. His unflinching determination, and the daunting workload he took on for himself despite the fact that he had diabetes, meant people often drew comparisons between Flett and and one of his ancestors, Chief Big Bear, a proud and steadfast leader who was also dedicated to improving the lot of his people.
Flett dedicated himself to many causes throughout his political career, speaking out on behalf of the people he represented and voicing his opposition to government initiatives like federal firearm legislation and the now defunct plan to bring in a national consent form for non-insured health benefit clients. But there were two specific areas that were always on his agenda, fighting to change Bill C-31, and working to address the diabetes epidemic within the First Nations population.
Flett worked hard to try to have changes made to Bill C-31 so that the decision as to who is and isn't a First Nations citizen isn't made in Ottawa and to ensure future generations don't lose their treaty status.
He envisioned creation of centres of excellence for diabetes treatment and care, one in northern Manitoba and one in the south, where First Nations people could go to learn how to prevent the onset of diabetes or manage diabetes if they've already developed the disease. In January 2005, the Assembly of Manitoba Chiefs took a large step toward having that vision realized, passing a resolution during a special chiefs assembly on health and housing to support creation of the centres.
Flett left behind his work at the national level last year and was re-elected as OCN chief in September 2005. He was hospitalized in Winnipeg in early March and died on March 9 due to complications from diabetes.
On news of his death, wishes of condolence came from Native and non-Native organizations and leaders from across the country, recognizing Flett's work on behalf of First Nations people. Funeral services were held on March 16 at the Gordon Lathlin Memorial Centre on OCN with close to 2,000 people coming out to say goodbye to a man who had given so much of himself to the people that he served. Flett was laid to rest in Emmanuel cemetery in his home community.
Frank Calder - Footprints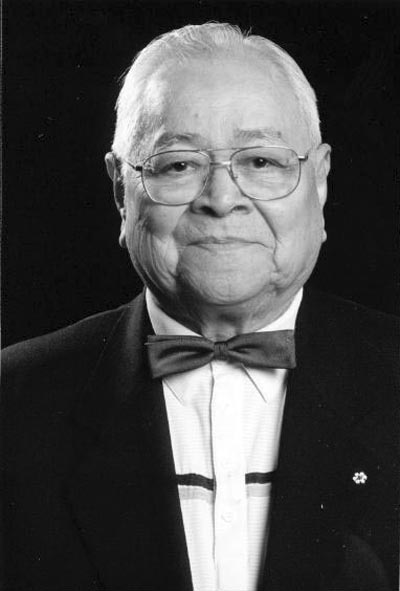 Frank Calder: Chief of chiefs remembered for tireless fight for Aboriginal rights
Deceased: November 4, 2006
By Heather Andrews Miller
The Nisga'a Nation of northwestern British Columbia is mourning the loss of its chief of chiefs, Dr. Frank Calder, who passed away on November 4, 2006 at the age of 91. Throughout his lifetime Calder was a pioneer in the cause of Aboriginal rights around the world.
According to a story told by the Nisga'a people, Calder was destined from childhood to do great things for his people. As a baby, the story goes, Calder was presented to a gathering of Elders who were discussing the issue of land claims, which was perceived to be an immovable mountain, an obstacle standing in the way of the nation ever progressing toward self-determination. The story tells of how Chief Nagwa'un declared that this small child would learn the ways of the non-Aboriginal people and in the course of his lifetime, he would move the mountain.
Throughout his long and distinguished career, Calder blazed many trails, but the1973 Supreme Court of Canada decision that bears his name is likely the accomplishment for which will be most remembered.
The landmark Calder decision established that Aboriginal title existed under Canadian law. The decision was particularly important for the Nisga'a and other Aboriginal groups in British Columbia, where a provincial policy had been in place for more than 100 years that stated Aboriginal title did not exist, so no treaties needed to be negotiated with Aboriginal people in compensation for lost land.
For decades, Aboriginal people in B.C. called for treaties to be established, and for decades those calls were summarily ignored by government. Then Frank Calder came along.
Under Calder's leadership, the Nisga'a argued that they had a legal right to occupy and manage their traditional lands. Over a five-year period, the case would wind its way through the British Columbia Supreme Court and the court of appeal before Calder and the Nisga'a would taste victory thanks to a Supreme Court of Canada ruling that Aboriginal title to traditional lands existed, regardless of any government policy to the contrary.
The impact of the Calder decision was felt around the world. In Canada, the decision led the federal government to establish a land claim process and paved the way for the eventual negotiation of a land claim settlement for the Nisga'a people, the first modern-day treaty to be signed in B.C.
Calder was born on Aug. 3, 1915 at Nass Harbour to parents Job and Emily Clark and was raised by Louisa Calder and Chief Na-qua-oon, whose English name was Arthur Calder.
Like so many others who were born in post-colonial times, Calder was sent to residential school. The visionary young man could see how his experience at the Anglican Church's Coqueleetza school at Sardis could be turned into something positive and went on to graduate from Chilliwack high school, becoming the first Aboriginal person to do so. He attended the University of British Columbia and again enjoyed the distinction of being the first Aboriginal student to graduate. During his time at UBC, Calder earned a degree in theology and gained an awareness of the lack of recognition of ancestral Aboriginal rights.
In 1949, Calder got involved in politics, running as a Co-operative Commonweath Federation (CCF) candidate in the provincial riding of Atlin. He won the election and served as member of the Legislative Assembly for the riding for close to 30 years, first with the CCF, then with the New Democratic Party and finally with the Social Credit Party. During his time in provincial politics he became the first Aboriginal person appointed as a minister of the crown, serving as minister without portfolio from 1972 to 1973.
Throughout it all, he was looking for every opportunity to further the rights of his people.
When he delivered his first speech in the provincial legislature in 1950, he called for a motion to establish a B.C. Bill of Rights, setting the stage for an ongoing campaign to have Aboriginal rights recognized. In 1955, he helped found the Nisga'a Tribal Council and led the organization for more than 20 years.
In November 2003, a special gala was held to honor Calder on the 30th anniversary of the Calder decision. At the event, British Columbia's Lt.-Gov. Iona Campagnolo, remarked that Calder was one of few people in the world who have changed history.
"Had there not been an Honourable Member for Atlin elected in 1949 in the person of 'Little Chief' Frank Calder, and for his presence in the legislature of British Columbia, we would all today, be the poorer," she said. "Without Frank Calder and the resulting Calder decision, the 1982 Constitution of Canada would not now include a vital commitment to Indian, Inuit and Métis peoples."
The walls of the home Calder shared with his wife Tamaki and son Erick were lined with awards and honors. He was enshrined in Canada's First Nations Hall of Fame in 1967, earned his doctorate of divinity in 1989 and received the National Aboriginal Achievement Award in the lifetime achievement category in 1996. He was a made a member of the Aboriginal Order of Canada in 1985 and an officer of the Order of Canada in 1988.
When the Nisga'a Tribal Council decided to commission the book Nisga'a: People of the Nass River in 1993, Calder was asked to write the introduction. In it, he shared the Nisga'a history of travelling and fishing, and how his people settled along all 380 kilometres of the Nass River and its tributaries. He described the Nisga'a homeland, 24,000 square kilometres that straddles glacier-fed lakes from the Skeena Mountains to the intersection of the Alaska Panhandle and the B.C. coast. Salmon and other fish have been a staple of his people, who built a vast trading empire that reached along the coast and far inland. While they still enjoy their traditional activities of fishing, hunting and trapping, Calder noted that today the Nisga'a people are also lawyers, politicians, priests, administrators, teachers, linguists, business people and loggers.They have survived the devastation of smallpox, influenza and other indignities at the hands of Europeans, and they have survived a cultural genocide. He concluded the powerful and often emotional introduction by pleading with readers to look at the faces of the Nisga'a people.
"We are survivors," he said. "We have a story to tell."
Calder retired in his mid-80s but spent his remaining days actively involved in community affairs. He last addressed the Nisga'a people on May 3, 2006, at a special assembly. His friend and lawyer Ian Izard said Calder's sense of humor and clarity of mind remained until he died, and he was wonderful inspiration to all.
Despite the years of struggles, Frank Calder always believed the Nisga'a would win in the end. It took until April 13, 2000 before the Nisga'a Treaty was finally proclaimed law and, after more than five decades, Calder's fight had ended and he could rest. The immovable mountain had been moved at long last.
Frank Williams - Footprints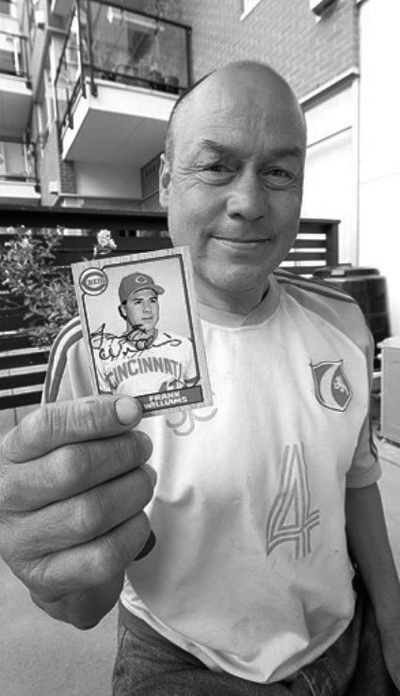 Frank Williams: Major-league pitcher reached out to youth
Deceased: Jan. 9, 2009
By Dianne Meili
Former major-league baseball pitcher Frank Williams's life, which ended Jan. 9 when he was just 50 years old, could be the subject of a "rags to riches and back again" Hollywood drama.
But until his life is memorialized on-screen, he will remain a shining star to many Vancouver Island Nuu-chah-nulth youth, including niece Jacqueline Watts.
Watts remembers how people in her community admired Williams and his sports world success, and how often they spoke of him. She was literally "spellbound" upon finally meeting him. She was a young girl and he was in his 20s and at the top of his game.
"He was such an inspiration to everyone. Even though he was adopted out, here was this guy who went out and succeeded. He was huge in my eyes before I even met him," Watts said.
Born the son of Frank Hodges and Mary Williams, who had moved from the Tseshaht Reserve in Port Alberni to Seattle in the 1950s, Frank and his twin brother Francis were abandoned at the hospital by their mother who had seven children at home and was ailing with tuberculosis.
The twins spent their formative years in a series of foster homes where they sometimes struggled to survive. With one family, the boys were once reduced to stealing dry dog food from a cupboard to fill their empty stomachs.
Their savior came in the form of a handicapped Boeing aircraft engineer, Dick McCullough, who had a withered right arm and believed in the power of sport to shape up-standing human beings. In his middle-class home they awoke one Easter morning to find a baseball and a glove in a basket.
The boys lived out their dreams playing baseball in Seattle suburb diamonds. Frank was the star pitcher while Francis caught his throws. The two were inseparable as the only blood family they knew, but Frank was to go his separate way when he was picked to join a combined team representing his city in a Babe Ruth League tournament. The team won city, state and regional titles before winning a national championship at Sicks' Stadium in August 1975 and Frank's star began to rise.
The twins made a pact that whoever made it big would be responsible for looking after the other.
When Frank was lured to Lewis-Clark State College in Idaho, he found himself needing tuition money.
"That's when someone contacted my uncle George Watts, and Frank came back to our band," explained Jacqueline. "He and other people helped him finally find his roots." Frank discovered he had a Canadian heritage with ties extending to Vancouver Island First Nations families.
As a college athlete he established himself as a pitcher who stymied opponents with a 90 mile an hour throw. He had the size and weight to impress scouts and was picked to play for several minor league teams, becoming known for a pitch thrown as a curve ball slider, leaving many batters slicing air.
The San Francisco Giants were the first to position him in the major league. Former Giants manager Roger Craig commented Williams was a quiet and dependable player who could be counted on to go out every day and pitch.
Williams played extended seasons with the Cincinnati Reds and by the mid-80s he was making $500,000 a year. For six stellar years he lived the lifestyle of the rich and famous.
"It was high-class living, high-class everything," he is quoted as saying in a Victoria newspaper article published a year before his death. "You were treated the best in life. It's the best you could ever look for."
But his team ran off the rails when manager Pete Rose was disgraced for his gambling sideline. Williams was let go after the 1988 season and played with the Detroit Tigers in 1989. Later that year, when his wife smashed their car into a tree, Williams could no longer play the game due to a broken bone in his neck. He needed extensive plastic surgery to restore his face.
He was picked up by the New York Yankees and granted a year to recover, but he never did. It was over.
Depressed, Williams walked away from his wife and two children, retreating to his roots on Vancouver Island and living on the streets. His brother, who was also hampered by an injury following a bicycling accident, joined him and the two commiserated over their long-gone glory days.
After an attempted amateur team comeback in Victoria fizzled, Williams took construction jobs. He was not heard from until 2000 when firefighter Mark Perkins, who had pitched for the same Idaho college Williams played for later, helped rescue him from a drug overdose.
Perkins called Walt Burrows, the Canadian supervisor for Major League Baseball's Scouting Bureau, who arranged for Williams to receive financial support from a charity that assists ballplayers who have no income.
Williams' funk deepened when Francis was killed in an apartment fire. He blamed himself for not keeping their former pact and later became a fixture in downtown flophouses.
He earned pocket money by signing baseball cards at a downtown sports memorabilia store.
Close friend Bob Soderlund, who helped repatriate Williams to his family, commented on how open-hearted and cheerful the player remained throughout his life.
"He was truly a good, generous person. He never tried to take advantage of anyone and enjoyed people's company. During his career he was an accessible player, always one to talk with fans and sign autographs after a game.
"It was so good to get him back here (to the Nuu-chah-nulth territory) to do a motivational-speech tour with the schools when he was playing. The youth got to know a great athlete and he got to know a lot of his family at the time, too."
François Vincent Kiowarini - Footprints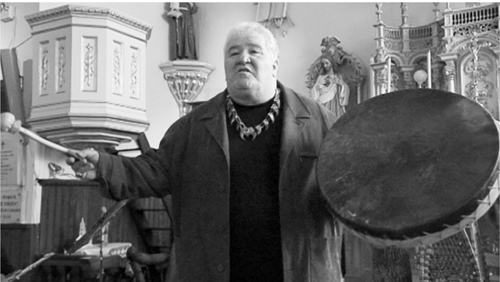 The Huron-Wendat fell to their knees, but they never fell down
By Marie White
The frozen month of February took François Vincent Kiowarini, 64, onto his spirit journey. The Huron-Wendat nation is left to remember and honor their respected historian, artist and guardian of oral traditions and culture.
Huron-Wendat Grand Chief Konrad Siouï posted a community message that read "a great tree of the nation had fallen," and that the council would keep an excellent memory of Kiowarini's time among them.
Kiowarini, his self-chosen name meaning "he who sings his people," grew to be a large man, noble of spirit and strong of heart who stood tall for his nation's traditions, history and heritage.
Born Dec. 23, 1944 in his beloved village of Wendake, Vincent was an intelligent, curious youth with a flair for finding facts. In his teens, François began to research the story of his people, finding documents of great historical value for the Huron-Wendats, the province and the country.
One of his most monumental discoveries was the original copy of the 1760 Murray Safe-passage document which he was asked to present in court as part of the Siouï trial. The safe-passage document was signed by James Murray to protect Huron rights when the land was changing over from French to English rule following the Battle of the Plains of Abraham in September 1759.
The Supreme Court of Canada declared the document a new treaty upon accepting François' proof.
The young Vincent also had a natural talent for the arts. He received a bursary from Jean Chrétien, then minister of Indian affairs and later prime minister, in 1970 which encouraged him to pursue his two life-long passions: singing and researching his nation's history.
Vincent deeply appreciated this privilege. Afterwards, he continued to learn through his own motivation and loving desire to know more about his family's and his nation's rich culture. What he discovered filled him with a strong sense of identity; he was Kiowarini, an artist-historian with a profound purpose.
When he sang, he sang his ancestors. To hear his warm baritone voice was to hear the power of the heart in expressing love, respect, gratitude and honor for all who had walked before him and for all who now walk as proud members of the Huron-Wendat nation.
To this deeply personal path he was loyal to the end. He never missed an occasion to generously sing the nation's anthem, La Huronne, or to give a talk to tourists visiting the Notre-Dame-de-Lorette Church beside which he now lies, forever in his village.
A man of humble and firm faith, François had a particular devotion to the Dame-de-Lorette, Mary, guardian of the nation. It was always with the greatest respect and admiration that he sang in the lovely church. He composed some of his own songs and was particularly proud of his Tribute to Marie de l'Incarnation; he was invited to perform for the Ursuline Congregation in 1969 and was re-invited for every anniversary celebration.
Kiowarini created his first record, a vinyl disc, called Kiowarini chante le dernier soufflé de sa nation in the 1970s in Montreal. His young voice vibrated with new-found pride in his new-found Native identity. It was in 2007 that Kiowarini realized an important dream: to record his lifetime of singing. He went on to produce three collections of his finest work: Kiowarini sings the soul of his people, Kiowarini sings Christmas and Wendate asta, a re-recording of traditional songs such as the Peace pipe song, the Funeral song, and the Fire song.
François appeared in the 2008 National Film Board movie by Jean-Daniel Lafond Folle de Dieu (Madwoman of God). François recounts the Huron angle to her story and sings in her honor. Lafond, on behalf of his wife, Governor General of Canada Michaëlle Jean, and himself, wrote a telling tribute to François Vincent for his funeral service in February. Lafond described François as a man of culture, of song, whose generous and profound voice made traditional Huron words resonate with his deep respect for the founder of the Ursuline order, friend of the Huron-Wendats.
Jean-Daniel Lafond spoke for many when he said: "I want to thank you, oh mountain of words, oh living library, who fought for his people's identity, to preserve his culture and to revive the majestic Huron language through his songs."
"He knew how to narrate so as to stir the collective conscience of the Wendat community," said Lafond. "His voice rolled like a rock, expanding with the sound of the drum, becoming a drum in itself," a drum that carried the story of four centuries of history.
François concludes his scene in the film with a saying he coined in the 1970s to express the valiant nature of his nation when faced with near extinction in the 17th century: "The Huron-Wendat fell to their knees, but they never fell down."
Profoundly touched by this sentence, Lafond said "For me, this expresses François Vincent; it sums up the meaning behind his actions and the support he gave his community."
Freda Ahenakew - Footprints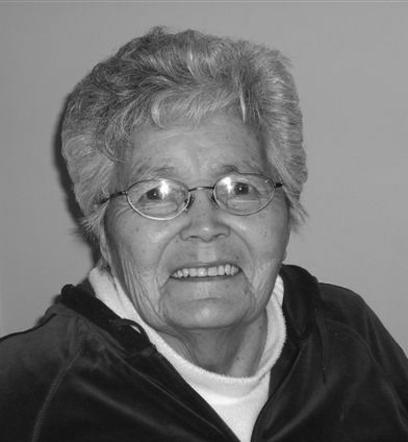 Freda Ahenakew: Inspiring Elder was an internationally respected scholar
By Dianne Meili
When Brenda Ahenakew was in Grade 12, her mother Freda jumped on the bus with her and joined her in all of her classes.
"I'm sure there were some eyebrows raised in the little town of Marcelin where we went to school, but we didn't care," Brenda said. There were 10 of Freda's children on the bus.
"We just about filled it ourselves" said Brenda. The youngest child was just starting Grade 1 at the time, and Freda felt the time was right to uphold the Ahenakew family's dedication to education.
"She wrote her exams and got report cards right along with all of us."
Freda Ahenakew, born on the Ahtahkakoop First Nation in Saskatchewan in 1932, had strong reasons for going back to school. She saw her children losing interest in their education and wanted to be a role model for them to finish Grade 12. Plus she had always wanted to finish high school herself, having dropped out in her final year around 1950 to marry Harold Greyeyes and move to his home at Muskeg Lake First Nation.
"Mom's favorite great uncle was Edward Ahenakew. He was one of the guys who rallied our people to form the National Indian Brotherhood," Brenda explained. Her mother saw how crucial education was in her relative's ability to speak up for and organize Aboriginal people to influence social and economic matters affecting them in a fast-changing world.
Freda would apply the same tireless devotion to her schooling as she did to raising her family. She went on to receive a Master of Arts in Cree Linquistics.
As a single mother of 12 children, she raised cattle, pigs, chickens and turkeys; and tended acres of garden to put carrots, turnips and potatoes in the root cellar to round out family meals.
"We always ate well," Brenda said, recalling how good her mother's homemade butter tasted on the bread she baked.
"She was an early riser and she'd be up by four in the morning. She'd have 30 loaves of bread baked by the time we woke up. It must have been something raising all of us without even having running water in the early years."
If Freda wasn't milking cows, weeding the garden, cooking or baking, she was at the sewing machine.
"She was always making dresses for us girls and one time someone gave her a woman's fur coat. She cut that down and made two little coats for my brothers – they were probably four and five at the time, and they looked so cute. They wore them all the time.
"Mom was practical. We were poor and didn't have much, but she was always able to make something out of nothing and we survived.
"And there were always extra kids around. One time she inherited 15 children after their parents–one of whom was Freda's cousin–were killed in a car accident. She inherited four more from a family when their mother died. Sometimes there were kids sleeping everywhere in our house, but mom took it in stride and added 'another cup of water to the soup' so to speak."
After turning her sights toward education and graduating with her Grade 12 diploma, the next educational hurdle Freda cleared was obtaining her Bachelor of Education degree in 1979.
She stepped into the classroom after that, teaching at the Saskatchewan Indian Cultural College, a school on the Lac La Ronge First Nation, and the Saskatoon Survival School until 1981.
In 1984 she received her Master's in Cree Linguistics from the University of Manitoba. From 1983 to 1985, she was an assistant professor at the University of Saskatchewan, and from 1985 to 1989, she was the director of the Saskatchewan Indian Languages Institute.
She taught as a professor of Native Studies at the University of Manitoba between 1989 to 1996, first acting as associate professor of the program, and then head of the department.
Heeding a call to return to Saskatchewan, she worked as a First Nations Language Consultant to the Prince Albert Grand Council until her retirement in 1997.
In her academic life, Freda helped lay the foundation for preserving the oral traditions of her Cree people, writing books, developing literacy curricula, and tirelessly teaching the Cree language to generations of students.
Her published thesis, Cree Language Structures, has been reprinted 18 times and is a unique guide to the teaching of an Aboriginal language through the use of literary texts.
Language was definitely her passion, and for that she's been recognized with awards and honorary degrees from Saskatchewan and Manitoba universities, but she never laid much claim to those.
"At one awards ceremony, she leaned over to me and said 'it's all a bother for nothing', said Brenda. "She was happy to receive them, but they weren't what motivated her."
What did motivate her was capturing and sharing the lives and language of her people, especially the seldom heard stories of Cree women.
Her books Kohkominawak Otacimowinawawa (Our Grandmothers' Lives told in their own Words), and Kwayask e-ki-pe-kiskinowapahtihicik (Their Example Showed Me the Way: a Cree Woman's Life Shaped by Two Cultures) are highly regarded.
In her children's books like Wisahkecahk Flies to the Moon and How the Mouse Got Brown Teeth, Freda shared Cree language and traditional stories with grade school students.
Because she wanted her people to have effective health care, she also edited a collection of Cree medical terms for physicians.
"Mom was quiet and unassuming," said Brenda. "She was ever the listener, never the talker. She liked nothing better than to laugh and visit with the old people."
But rather than keep all those wonderful stories to herself, Freda transcribed, translated and analyzed them to ensure Cree culture and language would be preserved for future generations.
The internationally recognized scholar, and holder of the Order of Canada, passed away from complications of diabetes at Muskeg Lake First Nation in Saskatchewan on April 8, 2011 at the age of 79.
Freda Ahenakew had 55 grandchildren, 75 great grandchildren, and one great, great grandchild.
Gabriel Dumont - Footprints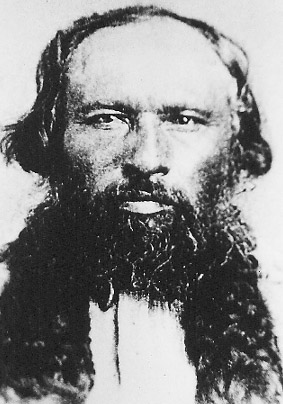 Gabriel Dumont: Brave, brilliant & buried at Batoche
Cheryl Petten,
Windspeaker Writer
When most people think about the Northwest Rebellion of 1885, the first name that pops into their minds is Louis Riel. Fewer people think of the man who stood by Riel's side, commanding a handful of Métis men willing to fight to protect their way of life. That man was Gabriel Dumont.
Dumont was born in St. Boniface in December 1837, near present-day Winnipeg. He was the fifth child born to Isidore Dumont and Louis Laframboise, the daughter of a Métis hunter. His grandfather, Jean-Baptiste Dumont, had been a voyageur from Montreal, employed by the Hudson's Bay Co. His grandmother was a member of the Sarcee tribe.
Throughout his life, Dumont was the epitome of all things Métis. He was a skilled rider, hunter and trapper, and knew the land as well as any of the Native people that lived on the western plains.
By the age of 25, he was selected as chief of the Saskatchewan buffalo hunt, and, in effect, the leader of the Saskatchewan Métis.
By this time, things were beginning to change for the Métis. The buffalo were disappearing, hunted out of existence and many Métis realized that all they would have left would be their land, so they began to take steps to protect it.
As a way to solidify their claim on the land, Dumont and others set up a permanent settlement along the Saskatchewan River, near present day Saskatoon.
Meanwhile, in the Red River colony where the Métis had years before built their houses and laid their claim to the land, trouble was brewing. In 1869, the Hudson's Bay Co., which had claimed ownership of Rupert's land-an area stretching from the Canadian Shield in the east to the Rocky Mountains in the west-transferred the land to the newly formed Canadian government. The government, in turn, refused to recognize the Métis claim to the land within the colony. In response, the Métis, led by Louis Riel, stopped government surveyors and formed a provisional government. The uprising eventually lead to the creation of the province of Manitoba, and a promise to provide Métis in the colony with a land base of 1.4 million acres. But Riel was exiled from Canada for his part in the rebellion and the execution of Thomas Scott, a prisoner of the Métis who had escaped, only to be recaptured a month later. He was tried and found guilty of defying the authority of Riel's provisional government, and sentenced to death.
Learning from the experience of the Red River Métis, Dumont and the men he led set up more permanent settlements in St. Laurent and Batoche. Dumont built a house and a store, and began running a ferry service across the Saskatchewan River at a point that came to be known as Gabriel's Crossing.
As the buffalo dwindled, and the communities grew, the question of land guarantees for the Métis of Saskatchewan became a priority. In 1878, they sent a petition to the government asking that the land occupied by Métis people be surveyed and title granted to them. Rather than address the concerns of the Métis, Prime Minister John A. Macdonald chose to ignore them, despite the fact that the circumstances in Saskatchewan were so similar to those that began the rebellion in the Red River colony. Surveyors were sent out to survey the land, but they divided it into square sections, rather than into the long, narrow riverfront lots that were the Métis way. And until the federal government ruled otherwise, every Métis living on the land was considered a squatter, with no legal claim or protection.
When their appeals to the federal government fell on deaf ears, the Métis decided to ask Riel to come to their aide. On May 19, 1884, Dumont and two others began their journey to Montana to find the exiled Riel, who returned to help them make their case to the government.
In December of that year, one last attempt was made to negotiate with the federal government. Another petition was sent to Ottawa asking for the establishment of an elected provincial government, regional representation in Ottawa, and for the land patent laws to be amended to allow for the Métis to gain ownership over their lands. In February, a response was sent by the government, saying cabinet would "investigate claims of half-breeds."
Patience with the federal government was at an end. Both Dumont and Riel agreed it was time for action.
A provisional government was set up on March 19, with Dumont elected as head of the army. Riel took no official position.
While Dumont and Riel sought the same outcome, they often disagreed about the best way to achieve that end.
As soon as his forces were organized, Dumont wanted to launch surprise attacks on Fort Carleton and the community of Prince Albert, both as a tactical move and to obtain guns and ammunition. Riel said no, and Gabriel respected his wishes.
The first battle of the rebellion, between the Métis and mounted police, came on March 26 at Duck Lake. When it ended, the Métis had emerged victorious. In Ottawa, the federal government was finally ready to address the "Métis problem" and sent the military to crush them. Major-General Frederick Dobson Middleton arrived in Winnipeg on March 27, and set out West, gathering troops along the way.
Dumont had scouts tracking the movements of the military, and proposed that he and his men harass Middleton's troops at night, depriving them of sleep and eroding their morale. Once gain, Riel said no.
"I yielded to Riel's judgement," Dumont later said of his decision not to challenge the man. "Although I was convinced that, from a humane standpoint, mine was the better plan. But I had confidence in his faith and his prayers, and that God would listen to him."
Though hampered by Riel's refusal to use guerilla tactics, Dumont still claimed victory at Fish Creek when he came up against Middleton and his troops. The next battle was fought in Batoche.
The Métis saw the battle coming, and Dumont wanted to ambush Middleton's troops as they made their way to the community. But Riel said God had told him to wait until Batoche was attacked, and then defend it. Once again, Dumont was convinced his approach was the one to take, but once again, he deferred to Riel.
While the Métis were strong in spirit and conviction, they were severely outmanned and outgunned. Still, they prepared for battle, melting down the lead linings of tea chests to make bullets and cutting up pieces of scrap metal for ammunition for the shotguns.
On May 8, Middleton and his troops reached Gabriel's Crossing, where they burned Dumont's house to the ground, and advanced to Batoche.
Dumont and his 300 men did more than hold their own against Middleton and his army of 850 strong.
For three days the battle raged, with the military registering most of the dead. But by the end of the third day, the Métis ammunition was all but exhausted. The men had begun loading their guns with nails and stones in order to continue the fight.
The end of the battle came on the fourth day, not through any clever military maneuver from either side, but out of the unbridled frustration of a handful of Middleton's troops, who broke rank and charged down the hill to the Métis rifle pits, flushing the men out. The Métis withdrew into the village, where they made their final stand, but could no longer hold off the Canadian troops. The battle was over.
After the defeat at Batoche, the lives of Dumont and Riel went in separate directions, ending in separate fates. Riel surrendered to the Canadian military, was tried and found guilty of treason.
Dumont crossed over the border into the United States, where he began planning a rescue of Riel. The mounted police, taking no chance that Dumont would make an attempt, had 300 armed guards surrounding the barracks in Regina the day of Riel's execution Nov. 15, 1885.
After Riel's death, Dumont spent some time performing with Buffalo Bill Cody's Wild West Show. In 1886, the Canadian government granted amnesty to anyone who had taken part in the rebellion, and two years later, Dumont returned to Canada. In 1893, he returned home to Batoche, where he died in 1906.
George Blondin - Footprints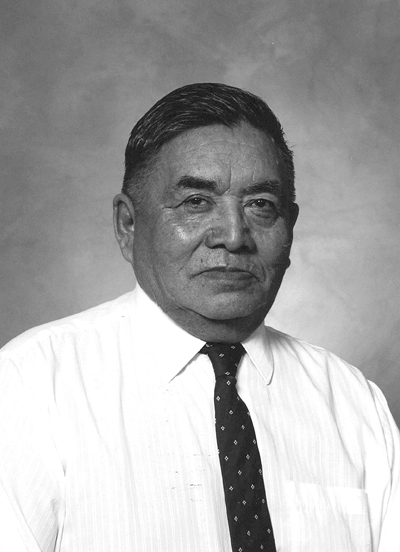 George Blondin: His family, Native tradition and caring for others mattered most to Blondin
Deceased: Oct. 12. 2008
By Dianne Meili
Dene author George Blondin was one of few Aboriginal people who spoke openly about medicine power because he felt young people should know where they came from.
The prolific writer passed away at the advanced age of 87 on Oct. 12 after suffering a stroke this year in his Northwest Territories home.
Blondin was candid about the past, going so far as to reveal his own medicine power story in his first book When the World was New. At five years old he was sent to get water early in the morning when an "old man with long white hair" rose from the lake and startled him. Dropping his pail, he raced back to the family tent and his mother's lap.
Since he had not naturally embraced the spirit, his parents resigned themselves to the fact he wouldn't be a medicine man and stopped trying to help him get power. Blondin writes that he should have welcomed the power-bringer, but instead, resigned himself to working hard in a mundane life like most people.
"My father wasn't trying to be disrespectful when he spoke of these things," said Blondin's son, Ted, who explained his father grew up in times extremely different from today. Even in 1923, when he was born in the Great Bear Lake region of the Northwest Territories, people relied on medicine power – not money. Having medicine power meant having a successful life – perhaps being a good hunter or healer, or knowing about events before they happened.
"My father wrote about these things because they are important to being Dene," said Ted, and he wanted young people to realize this part of themselves. "Medicine power is a phenomenon that is hard to understand and so it is not spoken of openly. But my father meant only to preserve this knowledge and he worked hard to explain it. He knew young people weren't sitting around the fire listening and talking to the old people so much anymore, and so he wrote down stories so they could read them."
Blondin preserved countless stories of life before contact in minute detail, indicating how precise his memory was right up until his passing.
"A lot of his stories describe how people could interact with animals, and how the spirit of a man could change into a caribou, for example. This man would then learn of caribou nature – how they reacted to certain things, how they moved on the land and where they liked to stay. Then, back in his human spirit, he would have a good idea of where to hunt for them," Ted explained.
Due to mutual compliance, good hunters never failed to perform certain rituals for animals when they died so they could be reborn, thanking them for sacrificing their lives so humans could live.
Interpretation of the way the world works has been lost, Blondin believed, and so he published three books conveying stories with spiritual themes. The public is receptive to them, and his latest title, Trail of the Spirit; Mysteries of Dene Medicine Power Revealed, published in the fall of 2006, sits on publisher NeWest Press's bestseller list.
"I found more of my father's papers in a briefcase when I cleaned out his apartment," said Ted, explaining his father was an incessant writer who had a fourth book in the works and enough material for a fifth. Many of his stories were also printed in a long-running weekly column in Yellowknife's News/North.
"My father might be washing the dishes and thinking about something when he'd get the urge to write it down," said Ted. "One time he left the water running and sat at the table scribbling away. When the water wet his feet, he just lifted them up and kept writing, that's how focused he was.
"And he had a story for everything. At a bookfest in Whitehorse, he was interacting with his audience when someone asked him what earthly good were mosquitoes. Not missing a beat, he was able to launch into a story about a hunter sitting on top of a hill, near a lake, on a very warm day, looking to hunt a moose to bring meat to his family. Pretty soon, the swarms of mosquitoes drove the poor moose into the lake's water and the hunter made his kill there. He was able to illustrate to the crowd how the mosquito is a hunter's best friend."
For his storytelling efforts, Blondin received the Ross Charles award in 1990 for Native journalism and was inducted as a member of the Order of Canada in 2003.
Keenly interested in the future as well as the past, Blondin attended political meetings dealing with issues from land protection to jobs in the Northwest Territories.
"He was set to attend an economic conference just before he died," explained Ted. "He really cared about his people and he made sure all of his children were educated so we could go on to help people."
But Blondin's first love was the land, and he abandoned hunting and trapping only when he lost his first son to pneumonia in 1958. After that, he moved to Yellowknife to be closer to the hospital and schools for his other children. He holds no malice over the fact he was given underground jobs at Giant Mine that no one else wanted to do, because he was Aboriginal he surmised, and simply moved back to Deline (Fort Franklin) to resume hunting and trapping as soon as his children finished school. It didn't take long for him to be elected chief of the Deline First Nation in 1984, and to serve as Dene Nation vice president later.
At the time of his death Blondin was living independently in Behchoko (Rae-Edzo) just outside of Yellowknife, though residential management didn't want him cooking for himself.
"I took him a fresh whitefish and when I got to his unit, no one was there. Except there was this pot smoking away on the stove," Ted recounted. "When I saw dad later, he laughed and said he had heard about a drum dance in the community – then just grabbed his coat and left."
That was just like dad, getting all excited about a cultural event and forgetting about everything else, Ted said.
Predeceased by his wife Julia, sons Walter and John, and daughter Georgina, Blondin is survived by his children as well as many grandchildren and great-grandchildren. He was laid to rest in Yellowknife on Oct. 15.
George Manuel - Footprints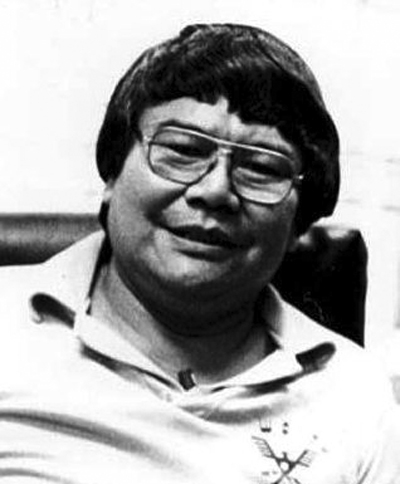 George Manuel - Chief made his mark on Canada and on the international stage
Deceased: Nov. 15, 1989
By Cheryl Petten
Over the years, Canada has seen many Aboriginal leaders who have made a difference at the local, regional or national level, but few, if any, have made as marked an impact at all three levels, as well as on the international stage, as George Manuel.
Manuel was born on Feb. 21, 1921, a member of the Shuswap Nation of the Neskonlith Indian Band in British Columbia. He attended Kamloops Indian Residential School until he contracted tuberculosis at the age of 12 and was sent to a TB hospital located on the Stalo reserve near Chilliwack.
He later worked a number of jobs, from bus boy to logger, before launching into politics, a career path that would dominate the rest of his life. But throughout his political career, he kept his sights trained on his goal: to unite Indigenous people in their attempts to see Aboriginal rights realized. He first became involved in politics in 1951 when amendments to the Indian Act resulted in the people of his community being denied access to health services.
In 1959 he was elected president of the North American Indian Brotherhood of B.C. and was elected as chief of the Neskonlith band the following year, serving in the position until 1966. From 1965 to 1968 he was a community development officer for the deparment of Indian Affairs, working in Cowichan territory near Duncan on Vancouver Island. During his time there he worked to raise awareness of the problems faced by the Cowichan people. When then prime minister Pierre Elliott Trudeau released the White Paper calling for the assimilation of Indian people, Manuel spoke out strongly against the government policy, and soon he was in a position to lead other Native people in their fight against the federal plan.
After leaving his position with Indian Affairs, Manuel joined with the Indian Association of Alberta where he worked side by side with another legendary political leader, Harold Cardinal, who urged Manuel to run for the position of national chief of the fledgling National Indian Brotherhood, forerunner to today's Assembly of First Nations. He served as president of the National Indian Brotherhood from 1970 to 1976
From 1971 to 1976 he also served as a non-governmental advisor to a delegation of Members of Parliament, making trips to New Zealand, Sweden, Greenland, Denmark and Norway, looking at relationships between governments and Indigenous people. He saw the similarities of worldview and circumstance shared by all the Indigenous people he encountered, and recognized that all Indigenous people could and should work together to fight for recognition of their rights.
During a visit to Tanzania, Manuel met with that country's president, Julius Nyerere, who told him the Indigenous people of Canada would have to be organized and united before they could achieve their goals and that once Indigenous people come into their own, that would be the Fourth World. Manuel began working toward creation of that Fourth World, a unification of Indigenous people from around the world to work toward a common cause. In 1974, Fourth World: An Indian Reality, a book Manuel co-wrote with Michael Posluns, was published, in which he wrote about the struggle to have the rights of Indigenous people recognized.
That unified front became a reality in 1975 with the creation of the World Council of Indigenous Peoples, born out of a conference held in Port Alberni, B.C. that attracted delegates from 24 countries. Manuel became the organization's first president, a position he held until 1981. In that role, he travelled the world over, meeting with Indigenous leaders and people. During this time he also worked to see the Universal Declaration of the Rights of Indigenous People become a reality. The World Council of Indigenous Peoples adopted the declaration in 1977, starting a ripple effect that would see the United Nations take up the cause and begin drafting its own declaation a decade later.
From 1979 to 1981, Manuel served as president of the Union of British Columbia Indian Chiefs (UBCIC). During this time he developed the Aboriginal Rights Position Paper and worked to see Aboriginal rights addressed during constitutional negotiations. As part of those efforts, Manuel organized the Indian Constitutional Express.
In November 1980, two trainloads of First Nation people left Vancouver heading for Ottawa where constitutional negotiations were underway. Along the route, the trains stopped to gather more passengers and to make presentations about the need to ensure a new Canadian Constitution didn't strip away Aboriginal rights. While one delegation ended its voyage in Ottawa, another went on to New York City to present its case to the United Nations. A separate delegation travelled through Europe, gathering support for the cause. In the end Manuel's efforts were successful. When the new Canadian Constitution was finalized in 1982, Aboriginal rights were guaranteed. In 1981 Manuel became the first permanent grand chief of the UBCIC and in 1984, he joined with Dr. Rudolph Ryser, a member of the Cowlitz Tribe of Washington State, to create the Center for World Indigenous Studies, a non-profit research and education organization designed to foster co-operation between Indigenous nations. Manuel's further involvement in politics was limited by health problems. He suffered a number of heart attacks and was forced to scale back his work, but continued to offer advice to other Aboriginal political leaders.
His efforts to fight for the rights of Indigenous people around the world earned him many honors, including an honorary degree from the University of British Columbia in 1983 and an appointment to the Order of Canada in 1986.
Manuel died on Nov. 15, 1989. Although almost 17 years have come and gone since his passing, his efforts on behalf of Indigenous people worldwide continues to provide inspiration to those that follow i his footsteps.
Two of his six children-the late Robert Manuel and Arthur Manuel-followed their father into politics, both serving as chiefs of the Neskonlith band as their father had, and both representing their people at the provincial and national levels.
The Center for World Indigenous Studies has honored Manuel's memory on their Web site, which features the Chief George Manuel Memorial Library and the Fourth World Documentation Archive, a digitized collection of resources documenting the ongoing struggles of Indigenous people around the world to have their rights recognized. In 1993, the George Manuel Institute was established by the Neskonlith band, offering an adult education program, a First Nations business administration program, a university and college entrance program and an alternate high school. Members of Manuel's family are also working to ensure future generations can benefit from his wisdom and share in his vision of a Fourth World. His daughter Doreen Manuel has produced a 22 minute film about her father's political career and Douglas & McIntyre is set to publish an updated edition of The Fourth World: An Indian Reality, with Manuel's son Arthur joining Michael Posluns to write three new chapters outlining the changes in the Aboriginal community since the book was originally published in 1974.
Jackson Beardy - Footprints
Jackson Beardy: Inspired storyteller respected artist
Cheryl Petten
Deceased: December 7, 1984
Jackson Beardy's life began on July 24, 1944 on Garden Hill First Nation, an Oji-Cree community on the shores of Island Lake in northeastern Manitoba. Forty years later, on Dec. 7, 1984, it came to an end.
Almost 20 years have passed since Beardy's death, half a lifetime for the young artist who used his talents to reconnect to his Native identity and later to inspire and encourage other young Native men and women to express themselves through art.
The fifth child of 13 born to John Beardy and Dinah Monias, Jackson was given a special task at a very young age. He would live with his grandmother, his father's mother, and learn from her the traditional stories of the Cree people. But his education in legend and tradition was cut short when he turned seven and government policy of the time demanded he go away to residential school.
Beardy attended Portage Indian school in Portage la Prairie, 50 km west of Winnipeg and hundreds of kilometres away from home.
He spoke no English when he arrived at residential school-only Cree and that was forbidden, as were many of the traditions that had up to now been a way of life for Beardy and his classmates. Beardy learned to speak, read and write English, but the more he learned to meet the demands placed on him to adopt white ways, the more disconnected he became to his Native heritage and the things his grandmother had worked so hard to instill in him.
But while his residential school experiences slowly chipped away at Beardy's connection to his culture, they also opened up doors for the young student that allowed him to hone his artistic talents.
Beardy attended the Technical Vocational school in Winnipeg from 1963 to 1964, where he studied commercial art. He finished the course, but without experience, couldn't find work. He began to create art, reconnecting with the stories his grandmother had passed on to him in his childhood, combining them with the art techniques he had learned, capturing the resulting mix in paint on canvas. He worked for a time in the display department of the Simpson Sears department store in Winnipeg, but lost the job when health problems began to plague him. Beardy had begun to drink after leaving residential school-one of the ways he tried to cope with the feelings of isolation that he felt-and he soon developed ulcers. Problems related to his drinking would plague him for another decade, until he gave up alcohol in 1974. The ulcers would continue to be a problem for the remainder of his life.
Beardy was hospitalized for the ulcers and after his release, he decided to return home to Garden Hill reserve. His homecoming wasn't all he had hoped it would be. He was seen more as an outsider than as a member of the community returned, a view that was strengthened by the art he produced. The images Beardy created in his work were taken from oral tradition, and many people were not receptive about capturing them in a visual form.
Beardy had his first art exhibit in 1965 at the Winnipeg Art Gallery. In 1966 he took some art classes at the School of Fine Arts at the University of Manitoba. In 1967 he went to Montreal as a consultant for the Canadian Indian Pavilion at Expo '67. He received commissions to produce works of art to commemorate both Canada's centennial in 1967 and Manitoba's centennial in 1970.
It was in 1970 when one event presented Beardy with both a great accomplishment and a bitter disappointment, and illustrated the struggle Native artists faced in their attempts to be recognized and respected.
A grand gala was held at the National Arts Centre in Ottawa to commemorate Manitoba's centennial, and Beardy's work was to be featured. Beardy was invited to attend the gala, but when he arrived with his family, security guards wouldn't let him in.
One of the highlights of Beardy's artistic career was his involvement in the exhibition Treaty Numbers 23, 287 and 1171, in which his work was featured alongside that of Daphne Odjig and Alex Janvier. The exhibit, held at the Winnipeg Art Gallery in 1972, marked a movement toward having the work of Native artists showcased in art galleries rather than museums, a sign that their art was finally making the jump from being appreciated for its anthropological merit to being viewed as true art. That same year, Beardy was awarded the Canadian Centennial Medal.
Beardy was one member of a group of Native artists who formed the Professional Native Indian Artists Association, better known as the "Indian Group of Seven." Beardy, along with fellow group members Odjig, Janvier, Norval Morrisseau, Carl Ray, Joseph Sanchez and Eddy Cobiness, worked to promote Native control of Native art and to change the way the world looked at Native art, shifting the emphasis from the "Nativeness" of the art to it's artistic merits.
Like other members of the group, Beardy's work is categorized as being part of the New Woodland school, a style of art characterized by its use of black outlining, blocks of pure, undiluted color and X-ray views.
Beardy drew inspiration from much of his artwork from the stories of his people, translating myths and legends from the oral tradition into the visual, presenting his interpretation of the stories through paintings and prints, rendering the images on canvas, birchbark or beaver skins. While capturing the essence of the stories he had learned as a young child and relearned as an adult, Beardy's work reflected traditional Native viewpoints about the interconnectedness of the universe.
While primarily an artist, Beardy spent much of his time in the role of teacher, something that came naturally to him because at the heart of it all he was a storyteller. He taught art at Brandon University and at the University of Manitoba, and also worked with younger students in schools across Winnipeg.
He worked as art advisor and cultural consultant to the Manitoba Museum of Man and Nature and Brandon University's Department of Native Studies, and was involved in a number of organizations that advocated on behalf of artists.
Beardy also turned his talents to the world of publishing, illustrating a number of books including When the Morning Stars Sang Together written by John Morgan, Almighty Voice by Leonard Peterson, Ojibway Heritage by Basil Johnston and the Winter 1983 issue of The Canadian Journal of Native Studies.
In the early 1980s, Beardy was living in Ottawa, acting as art advisor and cultural consultant to the Department of Indian Affairs and Northern Development, which took up much of the time he would have normally been spending on his art. In 1984, he left Ottawa and returned home to Winnipeg, where he began work on a new series of prints. In mid-November, Beardy suffered a heart attack. He recovered, but an infection set in a few weeks later and he died.
A memorial service was held for Beardy in the Blue Room of the Manitoba legislature where the lieutenant governor holds ceremonies and hosts receptions-the first time such a service had ever been held in that location. Joining Beardy's family in mourning their loss were Elders, Native leaders, and politicians from all three levels of government who came to remember and pay tribute to the artist and the man.
The year after Beardy's death, the graphics arts class at R.B. Russell Vocational high school in Winnipeg created a lasting monument to his work, recreating Peace and Harmony, a piece he had been working on just before his death, on the exterior walls of the Indian Family Centre on Selkirk Avenue. Jackson had planned to create the mural himself, but following his death the task of finishing the project fell to other hands.
James Miles Venne - Footprints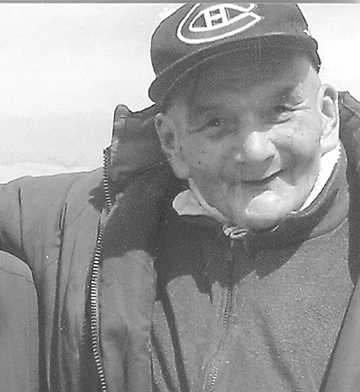 James Miles Venne: Leader worked to bring self-sufficiency to his community
Deceased: Nov. 28, 2007
By Cheryl Petten
On Nov. 28, 2007 the members of Saskatchewan's Lac La Ronge Indian Band (LLRIB) suffered a great loss when former chief James Miles Venne passed away.
Venne was born at Hall Lake, Sask., just west of La Ronge, on April 14, 1918. His father, Roderick, died when Venne was still a young child, and his mother, Annie, did all she could to care for her children on her own. Then the opportunity arose for Annie to send her children to All Saints residential school, where their ability to be fed would no longer be dependent on whether or not she had been successful in trapping rabbits.
It was during his time at residential school that Venne was exposed to experiences that would help shape who he was to become-a man with a deep religious faith, and a love of the land.
Venne had lived on the land with his mother before going to residential school but learned more about trapping while in school, when the principal brought local trappers in to share their skills and knowledge with the male students. Once he left school, Venne put these lessons to good use, and spent many years working his own trap line and finding employment as a guide.
Venne was a member of the All Saints Anglican Church for much of his life. He was confirmed in the church in 1937 and it was there where he married Mary McKenzie in 1944. He served as a lay reader in the church for many years and was ordained as a deacon in 1988 and as a priest in 1989.
He later served as assistant priest at All Saints, and was named Archdeacon Paul Cannon of St. Albans' Cathedral in Prince Albert in 1994.
He was also involved in the Diocesan Indian Council, the Diocesan Synod and the Anglican Council of Indigenous Peoples in Toronto.
While his faith and his connection to the land were important to Venne, so was trying to improve the lives of his people.
Venne was first elected as LLRIB chief in 1971, and remained in the post until 1983. He was later re-elected in 1985 and served until 1987. But even after leaving public office, Venne continued to work on behalf of the community. In 1989, he was appointed to the senate of the Federation of Saskatchewan Indian Nations, and was named a member of the LLRIB's council of Elders.
During his time as chief, Venne spearheaded a number of initiatives that continue to benefit band members to this day.
Recognizing that economic development was one of the keys to self-sufficiency for LLRIB members, Venne worked to create business opportunities for the band. Venne saw the growth in business ventures occurring in northern Saskatchewan, and knew that the band would have to become involved directly in those businesses if its members were going to benefit from that growth.
He also saw that the band's chances for success would be greater if it didn't try to go it alone, and worked to build relationships with other communities and businesses, and with provincial and federal governments, so all could work together toward a common cause.
Under Venne's leadership, the LLRIB created the Kitsaki Development Corporation, the business arm of the band's operations. Now known as the Kitsaki Management Limited Partnership, the organization is one of the most successful First Nation business entities in the country and is involved in close to a dozen businesses, many of which are operated in partnership with non-Aboriginal businesses and/or other Aboriginal communities.
The first business venture the newly-formed corporation became involved with was Northern Resource Trucking, founded in 1986 as a joint venture between LLRIB and Trimac Transportation.
Just over two decades later, and the list of partners in the business has expanded to include 11 additional Aboriginal groups, allowing other communities to benefit from Venne's efforts all those years earlier.
While Venne recognized the importance economic development would play for his community, he also realized that another key to future success lay in the area of education.
When, in 1974, the LLRIB voted to transfer control of its education programs from the provincial government to the federal government, it was Venne who worked to assure people that the move would be a positive one that would pave the way for the band to have more say in the running of the schools in which their children were being educated. It was at his urging that the Saskatchewan Indian Federated College (now the First Nations University of Canada) created a program to train Aboriginal teachers to teach in on-reserve schools.
Venne also fought long and hard to have a school built in each of the six communities that make up the LLRIB and helped pave the way for the band to take over control of its education system. His efforts were recognized by the LLRIB when they chose to name a school on Far Reserve in his honour.
While much of the work Venne undertook on behalf of his people was done at the local level, he wasn't opposed to extending his efforts to the national stage, or even the international, stage, when it became necessary.
In the early 1980s, when it became clear that then-prime minister Pierre Trudeau's plan for a "made in Canada" constitution didn't include any protection of Aboriginal or treaty rights, Venne was one of the First Nation leaders who set out to try to change that situation. He and hundreds of other leaders made their way to London, England to lobby the British government in an attempt to put a stop to the process of repatriating the constitution.
While the efforts of Venne and the other leaders weren't successful in ending the repatriation, they helped ensure that recognition of Aboriginal and treaty rights were included in the Canadian Constitution when it was proclaimed in 1982.
Venne was able to make things happen for his people in great part because of the man he was. He was dedicated to his family, his faith, and to working unceasingly for the benefit of the members of the LLRIB.
He will be remembered for his determination, his compassion, his humour, and for the love he had for his people.
Venne was laid to rest at the All Saints Anglican cemetery on Dec.1.
Hundreds came to a public service held on Far Reserve to pay their last respects and to honour a man who had dedicated so much of his life to ensuring a better life for the people of the LLRIB, both now, and into the future.
Jay Silverheels - Footprints
Jay Silverheels: TV star paves way for Indian actors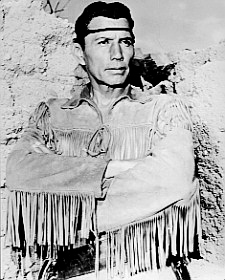 By Cheryl Petten
Deceased: March 5, 1980
He was born Harold Jay Smith and later changed his name to Jay Silverheels, but to many he will always be remembered as Tonto.
Silverheels was born June 26, 1912 on the Six Nations reserve in Ohsweken, Ont.
The Lone Ranger, which told the tale of a mysterious masked man and his faithful Indian companion as they fought to bring peace and justice to the Old West, was a highly successful radio program in the 1930s, '40s and '50s. When the story made the move to television in 1949, Silverheels was cast as Tonto, the Commanche sidekick of the title character.
Silverheels' character was little more than a cultural stereotype, with Tonto speaking broken English and always subservient to the Lone Ranger. But as the first Native American actor to play a Native American on television, he broke new ground for Native actors, something he would dedicate much time and effort to throughout the rest of his life.
Silverheels played Tonto for the entire run of the television series, from 1949 to 1957. He also appeared in two Lone Ranger movies, The Lone Ranger, released in 1956, and The Lone Ranger and the Lost City of Gold in 1958.
While Silverheels is best known for his portrayal of the masked man's loyal companion, it is far from being his only role.
He appeared on a variety of television shows, including a number of westerns-Wanted: Dead or Alive, Rawhide, Wagon Train, Daniel Boon and The Virginian among them-but he also appeared on Cannon, Love, American Style and even the Brady Bunch.
He acted in a number of movies as well, appearing alongside many of the day's greatest Western stars-Randolph Scott, Audie Murphy, Gene Autry, Alan Ladd, Lee Van Cleef and even John Wayne. He also appeared in films with James Stewart, Anne Bancroft, Gregory Peck, Maureen O'Hara, Cary Cooper, Glenn Ford, Shelly Winters, Errol Flynn, Vera Miles, Chief Dan George and Tyrone Powers, as well as with Bob Hope, Lucille Ball and Abbott and Costello.
It was his appearance in a movie starring two other movie greats that first garnered him some attention. In 1948 he appeared as Tom Osceola in Key Largo, starring Humphrey Bogart and Lauren Bacall.
Silverheels, an accomplished boxer, wrestler and lacrosse player, capitalized on this athletic prowess to break into the movie business, starting as a stuntman and extra.
That athleticism is what opened the doors to the entertainment industry for Silverheels. A member of the Canadian National Lacrosse Team, he arrived in Los Angeles in 1938 while on tour with the team. Comedic actor Joe E. Brown spotted this tall, handsome athletic young man and urged him to try his hand at acting.
He had just begun to get a few jobs in films when the Second World War broke out. He served in the war, then returned to Hollywood. His first real film role came in 1940, playing an Indian scout in the Errol Flynn movie The Sea Hawk.
In many of his earlier films, Silverheels' work is either uncredited or is credited as Harry Smith. Around 1945 he began using the name Silverheels Smith, adopting a nickname he earned because of his skill on the lacrosse field. By the time he appeared in The Prairie in 1947 he had begun using the name Jay Silverheels and many years later legally adopted the name.
In some of his roles he played nameless Indians, in others he played historic figures such as Geronimo and Tecumseh. But few and far between were the roles where he was able to break away from Hollywood's stereotypical view of what an Indian should was. In Family Honeymoon, a 1949 movie starring Fred MacMurray and Claudette Colbert, he played the role of an elevator boy. In Lust for Gold, also released in 1949, he played the role of a deputy. And in 1948, Silverheels played the role of Diego, a Mexican thug, in Charlie Chan and the Feathered Serpent. An ironic bit of casting with an Indian actor playing a Mexican character after many years of Native roles going to Mexican, Italian or white actors.
In 1966, Silverheels, wanting to do something to help other Native actors break into the business, started up the Indian Actors' Workshop in Los Angeles, offering training and advice gleaned from his own personal experience. Through the workshop, by serving as an example and, later in his career when his fame gave him some clout in the business, he fought for more and better roles for Native actors.
Silverheels suffered a series of strokes in 1975 that left him partially paralyzed. He died from a stroke in Woodland Hills, California on March 5, 1980, but his final resting place is back on the Six Nations reserve where his ashes were scattered on the family farm.
Silverheels' contributions to the acting world have been recognized many times over. He has a star on the Hollywood Walk of Fame and is an inductee in the First Americans in the Arts Hall of Honor and in the Hall of Great Western Performers in the National Cowboy and Western Heritage Museum in Oklahoma City, Oklahoma. In 2003 he was inducted into the Walk of Fame in Brantford, Ont., a stones throw from his home reserve.
Silverheels, who spent some time living in Buffalo, New York, before venturing off to California, was also named to the Western New York Entertainment Hall of Fame. The National Centre for American Indian Enterprise Development, headquartered in Mesa, Arizona honors the actor each year when it hands out the Jay Silverheels Achievement Award to an outstanding individual of Native American descent who has achieved personal and professional success while contributing to the community.
His accomplishments outside of the acting realm have not gone unrecognized either. In 1997 he was a charter inductee into the Ontario Lacrosse Hall of Fame.
His life is the subject of a documentary, Jay Silverheels: The Man Beside the Mask, produced as part of History Television's The Canadians: Biography of a Nation series.
Jean Goodwill - Footprints
Jean Goodwill: Health care worker encouraged youth
Cheryl Petten
Deceased: August 25, 1997
When people speak about Jean Goodwill, word like "trailblazer" and "role model" are bound to come up. Other words you are likely to hear are "dedicated", "courageous" and "healer."
Goodwill was born Jean Cuthand on Little Pine First Nation in Saskatchewan in 1928. Her mother died of tuberculosis shortly after Goodwill was born, and she was raised by her mother's sister Harriet Cuthand and her husband Jose.
Many of Goodwill's teenaged years were spent in a sanatorium in Prince Albert, north of Saskatoon, where she was sent after she too contracted tuberculosis.
After recovering from her illness, Goodwill decided to pursue a career in nursing. Her decision was partly influenced by the time she spent in the sanatorium, but was also a result of a childhood spent observing Harriet Cuthand, who was both a midwife and a medicine woman.
Goodwill studied at the Holy Family Hospital in Prince Albert and graduated in 1954-the first Aboriginal person in Saskatchewan and one of the first in the country to become a registered nurse.
Goodwill worked at the Indian Hospital in Fort Qu'Appelle in southern Saskatchewan, then moved to La Ronge in the far north where she was in charge of the nursing station. The nearest doctor was miles away in Prince Albert, and responsibility to provide health care for the community fell to Goodwill and a nurses' aide. Goodwill delivered dozens of babies during her first year there. She also developed an impressive collection of fishhooks, which she added to every time she had to remove one that had become embedded in a child or an American tourist and once, even in a dog.
The frontline of health care provision in La Ronge was stressful and when she left, she worked as a nurse in the King Edward VII Memorial Hospital in Bermuda. While such a move likely would have been seen as extraordinary at that time, Goodwill came from a family where for generations members had routinely travelled throughout Canada and the U.S. and such explorations of the world were common and not to be feared.
When she returned to Canada, she rededicated herself to Aboriginal issues. She moved to Winnipeg, where she was executive director of the friendship centre. And she became involved in the World Council of Indigenous People, broadening her focus and working to improve the health of Indigenous people in Canada and beyond.
Her work as a nurse gave Goodwill a first-hand look at the health conditions in First Nation communities, and many of the problems she saw she blamed on the poverty people were forced to live in. She realized that as a nurse, she could help people deal with the effects of that poverty, but the poverty would still remain. What was needed, she knew, were changes to the way the government addressed the problem. That was how her career in the public service began.
She married Ken Goodwill in 1965 and the following year they moved to Ottawa. The next year, she began working within the federal government.
Goodwill's career in the public service included positions within the Department of Indian Affairs and Northern Development, Secretary of State and the Department of National Health and Welfare. Eventually, she was appointed as a special advisory to then-health minister Monique Begin, charged with helping the minister and First Nations work together to address health problems within Indian communities.
Goodwill worked within the public service for two decades, during which time she greatly improved relations between the federal government and Aboriginal people, and played a role in the development of a number of programs, including the Native Alcohol and Drug Abuse Program.
Her work on behalf of Canada's Aboriginal people went beyond just being a job. She was also involved in getting a number of organizations launched, including the Native Women's Association of Canada, and was president of the Canadian Society for Circumpolar Health.
She was also a member of the board of directors for the Canadian Public Health Association and during her time with the association worked to bring more attention to the health issues faced by Aboriginal people. She chaired the association's Aboriginal working group, and also chaired its Aboriginal youth committee, which looked at ways to encourage Aboriginal youth to choose careers in health care.
Goodwill dedicated much of her time to increasing the number of Aboriginal people working as health care professionals. She was a founding member of the Aboriginal Nurses Association of Canada, created in 1975 under the name Registered Nurses of Canadian Indian Ancestry. She also helped develop an Indian and Inuit access program to nursing at the University of Saskatchewan and the health sciences program at the Saskatchewan Indian Federated College (SIFC), now the First Nations University of Canada, and acted as department head for the SIFC's Indian health studies program.
Goodwill also found the time to write four books, including a profile of Indian and Inuit nurses of Canada, and a biography of her father, John Tootoosis, a Cree leader from Poundmaker First Nation in Saskatchewan who worked to have First Nations land and treaty rights recognized by the federal government.
Even after she and her husband retired to his home community of Standing Buffalo First Nation in southern Saskatchewan, Goodwill continued her efforts to improve the lives of Aboriginal people, teaching Aboriginal health at SIFC and sitting on the board of the Fort Qu'Appelle Indian Hospital.
The health problems that caused her such difficulty at the beginning of her life resurfaced. The tuberculosis returned, followed by leukemia. Goodwill died in the early morning of Aug. 25, 1997 at the age of 69.
All of Goodwill's efforts did not go unnoticed. In 1981 the Manitoba Indian Nurses Association created the Jean Goodwill Award, to be given to members in recognition of outstanding contributions to the health care of Native people. Goodwill herself was the recipient of the first award.
In 1986, Goodwill received an honorary doctorate of law from Queen's University and in 1991, she was appointed to the Order of Canada in recognition of her work to improve the health of Canada's Aboriginal people.
In 1994, she received a National Aboriginal Achievement Award in the health services category. And in 2000, three years after her death, Goodwill was named recipient of the Ron Draper Health Promotion Award, given out by the Canadian Public Health Association. The award recognizes those who have made a significant contribution to health promotion.
The Aboriginal Nurses Association of Canada and the Baxter Corporation awards two scholarships of $5,000 in Goodwill's name each year. The scholarships, given to Inuit and/or Indian nursing students, ensure that, for generations to come, Goodwill's name will be associated with efforts to encourage Aboriginal youth to take up health-care careers.
Jenny Flett - Footprints
Midwife delivers nearly 500 babies
By Dianne Meili
A northern Alberta midwife who delivered 487 babies in her lifetime–contending with challenges like a lack of roads, indoor plumbing and electricity while never losing a single mother or child –passed away on March 2 at the age of 101.
Fort Chipeywan's Jenny Flett often told her daughter Trudi Ann Plamondon that laboring mothers didn't even experience vaginal tears under her care because she massaged them and made them relax.
"She always said what she did was a 'labor of love,' with an emphasis on the `love'," said Plamondon. "She took time with mothers because she wanted them to be relaxed. She said it's because most doctors today are in such a rush with their patients that mothers feel stressed out and then they have a hard time."
Even when Flett delivered a 16-pound boy, who she said, "looked like a little bear," the delivery went smoothly.
"If you asked her about actual challenges in all the births she went to, she'd pretty much tell you it was bad weather and traveling in the winter time that gave her the most problems," Plamondon said.
Generations of parents relied on Flett to bring their children into the world and she never let them down.
"She didn't get paid for delivering babies, but that never bothered her. Instead, toward the end, she only wanted people to know how hard the conditions were back in the early days when she started delivering babies," Plamondon noted.
Whether in a trapper's cabin or a tipi, Flett delivered them all. Her only tools were a weigh scale, clean sheets, clamps and two pie tins, which she warmed on a wood stove to help with delivery of the placenta.
Flett's mother was a midwife but she made her daughter wait outside the birthing room to fetch the things she needed.
"Husbands weren't even allowed in the room in those days," Plamondon said.
When Flett finally took over her mother's profession, she was largely self-taught and had learned about the human body, and healing it, through a mail order book called the Doctor's Medical Manual.
"I remember that doctor's book," recalled Plamondon. "I remember playing with it. I liked it because it had all kinds of pictures. Mom always told me to be careful with it and I thought it was just an old book. I didn't know it was her medical bible."
Flett was born Ellen Elizabeth Fraser in 1908, the daughter of a Scots merchant from the Orkney Islands and a Métis mother. She said her father always seemed grumpy but later came to understand he was always too busy making a living to show his children much affection. When she lost her mother at 14, as the oldest child she began looking after her 10 siblings, including a 10-month-old brother who knew her as his mother; her lifetime of looking after others began then.
Jenny married Edward Flett in 1927 and together they had 10 children. But they also adopted six more children in the community, and Jenny was known as "mom" to almost everyone in northeastern Alberta.
Finally retiring from her career of helping others at the age of 75, Flett eventually moved from Fort Chipewyan to a seniors' home in Fort McMurray, but the family helped keep her ties to the land and traditional food intact by roasting a large Canada Goose every year on her birthday, and completing the meal with low-bush cranberry sauce and stuffing. Flett never failed to save some of the wild meat to take to her next door neighbour at the lodge.
"She was always thinking of others," said Plamondon. "And she was a typical elder who was always telling you things with a gentle reminder."
And sometimes the reminder was a little more vociferous.
"She hated people wearing hats in the house. My son had a nice clean white cap on his head at one of her birthday parties and she told him to `get that dirty thing off your head.' In her time people wore hats and sweated in them ... she thought it was disrespectful to wear one inside."
Last year, at an awards ceremony in Fort McMurray, Flett was a special guest speaker who addressed a theatre full of people. Lucid and articulate, she answered question after question from the captivated audience about her long life.
What did she recommend for labor pains? Strong, black coffee served cup after cup.
And had she ever delivered twins? Twice. And they were very easy.
Flett received a lifetime achievement award during the 2003 Regional Recognition Awards, and when she was 100 years old, was awarded a nursing diploma from Keyano College's Fort Chipewyan campus.
Flett turned 101 last December and was credited as being the oldest Métis woman in northeastern Alberta.
Joe Augustine - Footprints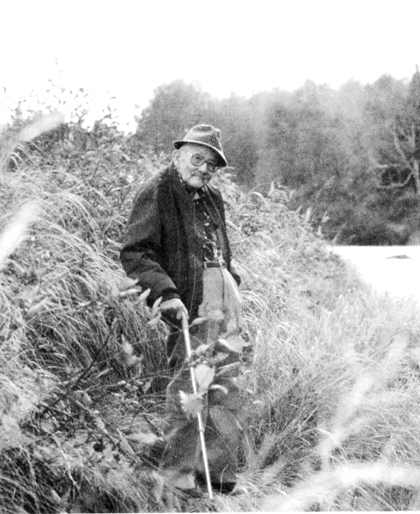 Joe Augustine - Elder provided community with link to the past

Deceased: Jan. 14, 1995
By Cheryl Petten
When Joe Augustine was young, he and his father would walk through the woods near their home community of Red Bank First Nation, now known as Metepenagiag Mi'kmaq Nation, located near the Miramichi River in central New Brunswick.
Their regular route would take them along a path beaten down over the years by caribou. Each time they walked the path, father and son would stop and rest next to a small mound next to the trail. They'd make a fire and have some tea or a bit of something to eat, and Augustine's father would tell him of the history of this place.
In times past, his father would say, Indians would celebrate here, building a fire in the centre of the mound and dancing around it. It was those Indians, his father said, who built the mound. Years passed. Augustine, who had left school at the age of 15 to help his father in the woods-fishing, hunting and trapping-carried on the same traditional way of life as he grew older.
He would go away to Campbellton, now and again, to find work on the log drives, then return home and resume his life on the land. It was during one of these stays in Campbellton that he met Mary Metallic. He was 21 and she was 16. They met again five years later and were married in 1936. The couple had eight children-four girls and four boys.
Augustine was one of those people who was always busy. In his spare time he'd make all manner of baskets, and he was also a gifted musician. He played the guitar, fiddle, flute and piano, but his favorite instrument was the accordion. He spoke the Mi'kmaq language fluently, and passed the language on to his children.
Augustine was known for his kindness, for his willingness to help others and for his great sense of humor.
He was also an avid reader. In 1972, he read an article in National Geographic magazine about the discovery of an ancient burial mound in Arizona, and remembered the mound he and his father would sit by to drink their tea in his childhood.
His curiosity piqued, the next day he went to the mound, shovel in hand, and began to dig. He came home, laid newspapers out on the kitchen table, took his finds out of his nap sack and placed them on the table for his family to see.
One of the items was a bundle wrapped up in birch bark. When he unwrapped it, he found a number of ancient artifacts, including copper beads and rings and a copper arrowhead.
His daughter Madeline suggested they take the items to the university in Fredericton to show them to someone there. They showed them to a professor at St. Thomas University, Paul Morrissey, who was starting up the university's Native studies program. He in turn contacted Dr. Chris Turnbull, who had just been hired on as provincial archeologist.
Turnbull travelled to Red Bank to see Augustine's find and was impressed and excited by what he saw.
Augustine was very interested in learning more about the history of his people, in following up on the oral histories passed on to him by his father, and wanted to investigate the mound site further. But the decision as to whether or not to proceed was left to the community of Red Bank. After lengthy negotiations, the band gave the go ahead.
Items found during excavation of the mound showed it was the site of a burial ground that had been used for ceremonies as far back as 2,500 years ago. Not only did it provide clues about the lives of the people who used the site throughout the years, but showed that the people of Red Bank had been a presence in the area for centuries.
Augustine is also credited with the discovery of another major archeological find in the area, the Oxbow site, a village site where the Metepenagiag people had lived since ancient times. Located where the Northwest and Little Southwest Miramichi rivers meet, the sand and silt deposited by the rivers over the years have served to separate artifacts from different times throughout history, making it easier for archeologists to date and sort the item sound. The layers of artifacts extend down about eight feet, providing evidence that Red Bank is New Brunswick's oldest occupied village. If not for Augustine, all of the artifacts and everything that has been learned from them, would likely have been lost forever. In an attempt to bring more money into the community, Red Bank First Nation had begun selling off its abundant gravel reserves, and a nearby gravel pit would have soon expanded to take in the mound site. Once Augustine's discovery highlighted the significance of the site, all gravel pit developments in the area were halted. Both the Augustine Mound, which Augustine's initial discovery became known as, and the Oxbow site have been designated as provincial and national historic sites.
While excavation of the sites was completed in the late 1970s, researchers continue to learn from what was found using procedures and technology that didn't exist when the sites were explored 30 years ago.
While the information gained from the excavations has been a boon to the archeological community, for the community of Red Bank it has provided a link between present and past.
Before the discoveries, no one in the community knew much about their heritage, and most of what was known dated back only a century or so. Thanks to what has been learned from the Augustine Mound and the Oxbow site, people of the community now know they are part of a history that dates back at least 3,000 years. They now know how their ancestors dressed, what they ate, and that their people have managed to survive for three millennia.
In 1994, a film crew from Beaver Creek Pictures in Toronto came to Red Bank to tell the story of Joe Augustine, his discoveries and of the community and its long, rich heritage. The result, released in the spring of 1995, was The Village of Thirty Centuries. Augustine never had a chance to see the film in its entirety. In December 1994, Augustine developed double pneumonia. He recovered from the illness, but it left his heart weakened and his condition began to deteriorate. Augustine's family told the film's producer and director, Conrad Beaubien, of their father's failing health, and he worked to quickly put together a shorter version of the film for Augustine to see. The film was rushed to Augustine, who, surrounded by family, watched the 10-minute video of himself from his hospital bed. He was pleased with the film, and that people around the world would now have a chance to hear his story and the story of Red Bank.
After watching the video for the fourth time, he told his family he was tired, closed his eyes and went to sleep. He died the next morning, Jan. 14, 1995 at the age of 83. Some family members believe that, once he saw that there were others that could continue what he'd begun, he was ready to go, knowing that the work he needed to do was complete.
An interpretive centre, Metepenagiag Heritage Park, will open in June 2006. It will allow the community to celebrate its rich past and ensure the stories that Augustine's father passed on to him will be passed on to future generations.
Joe P Cardinal - Footprints
Joe P. Cardinal: He will be missed
Windspeaker Staff
Joseph Patchakes Cardinal, known as "Joe P" to his relatives and friends, passed away Dec. 12 at the age of 82. He is survived by his wife of 56 years, Jennie Cardinal, as well as seven children, a sister Catherine Cardinal, and a large extended family.
Born to Patchakes and Honoreen Cardinal at Birch Mountain in northern Alberta on Nov. 19, 1921, Joe's early life was spent on the trapline along with five sisters and one brother. When the family wasn't trapping, they farmed. They never went hungry while Joe's father was alive.When Joe, the youngest son, was just six years old, his father passed away.
In 1929, Joe's family moved to Saddle Lake, where he attended the first Blue Quills Indian Residential School to Grade 6. Joe's recollection was that he had learned a smattering of English and mathematics, but he got a lot of experience working on the residential school's farm.
At 19, Joe joined an armored division of the Canadian Army and survived Germany, Italy and the beaches of Normandy. Following the Second World War, Joe met Jennie Caroline, whom he married in 1947, and with whom he had eight children: Ernie, Theresa, the late Eugene, Anne, Emile, Elaine, Ricky and Mona.
The couple became foster parents to numerous children and they adopted several: Ruth Morin, Wilton Goodstriker and Charlie Monckman of Edmonton; Francis Whiskeyjack of Saddle Lake; Ross Hoffman of Smithers, B.C.; Earl Henderson of Prince George, B.C.; and Butch Campbell of Tennessee, U.S.A.
The family in time expanded to include 22 grandchildren (two predeceased Joe) and 15 great-grandchildren.
With a large family to care for, it was only natural that Joe also cared passionately about their community. In the 1950s and 1960s, he took on leadership roles in Saddle Lake culminating in his becoming chief for two consecutive terms.
Joe's devotion to community service continued throughout his life and he contributed to many organizations, such as Native Counselling Services of Alberta (27 years) and the Aboriginal Multi-Media Society (AMMSA), publisher of Windspeaker (15 years).
For many years and until his death he also had an active role on the Dreamcatcher Aboriginal Youth Conference's board.It is only five years since Joe and four other Elders guided the formation of Amiskwaciy Academy in Edmonton in order to bring a culturally based curriculum to Aboriginal high school students.In the eulogy that Nechi Training, Research & Health Promotions Institute's CEO Ruth Morin prepared with the help of the Cardinal family, she wrote, "Joe gave the school its name, as well as provided direction for the education of the young. Today the school has been recognized nationally and internationally by receiving many visitors ... Joe believed and advocated the importance of education for the young."
Ruth Suvee, chair of the mental health diploma program at Grant MacEwan College in Edmonton, said she has known Joe and his family since the 1970s and she praised Joe's commitment to children, education, social and correctional services and other endeavors. She made special mention of his cross-cultural work, noting that although some Elders are opposed to teaching Indigenous culture in an institution, Joe saw the need to meet people where he found them and to pass the teachings along.She said he recognized that many Elders have departed without their knowledge being shared, and he was aware of the large urban Indian population that may never get the opportunity to learn in a traditional setting.Joe did considerable cross-cultural work for the staff at Grant MacEwan, she said, and when the mental health program ran a retreat, he said it was "very important to integrate the cultural teachings of the 16 Elders at the gathering," so that those who would work with Aboriginal people would understand them."
Joe endorsed it. Joe was a very traditional man, but he was also very involved in church. He believed in sharing traditional beliefs and practices."Suvee attributed his generous spirit and lack of prejudice to the fact that he had traveled extensively and had "a bigger world view."He walked his talk. He touched a lot of people."He was an Elder Advisor for the K Division of the RCMP, worked for the Aboriginal Wellness Program, and he helped establish the Nechi Institute and the Capital Health Region in Edmonton. Additionally, Joe served as an Elder on the National Parole Board, where he addressed about 2,800 inmates during his tenure, a responsibility he accepted with humility and respect, said Suvee.
In all these roles, those who knew him say that he was masterful at accommodating and blending traditional and contemporary practices and beliefs.In the early 1990s, Joe was one of the Elders who went to Davis Inlet, Labrador to help a troubled community there.
Lynda Ferguson a Métis from northern Alberta who works in the Aboriginal Education Centre at Grant MacEwan, said that while she was not a close friend of Joe's, she knew him as an Elder."He was an absolutely amazing man."
Ferguson heard Joe speak at Amiskwaciy Academy many times and said "His guidance as far as culture and tradition has made that school what it is.
"Whenever I heard him speak, I found him to be very inspiring, motivating, and I think he is going to be missed by hundreds and hundreds of people."Particularly youth, she said."
That's one thing Joe P. did, was he was able to captivate the young people."The last time Ferguson saw Joe was around the end of October when he was "very involved at that time with our Dreamcatcher's conference."
Noel McNaughton, president of AMMSA's board of directors, knew Joe since 1969. "He was a friend. He has always been a leader and a man with humility, which is what a leader needs. He tells the truth as he sees it, and he doesn't insist that everybody see his point of view."Some of the things that shaped him I think ... there were some Elders around that helped guide him. "One of the things that was very important in his life and I think taught him a lot about what he was-he was in the Second World War... And Joe discovered through that that these guys were the same as him, and it had a profound effect on him. I think that kind of guided him through the years with people of all races and nationalities.... There was no racism in him. He related to you by who you were, rather than where you came from or what your race was. "One of the other things I heard him say a few times was 'The role of a warrior is to face his own worst enemy, which is him... The task of the warrior is to overcome the fear of death and face who you really are and overcome your ego.' Protecting his community is the other part of the warrior's job, McNaughton said he learned. "Really, the warrior's task is to battle himself and to overcome all his fears and his faults ... and that was something I think Joe also lived by."
Rosemarie Willier, vice-president of AMMSA's board of directors, is another who knew Joe P. Cardinal as an extraordinary person. "I have never, never heard Joe say anything bad about anyone. Whenever he said something, it was always something good, and he showed a lot of respect, particularly to women. Joe "was such a gentleman and we'll definitely miss him." The first time I met Joe was at Nechi when he was helping as an Elder.... One of the things that I noticed about him too was that he touched so many lives because he was so involved, and I used to wonder, 'My goodness, where does this man get all the energy?'"
Willier said she was happy when Joe joined AMMSA's board, because she recognized how much help he would be."He is the type of person that you know immediately he is an honest person and that the decisions he helped to make would be something that I would respect."He was a no nonsense person," Willier said.
AMMSA board treasurer Chester Cunningham also observed Joe in numerous roles over the years.
Of his board contribution, Cunningham said, "his presence kind of stabilizes, gives people a comfort zone" in which others felt free to express themselves and know their opinions would be received with respect.
Joe was "a real good pipeline into the community, and an observant person. And he shared his ideas. He never kept them to himself," said Cunningham.They met in the mid-60s when Joe was with Alberta Community Development, building Aboriginal capacity to run their own organizations and improve access to employment and training opportunities. "Bringing them into the new world, I guess," explained Cunningham. "Because they were holding workshops and trying to develop some of the organizations into taking over some of the stuff that belonged to them."
Cunningham remembers that Joe worked on recruitment workshops at Syncrude in an effort to bring in more Aboriginal employees. "When I went to set up Native Counselling (Services of Alberta), I wanted Joe on the board, but Joe was the chief of Saddle Lake" by then, said Cunningham.
Around 1974 or 1975, Joe did join Native Counselling Services' board, and when the Correctional Service of Canada (CSC) started requesting Elders to work in institutions, Cunningham said he recommended Joe for that role.
"Joe was really a good Elder.... He explained culture to me. That culture wasn't like the light bulb. You didn't turn it on. You lived it. And he said, 'Culture is your living. You bring your background, but the first thing you have to recognize is you're a person first.'... Too many of them try to say that they're an Aboriginal first and then go to the person, but it's the other way around." While serving on the parole board, Joe's participation "helped change the whole format of the parole hearings. They weren't as structured. They got into a circle and everybody talked." That change "really worked out with Native people," and Joe's influence led to formation of an all-Native parole board, Cunningham said.
The CSC offered Joe a job in Ottawa, but not only did he not want to relocate, he also did not like the idea that the system aimed to "categorize" Elders and put them under the auspices of prison chaplains.
Corrections wanted him, in effect, to create job descriptions for Elders working within the correctional system, who would then be mired "in a bunch of paperwork," according to Cunningham.Joe told them, "No. Our culture is not paperwork."
He also made it clear that Elders would be independent of the chaplains, Cunningham stated. Joe "was a good representative" for Aboriginal people at home and on the international stage, Cunningham recalled. "He told it as it was, and I never heard him raise his voice. He was always interested in the family."
Ruth Morin said Joe will be missed. "However, his teachings of love, camaraderie, commitment, and the vision of helping the young people are left with us. His work is complete. Our job is to honor and continue his vision."
Joe Talirunili - Footprints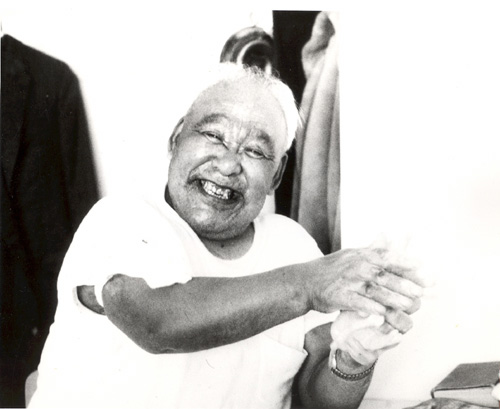 Artist served as chronicler of days gone by
Deceased: Sept. 11, 1976
By Cheryl Petten
Joe Talirunili was born in northern Quebec near Kuujjuaraapik on the shores of the Hudson Bay. There are differing accounts as to the year of his birth. Government records show he was born in January 1899, but he claimed to have been born in 1906. In either case, he was present to experience the traditional life lived by the Inuit in the area, and to witness firsthand the changes that would come as his people became more and more influenced by the outside world. Talirunili grew up around the Great Whale River and the Richmond Gulf, joining his father in the hunt and living in the traditional Inuit way. But as time went on the Inuit had more and more dealings with the white men who came from the south. That interaction brought with it many changes to the way the Inuit lived their lives. In some ways Talirunili embraced the changes. He gladly used the rifles introduced by the white men who came to the area to ensure greater success in the hunt. He found work as a guide for people from the south who came to the area to trap and also found work in the mining sector. His was the first family in the community of Povungnituk to live in a pre-fabricated house. But he also stuck to the old ways, trapping, hunting and fishing to put food on the table. Talirunili had a reputation of being a good, caring man who was always ready to share what he had with others. He could be counted on to provide visitors to his home with food and to entertain them with the stories he had to tell. From his encounters with western culture, Talirunili learned the power of paper, of how it could be used to capture and share information. Seeing the possibilities this new medium offered as a way of recording stories about the old ways and passing them on to others, Talirunili became one of the first Inuit in the area to try his hand at printmaking, an art form that involved carving an image in stone and using it to print copies of the original piece of art. While in some areas of the north where printmaking was introduced one artist would draw a picture and another would carve it into the stone, in Povungnituk, artists like Talirunili would usually create the image directly on the stone. In the late 1950s, Talirunili and his cousin, fellow artist Davidialuk Amittu, helped found the Povungnituk print shop, where artists from the community worked to create prints reflecting the Inuit way of life. The print shop closed in 1989 but was resurrected late last year, allowing a new generation of artists a chance to learn carving and printmaking. In his work, Talirunili captured a way of life his people lived when he was young, before the influences of white society had changed it irrevocably. His efforts to capture these images of days gone by earned him the title of The Chronicler. In his carvings, drawings and stone-cut prints, he created images of hunting scenes and figures of Inuit people, often adding descriptions to the drawings written in syllabics to explain what was going on in the scene depicted. He also liked to draw and carve owls and his renderings of these creatures could be found in many of his creations. But Talirunili is probably best known for the great number of carvings through which he retold a tale from his childhood. A very young Talirunili was among a group of family members and friends who were returning to their camp on the mainland after celebrating his baptism on an island in Hudson Bay when the ice over which their sleds were travelling began to break up and they became trapped on an ice floe. Working quickly to complete the task before the ice under them melted and plunged them into the icy waters, the stranded travellers used the wood from the sleds and the sealskins on hand to fashion a boat that could get them to shore. It's estimated that Talirunili created 25 to 30 carvings depicting this adventure. Each of these pieces has come to be known by th same name-Migration. The treacherous journey depicted in the Migration works was just one of many adventures and adversities Talirunili experienced during his lifetime and many of these other experiences found their way into his work as well. During one voyage Talirunili took in his Peterhead boat with his son Joshua and seven others, the boat smashed into a reef and was destroyed. Talirunili salvaged what he could from the wreckage to fashion another craft. The new boat, which relied on a 10-gallon keg, a large wash basin and a tea kettle to keep it afloat, proved sea-worthy and allowed Talirunili and his son to join other survivors of the accident who had managed to swim to a nearby island. A family of four-a father, mother and two of their children-had also tried to swim to shore and had perished during the attempt. Talirunili chronicled that experience in his carving Near Death in Boat. The piece shows the boat, the 10-gallon keg in the back, and Talirunili and his son paddling, Joshua safely ensconced within the wash basin. Talirunili died on Sept. 11, 1976. In the year proceeding his death, he produced an incredible number of carvings, including a number of new versions of Migration. His work has been featured in exhibitions across Canada and the United States and pieces of his art can be found in museums and art galleries across the country. In 1978 one of his Migration sculptures was reproduced on a Canadian fourteen-cent postage stamp. Talirunili's art was in the news again recently after one of his many Migration carvings sold at an art auction for what is believed to be the highest price ever paid for an Inuit sculpture. An unidentified Canadian bidder bought the sculpture for $278,500 during the April 24 auction at Waddington's auction house in Toronto. What sets this Migration carving apart from the two dozen or more Talirunili created is that, while most of the carvings depict the passengers in the boat as human, for this carving hechose to populate the craft with animals-rabbits, an owl and a wolf. In 1999 the auction house had sold another carving in the Migration series that featured animal passengers, this time owls and a dog. That carving sold for $50,600, a price that at that time was believed to the highest price paid at auction for an Inuit carving. Two years later yet another Migration carving was sold at auction by Waddington's, again fetching a record-setting price, $87,500. Another version of Talirunili's Migration carving, part of the TD Bank Financial Group's collection of Inuit art, is featured in the exhibit ItuKiagatta!-a word from the Labrador Inuit that means "How it amazes us!" The exhibit premiered at the National Gallery of Canada in April 2005 and has since travelled the country, showing in Winnipeg, Halifax and Edmonton. ItuKiagatta! is showing at the Art Gallery of Greater Victoria until June 11 and will have its next showing at the Montreal Museum of Fine Arts from June 29 until Oct. 22.
Joseph Brant - Footprints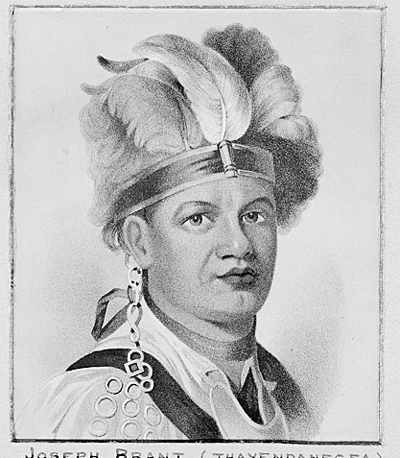 Joseph Brant: History portrays Brant as both hero and villian
By Cheryl Petten
Deceased: Nov. 24, 1807
There is no shortage of memorials and tributes to the life of Joseph Brant. The Ontario city of Brantford and county of Brant bear his name. Tyendinaga Mohawk Territory, located just east of Belleville, Ont., takes its name from Brant's Mohawk name, Thayendaneagea, as does the nearby Township of Tyendinaga.
In Brantford, a monument featuring a large statue of Brant stands in Victoria Park. Brant is one of the inductees in Brantford's Walk of Fame. A public school in the city also bears his name, as does a hospital in Burlington. In 2006, a likeness of Brant was unveiled as part of The Valiants Memorial, a monument to 14 valiant men and women who have served Canada during war over the last four centuries. And earlier this year, the Royal Canadian Mint issued a silver dollar coin stamped with Brant's likeness. But while to many Brant is seen as a heroic figure, others hold a less flattering opinion of the man.
Thayendaneagea was born in 1742 in what is now Ohio. His parents were Mohawk, and their home was Canajoharie, located in the Mohawk Valley in what today is New York State, but they often travelled into the territory of the Wyandot people to hunt, and that is where their son was born.
Translated into English, Thayendaneagea means "Two sticks bound together for strength." There was nothing particularly auspicious about his birth, but soon circumstances would arise that would open doors for this future leader and change the course of his life.
Thayendaneagea was still only a boy when his father died. When his mother Margaret remarried, it was to another Mohawk man, Brant Canagaraduncka. Her children, Thayendaneagea and his sister, Konwatsiatsiaienni, took on the name of their stepfather, and became known as Joseph and Molly Brant.Their new stepfather was a respected leader among the Mohawk people, but he also had influential friends among the British. Chief among them was William Johnson, who would serve as British superintendent of Indian Affairs from 1755 to 1774. When Molly moved into Johnson's home and became his wife, Brant came along too, as Johnson took the boy under his wing.
It was under Johnson's tutelage that Brant had his first experience with war. At the age of 13, he fought in the Seven Years War, which saw British forces defeat the French in a battle for control of North America. For Brant, it would be a taste of things still to come.
When he was 18, he was sent off to get an education at Moor's Indian Charity school in Connecticut, where he learned to read and write English and studied western literature and history. By the time he returned from school, tensions had begun to mount between American settlers and the British. Angered by the high taxes being demanded of them by the Crown, the American colonies were determined to fight to gain their independence. As the fighting began, Brant travelled to England to gain assurances from King George III that England would step in and address the problem of American colonists moving onto Native lands if the Native people chose to side with England in the battle. When he returned to North America, he met with the leadership of the Six Nations-the Mohawk, Cayuga, Seneca, Oneida, Tuscarora and Onondaga-urging them to take up arms and fight alongside the British forces, saying a British victory would be the only way to protect their lands from further American encroachment. In the end, the Mohawk and Cayuga agreed to fight for England, while the Oneida and Tuscarora chose to side with the American colonists. Some Onondaga and Seneca chose to fight for England, some for the colonies. The inability of the Six Nations to agree on a unified course of action brought an end to the Great Peace, a sacred pledge that had been in place for hundreds of years that the Six Nations of the Iroquois Confederacy would not go to battle against each other. Many place the blame for the death of the Great Peace squarely on the shoulders of Brant.
Brant was made a captain in the British army, and was appointed as a Six Nations war chief by the Crown. He fought in many battles, including the infamous Cherry Valley Massacre battle in eastern New York on Nov. 11, 1778 during which more than 30 civilians, including women and children, were killed.
In retaliation for Cherry Valley and other similar incidents, the American forces launched a campaign aimed at crushing the loyalist forces and the Iroquois nations that had sided with the British. The Americans won a decisive victory at Newtown in August of 1779, then sealed the fate of the four Native nations, destroying dozens of Iroquois villages throughout their traditional territory. The Native forces continued to fight, even though they'd already been forced to abandon the lands they'd been fighting for.
In the end, the American colonists won the war, and their independence. But when it came time to sign the peace treaty officially ending the hostilities, neither the Americans or the British made any provisions for the Six Nations people, whose lands were ceded to the newly formed United States of America.
When it became clear that the Six Nations would receive no compensation through the treaty, Sir Frederick Haldimand, the governor of Quebec, was anxious to find some way to placate the former British allies to prevent them from turning against the Crown. On Oct. 25, 1784, Haldimand officially handed over a strip of land bordering the Grand River in what is now Ontario, transferring it to the possession of the Mohawk nation and whichever other of the Six Nations chose to settle on the land.
Soon problems with the land grant began to arise when Brant decided he could help raise funds to support the Six Nations by selling or leasing portions of Grand River lands. While the government of the day frowned upon Brant's parceling up and selling off of the lands, it continued to ratify his land deals for more than a decade before taking action. In the end, a system was set up whereby lands sold or leased by Brant would be surrendered to the Crown, which would then grant them to the party who had bought or leased the land from Brant. By the time the last portion of land was surrendered to the Crown in 1841, only a small portion of land remained for the Six Nations people to live upon. Some of the land had been sold to make way for the town of Brantford. Some was taken by the Crown. Much of the money the Six Nations were to receive through land sales and leases failed to reach its people, with allegations surfacing that the funds were misappropriated by the Crown and her representatives. Today, more than 200 years after the original Grand River land was granted to Brant and his followers, the people of Six Nations are still trying to determine exactly how their lands were squandered and where the profits Brant had envisioned ended up.
Brant died on Nov. 24, 1807 in his home on the shores of Lake Ontario, a site which is now home to the Joseph Brant Museum in Burlington.
History paints several different portraits of Joseph Brant. Was he an impressive leader who dedicated his life to the betterment of his people? Was he a man in quest of power and prestige whose lapses in judgment brought hardship upon the members of the Iroquois Confederacy? Or was he both?
However you chose to view him, there is one fact that cannot be denied-the choices made by Thayendaneagea reverberated throughout the Six Nations, and the echoes are still being felt today.
Lillian Pitawanakwat - Footprints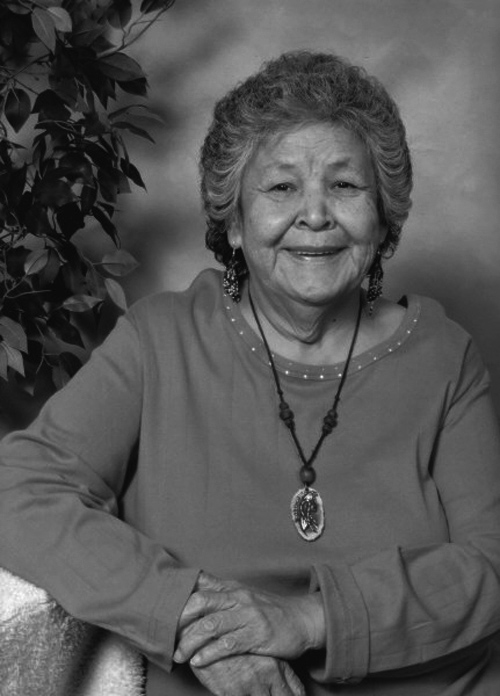 Thunderbird Eagle Woman (Ninkii Biness Mijissi Kwe)
By Dianne Meili
Deceased: January 4, 2011
"I will be here in the West doorway, that is where I am today.
I am that Thunder in the sky, I am the cleansing when you cry."
Before
her death on Jan. 4, 2011, Lillian Pitawanakwat, Thunderbird Eagle
Woman (Ninkii BinessMijissi Kwe) of the Thunderbird clan, wrote out
comforting words for those left behind.
Cyndy Vanier, who
delivered Lillian's eulogy, said the Elder gave her notes before she
passed away, and "these are probably the things she'd want you to know
if she were able to speak them to us today."
The words reassured
loved ones that Lillian thought of death as "just a stepping stone" and
that she would never really leave them alone and was only "a breath
away."
"She didn't want people crying for her because she wasn't
afraid of death and she knew people would carry on with her work,
because she'd taught them well," said Vera Wabegijig , who attended many
of the ceremonies Lillian carried out for people.
The Elder
devoted her life to renewing Ojibwe traditions and was a fluent speaker
of her language. She was born into the Whitefish River First Nation in
Ontario in 1944, and was the last of 12 children born to Moses, of the
Potawatomi Nation, and Margaret Pitawanakwat, an Ojibway.
In a
biography Lillian wrote several years ago, she stated "I'm the
second-last to be delivered by my grandmother, who was the midwife of
our community. She delivered many children into the fullness of life and
she was the one who greeted me when I came into the world. She named me
Granddaughter of Thunder Woman. She's been in the spirit world for a
long time. And yet she's so very present for me, because she is my
guide, my teacher. When I ask her things to this day, she answers me."
Lillian
noted her grandmother gave birth to 18 children and "of those 18, only
my mother and uncle survived. The others succumbed to the great illness
that beset us in the early 1900's. And so my mother lost all of her
siblings except for one. She carried that grief all her life – the grief
of losing a family."
According to Lillian, her father's
Potawatomi people were known as the fire-keepers. She took on the task
of nurturing the fires of the people she came in contact with. Her
spiritual work took her across the country as she led sweatlodges,
fasting ceremonies at Dreamers Rock, and other gatherings for people.
Her first concern was women and she worked tirelessly to counsel them
and nurture their success.
"I first met her at a youth and Elders gathering at Trent University in Peterborough in 1993," recalled Wabegijig.
"I
was so impressed with what she had to say that I approached her after
her talk. I wanted to give her something but all I had was a poem I'd
written, so I gave her that."
Wabegijig said the Elder enveloped her in a huge hug and asked later if she could read the poem at the closing ceremonies.
"I
said `yes' and after that, everything changed for me. I knew I wanted
to keep writing and produce pieces that would have an impact on my
community. Lillian gave me that start. Hearing her read my work that day
felt amazing. I've never stopped writing poetry since."
Lillian's many followers describe her as an intuitive, extremely giving Elder.
"I
think she knew very well what she was doing when she asked to read my
poem to the audience," Wabegijig said. "She probably looked ahead and
could see my future in the performing arts. I just needed a hand up."
Lillian
shared her traditional knowledge with numerous local, regional and
national leaders, guiding them on social and political issues, and was
also a founding member of countless projects, such as Minwaashin Lodge, a
facility for Aboriginal women who have been victims of violence or
suffering the effects of the residential school system.
As a
member of the Elders Council of United Chiefs and Councils of Mnidoo
Mnising, she provided valuable teachings related to ceremonies, language
and culture, and took the time to write out the teachings of the
medicine wheel and create lesson plans about the four directions for
youth in grades 7 to 9.
Lillian wanted to ensure young women
received traditional teachings and so she oversaw initiation rites for
them. In the Strawberry Ceremony, girls are prohibited from eating the
berries for a year, and they avoid contact with males except for their
father, brothers and cousins. Also during that year, they are taught how
to behave properly, sew, cook and look after their homes. At the end of
the ceremony, a feast is given and the young woman is informed of the
gifts her family members and friends see in her, and she is repeatedly
told that she is loved.
"Lillian had a huge heart, and she was so
beautiful and calm. She made a difference in everyone's life," said
Wabegijig. "She welcomed you into her home and her life and if you came
to know her it was like she was your mother. It was like losing a mother
when she died because suddenly, there was no one to listen to your
problems and guide you like she did."
"She's also responsible for
gifting so many people in the Sudbury, North Bay, Ottawa and Toronto
areas – and likely beyond – with their Ojibway names," Wabegijig added.
She
was generous with her time, spirit, and possessed unconditional love
for people. That's why everyone wanted to be with her," said Cyndy
Vanier.
"And everyone remembers her always saying "bon ma pii" which means "love you lots" when she said goodbye to you."
Louis Riel - Footprints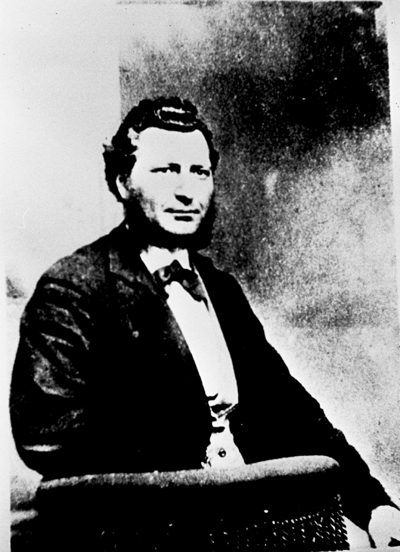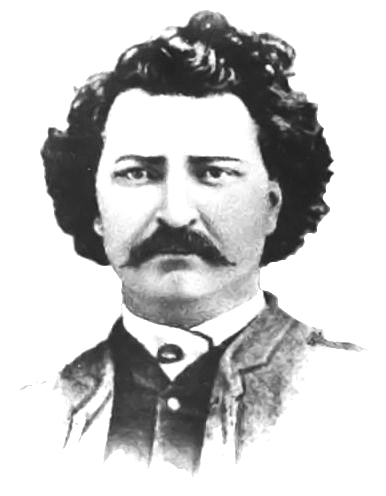 Louis Riel: Many followers will celebrate Riel's fight for Métis identity
By Dianne Meili
Deceased: Nov. 16 in 1885 at around 8:30 am
November 2012 marked the 127th anniversary of the death of Louis Riel, the martyr who gave identity to Métis people.
Born on Oct. 22, 1844, Riel's role as the undisputed spiritual and political head of the Métis was set by religious parents and authorities who recognized his brilliance at an early age. His father Louis Riel and mother Julie Lagimodiere were both devout Catholics and had considered a religious life before marrying each other. Their piety was an important factor in the family's daily life.
Young Louis Riel spent his childhood on the east bank of the Red River, growing up among the Métis and extremely conscious of his identity, inherited through his father's line.
He began school at the age of ten, and was sent to Montreal to study for the priesthood. Immersed in Latin, Greek, French, English, philosophy and the sciences, Riel placed himself at the top of his class until the death of his beloved father in 1864. His grief overwhelmed him; his interest in his studies flagged and he eventually left school altogether.
After his romance with a young woman named Marie Julie Guernon was squashed by her parents, who didn't want their daughter marrying a Métis. Riel then disappeared to the United States, arriving back in St. Boniface as an educated but unemployed man.
The fact that he was educated, as well as ambitious and bilingual, made him the perfect choice to lead the Métis in their fight for rights in the Red River settlement. He spearheaded the writing of a "List of Rights" in 1869 that preceded the entry of Manitoba into the confederation. In part, the List of Rights included such provisos as: the people will have the right to elect their own legislature; English and French languages will be used by the government; and that all sheriffs, magistrates, constables, and school commissioners will be elected by the people.
A group of transplanted Loyalists saw this list as evidence of sedition and they had the ear of the Government of Canada, which procrastinated in accepting the List of Rights. When Riel established a Provisional Government to help block the inclusion of the Red River territory in the United States, his efforts were judged as revolutionary. A group of Orangemen from upper Canada also took their revenge on Riel's Provisional Government by trying to overthrow it.
Thomas Scott, an exceptionally violent and racist man, was caught and charged with treason for his role in the overthrow. After a lengthy trial, Scott was found guilty and killed by a firing squad.
Enraged anti-Catholic and anti-French sentiment in Ontario blocked Riel from taking his seat in the House of Commons, and, in retaliation for his part in Scott's death and playing a part in the creation of the Provisional Government, Riel was banished to the United States in 1875 for five years.
Isolated and lonely, Riel brooded in severe depression punctuated by euphoric states of joy. He was lonely, cut off from his people and country, but he began encountering the "divine spirit" which led him to believe he had a religious mission to lead the Métis people of northwest Canada. While quietly teaching at a Montana Jesuit Mission, Riel received a visit from a delegation of Métis who had traveled from northern Saskatchewan where they, along with other Métis families, had settled after 1869. They told Riel they had resumed their traditional way of life, but they were now threatened again by the influx of settlers and immigrants. Their borders were again disappearing, their rights were no longer being respected, their lands were being taken and the government was not listening.
Riel helped them petition the government, which promised, a year later, to appoint a commission to investigate the Métis' claims and titles. The first step would be to take a census of the Métis in the North-West Territories. These proposals angered the Métis who were hoping for a quicker solution to their problems.
Desperation escalated throughout the hungry winter of 1885, when Indian tribes, dying of hunger and disease, joined Riel's cause. Once again, Riel formed a provisional government and decided to capture Fort Carleton without violence, and use it as his base, but the Mounted Police reinforced its garrison. Riel asked for the peaceable surrender of the fort, but then skirmishes between Indians and police led to increased hostilities between Riel's followers and the government, climaxing in the famous and final battle at Batoche.
By spring it was all over. Riel surrendered his freedom to the police and was transferred to Regina and charged with high treason. After a two-week trial, he was found guilty and sentenced to hang, despite his lawyers' appeals. On Nov. 16 in 1885 at around 8:30 in the morning Riel was led to the gallows to meet his fate.
Though he was originally branded a traitor to Canada, due to the prevailing prejudices of the time, today Riel is celebrated as a patriot who bravely stood up for his people and his beliefs. His family home in St. Vital, Manitoba ­ just outside of the French community of Saint-Boniface where he was born and grew up ­ has been designated a national historic site and at this time of year, Métis communities across Canada celebrate their unique culture in memory of their benefactor's brave life.
Mary Cousins - Footprints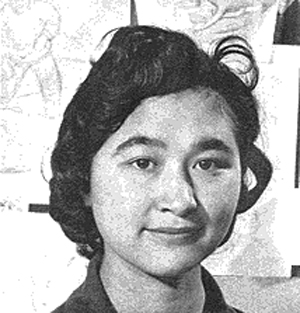 Mary Cousins: Educator and activist worked to improve lives of Inuit people
Deceased: April 22, 2007
By Chery Petten
Throughout her life, Mary Cousins wore many hats. She was a devoted daughter and granddaughter and a loving mother. She was a nurse, a teacher, a journalist, an ambassador for the North and an Inuit rights activist.
She was born Mary Panigusiq on Feb. 22, 1938 in Saattut, an Inuit camp in Navy Board Inlet on Baffin Island, to parents Lazaroosie and Letia Kyak.
When she was five, Mary's father was hired by the RCMP as a special constable. Because of his job the family left Saattut and moved to Pond Inlet.
In 1944, the St. Roch, an RCMP schooner, arrived at Pond Inlet. The ship's commander, Sgt. Henry Larsen, needed Inuit people to supplement its crew, as the schooner was about to embark on the return leg of its historical journey across the Northwest Passage, Larsen hired Mary's uncle, Joe Panikpak, and his family. Mary's grandmother was to go along as a seamstress, but she and Mary had a very close relationship and she refused to go on the voyage without her granddaughter. So, at the age of six, Mary stepped aboard the St. Roch with her grandmother and other family members and they set off on their journey, leaving Mary's parents behind in Pond Inlet. Her father had placed his daughter in the care of the ship's commander. Over the years, the two men would become great friends, and Larsen would continue to play a role in ensuring the well being of his one-time charge.
The schooner sailed the Northwest Passage, docking at Herschel Island in mid- September 1944. While the St. Roch still had further to go on its journey, the additional help of the Inuit crew members was no longer needed, so Mary and her family were left on Herschel Island until the ship would return for them in the spring. It was to be a cold winter, but Larsen left them well supplied and encamped at an abandoned police post on the island.
After a two-year absence, Mary returned to her family in Pond Inlet. She was now eight, and was ready to begin her formal schooling. She attended the Anglican missionary school until she was 11, gaining a good knowledge of the English language in the process. But her years in school weren't over yet. Mary's father was posted to Craig Harbor, and he moved his family to the community, where they lived for the next five years. Then came another move for the family, this time to a location near Grise Fiord, but Mary was not to accompany them. Her father had decided it was best for his daughter to remain in one place and complete her education rather than following him from posting to posting. Through the help of his old friend Larsen, Mary's father made arrangements to send her to school in Hamilton.
In 1953, Mary moved to Hamilton, where she lived with the McAndrews, a white family. While she was there, she made regular trips to a local hospital, visiting and encouraging the many Inuit patients who were there recovering from tuberculosis.
At school, Mary had planned on taking nursing, but she soon changed her mind, deciding to become a teacher instead. But her brief nursing experience opened yet another door for her. After completing a couple of years of schooling in Hamilton, Mary set out aboard the C.D. Howe, a medical ship, planning to go home to Pond Inlet to visit her family. With Mary's knowledge of medicine, English and Inuktitut, she was soon called into action as an interpreter, and eventually became the chief medical interpreter on the C.D. Howe, a position she held for five summers while medical staff on the ship travelled to various Inuit communities to conduct tuberculosis screenings.
In 1958, at the age of 20, Mary went to work for the Department of Northern Affairs, and for the next four years, she edited Inuktitut, the department's Inuit-language magazine. In addition to editing the publication, she also wrote articles and provided illustrations. Through her work on the magazine, she played a large role in bringing information to isolated Inuit communities in the North.
In 1962, Mary made a long overdue trip back home. She was reunited with her family during her brief visit, and saw her grandmother for what would be the last time.
The following year, Mary was in Ghana, West Africa, educating the local people about life in the Canadian North, when she got news of her grandmothers passing. Mary once wrote in a poem "Grandma cares for me, and our family needs nothing more..." She was deeply saddened to hear of the loss and rushed home.
In 1964, Mary married Roger Cousins, a teacher from Saskatchewan. A year later, the couple welcomed their first child, and the new family made the move from Ottawa to the North. They lived in Grise Fiord, then in Frobisher Bay, with Roger teaching school in each community.
In 1969, Mary was appointed to the Vanier Institute of the Family, a charitable organization that works to promote the well being of Canadian families. Soon after, she became politically active in Inuit issues and help found the Inuit Tapiriit Kanatami (ITK), an organization that to this day continues to represent Inuit people at the national level.
Mary once explained the reason she felt groups like ITK were important.
"The government will only sponsor Inuit meetings if it is acceptable to the government; in other words, which the government is in favour of. It is all very well that the government sponsor meetings of Inuit on what the government likes, but we Inuit have to meet with our fellow Inuit and make our own plans also," she said at the first meeting of the ITK, then called the Inuit Tapirisat of Canada, held in Toronto in February 1971.
Through her struggle for Inuit rights Mary began to notice that there were very few Inuit people who were able to speak their own language. Fearing that this would lead to the death of the Inuit language and culture, Mary began to teach Inuktitut in schools.
She taught the language at Gordon Robertson Education Centre in Iqaluit for almost a decade before returning to school herself and earning a teaching certificate from the Eastern Arctic Teacher Education program. She then resumed teaching, this time at Nakasuk school in Iqaluit, while continuing her own studies through McGill University in Montreal. In 1992, she earned her bachelor of education degree at the age of 54.
In 1993, Mary's husband, Roger, died of cancer. In 2000, Mary, too would be diagnosed with the disease. She continued to teach until her retirement in 2005. Mary died of cancer on April 22, 2007 at the age of 69, but the work she accomplished during her lifetime will continue to benefit the Inuit people for generations to come.
Mary Thomas - Footprints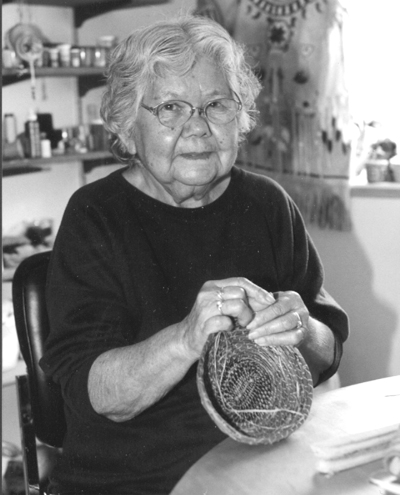 Mary Thomas: Elder worked to protect lands and promote culture
Deceased: July 30, 2007
By Gauri Chopra
Mary Thomas, a member of the Secwepmec (Shuswap) Nation, was born in Salmon Arm, B.C. Her parents had to work hard to eke out a living, and so Thomas got to spend much time with her grandparents, who helped care for her, and who shared with her and her siblings the traditional knowledge their parents and grandparents had passed on to them.
Some of her fondest memories of her early childhood involved listening as her grandmother regaled her with stories and legends. But the happiness of her childhood changed abruptly when she was forced to leave her home in order to attend residential school.
Thomas' years in residential school were filled with terrible experiences. She was forbidden from speaking her language or practicing her culture, she was beaten, and she lost one of her sisters, who died while attending the same school. Years later she would recall how the experience severed her from her culture and her spirituality and shattered her self-esteem. When, at the age of 16, she left the school, she no longer had any connection with her Aboriginal identity, and that was just fine with her.
At the age of 19 she married, and she and her new husband moved to the United States. But soon the Second World War began, and the couple moved back to Canada so Thomas' husband could enlist, just as many other young Aboriginal men chose to do at the time.
Her husband went off to war and, when he returned, he was a changed man. He drank heavily and became abusive. One day, when she felt she couldn't take another beating, she ran off and hid. That very same day he was killed. He'd been off drinking in town and on the way home had walked onto the railway tracks and was struck by a train. Thomas blamed herself, thinking that if she'd just stayed and taken the beating, he might not have died.
In addition to dealing with the guilt she inflicted upon herself, Thomas also had to deal with the dire financial straights she now found herself in. She was suddenly a single mother, with 15 children and no income coming in.
She struggled along as best she could, eventually moving to Kelowna where she was offered a job. The curator of a local museum was working to put together education kits to be used to teach Aboriginal culture as part of the school curriculum, and enlisted Thomas to assist. Her residential school experiences had stripped Thomas of any knowledge of—and interest in—her culture, but she took the job. It would serve to be a defining moment that would change the course of her life.
With very little knowledge of her own culture, Thomas turned to the Elders to gather the information she needed to do the job. The Elders shared the knowledge that they had, and Thomas absorbed it like a sponge. She didn't realize it at the time, but her healing journey—her road back to her own Aboriginal identity—had begun. In time, after fully embracing her Aboriginal heritage, Thomas would become not the learner, but the teacher-the Elder others would turn to in their quest for knowledge.
Drawing on knowledge gained through her talks with Elders, and on remembrances from her childhood, when she and her siblings would accompany her parents and grandparents on trips into the woods to harvest traditional plants, she became known as an expert on traditional plants and their uses. She shared this information with others eager to learn, and even worked to help researchers document the environmental changes that occurred in her lifetime and the effect those changes have had on plant life.
Thomas' work as an environmentalist was coloured by her respect for mother nature and her understanding that no more should be taken from the earth than is truly needed—a philosophy she tried to pass on to future generations.
She was concerned about preserving and protecting traditional plants so they would be there for future generation, but she was also concerned about broader environmental issues as well—protection of the air, the earth, the water and the animals. And she recognized that all people, both Aboriginal and non-Aboriginal, must work together to deal with conservation and environmental issues because everyone, regardless of their cultural background, is equally affected by threats to mother earth.
Thomas was one of the founders of the Salmon River Watershed Restoration Project, a community-based initiative that is working to stem the environmental damage that has been done to the Salmon River as a result of such things as clear cutting and overgrazing by livestock, and attempting to return it to its former glory. And she worked to establish an ecocultural centre in Salmon Arm, where science, art and Native culture are combined, and special emphasis is placed on reaching out to children.
Thomas' efforts on the environmental front gained her attention and honours, both nationally and internationally In 1997, she became the first Aboriginal person in North America to receive the Indigenous Conservationalist of the Year Award from the Seacology Foundation, an organization that works to preserve the environments and cultures of islands the world over. And in 2001, the National Aboriginal Achievement Foundation presented her with a National Aboriginal Achievement Award in the environment category.
While preserving the natural environment was important to Thomas, so to was working to preserve another precious resource-Aboriginal youth. Through her own residential school experiences, she recognized how important it was for Aboriginal youth to develop and maintain a connection to their languages and culture in order for them to grow up to be healthy adults.
Thomas was involved in the First Nations/Inuit Child Care Initiative, which helped create new child care spaces where the cultural and traditional values of the children's communities would be incorporated in the care they received. She also dedicated her time and efforts to a variety of teaching programs designed to promote Aboriginal language and culture. In 2004, her efforts earned her the Medal for Exceptional Contributions to Early Childhood Development from the Centre of Excellence for Early Childhood Development.
Thomas passed away on July 30, 2007 at the age of 90 but, while she is gone, the knowledge she shared, the people she inspired and the work she completed in the time she was here will ensure she will not soon be forgotten.
Mary Two-Axe Earley - Footprints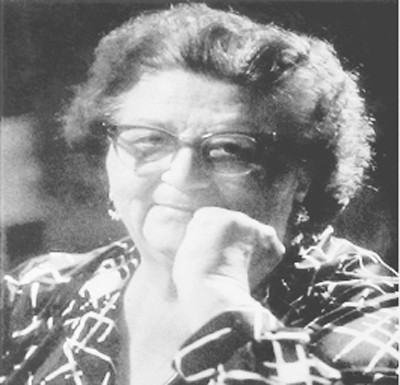 Mary Two-Axe Earley: Crusader fought for equal rights for Aboriginal women
Deceased: August 21, 1996
By Wayne Brown
The following article, which chronicles the efforts and accomplishments of Mary Two-Axe Earley in her battle on behalf of First Nation women, is an abridged version of an article by Wayne Brown that originally appeared in the November 2003 issue of the Elections Canada publication Electoral Insight. The original article can found on the Elections Canada Web site (www.elections.ca).
Adaptation responsibility rests solely with Windspeaker.
Mary Two-Axe Earley, a Mohawk from Kahnawake, Quebec, changed the lives of thousands of Aboriginal women and their children. She undertook a long and tenacious equal rights campaign on behalf of Aboriginal women who lost their Indian status under the law, and the rights and benefits to which this status entitled them, when they married non-Indians. In 1985, largely because of Two-Axe Earley's efforts, Parliament passed legislation amending the Indian Act to eliminate the discrimination that penalized Status Indians who were women (while permitting men to marry whom they chose without sanctions), and to provide a reinstatement process. Once reinstated, the women could reclaim their rights under the Act. Among other things, this opened the door to much better health and education services for them and their children.
On October 4, 1911, she was born Mary Two-Axe, on the Mohawk reserve at Caughnawaga (as it was then called) on Montréal's South Shore. She spent much of her early life there, but at the age of 10, she was in North Dakota with her mother, an Oneida nurse and teacher. When her mother died caring for students during a Spanish flu epidemic, Two-Axe Earley's grandfather travelled west by train to bring Mary back to the reserve.
At age 18, she moved to Brooklyn, New York, and a few years later married an Irish-American electrical engineer, Edward Earley. Many Mohawks lived in New York to work in construction, excelling at high-paying jobs as agile ironworkers on the dangerous high beams. The Earleys had two children, Edward and Rosemary.
Marrying a non-Indian meant that Two-Axe Earley lost her Indian status, under provisions of the Indian Act passed in 1876. While the Aboriginal people themselves had not previously regarded women as second-class citizens, the law reflected the Victorian European notion that women were legally the possessions of their husbands. Losing her status rights meant that Two-Axe Earley could not live on the reserve where she was born, own land there, participate in the band's political life, vote in its elections, or be buried on the reserve. At the time, all this was of little concern to Two-Axe Earley. "Who thought about status? We were in love," she told The Gazette in a 1990 interview.
In 1966, a friend, who had lost her status upon marrying a Mohawk from another reserve, died in Mary's arms one morning, in Brooklyn. She had been ordered to leave the reserve and to sell her house. While the official cause of death was a heart attack, Two-Axe Earley believed it was the stress from the discrimination she suffered that was actually responsible. Her friend was also not allowed to be buried on the Kahnawake reserve.
The circumstances of her friend's death and her resulting anger were likely the major reasons Two-Axe Earley began to organize and campaign for equal rights for First Nations women. In 1967, she founded the provincial organization, Equal Rights for Indian Women (which later became the national Indian Rights for Indian Women). Two-Axe Earley wrote many letters, made many passionate speeches and presented submissions to government task forces and ministers. She often faced opposition from male First Nations leaders, who feared that the marriage of Indian women to non-Indians would lead to assimilation and erosion of Aboriginal autonomy. They also argued that the cost of extending Indian status to thousands of deregistered First Nations women and their children would be too high for the bands to bear. Two-Axe Earley wrote to Senator Thérèse Casgrain, a strong advocate of women's rights in Quebec, who urged her to submit a brief to the Royal Commission on the Status of Women in Canada, which was established in 1967. Two-Axe Earley then led a deputation before the Commission, "to protest that our rights, our birthright has been taken away." She also revealed that there had been pressure on her from within Kahnawake not to appear before the Commission.
In 1969, after her husband died, Two-Axe Earley felt lonely in Brooklyn and moved back to the Kahnawake riverside log house that she had inherited from her grandmother. The band leaders made it clear she was not welcome on the reserve, but a stratagem allowed her to keep the house and live there. She gave it to her daughter, who had regained her status by marrying a Mohawk man. Two-Axe Earley often described herself as "a guest in my own house."
The Royal Commission on the Status of Women in Canada found "there is a special kind of discrimination under the terms of the Indian Act which can affect Indian women upon marriage." Its 1970 report recommended that legislation should be enacted to repeal the sections of the Act, which it said discriminated on the basis of sex, and that "Indian women and men should enjoy the same rights and privileges in matters of marriage and property as other Canadians."
In 1975, while attending an International Women's Year conference in Mexico, Two-Axe Earley learned that the Kahnawake band council had used the Indian Act to evict her. "I phoned home and it was about one in the morning and my daughter said—mother we're debating whether to tell you or not—you have been evicted from home; you have to leave the reserve in 60 days."
Two-Axe Earley immediately used the conference to tell the world about her plight. After a storm of national and international publicity, the eviction notice was eventually withdrawn.
Another very visible case was that of Sandra Lovelace, a Maliseet from the Tobique Reserve in New Brunswick, who lost her Indian status after marrying an American airman in 1970 and moving with him to California. Her marriage ended a few years later and, upon returning to the reserve, she and her children were denied housing, health care and education. In 1977, Lovelace appealed to the United Nations Human Rights Committee. When called upon by the UN Human Rights Committee to defend its actions, the Canadian government said that, while it wanted to change the law, its hands were tied because the First Nations community itself could not come to agreement on the issue. In 1981, after almost four years, the UN Human Rights Committee ruled that Canada had broken the International Covenant on Civil and Political Rights. It was a major, albeit symbolic, victory for many Aboriginal women in Canada.
Subsequently, the 1982 adoption of the Canadian Charter of Rights and Freedoms also greatly assisted the cause, by adding more pressure on the federal government to eliminate the sexual discrimination faced by First Nations women. Two-Axe Earley's fierce determination also impressed Quebec's premier, René Lévesque. When the first ministers at a 1983 constitutional conference refused her request to speak, Lévesque gave her his chair at the table, forcing the other political leaders to listen to her pleas for justice for First Nations women. "Please search your hearts and minds, follow the dictates of your conscience, set my sisters free," she told them.
On June 28, 1985, almost two decades after Mary Two-Axe Earley began her campaign, the Parliament of Canada passed Bill C-31, which amended the Indian Act and brought it into accord with the equality provisions of the Canadian Charter of Rights and Freedoms that came into effect on April 17 of that year. Bill C-31 removed the long-standing discrimination endured by First Nations women by restoring Indian status and membership rights to the thousands who had married non-Indians. Two generations of children from those marriages were also given Indian status immediately, which meant they also gained access to federal programs and services and were able to apply for membership in a band. At the time, the government estimated that more than 16,000 women and 46,000 first-generation descendants were eligible to benefit.
One week later, on July 5, 1985, Two-Axe Earley became the first person in Canada to regain her Indian status when, at a ceremony in Toronto, she was presented with written confirmation by the Minister of Indian Affairs and Northern Development, David Crombie. "I could find no greater tribute to your long years of work than to let history record that you are the first person to have their rights restored under the new legislation," the minister said. Two-Axe Earley, who was 73, responded, "Now I'll have legal rights again. After all these years, I'll be legally entitled to live on the reserve, to own property, die and be buried with my own people."
The 1985 amendments to the Indian Act did not go unchallenged. Some bands refused to reinstate expelled women. Three bands, led by the Chief of the wealthy northern Alberta Sawridge Band, went to court to try to quash the guarantee of equality between First Nations men and women. For Mary Two-Axe Earley, therefore, the fight was not over. In December 1993, then 83, and as a witness for the Native Council of Canada, she rolled her wheelchair into the Federal Court of Canada to testify about the hardships of women expelled from their home reserves. One of her most striking points was that the Kahnawake reserve had three graveyards: one for Catholics, one for Protestants, and one for dogs. While dogs could be buried on the reserve, "if you were a Mohawk woman who married a non-Indian, you had to be buried outside the community." The Court concluded that the Canadian government - not First Nations - had the ultimate say in determining band membership.
Mary Two-Axe Earley died of respiratory failure on August 21, 1996, in Kahnawake, at the age of 84. She had been hospitalized since February of that year, after several years of failing health.
About 200 mourners gathered at an old church on the Kahnawake Mohawk Reserve. Two-Axe Earley was described as a pioneer of Canadian feminism and an inspiration to Aboriginal women. Most significantly, she was buried in the Catholic cemetery that lies on a small hill in the heart of the reserve. That was possible only because of the 1985 legislative changes for which she had fought so many years. Among them was the right to be buried on the Mohawk reserve, her birthplace and what she always regarded as her true home.
Monik Sioui - Footprints
Monik Sioui: Lifetime devoted to women's work
Cheryl Petten
Deceased: October 1997
Monik Sioui may not be a household name, but for those fortunate enough to have known her, this woman who dedicated much of her time and energy to improving the lives of Aboriginal women and children won't soon be forgotten.
Sioui was born in Huron Village, now Wendake, Que., in 1951. Her father was Huron and her mother was Abenaki, and she grew up in the Abenaki community of Odanak.
Sioui first began her work in the early 1970s at Thunderbird Press, the first Native-owned and operated print shop in Canada. The print shop was part of the newly opened Native North American Studies Institute and was responsible for producing curriculum materials.
When the institute became Manitou Community College, the print shop became a hot-bed of Indian politics. At the time, Native people were eager to take a stand to protect Aboriginal rights. They fought to have their stories told. In addition to printing text books, children's books and books of poetry, the print shop produced two newspapers, one in English and one in French.
Sioui taught at the college. One day when a respected Elder came to the school to speak to students and began talking about the importance of oral tradition, rejecting the written word, Sioui took him to the print shop to show him what was being produced. Even her respect for the Elder wasn't going to dampen her enthusiasm for the printed word as a tool to enhance education and the lives of Aboriginal people.
In addition to teaching and working at the press, Sioui worked on curriculum development and sat on the college's board of governors. But it was not to last. Within three years, the department of Indian Affairs closed the school.
Sioui wanted to become involved in Indian politics, but had problems breaking into the male-dominated Native provincial organizations that existed. As a result, Sioui joined with other like-minded women and, in 1974, founded the Quebec Native Women's Association. Sioui was president and during that time she led the first investigation in Canada into the adoption of Indian children by non-Indian families.
In the early days of the organization, before the association even had an office, Sioui would drive around the province, visiting Aboriginal communities and talking to them about limitations of the Indian Act. While many people felt the act was cast in stone, unchangeable, she would talk to them and explain how things could, and must, be changed.
That took Sioui to the national scene. She was involved in the 1979 women's march from Kanehsatake to Ottawa that brought attention to the inequity of Section 12 (1)(b) of the Indian Act. Under this section women who married non-status men lost their status, and so did the children produced by those marriages.
Sioui was one of the women who gained the ear of then-prime minister Joe Clark and his wife Maureen McTeer, who sat down with the protesters on the grass as they neared Ottawa and listened to what they had to say. Although Clark, who had just become prime minister the month before, assured the women he would do something to change the situation, his tenure as prime minister didn't last long enough for him to keep his word. In March 1980, he was out and Pierre Elliot Trudeau was back in power.
Sioui then helped take the issue to an international forum. She was part of the delegation that attended the Fourth Russell Tribunal in the Hague in 1980. The tribunal, organized by the Dutch Workgroup Indian Project and the Bertrand Russell Peace Foundation in England, was examining the rights of the Aboriginal people of North America.
Sioui spoke at the forum about the Indian Act's discrimination against Aboriginal women. Thanks to the efforts of Sioui and many others from across the country, the Indian Act was amended under Bill C-31.
The next big challenge for Sioui came in 1980, when she was working for Indian Affairs in Montreal. In Val-d'Or, work had begun to resurrect the Algonquin Council, and the department loaned Sioui to the council for a year to help them establish their offices. She never returned to the department. Instead she relocated to Val-d'Or to start a new chapter in her life and turn her efforts to another cause.
When she came to work with the council, she met Richard Kistabish. The couple had two children together, a girl, Wanaki, and a boy, Menoe, two younger siblings for Sioui's son, Patrik, who was born years before and was with his mother through all her earlier work.
Because the Abenaki people had almost completely lost their language, Sioui was concerned for the Algonquins. She pushed them to work to maintain their language and way of life. When her two younger children were born, she showed her respect for the language by giving them both Algonquin names.
While working with the council, Sioui and Kistabish began to work with two friends who were doctors, looking into the living conditions in Kitcisakik, a small community about 65 km south of Val-d'Or. Kitcisakik doesn't have legal reserve status, and had no permanent homes in the community.
They set up the Kitcisakik Welfare Society to deliver health and social services there, and Sioui, concerned about the level of violence and sexual abuse women and children in the community were enduring, began to tackle that problem. One woman at a time, one child at a time, she worked to find a way to stop the abuse. She worked with the perpetrators, and helped set up a network of organizations that would provide services to the people there.
She worked for 15 years in northern Quebec, giving not only her time and energies, but also her love. It was her way to make sure a day didn't go by without her telling someone she loved them, whether it be a member of her family or a person she was working to help. And she encouraged the people in the communities she worked with to do the same, to say 'I love you' to their children, their parents, their grandparents.
Sioui continued her work well into the 1990s. Then, after feeling tired all the time for more than a year, she found out she had cancer. In October 1997, she and Kistabish married. A week later she was gone.
In December 1998, Quebec's Commission des droits de la personne et des droits de la jeunesse awarded Sioui the Prix Droits et Libertés (the Rights and Liberties Prize) in recognition of the work she had done to restore social health to Aboriginal communities in the province.
While Sioui put much time and energy into the work she did, those closest to her remember her more for who she was than for what she accomplished. They remember her humor, her determination, her strength and her love.
They remember her as a woman who had many friends and who touched many lives, who encouraged everyone to do the best that they could, be the best that they could, and then do better yet. They remember Sioui as a woman who put all that she had into her work, and then found even more to give, and who never stopped working toward a brighter future for Aboriginal people.
Nora Bernard - Footprints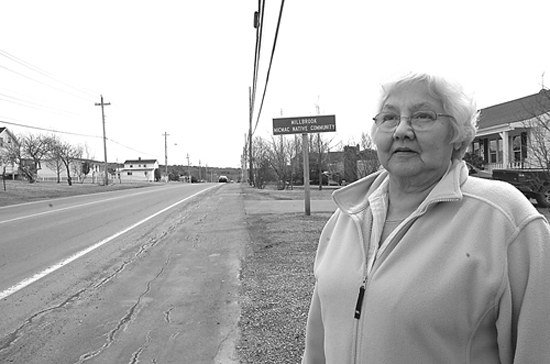 Nora Bernard: Fought for justice in the lives of family and friends
Deceased: Dec. 27, 2007
By Dianne Meili
Voice faltering, Natalie Gloade talks about the unread Christmas cards she found in her late mother's mailbox ­ holiday wishes from residential school survivors who wanted to thank Nora Bernard for going to bat for them.
Sadly, the Mi'kmaq Elder of Millbrook First Nation, near Truro, N.S., died on Dec. 27, 2007 before she could fully appreciate how much she means to a nation.
"People across Canada wrote to say thank you," explained Gloade. "They wrote to say the bit of settlement money they got didn't make up for what they suffered, but it did help them pay some bills and buy a few things. They wanted to tell her they appreciated her effort."
Just after an estimated 79,000 residential school survivors had received, or were yet to receive, compensation cheques resulting from a landmark lawsuit Bernard brought against the government for her mistreatment while attending residential school, their benefactor was found dead. Charged with her murder is James Gloade, Bernard's 24-year-old grandson.
Natalie, the mother of James, forthrightly apologizes for her son's actions.
"I apologize to my whole family and to the nation for what my son has done," she said. "(Police) said he was full of three or four different drugs when he killed his grandmother, but that's no excuse. He had a choice. He chose to take her life and he has robbed us. She was always there for him ­ feeding him and giving him money when he needed it. Now he's lost out, too. He sits in a cell. I guess it will be as people say ­ when the Creator comes finally to get him, he will see what justice is."
Even as police investigated the murder at Bernard's house, Natalie said a woman who had been helped by her mother long ago drove up to see what was happening.
"She told us she remembered when my mom used to drive taxi. She mentioned to mom that she didn't have Pampers for her baby and mom went right out and bought her some ­ even though she was a single mom herself and raising six kids. That's how she was. She shared everything she had. And she always stuck up for people who couldn't help themselves."
As the second oldest in a family of six children, and the oldest of four sisters, "Nora took care of things when my dad left us, and she never stopped," said Bernard's younger sister, Linda Maloney, 64.
In residential school, Bernard continually stuck up for her siblings and other children who were treated cruelly.
"If she saw any of us being handled roughly, she fought the nuns," Maloney explained. "If she was in the kitchen, she'd get food for my youngest brother, Albert. I recall beatings, but nothing like Nora. She suffered for all of us."
Born in 1933, Bernard was delivered by her grandmother on the Millbrook First Nation.
"She married when she was young, 16 or 17," according to Maloney. "Her husband was non-Native and she was ousted from the band. She had a difficult time with that. She lived 37 feet from where she was born and raised on the reserve, but she didn't belong. From her house, she could see the sign for the reserve, but she was no longer a member."
It took Bernard 47 years to be reinstated, her membership being accepted just one year before her death. She had even planned to run for Millbrook First Nation chief in the upcoming election, slated for February 28.
"Now that she can't, I'm going to run in her place," Natalie announced. "`Voice of Justice' is my campaign slogan. I'll take up where my mom left off ­ trying to bring justice for the wrongs against people who can't (advocate) for themselves."
Described by close friends as someone with "many pokers in the fire" who "never gave up" Natalie speaks of a certain characteristic that endeared her mother to many.
"Even though lots of people condemned her and said hurtful things to her because she spoke the truth ­ and many people don't want to hear it ­ she wasn't unpleasant back to them. She understood people who said inappropriate things when they're in conflict and under stress and they can't be held accountable. She never held grudges against anyone."
Among her many leadership roles, Bernard was a founding member of the Native Council of Nova Scotia, and the Residential School Survivors Association. As director of the survivors' group, she began meeting with fellow Shubenacadie survivors to discuss their experiences and try to reconcile the injustice they felt. Legal counsellors refused to represent her until she convinced Halifax lawyer John McKiggan to take her case. The first lawsuits over abuse were filed in 1990, but it wasn't until five years later that Bernard and her fellow survivors launched a class action suit.
"I firmly believe that if it wasn't for Nora's efforts, and other survivors like her across Canada, this national settlement never would have happened," McKiggan said in The Daily News of Halifax. He credited the determined Bernard for single-handedly making the settlement happen.
"After we filed our lawsuit, a number of other students from other schools filed similar class actions. Those class actions eventually merged into one national class action suit."
Bernard received part of her residential school compensation in November 2007, though police do not believe her murder was connected to the money. She was able to use some of it to pay expenses like phone bills resulting from fellow survivors who called her long distance for advice.
"Nora lived humbly in her little house ­ she just wanted something that was livable," Maloney said. "A councilor had put in for a house for her on the reserve and she was looking forward to that. Things were looking up for her and then she was taken away from us."
Sixty-one years after leaving residential school, Bernard succeeded in helping an entire nation of residential school survivors exact a measure of justice.
Righteousness in the lives of others is what she fought for, only to have an act of injustice take her own.
Norval Morrisseau - Footprints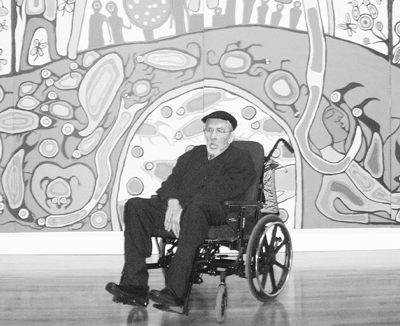 Norval Morrisseau: Copper Thunderbird worked to instill pride in his people
Deceased: Dec. 4, 2007
By Cheryl Petten
Norval Morrisseau has been known by many names. Some have called him the father or grandfather of Native Canadian art. Others dubbed him the Picasso of the North. He was also known as Miskwaabik Animiiki, or Copper Thunderbird, the name he was given when he was 19 and gravely ill and which he credited with saving his life.
Morrisseau was born on March 14, 1932 in Fort William, now part of Thunder Bay, Ont. He was the eldest boy in the family and, as such, was raised by his grandparents according to Anishnaabe tradition. He grew up on Sandy Point reserve, where his grandmother introduced him to Catholicism, while his grandfather shared with him the stories he'd learned from his grandfather before him—stories of Anishnaabe myths and legends. The teachings of both grandparents had a huge impact on Morrisseau, and would be reflected in the works of art he produced throughout his lifetime.
Morrisseau's time of learning from his grandparents was cut short when he was sent away to a Catholic boarding school, where he endured abuse-physical, sexual and emotional. After two years he returned home and spent another two years attending a school in the community before his formal education came to an end.
Although he was no longer attending school, Morrisseau was eager to continue his learning, but now his teachers would be his grandfather and the other Elders in the community. The young boy had aspirations of one day becoming a shaman, and as such was eager to gather any and all wisdom they chose to impart.
When he wasn't spending time with the Elders, Morrisseau liked to draw, putting to use his talents as a natural born artist. Later in life, he would find a way to merge these two identities— shaman and artist—into one.
Morrisseau drew inspiration for his paintings from many sources—from the ancient pictographs he saw painted on rocks near his home community, from Midewiwin scrolls such as the ones he'd watched his grandfather create, and from his grandfather's stories.
Other inspiration, Morrisseau would tell people, came from the House of Invention, a place he would travel to in his dreams, another realm where all the works he had yet to create would be laid out before him.
When he began to paint images inspired by Anishnaabe myths and legends, many in the Aboriginal community, most notably the Elders, were not pleased that he was creating these paintings and sharing them with the world. Even Morrisseau had doubts as to whether he was crossing a line with the subject matter of his artworks, but his fears were eased by a dream he had in which the Great Spirit told him to continue his work.
The art he created was so innovative and unique that it spawned an entirely new style of Native art—the Woodland, or Anishnaabe, school of art, which features X-ray-like images of people, animals and spiritual beings, rendered in bright colours, with thick, black lines outlining and connecting each figure.
Morrisseau credited a visit to the House of Invention—and his tours of art galleries in Europe, where he found the works of the great masters to be dark and colourless—with inspiring him to introduce the bright colours so prominent in much of his work. Over the years, many people have told Morrisseau his paintings have healed them, and he linked those restorative powers to the colours in the paintings and the emotions they invoke.
Although he'd been an artist all of his life, it was in 1959 when Morrisseau decided to make art his career.
His first major success came in 1962, when he had his first showing in Toronto. Five years later, his work was introduced to an international audience when two of his murals were featured at the Indian pavilion at Expo '67 in Montreal.
In 1973, Morrisseau joined together with six other First Nation artists—Daphne Odjig, Jackson Beardy, Alex Janvier, Eddy Cobiness, Carl Ray and Joe Sanchez—to form Professional National Indian Artists Inc., a group that soon became known as the Indian Group of Seven.
Over the years, Morrisseau has accumulated a long list of honours and accomplishments. In 1978, he was appointed a member of the Order of Canada, and in1986, he was named a Grand Shaman of the Ojibwa people. In 1989, he was the only Canadian artist invited to show his works as part of an exhibit held at the Centre Georges Pompidou in Paris to mark the bicentennial of the French Revolution, and in 1995, the Assembly of First Nations honoured Morrisseau by awarding him with an eagle feather. In 2005, he was elected a member of the Royal Society of Canada's Academy of Arts. And in 2006, Morrisseau became the first First Nation artist to be featured in a solo exhibition at the National Gallery of Canada. That exhibition, Norval Morrisseau-Shaman Artist, ran at the gallery for three months before travelling to the Thunder Bay Art Gallery, then the McMichael Canadian Art Collection in Kleinburg before heading to the National Museum of the American Indian in New York City, where it wrapped up a four month stay at the beginning of January, 2008.
The latest addition to the list of Morrisseau's many accomplishments is a 2007 Lifetime Achievement Award from the National Aboriginal Achievement Foundation.
While Morrisseau's career and life contained numerous high points, they were countered by an equal number of lows, at times when his drinking got the better of him.
For a time in the late 1980s, Morrisseau was living on the street, and selling his paintings. It was then that he met Gabor Vadas, a young man who was also living on the street and who had just lost his father. The two formed a bond, and with help from Vadas, Morrisseau left the alcohol and drugs behind and once again channeled his energy and creativity into his art. He created a number of pieces during this time, some of which have been called his greatest works. But this creative period was not to last for long. Within a decade, Morrisseau developed Parkinson's disease, and as his condition worsened, it robbed him of his ability to continue painting. He died of complications of Parkinson's on Dec. 4.
Morrisseau's career as an artist spanned nearly half a century. During that time his work served to inspire a number of Aboriginal artists. But more than that, it inspired Aboriginal people in general, who felt pride in seeing an Aboriginal artist viewed as one of the greatest painters Canada has ever produced. At the end of the day, that is all Morrisseau had hoped for.
"I wanted to be a Shaman ans an artist. I wanted to give the world these images because I felt this could bring back the pride of the Ojibwa, which was once great," Morrisseau says in the book Norval Morrisseau-Return to the House of Invention. "My aim is to reassemble the pieces of a once-proud culture, and to show the dignity and bravery of my people."
Olive Dickason - Footprints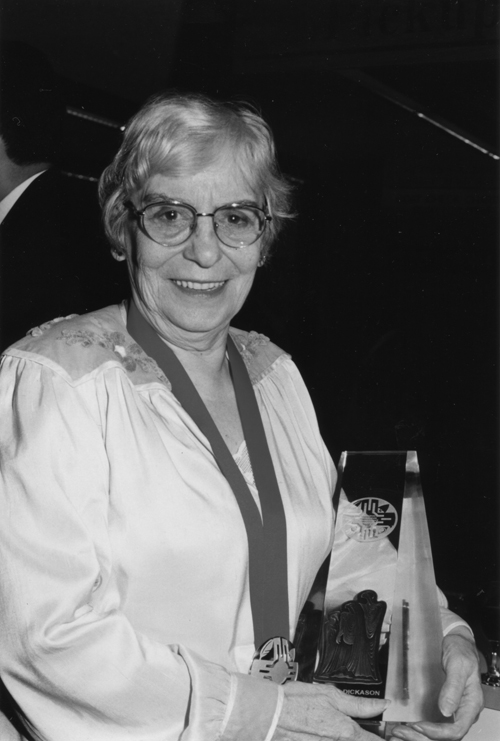 Author and historian sought to setthe record straight on Aboriginal peoples
By Bob Beal and Rod Macleod
Deceased: March 12, 2011

Olive Dickason lived a quintessentially Canadian life, a Métis who was an advocate for women's rights, First Nations and Métis rights, and seniors' rights. She was more than an advocate; she was at the forefront of the struggles. She was an inspired and inspirational teacher and mentor who changed Canadian history.
Olive Patricia Dickason (née Williamson), who died on March 12, 2011 at the age of 91, was born in Winnipeg in 1920, daughter of a Métis mother and English father. During the Depression, the family moved to Manitoba's Interlake region where Olive and her sister learned to live by fishing, trapping, hunting and gathering.
"I very soon learned that survival depended upon assessing each situation as it arose, which calls for common sense and realism," Olive once recalled. "You neither give up nor play games."
She learned something else in the bush: the joy and value of education. One of her few neighbors was a Scottish 'remittance man,' a classical scholar who loaned Olive books by the great philosophers, and the London Times.
"Though I only had Grade 10 education, I could discuss the Greek philosophers, what Marx thought on certain subjects. I was just extremely well informed," she said.
When the Second World War broke out, Olive moved south. Her life changed when she met the legendary priest Athol Murray, "the most spiritual man I have ever known. Ever encountered," Olive would say. Murray had founded Notre Dame College (and its famous hockey team) at Wilcox, Saskatchewan, and he took Olive under his wing.
"He gave me my life," she said. "I just wouldn't have stood a chance otherwise." She graduated from Notre Dame in 1943 with a degree in philosophy and French.
Olive then began a long career in journalism at the Regina Leader-Post. It was while she was a Leader-Post reporter that she became truly aware of her Métis roots and became interested in First Nations issues. She moved to the Winnipeg Free Press, then to the Montreal Gazette, before becoming Women's Editor at the Toronto Globe and Mail. In the process, she had married and divorced, struggling to raise three daughters as a single parent in the hectic and male-dominated world of newspaper journalism.
She left journalism in 1967 to become chief of Information Services at the National Gallery of Canada. There, she began her first book-length work, Indian Arts in Canada.
At the age of 50 in 1970, she shifted gears again, going back to school with the specific intent to get Canada's history right, beginning at the beginning with the First Nations. As she later wrote: "Canada, it used to be said by non-Indians with more or less conviction, is a country of much geography and little history. The ethnocentricity of that position at first puzzled, and even confused, Amerindians, but it has lately begun to anger them. How could such a thing be said, much less believed, when their people have been living here for thousands of years? As they see it, Canada has fifty-five founding nations rather than just the two that have been officially acknowledged."
She completed an MA and a PhD in history at the University of Ottawa, studying the early contacts between the French and North American First Nations. Those studies resulted in a groundbreaking book, The Myth of the Savage.
Olive Dickason's second career as an academic historian lasted a shorter time than her newspaper career, but it had a much greater impact. At 56 years old in 1976, she took up an appointment as an assistant professor at the University of Alberta. It was from that base she created her best-known work, Canada's First Nations.
Olive may not have realized when she signed on that the University of Alberta, like most other Canadian universities at the time, had a firm policy of compulsory retirement at 65. But she was certainly conscious that her time to publish the kind of history she wanted to write was very limited. The remarkable thing about this stage of her life was that in the space of about a dozen years she completely changed the academic and, ultimately, the popular perception of the history of Canada's First Nations.
Until the 1970s, the original inhabitants of North America occupied a well-defined place in Canadian (and American) historiography. They could not be ignored completely, but after playing their parts as traders with Europeans or, more often, as opponents, they disappeared from the record. Historians wrote about First Nations as if they were an unchanging part of the natural environment. At best they were portrayed as reacting helplessly to the inevitable advance of European civilization.
Olive's Myth of the Savage explored how early Europeans in North America categorized and ultimately marginalized First Nations, regardless of how sophisticated their economic and political systems were.
A much more ambitious project was writing a general history of the Aboriginal peoples of Canada. That became Olive's enormously influential, Canada's First Nations: A History of Founding Peoples from Earliest Times, first published in 1992. That book gave Canada's First Nations their voice for the first time. They appear in its pages not merely as victims, but as autonomous historical actors struggling, as we all do, to come to terms with a changing world.
When Olive was well into the research and writing of Canada's First Nations, she was approaching her 65th birthday. That meant her professorship at the University of Alberta would have to end. She did not want to go. The University of Alberta was a congenial place to work. History colleagues such as John Foster were doing complementary work in the emerging area of ethnohistory. The university had a very strong Anthropology department where she formed stimulating friendships.
Characteristically, Olive confronted the problem in the most direct way. She challenged the university's compulsory retirement policy in the courts. At the lower levels, her effort was successful, but the university won at the Supreme Court of Canada. The university administration thought they would lose there, too, and had made budget provisions for the extra costs involved in paying professors who wanted to stay on past 65. A number of temporary appointments were found that allowed Olive to stay on until 1992.
She moved back to Ottawa and renewed her relationship with the University of Ottawa. She continued researching and writing, and travelling to promote the history of the Aboriginal peoples. Declining health merely slowed her down. It could not stop her. She faced that challenge as she had faced all challenges, with determination and purpose.
Olive Dickason was made a member of the Order of Canada in 1996. The next year, she received an Aboriginal Lifetime Achievement Award, an honour of which she was particularly proud. She is the subject of an excellent documentary by Villagers Media, Olive Dickason's First Nations, parts of which are on YouTube.
She is memorialized with the University of Calgary's annual Dr. Olive Dickason Award, "which honors the accomplishments of an Aboriginal student who has overcome adversity and life challenges to succeed."
Bob Beal is an independent consulting historian who specializes in the history of North American Indian Treaties and lives in St. Paul, Alta. Rod Macleod is Emeritus Professor of History and University Historian at the University of Alberta. They are friends and former colleagues of Olive Dickason.
Rita Joe - Footprints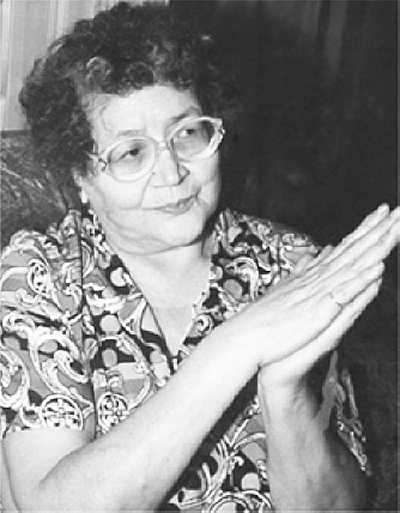 Rita Joe: Poet shared her stories of love and survival
Deceased: March 20, 2007
By Heather Andrews Miller
For decades, Rita Joe used her talents to advocate for love and understanding between peoples. That wonderful voice has now been stilled. Joe passed away on March 20 in a Cape Breton hospital following a long battle with Parkinson's disease.
Joe overcame a tumultuous childhood, poverty, life in foster homes, prejudice, and years of attendance in residential school, and turned her experiences into a lifelong spiritual quest that would influence thousands who heard her gentle, loving, positive words.
Joe was born in 1932 in Whycocomagh, Cape Breton, to Joseph and Annie Bernard. She was the sixth child born to the couple, and her memories of her early years included love and fellowship in a community where all the neighbours were poor but did all they could to help each other. Memories of her preschool years were happy, although she missed her older brothers who were attending residential school at Shubenacadie.
But Joe's childhood happiness would not last. Her mother died in childbirth when Joe was five. Joe was placed in a series of foster homes, some for as little as two weeks, others for a few months. Often these homes were poorer than her own, and the hungry little girl would cry herself to sleep on a mattress on the floor.
When she was nine, she returned home to live with her beloved father, sister Annabel, and brothers Soln, Roddy and Matt. But the family had been reunited for only a year when her father died of pneumonia and she once again found herself in a foster home. Soon after she was taken to the residential school, a move she welcomed after years of uncertainty in foster care.
At the school she was befriended by kindly nuns who taught her to knit, sew, cook and bake, skills she enjoyed. In class, she eagerly finished her work so she could spend time in the library. But not all nuns treated her with kindness, and she found the fierce regimentation difficult. Not being allowed to speak her Native tongue was another hardship for the young girl. The school became a place of sadness and loneliness for the children who lived there, and when she completed Grade 8 and then left the school to go to work in Halifax, she harboured many heartbreaking memories.
The work was hard but Joe enjoyed the freedom of being independent. She made new friends and began to date, but she'd grown up with little opportunity to learn about life and love from her parents, and naively believed the boys she dated when they told her they loved her. She soon found herself pregnant.
She experienced prejudice and harassment on the streets of Halifax, a Native in a non-Native world, and became conscious of her lack of education and the restrictions for advancement that it represented. The next few years were not happy ones as she searched for a better job, a circle of caring friends, and some sort of stability. Soon she moved to Boston where her brother lived, but found the same barriers she had experienced in Halifax.
It was at this time that she met the man she would marry, Frank Joe. He was from Eskasoni, a community near her own home reserve. Living in Eskasoni she once again was surrounded by loving people, although life with Frank could be difficult and there was never enough money.
By the time Joe was in her 30s, she was worn out by years of deprivation, hard work and frequent pregnancies. After the birth of her daughter Anne, Joe's doctor warned her about the dangers to her health further pregnancies would pose and told her she must have a hysterectomy. Remembering her own mother's premature death and not wanting to put her children through the same experience, she consented. After the surgery her health improved and her family life stabilized.
Looking through the work her children would bring home from school, Joe saw inaccurate history and negative stereotyping of Aboriginal people. Anxious to leave a record of the true accounts, she began to write. Always an avid reader, the words came easily, and she found the experience to be both therapeutic and enjoyable. Her first poem recognized Eskasoni, featuring its setting among mountains, trees and the rising tide, and the people who lived there. She submitted the poem to a Mi'kmaq newspaper. When it appeared in print, she was hooked.
Soon she was writing a regular column of traditional stories. She interviewed many Elders and retold their tales and relayed information about natural medicines and treatments.
In 1978 her first book, Poems of Rita Joe, was published. She was invited to address school audiences, and as her work became more well known, the demand for her to share her stories increased. While she told of heartbreaking stories, she always balanced the negative sentiments with positive thoughts. She scolded non-Aboriginal audiences for not listening to Aboriginal people for the past 500 years and told them now they must begin to listen so that all could live in harmony in this great land.
Joe's success in the literary world inspired her to return to school, where she completed her Grade 12, followed by a course in business education. Excited by her example, her husband also returned to school, completing bachelor of education and sociology degrees. The two became closer and their marriage thrived up until Frank's sudden death from a heart attack in 1989.
Joe's second book, Songs of Eskasoni, was published in 1988. The book took a more assertive tone, inspiring people to begin referring to Joe as the warrior poet. She threw herself into her writing, and soon a third, then a fourth, and finally a fifth poetry anthology appeared on the shelves of libraries and bookstores everywhere.
In 1996, she published her autobiography, Songs of Rita Joe, which along with a film completed in 1993, allowed Canadians a glimpse into her life. The film, entitled Song of Eskasoni, features Joe speaking in her gentle voice and telling the story of the Mi'kmaq people of Cape Breton Island. The past is gone, she said in the film, and people shouldn't dwell on it, but should instead look forward to today and to tomorrow, which are in their hands.
Today the Poet Laureate of the Mi'kmaq people lies in peace in the parish cemetery in the land she loved, but her voice lingers on in the printed word for future generations to love and appreciate. Through her words she is still sharing what is in her heart and those who listen will be all the richer.
Ross Powless - Footprints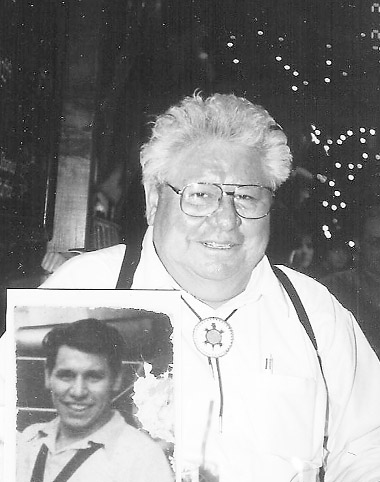 Ross Powless: Hall of famer, family man
Sam Laskaris,
Windspeaker Writer
Whenever the name Ross Powless comes up, there's a good chance a conversation about lacrosse will ensue.
He didn't start playing the lacrosse until about the age of 12, but despite his late start in the sport, Powless became rather fond of the game.
Ross Powless was a member of both the Canadian and the Ontario lacrosse halls of fame. The smaller photo is of Powless in the 1950's when he played for the Peterborough Timbermen.
He was a natural athlete and spent countless hours practising his skills. During his prime he captured a record four consecutive Mann Cups-the Canadian senior men's championships-with the Peterborough Timbermen from 1951 to 1954. He was also a two-time winner of the Tom Longboat Award, annually presented to the top Native athlete in Canada.
After his playing days, Ross turned to coaching. His resumé included a Canadian Senior B championship with the Brantford Warriors in 1968 and a Can-Am Lacrosse League title in 1969 with the Rochester Chiefs.
Another highlight included coaching six of his sons on the winning Ontario First Nations team that won a national title in 1974. A picture of that championship side had a special spot on Powless' living room wall.
But there was so much more than just lacrosse to Ross Powless, the legendary player who was a member of both the Canadian and Ontario lacrosse halls of fame, who died last month at age 76.
That's why there were three groups who deeply mourned his passing. They were family-the Powlesses, the lacrosse community, and the people of Six Nations, Ont., where he called home.
Nobody knew of the greatness that was due to Alex Ross Powless when he was born in Ohsweken back on Sept. 29, 1926. Though he was given the name Alex, it never really stuck. Ross didn't think fondly of the name and preferred to use his middle moniker instead.
Born into a large family, Powless, the seventh and youngest child of Chauncay and Jessie Powless, would go on to have a considerably large family himself.
During their 55 years of marriage, Powless and his wife Margaret raised 14 children. They also had 27 grandchildren and seven great-grandchildren.
Their world was rocked way back in 1955 when son Victor died of pneumonia at age six months. The pair's first-born son, Gaylord, who went on to become a hall of fame lacrosse player himself, died in 2001. Another son, Greg, died last year.
The Powless' 11 surviving children are Gail, Gary, Audrey, Harry, Arlene, Richard, Darryl, Karen, Tony, Jeffrey and Jacqui.
Early in life, Powless experienced the pain of losing a loved one when his mother passed away. Soon after, he was sent to a residential school in nearby Hamilton where he received his first formal education. He stayed there for five miserable years, said family members, who say he despised the experience. The children at the residential school had to do without many things, including food, and Powless yearned for his life back at home.
Upon returning to his First Nation, Powless completed his Grade 10 studies before he left home again, this time to take an apprenticeship in carpentry.
Before long, he became a carpenter. And not long after that he became a foreman for a carpentry firm. His smarts and people skills assisted in his quick ascension in the working world.
Family meant everything to Powless. He stressed to all of his children the importance of being fit and involved with various sports. He also preached about the importance of getting along with people-all types of people.
All of his sons played lacrosse. And though there was no organized league for women, some of his daughters would flirt around with a lacrosse stick and ball, showing off their talents.
Hockey, basketball and baseball were among the other sports the Powless children participated in and excelled at.
But Powless wasn't only concerned about the athletic welfare of his own offspring. He was a driving force to bring youth lacrosse and hockey leagues to Six Nations.
During the mid-1960s, he even spent a term as the president of the Six Nations hockey league. Both the lacrosse and hockey leagues continue to prosper and have produced various stars over the years.
And his memory continues to live on since the Ohsweken arena was renamed in his honor.
Powless had played an instrumental role in the construction of the arena back in 1972 as a member of the rink's building committee.
He was an avid gardener and enjoyed teaching his children their way around a garden. He was also an avid fisherman and enjoyed shooting pool and playing cards.
He loved to read-everything. Gaining knowledge on a variety of topics was like breathing to him. That's why his storytelling sessions could keep audiences, young and old, captivated for hours.
When Powless was forced to give up his carpentry career because of wonky knees from years of playing lacrosse, he turned to another career. He became a housing inspector. He continued in that job until his retirement in 1991.
Powless' community involvement included serving about a dozen years as a band administrator with the Six Nations band council. He also served on the Six Nations recreation committee.
When family members knew the end was near for Powless, they brought Margaret, who has lived the past two years in a retirement home, to see him. The words exchanged between the two-how they loved each other and how that love could never die-brought tears to the eyes of the family and friends.
Though his time on earth is up, Ross Powless and his contributions to community and sport will forever live in the hearts and minds of many.
Russell Means - Footprints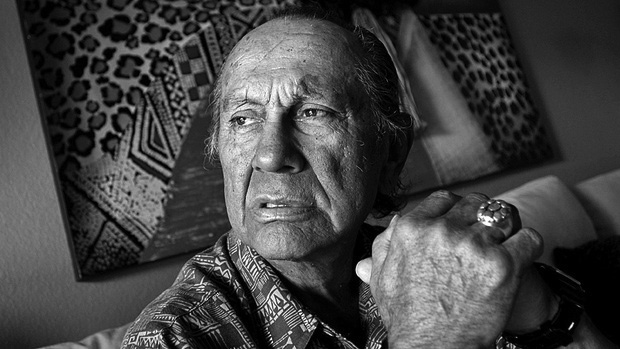 Militant AIM activist led Wounded Knee uprising
By Dianne Meili
Deceased October 21, 2012
Braving the damp cold of a late autumn rainstorm, Winnipeg's Harrison Friesen was one of many across North America who held vigil for AIM activist Russell Means after he passed away on Oct. 21.
"I was proud of everyone who came out to show respect for a great leader and warrior of our time," Friesen said in a telephone interview after the ceremony. "It was pelting rain but we kept a good fire going, and we helped send off his spirit with honour songs and dances.
"He inspires us and reminds us of who we are. I hope we can carry on with what he started."
Friesen, who leads a Native rights movement in Canada and is a trainer in non-violent, direct action activism, recalls seeing Means – best known for his early leadership of the American Indian Movement – on television during the Oka Crisis in 1991.
"Just hearing his words gave me strength. He definitely was an early influence in my life," said Friesen, who recalls Means said what needed to be said, and wasn't afraid to do so.
"I look up to all those guys – other AIM members like John Trudell and Leonard Peltier, too. In fact, when I was a youth, it was an AIM member who took me into ceremony and gave me my first eagle feather."
As the leader of AIM, Means led its 1973 armed occupation of the South Dakota town of Wounded Knee. It was the site of the 1890 massacre of some 350 Lakota in the last major conflict of the American Indian wars. In what became a 71-day siege that involved gun battles with federal officers, he and his followers demanded government recognition of historic treaties and protested corrupt tribal governance.
Means first gained national attention in 1970 when he directed protestors to seize the Mayflower II ship replica at Plymouth, Mass., on Thanksgiving Day. According to the New York Times, the confrontation between Indians and costumed "pilgrims" attracted network television coverage and made Means an overnight hero to dissident Native Americans and sympathetic whites.
Later, he organized a prayer vigil on top of Mount Rushmore in South Dakota, above the huge sculpted heads of past American presidents, to dramatize Lakota claims to their homeland in the Black Hills
With his long braids and rugged good looks, Means cultivated a militant warrior image. He, and other AIM members, presented tough exteriors; necessary due to the "dark violence of police brutality and voiceless despair of Indian people" that the movement grew out of, claimed AIM member Birgil Kills Straight in a poem he wrote in 1973.
Means and his AIM members were often violent, and became synonymous with the 1975 killing of Annie Mae Aquash.
Authorities believe three AIM members shot and killed her on the Pine Ridge Reservation on the orders of someone in AIM's leadership. They believed she was an FBI informant. Two activists – Arlo Looking Cloud and John Graham – were both eventually convicted of murder. The third has never been charged.
Means was born on the Pine Ridge reservation on Nov. 10, 1939. He was the oldest of four boys and moved with his family to the San Francisco Bay area when he was three. His father, Harold Feather Means, worked in wartime shipyards there as a welder and auto mechanic.
In public school the young Means was taunted for being Native American and earned poor grades, but managed to graduate in 1958. He enrolled in four different colleges, fought alcoholism, and worked as a printer, janitor and even a dance instructor before taking a job in 1969 with the Rosebud Sioux tribal council in South Dakota.
Months later he became the founding director of an urban Native American centre in Cleveland and met Dennis Banks, who was developing the American Indian Movement. By 1970, he was the movement's national director, and over the next decade, according to the New York Times, his deeds would make him America's best known Indian since Sitting Bull and Crazy Horse.
Aside from conflict hounding him as AIM front man, Means also fought personal legal battles. In 1976 he was acquitted in a jury trial in Rapid City, South Dakota, of abetting a barroom murder. Wanted on six warrants in two states, he was convicted of involvement in a 1974 riot during a clash between police and Aboriginal activists outside a Sioux Falls, South Dakota, courthouse. He served a year in prison, where another inmate stabbed him.
He also survived three gunshot wounds: one in the abdomen fired during a scuffle with an Indian Affairs police officer, one that grazed his forehead shot by a would-be assassin, and another to the chest fired during another attempt on his life.
In 1987, Means ran for president. He sought the Libertarian Party nomination but lost his bid. In 2002 he ran for the governorship of New Mexico, but was barred procedurally from the ballot.
Ever the showman, Means began an acting career after retiring from AIM in 1988. He played Chingachgook opposite Daniel Day Lewis in The Last of the Mohicans in 1992. Over the next 20 years he appeared in more than 30 films and television productions, including voicing Chief Powhatan in the 1995 animated film Pocahontas.
In his autobiography Where White Men Fear to Tread, Means admitted to his frailties and evils, but also acknowledged his successes. When AIM was founded there was no pride and self-dignity amongst his people, he said, but now "there is activism in virtually every American Indian community and there is Native American curriculum in schools."
Means was 72 when he died of esophageal cancer. It had spread to his tongue, lymph nodes and lungs and doctors told him in the summer of 2011 that it was inoperable. He had already resolved to shun mainstream medical treatments in favour of herbal and other traditional medicines.
He had nine children and adopted many others following Lakota tradition.
Saint Kateri Tekakwitha - Footprints
Kateri Tekakwitha
Cheryl Petten
Deceased: April 17, 1680
More than 300 years have passed since Kateri Tekakwitha lived her brief life, but even today people across North America look to her for strength and guidance.
Kateri was born in 1656 in Ossernenon, a Mohawk village located near present day Auriesville, New York. Her father was a Mohawk chief; her mother an Algonquin woman who had been captured by the Mohawk. While her father hadn't converted to Christianity, her mother had, and she taught her daughter to pray in the Christian way.
When Kateri was only four, the community was ravaged by smallpox and she was the only member of her family to survive. But while the disease didn't claim her life, it did take its toll on the young girl. She was left weakened and was covered in scars. The disease had also affected her eyesight, and she was given the name Tekakwitha, which means "she who stumbles into things." She was adopted by her father's brother, who assumed the role of chief.
Kateri was born at a time and place where living as a Christian was difficult. Many Mohawks distrusted the Jesuit missionaries who came among them, blaming them for bringing the sickness that spread through their communities. Mohawk opposition to Christianity was strengthened by politics. This new religion found support among the Hurons, who were bitter enemies of the Mohawks and the missionaries working to bring their religion to the region, the French Jesuits.
The Mohawk had aligned themselves with the English and Dutch. A number of missionaries had been killed by the Mohawks at Ossernenon, the last in 1646, just 10 years before Kateri was born.
Following the smallpox epidemic that claimed so many lives, Kateri and her people abandoned Ossernenon and settled across the Mohawk River at Caughnawaga, near present day Fonda, New York. Despite the physical toll smallpox had taken on her, Kateri was a hard worker and her adoptive parents had high hopes for finding her a good husband who could support them in their old age. Kateri, however, had other plans, and showed no interest in marriage.
When French missionaries visited the village, Kateri's uncle was their reluctant host. It was during that visit that Kateri chose the path she would follow. Soon after the visit, Jesuit missionary Father Jacques de Lamberville arrived to set up a permanent mission and, although her uncle had forbidden her to speak to the missionaries, an opportunity soon presented itself and Kateri told de Lamberville of her desire to be a Christian. Kateri converted to Christianity in 1676 and was baptized on Easter Sunday. She was given the Christian name Katherine.
Kateri's devotion to her religion was astounding, even to the missionaries she turned to for teaching and guidance in her new faith. She spent as much time as she could in the chapel, spending almost the entire day there on Sundays and holy days.
The fact that she so openly embraced Christianity did not sit well with Kateri's family or other members of the community. People would throw rocks at her as she made her way to chapel, calling her "the Christian." And because she refused to do any work on Sundays, keeping the Sabbath holy according to Christian practices, on that day her aunts would give her no food.
A story often told about young Kateri demonstrates her unfoundering commitment to her beliefs. One day, while Kateri was alone in the longhouse, a young man from the community, angry with her because of her beliefs, burst in and threatened to kill her if she did not renounce her religion. As he stood over her, war club in hand, she calmly told him he could take her life, but not her faith. Then she lowered her head and waited for the blow. Her calm and conviction shook the would-be attacker and he fled without harming the girl.
The following year, in an attempt to escape the persecution inflicted upon her because of her beliefs, Kateri fled her village, traveling 200 miles through the wilderness to find refuge in the St. Francis Xavier mission in another community named Caughnawaga-present-day Kahnawake, Que-populated by Mohawk people who were much more accepting of the religion brought by the Jesuit missionaries. That Christmas, Kateri made her first communion.
Kateri spent much of her time caring for the sick and elderly among her people, and those around her were touched and inspired by her goodness and devotion. But Kateri herself felt the need to do penance for her weakness and her sins, and this penance was often painful for the young girl. Not allowing herself even simple comforts, she would mix ashes into her food, and once slept on a bed covered in thorns. At one point she branded herself with hot coals, offering up her suffering to God.
In 1679, she visited a convent in nearby Ville-Marie (now Montreal) and was so impressed with the way the nuns lived their lives that on her return to Caughnawaga she asked to set up her own convent. Her request was refused, but still she chose to take the vow of chastity, which she did on March 25, becoming the first Native American woman to do so.
Then, in the winter of 1679, Kateri's always precarious health began to worsen, a decline that was no doubt hastened by the extreme penances she put herself through. She began suffering from headaches and stomach pains, and her strength dwindled. For months she was unable to move from her bed. And then, on April 17, 1680, she received communion for the last time, whispered to those around her that she would remember them in heaven, professed her love to Jesus and the Virgin Mary, and slipped away.
It is said that 15 minutes after her death, the smallpox scars that had marked Kateri for most of her life disappeared completely, replaced by a radiant beauty. Those who witnessed this event believed it was a sign that she was truly special, and felt the transformation occurred at the moment Kateri saw God.
Many people reported seeing visions of Kateri appear to them after her death, and in the years following, many miracles were attributed to her, with gravely ill people being cured by touching the cross she had held on her deathbed or when given powder that had come from her tomb. Even today, people have claimed miraculous recoveries after praying to Kateri.
Kateri was venerated by Pope Pius XII in 1943; and in 1980, in front of hundreds of Native Americans who traveled to Rome to witness the event, she was beatified by Pope John Paul II, the first Native American to be declared Blessed. In order for her to be canonized and declared a saint, another miracle attributed to Kateri must first be proved.
There are shrines to Blessed Kateri in the Mohawk Valley-the national Shrine of the North American Martyrs, the national Kateri Shrine on the American side of the border and the Blessed Kateri Tekakwitha shrine in Kahnawake, where Kateri's tomb can be found. Her name also graces a number of schools on both sides of the border, and her name has been adopted by the Tekakwitha Conference, an American-based organization dedicated to unifying Native American Catholics and helping them to find a balance between Catholicism and Native spirituality.
The Blessed Kateri Tekakwitha, Lily of the Mohawks, is the patron of the environment, people in exile, people ridiculed for their religious beliefs, orphans, and of World Youth Day. In Canada, the Feast of Blessed Kateri Tekakwitha is celebrated on April 17, the anniversary of her death. In the United States, it is commemorated on July 14.
Shanawdithit - Footprints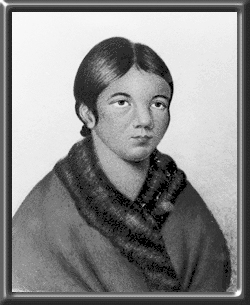 Shanawdithit: The last of the Beothuk people
Deceased: June 6, 1829
Very little is known about the Beothuk, the Native people who once lived in what is now the province of Newfoundland.
When European explorers, and then fishermen, traders and settlers, came to the island, the Beothuk people avoided contact with them believing they were bad spirits; that making peace with them would keep the Beothuk out of the country of the good spirit after they died.
From the first European incursions in the 1500s on, relations between the Beothuk and the European newcomers were strained. By the early 1600s, a trading relationship was formed, but the Beothuk still kept their distance, leaving furs for the traders and watching from a distance as their pelts were removed and goods left in their place.
The animosity the Beothuk felt toward the newcomers increased as European settlements sprang up along the coast. In order to avoid contact with these strangers, the Beothuk abandoned their traditional summer campsites and moved inland where food was scarce.
By the mid-1600s, relations between the Beothuk and the European settlers were openly hostile. Many Beothuk died at the hands of the Europeans, and the Beothuk responded in kind, although reports show the number of Beothuk killed by Europeans eclipsed the number of victims claimed by the Beothuk.
Historic accounts tell of a number of cases where Beothuk people were slaughtered en masse for no apparent reason other than the "Red Indians"-so named for their practice of covering their bodies with a mixture of red ochre and oil-were seen as a threat. Some reports even refer to the Beothuk being killed solely for sport.
A number of the European people who had settled in Newfoundland urged the government to take steps to protect the Beothuk, but no action was taken. Then that attitude changed.
Between 1768 and 1823, the colonists took captive a number of Beothuk. The idea was to befriend them, win them over, and then send them back to their people to make a case for developing a peaceful relationship with the settlers.
These attempts to build bridges between the two peoples, of course, failed. The European captors killed any Beothuk that got in the way of the kidnappings, and none of the captives were ever returned to their people.
The last of the Beothuk women captured was Shanawdithit, who came to live in the white world when she and her mother and sister were captured after leaving the interior of the island in search of food.
The women were all sick and starving to death. Within months, Shanawdithit's mother and sister had died from pulmonary tuberculosis. Shanawdithit survived and was taken into the home of John Peyton Jr. on Exploits Island where she was given the English name Nancy April and served as a member of the household staff. Historic references to the young Beothuk woman describe her as tall and attractive, with long black hair and perfect white teeth. She was intelligent and lively, with a good sense of humor, and the Peyton children loved her. Although she worked as part of the household staff, she apparently could-and did-do as she pleased, and often mocked the lady of the house whenever she spoke roughly to the servants.
Though generally in good spirits, Shanawdithit would occasionally grow quiet and disappear into the woods for days at a time to speak with the spirits of her mother and sister. She would be happier on her return, speaking of how her family was with her still.
Shanawdithit proved to be a gifted artist. She created patterns and designs by biting birchbark, and carved beautiful combs out of caribou horns. But it was her exceptional talent for drawing that would help her communicate with her English captors.
In September 1828, she went to live with William Epps Cormack in St. John's. Cormack was the founder of the Boeothick Institution, which he created to try to open lines of communications with the Beothuk people. Cormack had just completed a trek into the island's interior in search of the remaiing Beothuk people, without success. But once Shanawdithit came into his home, he set out to learn as much as he could from the young woman.
Much of what we know today of the Beothuk came from Shanawdithit. A list of Beothuk words was created from the information obtained from Shanawdithit, as well as from Desmasduit, Shanawdithit's aunt, who had been captured in 1819, and from Oubee, a little girl captured in 1791.
In addition to information about the Beothuk language, Shanawdithit provided Cormack with information about her people by drawing pictures illustrating the Beothuk way of life. She also drew pictures that demonstrated the demise of her people through loss of traditional territory, violence at the hands of the Europeans, and the introduction of deadly diseases, such as tuberculosis.
The Beothuks, whose numbers were estimated at about 300 in the mid-1700s, had seen their population dwindle to about 72 members by 1811, and by the spring of 1823, when Shanawdithit was captured, only a dozen or so of her people were left.
As she told her stories to Cormack, her eyes would fill with tears. With the European settlements cutting off the Beothuk from access to the coast and their traditional foods of seal, walrus, whale and seabirds, and their numbers too few to hunt, Shanawdithit had little confidence that her people would survive. At the same time, she did not want to rejoin them, thinking that she would be killed on her return because of her contact with white people, sacrificed to the spirits of those killed by the European settlers.
So Shanawdithit lived in the Cormack household until January 1829 when Cormack left Newfoundland. She then moved to the home of James Simms, the attorney general, but her stay there was a short one.
Shanawdithit had contracted pulmonary tuberculosis years before, and her health had never been good. When she died from the disease on June 6, 1829, the Beothuk people ceased to exist. An entire nation of people that had ppulated Newfoundland for thousands of years became extinct.
After Shanawdithit's death, when a post-mortem examination showed that her skull had certain unique features, it was sent to the Royal College of Physicians in London, England for study, and later was sent to the Royal College of Surgeons in London where it was destroyed by the bombings during the Second World War.
The rest of Shanawdithit's body is believed to have been buried in St. John's. Years later, a monument in her honor was erected. In 1997, 170 years after the original Boeothick Institute was created, a new Beothuk Institute was formed to increase public awareness and understanding of the Beothuk people. As part of that mandate, the institute raised funds for the creation of a life-sized bronze sculpture of Shanawdithit, created by Newfoundland artist Gerald Squires.
The bronze image now stands in Boyd's Cove near the remains of a site of one of the largest Beothuk communities found by archeologists to date, a lasting memorial to Shanawdithit, the last of the Beothuk people.
Shannen Koostachin - Footprints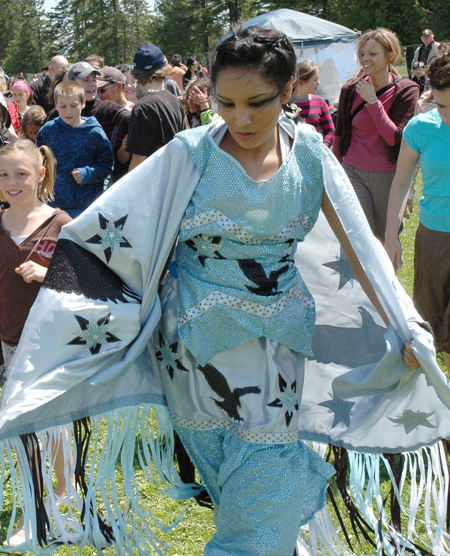 Youth leader led the fight for new school and children's rights
Shannen Koostachin threw a small pebble in a big pond that caused ripples to reverberate across the country.
But the stone had barely left her hand when, shockingly, she was killed in a motor vehicle accident on an Ontario highway.
At only 15, the Mushkego Innanu James Bay Cree from Attawapiskat
First Nation garnered national attention when she confronted federal
minister of Indian Affairs Chuck Strahl on the steps of Parliament to
demand a new school for her community. Though he had excused himself
from the meeting with her earlier, Shannen caught up with him outside
and – looking him straight in the eye – told him that even though he had
broken an earlier government promise to build a new school, she and her
community weren't going to give up.
She didn't, and the school project campaign she led resulted in the government finally agreeing to her request in December 2009.
"Chuck Strahl is six-foot-four, imposing, and one of the strongest
men in the country, politically," commented Stan Loutitt, grand chief of
the Mushkegowuk Council of tribes in northern Ontario. "But it brought
tears to my eyes when Shannen saw his oak-panelled, chandelier-lit
office and then told him, point blank, 'one day I dream that my brothers
and sisters can go to a school as nice as this'."
"I thought to myself 'would I have thought to say those exact words
to his face when I was younger?' No. I wouldn't have. She taught me
something that day about being spontaneous and from-the-heart … never
mind all the briefings and caucusing we go through.
"Shannen knew she was speaking up not only for her community, but for
lots of other Aboriginal kids across Canada who don't have equity in
education."
According to Timmins-James Bay MP Charlie Angus, "Shannen didn't want
to be an activist, but she emerged as a spirited young woman willing to
stand up and fight for her community."
He became close to Shannen when she lived with his family for a year.
The two often travelled together while visiting Ontario schools
participating in a letter-writing campaign on behalf of the Attawapiskat
school project.
Angus marvelled at how confident Shannen became with each speech she gave and how she spoke "truth to power."
"She could move journalists to tears," he said. "But then, she could
be a classic teenager in the next moment, too, sitting in my van and
telling me, no, she didn't have her homework finished or, yeah, she
would get around to cleaning up her room."
It was Shannen's older sister Serena who first became involved with
the new school project. She and many students before her attended
classes in drafty, substandard portable classrooms after the community's
original school was closed in 2000 because it occupied land
contaminated by a diesel spill.
After Selena left the community to seek further education at a secondary school, Shannen took over from her.
Videos
of her speaking of having to wear her coat in class because the school
rooms were so cold, and seeing mice scramble over the lunches students
brought from home were posted on Youtube, and, along with a Facebook
campaign, drew support from thousands of youth from across Canada.
"We are denied basic educational rights," she told the crowd at a
2008 student-led forum called Education is a Human Right held in
Toronto. The conference drew students of all cultures into the struggle
for better conditions in First Nation communities.
Shannen explained to delegates, "We have children in Attawapiskat who
have never been in a real school. It's hard to get excited about coming
to a temporary school that's unsafe and uncomfortable. Some students
are giving up as early as grades four and five. They just stop going to
school. They have no hopes."
Though Shannen would deny being a heavyweight leader, Chief Loutitt
believes her father prepared her well to play an important role in
bringing change to her community.
"She comes from a large, strong, cohesive family deeply rooted in
Cree culture and the land," he observed. "Her father Andrew has carried
on the beliefs and customs of our people and passed them on to his
children. Shannen participated in powwows and traditional ceremonies and
she was taught to believe in herself and act on what she believed in.
She was taught to never give up."
Impressed by Shannen's speech at a rally during the 2008 National
Aboriginal Day of Action, Cindy Blackstock, executive director of the
First Nations Child and Family Caring Society of Canada, saw in the
young woman a leader who could represent the rights of children across
Canada.
"Here was a young person who didn't just know the seven grandfather
teachings of love, honesty, truth, respect, courage, wisdom and
humility, she lived them," said Blackstock.
"She wanted her brothers and sisters to have it better than she did,
and she was willing to put herself out there. She put a face to the
problems in her remote community. All of us remain committed to continue
what she started, to push for equitable funding so all children can
realize their potential. We're pushing for safe and comfy schools, as
Shannon would say, for all children as a basic right."
Blackstock helped head up an application to have Shannen awarded an International Peace Prize by the Nobel Laureate.
"She was one of only 45 kids in the world to be nominated when she'd
just turned 14. She didn't win, but a day of remembrance was shared by a
group of international experts regarding the peace prize; they knew her
work well."
Aside from adult praise, Shannen's peers also recognized her as
someone special. Jocelyn Lazarus, who grew up playing with Shannen,
remembers her always smiling and acting kindly toward other kids.
"When we all heard about our school being closed down, Shannen
thought it might be possible to get a new one so she just went for it. I
thank her so much because she got what she wanted, finally. My cousin
made a new page on facebook called 'become a fan if you think the new
school should be named after Shannen'. Seriously, I think it should be
named in her memory."
Shannen died when the minivan she was riding in on May 31 south of
Tamagami, Ont. collided with a transport truck. She and the 56-year-old
driver of the vehicle were killed, while two other passengers in the
minivan sustained minor injuries. The driver of the truck was uninjured.
Blackstock expressed her hope readers would, in Shannen's honor,
write to the Prime Minister at pm@pm.gc.ca calling on him to ensure
First Nations children across Canada have safe schools and equitable
education.
"Shannen never gave up and neither should any of us," she urged.
Sophie Thomas - Footprints
Traditional healer offered help when doctors said 'no'
Dianne Meili
"You've brought me to heaven."
That's all the late Sophie Thomas could say when her daughter Minnie Thomas drove her to Tamarack Lake near Skookumchuk, B.C. years ago.
"She looked around and she saw the plants," recalled Minnie. "All the medicines she needed were growing there. It didn't take much to make her happy. She was just in her glory."
Her mother, a Carrier Elder from Saik'uz First Nation near Vanderhoof, made it her life's work to understand the relationship between humans and plants. From an early age she was shown the medicinal properties of plants dismissed by developers and mainstream society as weeds or industrial feedstock.
In her early days of healing, it was easy to find red mountain-alder and chokecherry– harvested for her cancer medicine–but as rivers around her were dammed and polluted, forests were clear-cut, and plants were sprayed with pesticides, she found herself traveling further and further to find them.
Environmental education was a natural progression. In her seminars, which she started doing in the 1960s, she impressed upon listeners where her remedies came from.
"They come from the environment. If we look after the environment, it will look after us. If we destroy it, we destroy ourselves," she always said. For example, "red alder is a little tree often destroyed in land clearing and it never grows back. And there is hardly any chokecherry around anymore."
She felt the effect of the Kenney Dam, built in the 1950's on the Nechako River, perhaps more than anyone.
"They waste our forest when they make a dam. They feed the river not enough and it goes dry. They feed it too much and the fish and duck eggs wash away," she said in a newspaper article.
In 1989, at a Seattle seminar, Sophie met Terry Jacks, a former singer best known for his 1970s pop song Seasons in the Sun. He had turned filmmaker and was so struck by her intimate knowledge of the land that he featured her in a 30-second commercial for 1993's Year of the Indigenous People.
That spot became the introduction for the half-hour documentary by Jacks in 2000 called The Warmth of Love – the Four Seasons of Sophie Thomas. The camera follows Sophie through a year as she harvests plants, taps balsam tree sap, cuts the edible inner bark from a Jack pine that can save a lost hunter's life, and boils up raspberry branches on her stove for medicine.
"My mom was teaching herbal medicine at a time when no one was talking about it," said Minnie. "She was probably one of the only ladies in the interior of B.C. to share like that. Our own people forgot most of the medicines, after residential school, and she awakened what they knew."
Since 2002, snippets of Sophie's history and medicinal knowledge have been available on her Web site. There, visitors can also order The Warmth of Love video, a book called Plants and Medicines of Sophie Thomas and read testimonials from people who have been cured by her.
"My sister had cancer 24 years ago," said David Luggi, Carrier Sekani tribal chief. "She was pregnant. Doctors told her she would have to have radiation and that meant terminating her pregnancy. She went to be treated by Sophie and, 25 years later, I have a healthy and happy nephew."
A former patient who was cured by Sophie of blood cancer "made a trip to my mother's funeral," said Minnie. "He came to our house back in 1968 and said 'the doctors can't do anything more for me.' She helped him. There were more than a thousand people at the church. Lots of them were cured by mom."
Sophie's knowledge was vast. Minnie said most healers know one medicine and the best of them might have four.
"But mom – she had more than 10. She seemed to know when someone needed one of them. Lots of times she would have it boiling in a pot on the stove and someone would knock on our door. Sure enough, they needed it."
A diminutive woman, Sophie was orphaned when she was only one year old. Raised by a blind grandmother, she was chosen out of 15 brothers and sisters to receive medicine knowledge, walking the seemingly barren land to find the plants needed for powerful and effective remedies.
Always taught that the medicines are a gift given freely from nature, Sophie didn't charge for her services, nor did she take credit for her success.
"The Creator does the healing. I am only a servant," she maintained.
She fasted and prayed before she went picking plants, and marked her face with charcoal as a sign of respect.
"Traditionally, a child is chosen before puberty to become a medicine person," explained Minnie, adding she, herself, was sent away by her mother to a teacher to learn about medicine when she was very young.
"I was mad at her and it was only when I became older that I understood why she sent me away." Now Minnie follows in her mother's footsteps, traveling to workshops and receiving people for healing.
Sophie married Morris Thomas and together they had 15 children, through the years traditionally adopting an additional 15 more from their community. Always active, she helped found Carrier Sekani Tribal Council, Carrier Sekani Family Services, and the Yinka Dene Language Institute.
Until her death on March 17, 2010, Sophie lived in a small house hardly big enough to house the many gifts she received for healing. She never kept them anyway, said Minnie, explaining her mom didn't need much to live on this earth.
"She was happy to help people. If you gave her something, she would give it away, especially at potlatches."
This May Sophie was to have received an honorary doctorate from the University of Northern British Columbia to recognize her work as a knowledge keeper and medicine woman.
Tom Eagle - Footprints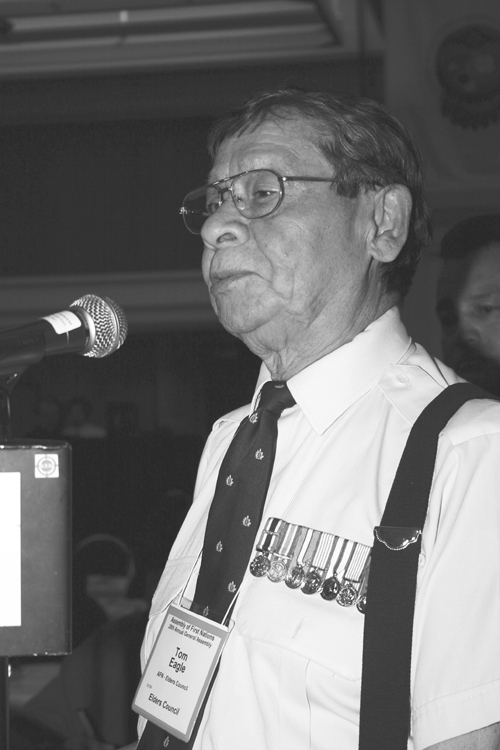 Even the Queen listened to Tom Eagle
By Dianne Meili
When the late veteran Tom Eagle spoke, people listened.
Even Queen Elizabeth II.
As the story goes, Eagle was preparing to travel to Europe in 2005 for memorial services to honor Canadian soldiers who lost their lives overseas when he noticed a glaring oversight in the itinerary.
Suspecting the proceedings would fail to acknowledge the Aboriginal effort in the Second World War, Eagle snapped into action, informing Veteran's Affairs Canada of the omission.
"There was nothing to do with Aboriginal people in the agenda," recalls Muriel, Eagle's wife of 54 years. "So he said 'I want to see something or else I will personally get up on stage and speak my language.'
"Two days later he got a new agenda... even (Queen Elizabeth) said something about Aboriginal people in her speech."
Close friend and former Assembly of First Nations Chief Phil Fontaine said such persuasive tenacity was Eagle's trademark, and he worked long and hard to have Aboriginal veterans recognized, resulting in a number of developments.
"He just never gave up when he took up a position on something. He took every opportunity to remind us about Aboriginal veterans. And when he pushed to have Native language become a part of the televised memorial services in 2008 in Ottawa, no one thought it was possible. But Tom's idea and lobbying made it happen.
"He was right up there with the rabbis and padres saying prayers in Ojibway. He carried himself so proudly. What he did was groundbreaking," said Fontaine.
Though Eagle was a member of the Tootinaowaziibeeng (Valley River) Ojibway First Nation in Manitoba, his adopted city of Yellowknife in the Northwest Territories felt his impact when he took up residence there in later life. He headed up the Tree of Peace Friendship Centre there as executive director from 1979 to 1984, and then again from 1986 to 2002.
After he became chair of the Northwest Territories/Yukon Friendship Centre Association, he helped establish centres in Fort Smith, Fort Simpson, Hay River, Fort Providence, Rankin Inlet and Behchoko.
Before retiring from the Tree of Peace Friendship Centre in 2002, Eagle focused on bringing more attention to his fellow warriors in Yellowknife by spearheading a move to have 49th Avenue by city hall named "Veterans Memorial Drive" and constructing a veteran's monument.
Both Fontaine and Roy Erasmus, who oversaw Eagle's executive director position as a board member, commented on Eagle's booming voice and rigid discipline.
"He could appear gruff at times, but you could tell all he ever wanted was to see his Aboriginal people be treated well and with respect. He had a military background and he was very organized," Fontaine said.
"He was a guy who worked really hard to help (his) people," agreed Erasmus. "He was instrumental in getting Native friendship centres going around the North."
Of all his accomplishments, Eagle was especially proud of his military career. He joined the Canadian Army in 1951 at the age of 19, and was honorably discharged with the rank of sergeant after a 25-year career that included two tours of military duty in West Germany and service with the United Nations peacekeeping force in Cyprus.
His awards and honors include the Canadian Forces Decoration, Queen's Jubilee Medal, Citation from the Government of Canada for his contribution to community work and the Veteran's Affairs Commendation.
Before moving to Yellowknife as a sergeant with the Canadian Armed Forces, Eagle acted as Métis chief spokesperson with the Federal Housing Task Force from 1968 to 1969, and two years before that he was the chief organizer during the formation of the Manitoba Métis Federation.
He was also involved in founding the fledgling National Indian Brotherhood which would grow to become today's Assembly of First Nations. He served as president of the National Association of Friendship Centres and recently completed a three-year term on the National Seniors Advisory Council of Canada.
Muriel said her husband's travels, work, volunteerism and activism resulted in a multitude of people who called him "friend," many of whom saw him for the last time at the Assembly of First Nations national assembly in Calgary last July.
After the summer he slowed down a bit, and after a short illness, he passed away on Sept. 29.
He was working on his autobiography before he died, she said.
Eagle is survived by his daughters Bertha, Eleanor, Margaret, and sons Brian and Raymond, and two brothers and one sister. He also had 10 grandchildren and six great-grandchildren.
Tom Longboat - Footprints
Tom Longboat: Athlete continues to inspire
By Cheryl Petten
Deceased: January 9, 1949
In 1998, as one century was about to end and another begin, Maclean's magazine ran a list of the 100 most important Canadians in history, dividing them into 10 categories, with 10 names in each category. In the Stars category, reserved for the best in celebrity the country has had to offer, the number one spot went to Tom Longboat. And in the list of the top 10 Canadians in history overall, Longboat came in ninth spot, sharing the list with the likes of William Lyon Mackenzie King, Glenn Gould, Nellie McClung and K.C. Irving.
But just who was Tom Longboat, and why did Maclean's deem him to be such an important person in the history of our country?
Thomas Charles Longboat was born on the Six Nations reserve on June 4, 1887, a member of the Onondaga Nation. His Iroquois name was Cogwagee, which means Everything.
The family lived on a small farm, and everyone had to help with the plowing, harvesting and caring for the animals. When his father died when Longboat was only five, the children had to pitch in even more to help their mother.
While chores kept him busy growing up, Longboat always found time for fun, sometimes sneaking away from his work to play lacrosse. He was a good lacrosse player, partly because of his speed. That speed also came in handy when his mother would send his older brother out to find him and bring him back home, and the two would spend hours chasing each other all over the reserve and into the neighboring countryside.
In the spring of 1905, 17-year-old Tom Longboat entered his first competitive race, the annual Victoria Day five-mile race in Caledonia. He didn't win the race, coming in second, but the experience had whetted his appetite and he decided to begin training to improve his strength and endurance.
Part of his training involved running to neighboring towns, but members of his family wouldn't believe him when he told them how far and fast his travels had taken him. That was until Longboat beat his brother to Hamilton, with Longboat on foot and the brother driving a horse and buggy and getting a half-hour head start.
The training regimen paid off for Longboat when the Victoria Day race came back around. From the very beginning he took the lead and maintained it through all five miles, finishing more than 400 yards ahead of the nearest competitor.
Longboat's next race would be the Hamilton Herald Around the Bay race along a 19-mile course. When he lined up at the starting line with the 26 other competitors, no one there had ever heard of him, and he was given 100 to 1 odds at winning by those taking bets on the race's outcome. But by the time the race was over, everyone had taken note of the newcomer, who finished the route in just over one hour, 49 minutes, almost three minutes ahead of the second place finisher.
The results were the same in Longboat's next two races, the 15-mile Ward Marathon in Toronto, and a 10-mile race on Christmas Day in Hamilton.
In 1907, Longboat set his sites on an event that was, and still remains, the premiere running event of the world-the Boston Marathon. Longboat was one of seven Canadians entered in the race, with 104 runners in total competing. He won the race handily in a record time of 2.24:24, beating the previous record by five minutes.
With the Boston Marathon under his belt, Longboat's next big challenge would be the Olympic Games, to be held in London, England the following year. Leading up to the Olympics, he recorded win after win after win, beating a relay team in a five-mile race, winning the Ward Marathon again, and setting a new Canadian three-mile record of 15:09.6.
The day of the Olympic race was hot, and the runners faced a route longer than many of them had ever run before-26.2 miles-lengthened so the royal family could watch the start of the race from Windsor castle. Longboat was running in second place when, nearing the 20-mile mark he collapsed and had to leave the race. The route took a similar toll on many of the other participants, with fewer than half finishing, and many of those finishing having to be carried off in stretchers.
Following his experience in London, Longboat ran in two lackluster races back at home in Ontario, and some began to talk as if his running career was over. But it didn't take long for Longboat to convince them otherwise. He finished off the year by setting a new national record, and claiming his third consecutive Ward Marathon win, finishing eight minutes ahead of the second place runner. Then, on Dec. 15, he left his amateur career behind and turned pro.
His first professional race was against Dorando Pietri, an Italian runner who had crossed the finish line first in the Olympic marathon, but who hadn't won a medal because officials had helped him across. Pietri had already won a rematch against the Olympic gold winner John Hayes, and Longboat had been invited to challenge the winner. The race took place in New York's Madison Square Garden and, despite the fact that Longboat was unaccustomed to running on an indoor track, he won the race when, with just six laps to go, Pietri collapsed and had to be removed from the track on a stretcher. A few weeks later the two runners met in a rematch in Buffalo, and although this time Pietri left the track under his own steam, the end result was the same.
Longboat's next race would be Jan. 26 in Madison Square Garden, a match up against Alfie Shrubb, an English runner who as an amateur had dominated that country's running events. The lead up to the race became a media circus, with daily accounts of the runners' preparations for the big day.
The first half of the race belonged to Shrubb, who at one point was eight laps ahead of Longboat. Then, about 15 miles into the race, Longboat began to pick up speed. Twenty miles in, he'd reduced the lead to six laps. At the 23-mile mark, Shrubb's lead was down to two laps. Longboat made up the difference at the 24-mile mark and as he passed his competitor, Shrubb walked off the track, leaving Longboat to finish alone to earn the title professional champion of the world.
When war was declared in August 1914, Longboat joined up. He continued to run, both in competitions and exhibition matches set up for the forces, and in his role as a dispatch runner, taking messages between posts when communications were down.
When he returned home after the war, things had changed. Professional racing was no longer the draw it once had been and, although he still competed in a few races, Longboat soon had to turn his attentions to making a living through other means.
In early in 1949 he developed pneumonia and, on Jan. 9 at the age of 61, Tom Longboat died.
Longboat has been called the greatest marathon runner of all time, and one of the greatest Canadian athletes that ever lived. Now, over half a century after his death, the legacy of Tom Longboat lives on. He has been inducted into the Canadian Indian Hall of Fame and the Canadian Sports Hall of Fame. An elementary school in Toronto bears his name. His name and image grace a limited edition stamp issued by Canada Post to honor famous Canadians of the past century. And each year, the Tom Longboat Awards are given out to the top Aboriginal amateur athletes in the country, showing that almost 100 years after he ran his first race, the name of Tom Longboat continues to inspire.
Victoria Belcourt Callihoo - Footprints
Victoria Belcourt Callihoo: Métis woman painted vibrant picture of the West
Deceased: April 21, 1966
When Victoria Belcourt was born in Lac Ste. Anne on Nov. 19, 1861, the formation of Canada as a country was still almost six years away. Her home community and the territory surrounding it was under the control of the Hudson's Bay Company (HBC) and wouldn't become part of the new country of Canada until 1869, when the HBC would sell Rupert's Land to the federal government.
Victoria spent her entire life living in the Lac Ste. Anne area-a life that spanned more than a century. She was five years old when Canada was formed. She was almost 44 when Alberta became a province. She was alive when the first treaties were signed in Western Canada and was there to witness first-hand the decimation of the buffalo herds that had once been the mainstay of her people.
Victoria's father, Alexis Belcourt, was French; her mother, Nancy Rowand, was Métis. Her father supported the family by farming, hunting and trapping, and occasionally did some freighting. Her mother was a medicine woman, and shared her knowledge of healing plants with her daughter.
Victoria was 13 years old when she joined the buffalo hunt for the first time. The families going on the hunt left Lac Ste. Anne in the spring after fields had been sowed and gardens planted.
Victoria travelled with her mother during the hunt. As a medicine woman, it would be her mother's job to care for the men thrown from their horses while chasing down the buffalo.
The people from Lac Ste. Anne would set out for the hunt first, joined along the way by Métis from St. Albert. By the time they arrived at the hunting grounds, about 100 families would be assembled, Victoria said in her recollections of those days long gone.
She described the buffalo herd as a "dark solid moving mass."
"We, of those days, never could believe the buffalo would ever be killed off, for there were thousands and thousands," she recalled.
While the Cree and Blackfoot still used bows and arrows, the Métis used guns for the hunt, she said. When a buffalo was killed, the women would go and bring the meat in, while the girls worked to keep the fires going, creating smoke to keep the flies away as the meat was hung.
Before the trip home, the dried meat would be pounded into a pulp and mixed with sun-dried Saskatoon berries and grease to make pemmican, then sewn up in buffalo robes to help preserve it. Another hunt would take place in the fall.
When she was 17, Victoria married Louis Callihoo, a young Métis man who grew up in the area. Together they had 12 children, six sons and six daughters.
The Callihoos were a farming family, although they also owned and operated a sawmill for a time and later a hotel in Lac Ste. Anne. The couple spent some time living on the Michel Reserve and some time living in Lac Ste. Anne. Both husband and wife worked as teamsters for the HBC, driving freight teams between Edmonton and Athabasca Landing.
After Louis died of cancer in 1926, Victoria continued to live in the family home, with numerous family members and friends around to ensure she was never lonely or had to do without. She continued to live on her own until she was 101. She moved in with one of her daughters for a time, then spent her last days in the Youville Home in St. Albert.
In her later years, Victoria decided her wealth of memories and experiences should be preserved for future generations, and she took on the role of Métis historian. She is credited with writing a number of articles for the Alberta Historical Review, chronicling her life as a young Métis woman on the Prairies in the 1800s, as well as relaying stories of even earlier times shared with her by others.
In the Autumn 1953 edition of the Review, Victoria shared with readers her memories of what life was life in Lac Ste. Anne and St. Albert in the 1870s. She told of how spruce logs were used to build homes, with dried bark for shingles and rawhide in place of glass for the windows. Open fire-places, called mud stoves because they were made of a mixture of mud and hay, were used for cooking, with high chimneys to ensure any sparks flying out wouldn't land on the roof and catch the house on fire.
Houses, she recalled, had no tables, no chairs and no beds. People sat on the floor to eat, and slept on the floor as well, folding up the bedding each morning and putting it away in a corner.
There was no flour available, Victoria recalled, so the people would grow barley and fry up the dried grains to use as a bread substitute. Unhulled barley, blackened in a frying pan, was also used as a substitute for coffee, she explained.
When the buffalo were gone, the people turned to other animals to fill the void. They hunted moose, deer and bear and used nets woven from thread purchased from the HBC to catch fish. Moose hide replaced buffalo hide for making moccasins and clothing, but neither moose nor dear hide could replace buffalo for the making of robes.
"The hair came off too easily," she recalled.
The Métis made their clothing out of cloth purchased at the HBC store. Purchases from the HBC store were done through barter, Victoria explained. The purchases would be done on credit, and then the debt was settled when the trappers would bring in their furs. Usually the furs were worth more than the debt, and the trapper would have a credit at the store.
"As there was no money, this transaction was called 'fur.' So much fur for this, and so much fur for this other article," Victoria explained. "Later on, when the Indian commissioners came to pay treaty money (in the late 70s), money began to circulate. It seemed more confusing to deal in money when one was accustomed to barter. I have heard of some Indians trading a used $5 bill for a brand new $1 bill."
In a later installment, written in 1948 but published in 1959, Victoria shared a story told to her by her husband Louis and his father, Batiste, about the arrival of their family in Alberta about 125 years before. Callihoo, Batiste's father, had been one of the first Iroquois to come west from Quebec, a voyageur for the HBC.
She had many such memories and stories to share. She counted Father Lacombe, who came to the area and set up a mission in St. Albert the year she was born, as one of her good friends. And she recalled the location where the family used to put up their tipi; the spot is now home to the Hotel MacDonald in downtown Edmonton.
Victoria remained healthy and active for most of her long life. At the age of 74, she took part in a Red River Jig competition in Edmonton and won handily, claiming the top prize of a buffalo robe. When she turned 100 in 1962, Victoria's friends and family members threw her a birthday party and she celebrated again by doing the Red River Jig.
She died April 21, 1966 at the age of 104, leaving behind two legacies. The first was the many descendants that included, at the time of her death, 57 grandchildren, 165 great-grandchildren and eight great-great grandchildren. The second was the memories she took time to record. They paint a vibrant picture of the life lived in Western Canada all those years ago.
Walter Perry Deiter - Footprints
Walter Perry Deiter: Leader's strength lay in ability to make people believe in themselves
Deceased: Sept. 7, 1988
By Cheryl Petten
Walter Perry Deiter was born May 31, 1916 on the Peepeekisis reserve in southeastern Saskatchewan.
Although both his parents could speak their traditional languages-his father Cree and his mother Saulteaux-they did not encourage their children to do the same. But what his parents did encourage in Deiter and his siblings was a belief in their abilities, and the abilities of all Aboriginal people. That attitude was one that guided Deiter throughout his life, and became a message he worked to get out to others across the country. He spent many years working on behalf of Aboriginal people, and a large part of the success he achieved came from his ability to help people believe in themselves, and in each other. Many changes were needed to improve the lives of Aboriginal people, he knew. And he knew that by working together, Aboriginal people could work to make those changes happen for themselves. Like most Native children of his generation, Deiter attended residential school, first at File Hills and later in Brandon, Man., where he completed his studies to Grade 10. When the Second World War broke out in 1939, like many other Treaty Indians, Deiter volunteered to fight.
Provisions in the treaties meant they were exempt from conscription. He joined the Regina Regiment and completed basic training, but before he could be sent overseas he tested positive for tuberculosis. He spent close to four years at the Fort San Hospital, during which time he completed his Grade 12 and earned a certificate in business administration. He also met Inez Wuttunee from Saskatchewan's Red Pheasant reserve, who in 1951 would become his wife. The early years of their marriage proved difficult because of Deiter's problems with alcohol, but he turned things around after his wife threatened to put their children in residential school unless he stopped drinking.
He joined Alcoholics Anonymous in 1956 and remained sober for the remainder of his days. While he was from an agricultural community-the reserve he grew up on was home to the File Hills Colony, created by the federal government to encourage Native people to become farmers-his health problems kept Deiter from a career in farming. Instead he became a truck driver and eventually started his own landscaping business.
In 1958, he and Inez worked to establish the Saskatoon Friendship Centre. In 1959, the family relocated to Regina and in 1963, Deiter became the first Native person to hold the position of president of the Regina Friendship Centre, a post he continued for a number of years.
In 1964, Deiter was hired by the Saskatchewan Bureau of Alcoholism, which worked to promote sobriety on Indian reserves. The following year he joined the board of directors of the Indian and Eskimo Association of Canada and was appointed to the Regional Indian Advisory Board established by the department of Indian Affairs to provide advice to the minister on policy issues. From 1966 to 1968, Deiter served as chief of the Federation of Saskatchewan Indians (FSI), now known as the Federation of Saskatchewan Indian Nations.
Deiter's accomplishments during his time as FSI chief included successfully pressuring the federal government to provide money to the FSI to help cover the organization's operating costs. Thanks to his efforts, the FSI became the first Native organization in the country to receive government funding. With that money in place, Deiter was able to hire staff to go out into communities and organize Indian governments at the local level. He and his staff also provided assistance to help in the formation of Native organizations in neighboring provinces-the Indian Association of Alberta and the Manitoba Indian Brotherhood. Deiter believed Native leaders needed to demonstrate traditional leadership by dedicating themselves to their people and doing what was best for those they led, not for themselves.
This was the type of leader he chose to be and throughout his career he demonstrated his commitment to improving the lives of Aboriginal people through his personal sacrifices. His work often kept him from his wife and children, and when funds to run the FSI were in short supply and there was a danger that staff would not be paid, he mortgaged his home-not just on one occasion, but three times-to ensure the organization could continue on. During his time as leader of the FSI, Deiter was appointed to the board of the Canadian Council on Rural Development and to a national task force set up to review the Indian Act. He was also among a group of Native leaders who created a national organization to represent First Nations people. Those efforts resulted in the National Indian Brotherhood (NIB), the precursor to the Assembly of First Nations (AFN). The NIB was formed in 1968, with Deiter as its first national chief.
In 1969, under Deiter's leadership, the NIB began its battle against the Indian Affair's White Paper that outlined the federal government's plans for assimilation of First Nations people. The fledgling national organization rallied support from Aboriginal people across the country and successfully fought the government's plans. When he lost his bid for re-election as national chief of the NIB in 1970, Deiter returned to Saskatchewan where he worked to establish the Native Alcohol Council and began efforts to create rehabilitation centres for Aboriginal people within their own communities. He also went into business again, starting a small sand and gravel operation.
In 1973, he began working with the Metis Society of Saskatchewan, acting as a consultant for the organization in the area of Aboriginal rights. In 1977, Deiter made a return to politics when he was elected to the band council of Peepeekissis First Nation. The following year he helped to organize the National Indian Veterans Association to try to pressure the federal government to provide Native veterans with the same benefits afforded to non-Native veterans. Deiter served as the association's first president. His years of work on behalf of First Nations people were recognized that same year when he was appointed a senator of the FSI.
In his role as senator, Deiter acted as advisor as Aboriginal leaders attempted to fight to have Aboriginal rights enshrined in Canada's proposed new Constitution. In 1979, Deiter was one of five leaders chosen to make a presentation to the British parliament on the concerns of Aboriginal people in Canada. In the end, their efforts were successful, helping to ensure Aboriginal people were included in future constitutional discussions. In 1980, Deiter was named an officer of the Order of Canada in recognition for his ongoing efforts to improve the social conditions and educational opportunities for Aboriginal people. Deiter died of cancer on Sept. 7, 1988 at the age of 72.
Each year the AFN commemorates the many contributions Deiter made to Aboriginal people by giving the Walter Deiter Memorial Award to a social work student who has excelled academically and has demonstrated a commitment to extracurricular or volunteer activities. His legacy also lives on in the many organizations he helped to create, and in his enduring message to Aboriginal people: By believing in themselves and working together, there isn't anything that can't be done.
Wilma Mankiller - Footprints
Leader challenged convention to get things done
By Dianne Meili
"The Cherokee Nation will be the laughingstock of all the tribes if we elect a woman."
Wilma Mankiller distinctly recalled a male delegate standing up at a campaign meeting to warn her about the consequences of her bid to become deputy chief in 1983. Not to be discouraged, her knowledge of the strong role of Cherokee women in her people's history helped her stand up to widespread opposition.
Not only did she win the election, but after serving her four-year term as deputy principal chief, a term she considered to be her governmental summit, she went on to serve as principal chief in 1987, the first woman to hold that position. She was re-elected again in 1991.
Her once-doubtful detractors could not deny the positive change she brought to their communities and the heartfelt concern she demonstrated for their welfare.
"By the time I left office in 1995, after not seeking a fourth four-year term of office, there were fewer questions about whether or not women should be in leadership positions in the Cherokee Nation," Mankiller wrote in her autobiographical book Everyday is a Good Day.
"Cherokee people are more concerned about competency, about whether the Head Start bus shows up on time or whether they are properly diagnosed at the health clinics, than whether a woman is leading the nation. My elections were a step forward for women and a step into the Cherokee tradition of balance between men and women."
Before stepping into office, Mankiller came to national attention as a community expert with media coverage of the Bell Waterline Project in the early 1980s. Mankiller, and her second husband Charlie Soap, led 100 poverty-stricken Bell, Oklahoma residents, who were ready to abandon their community, in building a 16-mile pipeline to bring clean water into their homes.
After eight months of trenching and blasting rock, local men and women completed the waterline and their success sparked a movement of similar projects across the Cherokee nation.
Growing up poor in the 50s and 60s in Oklahoma, Mankiller saw her Cherokee people as self-reliant. She remembered how family and neighbors depended on one another for support and survival, often trading goods–eggs for milk or farm goods for store-bought goods–to get by.
After her father moved the family to California seeking a better life, she was in the thick of the civil rights and women's movements, and the massive anti-war demonstrations in San Francisco sparked her interest in social justice issues.
Native American issues consumed her after she joined a group of university students occupying Alcatraz Island in 1969 to attract attention to issues affecting their tribes.
Shortly after, she began working in pre-school and adult education programs in the Pit River Tribe of California. Chafing under her first husband Hector Hugo Olaya's paternalistic values, and realizing her own people were fighting for a better life, she returned to her ancestral lands outside of Tahlequah, Oklahoma with her two daughters in 1976. By that time she had gained knowledge of land and treaty rights, and grant-writing skills. Along with her rock-solid faith in the ability of the Cherokee people to solve their own problems, she worked hard to develop community-based programs.
"My first job with the Cherokee Nation began in October of 1977 … and people did not quite know what to make of me," wrote Mankiller in Everyday is a Good Day.
"I cheerfully worked longer hours than most anyone, and I would do whatever it took to get something done. My secretary would often find me sitting on the floor of my office trying to collate a grant proposal while my colleagues were worrying about the state of their bouffant hairdos.
Once elected as chief of the second largest tribe in the United States with a current enrolled population of more than 140,000, Mankiller fell back, once more, on traditional knowledge and spirituality for her leadership style.
During her tenure, she and Navajo Nation President Peterson Zah co-chaired a national conference between tribal leaders and cabinet members helping to establish an Office of Indian Justice within the U.S. Department of Justice.
Free-standing health clinics, an $11 million Job Corps Centre, and expanded children and youth services were also attributed to her office.
Mankiller's terms as chief were not without controversy. She established the law that limited tribal membership by excluding the Freedmen section of Cherokee Indians, ruled unconstitutional in 2006 by the Cherokee Supreme Court. Her administration was also involved in many conflicts with the United Keetoowah Band of Cherokee Indians, the other federally-recognized Cherokee tribe headquartered in Tahlequah, Oklahoma.
After her last term as chief, Mankiller took a teaching position at Dartmouth College, lecturing, and authoring several books. Her first book, Mankiller: A Chief and Her People, became a national bestseller and in 2004 she released her co-authored Every Day Is a Good Day: Reflections by Contemporary Indigenous Women.
She was awarded the Presidential Medal of Freedom by President Clinton, the highest civilian award in the U.S., and inducted into the National Women's Hall of Fame.
In 1979, she was involved in a near fatal car accident which required 17 surgeries. She had multiple other health problems including myasthenia gravis, a kidney transplant, breast cancer, and lymphoma.
In March, at age 64, she was reported to be seriously ill with pancreatic cancer and died of the disease at her home in rural Adair County, Oklahoma on April 6, 2010.
Xavier Michon - Footprints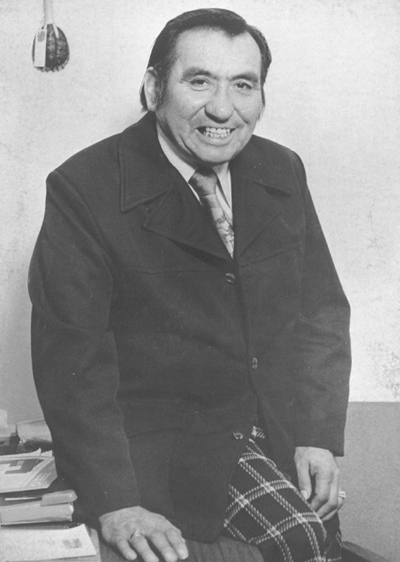 Xavier Michon: Michon remembered as grandfather of friendship centre movement
Deceased: 1987
By Heather Andrews Miller
Two decades have come and gone since Xavier Michon passed over to the spirit world, but his legacy lives on and continues to enrich the lives of Aboriginal people across the country each and every day.
Michon was born in 1920, a member of the Fort William First Nation in northern Ontario. Like many Aboriginal people of the time, he grew up in an environment of poverty and discrimination, but soon he would get a taste of what it was like to not be constantly judged based on the colour of his skin.
At the age of 20 he enlisted in the army, one of nearly 78,000 Canadian men who answered the call to arms in the summer of 1940. He found himself in action in North Africa and Italy, part of the Fifth Armoured Division, also known as the Nine Mile Snipers. He and his fellow soldiers encountered incredibly difficult conditions in life-threatening battles, including never-ending rain and treacherous mountain roads. But despite being wounded in battle, he survived and was awarded five medals of heroism.
As tough as the conditions were during the war, Michon felt good in uniform because he and the other men were equals. Dressed the same and fighting the same battles, he felt accepted and united in the common goal of gaining freedom for the world. Following the war, he returned to the job he had left and became a master baker. He married and raised two sons and a daughter.
In the early 50s, desiring a career change, he accepted a position with the Abitibi Provincial Paper mill at Port Arthur, which later became Thunder Bay, and immediately began to experience discrimination once again. He and other Aboriginal workers had only the union to protect them from being run off their jobs. As he became more and more aware of how unfairly Aboriginal people were being treated, he also became more determined to try to do something to change the situation and began volunteering his spare time to help other Aboriginal people.
It wasn't long before others began following his example and joined him in his cause. A small building was obtained and a fledgling friendship centre began to grow. Michon and the other organizers began recruiting members. At the same time, Michon joined other organizations so he could work from within the community to promote interest in and increase recognition of the friendship centre and its growing membership. He tirelessly addressed service clubs and social agencies in the area to let them know the needs of Aboriginal people and tell them how their members could be of assistance.
Not content to concentrate only on assisting the Aboriginal people of Thunder Bay, Michon began to visit nearby First Nation communities in Fort William, Red Rock, Nipigon, Pays Platte and Long Lake, to name just a few. He began a campaign to help the residents clean up their communities and take pride in their development. He brought in badly needed clothing and set up links for people moving into Thunder Bay. He inspired others with his dream of building a strong community where Aboriginal people could enjoy independence, a home for their families and jobs to support them, and where they could have a chance to enjoy a good life. By the late 1960s, he had secured enough funding to staff and equip the Thunder Bay friendship centre, and agreed to serve as its executive director.
Once the Thunder Bay centre was on solid ground, Michon turned his attention to the national stage. Since the mid-1950s, more and more Aboriginal people had been moving to the larger urban areas of Canada, seeking an improved quality of life, and friendship centres had been forming in those communities to assist the growing population. There was widespread recognition that these newly transplanted people required counselling and referrals to needed services, including housing, education, employment, and health, which the centres could provide. Like the Thunder Bay centre, the other friendship centres that were springing up across the country were dependant on funds raised through private donations, grants and fund-raising activities. Michon joined with a group of representatives from the other centres and work began to establish the National Association of Friendship Centres (NAFC), with Michon taking his turn as president in 1974. With a national body in place, the federal government began to recognize the vital role the friendship centres filled in the communities they served and modest federal funding was secured.
While Michon played a pivotal role in the early days of the friendship centre movement, he gave tirelessly of his time to many other organizations as well. He was president of the Native People of Thunder Bay Development Corporation, which is still in existence today, helping Aboriginal people in the area find housing. He gladly lent a hand at repairs and improvements, often making house calls himself to fix leaky pipes or broken furnaces, then staying to visit with the tenants, offering counselling, advice and encouragement. He also was a member of the Welfare Council of Canada, Canada Manpower's Task Force on Native People, the Ontario Government's Task Force on Natives and the Law, the Smith Clinic for Alcoholism, Family and Children's Services, and numerous others. Over the years and through his involvement in these groups, he addressed the issues affecting Aboriginal people in Canada, and was often the first person of First Nations ancestry to sit on the boards of these organizations.
While he was involved in a number of efforts aimed at improving the lives of Aboriginal people, Michon's assistance also took a more direct form. He would often personally help people by contributing his own money for groceries or to pay a fine to keep someone out of jail.
His tireless efforts and many accomplishments earned him the respect of the people of Thunder Bay, both Aboriginal and non-Aboriginal.
When he died in 1987, Michon left behind not only his loving family, but also hundreds whose lives have been touched by the friendship centres which exist throughout the country, and which continue today to provide a welcoming place to Aboriginal people across Canada.
In 2004, he was inaugurated posthumously into the senate of the NAFC. His story will headline a memorial section on NAFC's Web site honouring the founders of the movement that has resulted in friendship centres being established in 117 communities across Canada.
Today the Thunder Bay friendship centre Michon founded is known as the Indian Youth Friendship Centre. At its 25th anniversary in 1989, a portrait of Michon was unveiled. Today it hangs where it can be seen by all who come to the place he founded, a place where Aboriginal people can feel welcome, get assistance when needed, and enjoy programming and cultural activities that promote a healthy lifestyle.
The centre continues to support its many members just as Michon dreamed it would. The vision that the Grandfather of Friendship Centres had so many years ago has been realized and, thanks to the many who have been inspired by Michon's dream and his dedication, the work he began will continue on.