General Health
Community engagement one key to improving Aboriginal health
By Shayne Morrow Windspeaker Contributor OTTAWA
Dr. Carrie Bourassa, associate professor of Indigenous health studies at First Nations University of Canada (FNUniv), was one of 28 leaders invited to share their views on how to improve health at the Building on Strengths Roundtable Dialogue on Aboriginal health which took place at Rideau Hall on March 27.
One of the conclusions of the groups was that self-determination will play a huge role in improving health prospects for Canada's Aboriginal communities.
The event was organized by the National Expert Commission and the Canadian Nurses Association, and was hosted by Sharon Johnston, wife of Governor General David Johnston.
"Their goal was to bring community members and leaders from both Aboriginal and non-Aboriginal com-munities, that were in various health fields, and they wanted to talk about the social and environmental determinants of health and how that impacted the health and well-being of Aboriginal Canadians. And also, to generate some solutions that would improve Aboriginal health," Bourassa said.
Bourassa teaches Indigenous health studies at FNUniv, and serves as the nominated principal investigator for the Indigenous Peoples' Health Research Centre. One message flowing from her work is that Canada's Indigenous peoples face numerous systemic barriers within the health care system.
"Everybody around the table agreed that there is systemic racism [in the system] and that we will have to deal with it," Bourassa said. "I work a lot around 'culturally safe' care and how to provide it. When you work in the communities, you hear the same thing over and over from First Nations and Metis peoples that they are not getting quality care, and a lot of that is around those systemic barriers."
The cultural misunder-standings may be small, but cause considerable stress.
For example, when a critically ill First Nations person is in hospital, surrounded by family members, there is a tendency among non-Aboriginal hospital staff to see it as a space management problem, rather than as a sign of a caring community.
"You hear, 'How come they always have so many people in the waiting room?' They fail to understand how important it is for that family to be there," Bourassa said.
Likewise, there was agreement on the need to address the proliferation of chronic diseases, such as diabetes among Canada's Indigenous peoples. Bourassa said while the recent explosion in obesity and diabetes rates is North America-wide, the causes are compounded among First Nations, Métis and Inuit peoples.
"When you talk about chronic diseases, you have to talk about poverty," Bourassa said. "If you have diabetes, you know you have to eat better, but it comes down to having access to healthy food."
For people living in remote communities, fresh, healthy foods are often prohibitively expensive, if they are available at all. The problem isn't in knowing what you should be eating. It's being able to obtain it in the first place.
"People tell us, 'We have a convenience store. There's pop and chips and milk, and we're lucky that they do have milk,'" Bourassa said. "You can't label someone 'non-compliant in their treatment program' if they can't afford to follow it."
Bourassa said the result can be a sense of hopelessness that affects whole communities.
One of the solutions the roundtable agreed on was the need to recruit and train more Aboriginal health professionals, both physicians and nurses as well as academics to further the research necessary to implement changes in the system.
"There is a difficulty in attracting people to the health sciences and much more attention needs to be paid to it," Bourassa said. "I have found some of the barriers are a feeling [among Aboriginal students] that they can't do the math and sciences... even though they are perfectly capable of it."
Roundtable participants agreed there is a need to break down existing bureaucratic barriers between policy, health care delivery and social services, and to create an integrated system that serves individuals, families and communities at the ground level.
Bourassa believes self-determination, at the national and community level, is the key to bringing about positive change for Canada's First Nations, Metis and Inuit peoples.
"Where communities are engaged is where you see changes happen," she said, citing one of her ongoing community health studies launched in 2003.
"We didn't have any baseline health data for Metis in Saskatchewan. What we found right away was that there were high smoking rates and high rates of cardiovascular disease," Bourassa said.
Rather than lecture smokers, Bourassa and her team launched the Green Light campaign.
"We gave a green light to each smoke-free home. They loved it. That was followed up with a second phase involving peer training on smoking cessation. This is a bit of self-determination for them, and the community is fully engaged," she said. "We haven't compiled the data to see how successful the program has been, but we ran out of green light bulbs."
The National Expert Commission will now analyze the results of the roundtable to provide a report to the Canadian Nurses Association in June.
Cut the western diet and get moving
By Isha Thompson
Windspeaker Staff Writer
YELLOWKNIFE
Raising children on a traditional diet and staying away from "western" food is the answer to decreasing the alarming rate of diabetes in Aboriginal people, said nutritionist and diabetes educator Kevin White.
"It's completely the western diet," said White, who is diabetes educator for the Stanton Territorial Health Authority in the Northwest Territories.
Excessive amounts of processed foods, carbohydrates and sugar, which are very present in several of North America's favorite feasts are to blame for childhood obesity in Aboriginal teenagers, he said. Diabetes is one of the many health risks that are associated with obesity.
The Assembly of First Nations (AFN) is determined to inform communities across the country about how to avoid the potentially fatal disease and to encourage healthy lifestyles of the people who have some of the worst habits, children.
A program the AFN rolled out on Oct. 15 challenges First Nation schools to engage their students in 30 minutes of physical activity each day. The Fitness Challenge contest will award top teams various prizes and will conclude on Nov. 14, World Diabetes Day.
AFN women's council chair Kathleen McHugh is confident the challenge is a crucial step to informing young people about the importance of exercising.
Cardiovascular activity is a necessary component to reducing the risk of developing type two diabetes. However, McHugh is aware that there are other components that are harder to control.
"We have to acknowledge the fact that poverty plays a large part in poor nutrition. Sometimes when parents feed their children, they buy the food that don't have proper nutrients," said McHugh.
She noted that the secluded communities located in Canada's northern territory have particularly high prices for food that is often flown into the area.
As an educator who travels to a variety of small Aboriginal communities in the Northwest Territories, White confirmed that certain areas only receive a few shipments of supplies during the winter months.
He recalled walking into a food store in a small town that stocked their shelf with items that were far from healthy for those concerned with diabetes.
"There was probably only about six items that I would recommend to someone with diabetes, and then everything else in the store would likely contribute to their diabetes," said White.
According to White, those with a steady diet of fresh or frozen vegetables and proteins found in a majority of traditional dishes, like caribou, trout and salmon, do not develop diabetes.
White is convinced that one of the biggest concerns for children is what they are being served in their school cafeteria and vending machines. Hearty stews in replacement of hot dogs and French fries is something he would like to see changed.
"I mean it makes no sense when the kids actually love caribou stew, but that's not always what is being served because there is still a lack of awareness," White explained. "They'll eat almost anything you put in front of them because they are teenagers."
Between 2005 and 2006, there were more than 24,000 recorded cases of diabetes in children aged one to 19.
According to the 2008 Canada's National Diabetes Surveillance System, both girls and boys with diagnosed diabetes in the one to 19 year age group had a 10 to 11 year reduction in life expectancy in 2005 to 2006.
A study specifically done in the Northwest Territories revealed that 44 per cent of people's calories came from sugar-filled beverages, such as soda and juices.
Drop The Pop Northwest Territories is a campaign that began four years ago to help encourage schools in the province to educate their students on the importance of reducing the consumption of high-glucose drinks.
This year, almost $70,000 of grants are available for participating schools to create programs that encourage students to choose healthy alternatives.
Elise De Roose, territorial nutritionist for Northwest Territories, said programs where students are empowered to make smart choices are successful because they are fun for kids.
McHugh is confident the AFN fitness challenge will teach students about the positive relationship between physical activity and controlling diabetes.
"Empower them with healthy habits that they can carry with them throughout their lives" is the goal, she said.
Diabetes is a lifelong condition where a person's body does not produce enough insulin or cannot use the insulin it produces.
Because diabetes increases the risk to damage the eyes, nerves, kidney and blood vessels, some diabetics become vulnerable to complications like blindness or amputations if the disease is not managed properly.
Rates of diabetes among Aboriginal people in Canada are three to five times higher than those of the general Canadian population.
It's simple—Vaccinate—'So you don't get sick'
---
By Isha Thompson
Windspeaker Staff Writer

'Get vaccinated.'
That was one of the main messages sent from the panel of the Virtual Summit on H1N1 in First Nations Communities that took place Nov. 10.
Health experts denounced any myths surrounding the shot, and encouraged everyone to get one, especially those people living in small communities like First Nations reserves.
"Most of us have very little immunity... Getting the vaccine is the best protection," said Dr. David Butler Jones, Canada's chief public health officer. He was one of three medical professionals who were part of the panel.
The summit was organized after a communications protocol was put in place by Assembly of First Nations (AFN), Health Canada and Indian and Northern Affairs. The objective of the online summit was to convey all the facts behind H1N1 to Aboriginal communities that may be secluded from mainstream media.
The two-hour summit was co-hosted by AFN National Chief Shawn Atleo and Health Minister Leona Aglukkaq. The event featured video of a couple of First Nations communities that had prepared for and were handling the H1N1 pandemic, but the majority of the time was allocated to answering some questions still lingering in the minds of people, like how safe the H1N1 vaccine really is.
All three doctors made a point to discount any concerns with the H1N1 vaccine and ended the summit by reassuring viewers that each panel member had plans to get the vaccine along with their families when the vaccine became available to them.
And so should everyone... right?
That depends on who you ask.
From the first moment a vaccine for the H1N1 flu was discussed, critics came out of the woodwork with elaborate speculations on possible effects. Some conspiracy theorists were sure the shot would turn its victims into zombies; others simply felt the vaccination for the new flu strain was rushed and therefore unsafe.
Drug policy researcher Alan Casssels doesn't denounce the vaccine, nor does he discourage others from lining up for their shot. However, he referred to the rhetoric of the physicians on the summit panel as "coercive."
"The public health people have a much more exaggerated sense of the benefit of getting vaccinated. I'm not sure where that comes from," said Cassels.
According to Cassels, it is still too early to know just how effective the H1N1 vaccine is. An "overblown fear of this flu," is what is contributing the panic around obtaining the vaccine, he said. However, the University of Victoria professor offered up a reminder that a pandemic doesn't necessarily indicate there is a serious danger. It means H1N1 is widespread.
Cassels agreed that many First Nations communities that are dealing with overcrowding are more susceptible to spreading the flu virus, but he questioned how money for the H1N1 campaign is being spent.
"I am not saying the flu vaccine is bad or good. I am saying we are spending lots of money on this," said Cassels, who referred to a front-page Globe and Mail article published on Nov. 12 that reported $1.51billion has been spent on H1N1 vaccinations.
Cassels isn't convinced Aboriginal communities necessarily need a quick dose to protect them from Swine flu, rather than a permanent solution to the underlying issues
"When you are talking about Aboriginal communities, I think there is lots of high priority things like better drinking water and more hygienic living conditions that are probably higher priority than wasting a billion and a half on a massive flu campaign that probably is a lot of nothing."
Health Canada's senior medical adviser Dr. Paul Gully was another medical expert on the panel of the H1N1 summit. He not only believes immunization should be promoted, he also referred to the opinions of critics who don't completely support the vaccine as "worrying."
During the summit, Gully said he feared the naysayers would scare members of the public away from being immunized.
One thing that both the medical panel and First Nation communities don't seem to be worried about is being unprepared for the next wave of influenza.
The H1N1 summit showed video clips of First Nations that were successfully preparing their communities for a potential outbreak. The AFN's public health advisor Dr. Kim Barker said the AFN was encouraging communication with First Nation communities, while Gully reassured listeners that on-reserve nurse practitioners have access to doctors and any other help that they may need.
Carolyne Neufeld, health director at Seabird Island Indian Band in British Columbia, said her clinic is prepared thanks to consistent attention they have received from their local health authority and Health Canada.
"I do thank Health Canada. They have been calling everyday... I can only say good things," said Neufeld.
"We received all of the supplies we needed [and] we received vaccine we needed in a timely manner," she added. However, Neufeld later revealed that her one criticism is that she wished her clinic had everything they needed sooner. An earlier shipment of the flu shot would have helped significantly, she said.
"At least 50 per cent of our staff has been off sick," said Neufeld, who admitted that her staff was unable to watch the H1N1 summit because of how busy the clinic has been.
"Our clinic has been jammed with patients for weeks."
Neufeld said the flu vaccine was shipped to her at the end of October, but she is confident if the clinic had received it a month earlier, it would have decreased the amount of patients that they are currently caring for.
The live broadcast of the H1N1 summit received just over 1,050 online hits. The AFN had originally planned to leave the recorded broadcast on their Web site for a couple of weeks; however, they have decided to leave it up until Dec. 31.
Life is worth the effort to make it something special
---
By Jennifer Hansford
Windspeaker Contributor

Prescription drug addiction is a challenge faced by many Aboriginal people. With those addictions there comes the possibility of overdosing.
A young Métis man, (who was featured in a article previously published in Windspeaker about prescription drug abuse and who prefers to remain anonymous) has experienced the symptoms of overdose many times, but has managed to survive. Some of his symptoms, he explains, were tiredness, numbness, breathing that became heavier and shorter, and vision that was blurry, wavy (as though objects were moving), and a very quick heart-beat.
He said his heart would beat so fast that it felt as though someone was hitting his chest.
Out of all the symptoms he experienced, he said, it was the tiredness that let him know he had taken too many pills.
"When the pills that usually keep me awake start to make me tired, I know something bad is going to happen," he said, recalling those experiences.
Some people who misuse prescription medication have said the pills cause a sense of emotional numbness, but this was not the case for him.
"It made my emotions very sensitive and severe," he said. Things that wouldn't normally make him cry, upset him, and at times to an extreme level.
He also describes physical numbness after he took a certain amount of pills.
"My legs would fall asleep, my arms would fall asleep, and at times it felt like it was hard to even keep my head up. My head would keep falling to the side, forward or back and I would even pass out like that, waking up with a severe kink in my neck or shoulder pains and even knee pains."
He says this would usually happen after he took 15 pills or more.
At least one of his near overdose experiences was a suicide attempt, as life's circumstances began to overwhelm him. Rising debt, unpaid bills, and trying to feed his addiction while caring for an elderly and ailing friend, a priest, with whom he lives was taking its toll.
When creditors began to phone several times a day regarding non-payment of the bills, he would unplug the phone, and tell his friend that this was because telemarketers had been calling and he didn't want the phone to bother him.
This added to his worries, which caused his addiction to get worse, and as his addiction increased, the friend he lives with had to start hiding his own pills in pillow cases or anywhere he could think of so they could not be found.
The situation became so bad that at one point the electricity and water were turned off, and they had to sell their belongings to pay the bills.
"We even had to sell things that were supposed to be in his will," he said, referring to a boat that was supposed to be left to family members.
Reaching his breaking point, he went to a local beach so he could be by himself. He was there for about two hours and had taken 20 Percocet before a police officer showed up and asked him to leave, since it wasn't swimming season and he was trespassing.
He complied with the officer's request and found himself sitting in the empty parking lot of an arena.
"He made me feel as though I wasn't welcome anywhere," he said of the police encounter. This is when he took 15 more pills.
In the days leading up to these events, he said he had studied the affects of an overdose and found that most of the time people would just experience the tiredness, as he had also experienced, and die in their sleep. This is what he had planned would happen to him as well.
However, this is not what happened to him at all.
"I started to experience serious symptoms I never read about," he explained. "Vigorous shaking, twitching, burning eyes, cold sweats and my eyes would blink repeatedly.
Experiencing these new symptoms scared him so much that he decided to drive himself to the hospital.
"I blew through tons of red lights, people were honking their horns, and I even went over the solid yellow line at times," he recalls.
Even on his way to the hospital, he thought about the quickest way to end it all.
"I was even thinking of going down an embankment or crashing into a car that was coming in the opposite direction. My heart felt so black, I didn't care if I took anybody with me."
Throughout this ordeal (and the ones he continues to face now) he is grateful that his friend did not give up on him.
"No matter how high the bills got, or the secrets I kept from him, he never got angry, just disappointed, he said. He would still comfort him and assure him everything would be okay. 'Just relax, don't cry,' is what his friend would tell him.
He is also very grateful to his mother, who made sure he had all the support and help he needed.
"I am the battery; he is the negative end and she is the positive end and if one of them is missing, the battery won't work." He adds, "I doubt very highly that there are other priests, deacons and bishops as forgiving as him."
He feels remorse everyday for the things he has put the people he loves most through.
"It disappoints me, even today, that I did something so ruthless to such a nice man like him."
These days he is working hard to stay clean and has been on a methadone treatment since April.
His friend proved that life is what you make it and that it is worth living.
Mothers talk about harmful effects of tobacco misuse
By Nancy Doukas
Windspeaker Contributor
LANTZVILLE, B.C.
Lillian Jones was sure that she had dodged a bullet when her second child Samantha was born at a healthy 7 lbs, 6 oz. and continued to eat and grow well. But at six months old Samantha caught a cold. She didn't have just the usual symptoms of a stuffy, runny nose, crankiness and loss of appetite. Samantha also developed tremours.
Jones, concerned that something was seriously wrong, took Samantha to the hospital emergency department. Samantha spent the next month in hospital in an oxygen tent fighting for every breath and losing weight.
The nurse had difficulty inserting an intravenous tube due to dehydration. The baby's little veins kept collapsing. It was on the tenth try that they finally got one in her foot.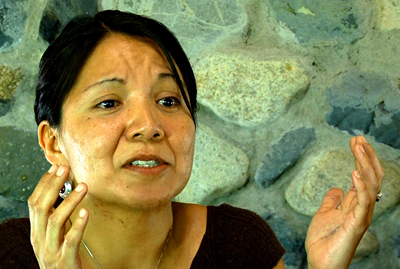 Samantha was diagnosed with the common cold complicated by Respiratory Syncytial Virus (RSV). Most children are infected by RSV before the age of two, but don't usually suffer anything more than the symptoms of the common cold.
Children who have compromised immune symptoms are the ones most likely to develop complications of the virus. Jones believes that Samantha developed the complications due to her smoking during her pregnancy.
Jones shares her story with viewers in a video entitled "A Mother's Message." The video was made through the involvement of residents at Tsow-Tun Le Lum treatment centre with the hope of helping other pregnant women deal with the long-term effects smoking has on the infants they are carrying.
Jay Niver, the communications director for the Alcohol-Drug Education Service in B.C., hopes that the video will eventually be shown across Canada in all First Nations treatment centres, friendship centres and health authority clinics.
"The producers are hopeful that the video will be adapted to reflect the resources available to each province," Niver said.
As of now, distribution of the video will include being shown in supervised sessions on the reserve, in friendship centres and with support groups in clinics across B.C. only.
Ideally, it will be viewed anywhere young women and mothers meet in a health-related environment.
"The video is designed to promote awareness and provoke discussion," said Niver, "and ultimately help mothers who smoke seek the assistance they need, be it online or elsewhere through programs and resources."
Men also shared their stories of smoking in the video.
"We had anticipated involving only women," said Niver, "after all, it's about pregnancy and maternity. But when we arrived for the shoot, numerous Tsow-Tun Le Lum residents had come forth voluntarily, anxious to share their stories, including two men. It hadn't occurred to us that they could contribute. After all, men don't carry babies. But these gentlemen spoke to the topic of tobacco misuse in their own families, growing up as children, and continuing in their new families, via their own smoking," he said.
What the men talked about was the message they were sending to their children, telling them through their actions that smoking was OK, and they talked about the impact their smoking was having on their children's environment through second-hand smoke.
"It made us quickly realize that the smoking dynamic can be a family challenge with many interrelated factors, and all of them come to bear on the health of newborn and older children in the home."
Marvin in the video speaks of his two children and how his eldest daughter has asthma. He tells us he smokes up to a pack and a half of cigarettes a day and that he used to smoke in the house and in his car with the children present.
The impact that smoking has had on his family has been difficult.
"We almost lost my eldest daughter three or four times because of asthma," Marvin says. He smokes outside now.
The discussion of smoking is also dealt with by elders. Karen tells us the story of going outside for a smoke and having her grandson ask her why she does that. He pointed out to her that the cigarette package has an "X" on it, and that the "X" means poison.
He wanted to know why she was putting poison in herself. Karen has since quit smoking and credits her grandson in helping her to make the decision to do so.
The video has had some minor revisions since the initial filming in 2010, including a name change from "Now You HAVE to Quit" to "A Mother's Message." Niver tells us that there may still be more minor revisions coming with a possible introduction being made by an elder Aboriginal spokesperson.
All changes and distribution of the 1,250 copies will be completed before the end of March.
The video was made through a funding agreement with Health Canada and was written and edited by Ross Friesen and Jay Niver and produced by Alcohol-Drug Education Service and Letsgo Productions.
As for Samantha, she was diagnosed with asthma at the age of five and is on daily asthma medications to help control the disease. Running and exertion gets her winded and she has to rest. She also has to be vigilant against catching any colds and flu.
The video ends with the names of two agencies that are available for those wanting to quit smoking. Quitnow.ca is for those who reside in B.C. and quit4life.com is available to anyone in Canada.
Prevention the best way to deal with H1N1, advises chief medical health officer
Saskatchewan Sage
Volume: 13 Issue: 10
The number of H1N1 Human Swine Flu cases increased substantially in Saskatchewan over the last month, and the World Health Organization declared the outbreak a pandemic. But the province's health officials say the best thing to do is not to panic, and to follow simple preventative measures to keep the disease from spreading.
"For this virus, the single best thing is to wash hands and wipe down surfaces that are used by many people, such as door knobs and computers," said Saskatchewan's Chief Medical Health Officer, Dr. Moira McKinnon.
"If you do get a cough or a cold see the health care worker quickly, and make sure you cough into your elbow not into your hand. This is basic infection control, but I know that can be difficult for some northern communities if they don't have running water," she said, adding that even though there has been a lot of media coverage about the H1N1 virus, most people experience only mild symptoms and fully recover.
And while there are stories of increased severity, the World Health Organization did not decide to raise the pandemic to level 6 because of the severity of cases, but more than anything because of the geographic spread.
There have been very few severe cases in the southern part of Saskatchewan and there is no indication that Aboriginal people are affected more severely, said Karen Hill, Media Relations Officer at the Saskatchewan Ministry of Health. "But the agency is keeping a close eye on the north."
"To the best of our knowledge, as of today, it is not affecting First Nations populations any differently. Of course we're increasing surveillance amongst northern communities specifically because of what's happening in Manitoba," she
added.
At the beginning of June, in the remote northern First Nation of St. Theresa Point, a number of residents were diagnosed with influenza-like illness and had to be evacuated to Winnipeg hospitals where they were put in intensive care and on respirators. Half of those in hospital were Aboriginal, said McKinnon.
"We know people from Saskatchewan have been visiting northern communities in Manitoba, and they are returning. What we need to do is look if Aboriginal people are more severely affected by the flu virus. Once we sort that out, we might need to change our policies in regard to treatment."
Saskatchewan's health officials were having difficulty assessing the situation because of the unclear data from Manitoba. Of the 55 cases in intensive care, only two were definitively confirmed as H1N1. Some of the patients, who had been in ICU for a month, could not be accurately tested because the virus might no longer have been present in the body. So it was hard to determine if these cases, in fact, were the serious form of H1N1 Human Swine Flu.
McKinnon said although most cases in Saskatchewan have been mild, "if the communities in the north experience a different clinical picture, where they're getting much more ill more quickly, than we need to treat them earlier."
The isolation of northern communities may not help matters, she said. Crowded living conditions, high levels of diabetes, and inadequate nutrition could be contributing factors.
"Peoples' ability to fight off illness is always reduced with poor nutrition and poor living standards, and it spreads always much more quickly," she said.
For that reason, many First Nations communities across the province have developed pandemic plans, and the World Health Organization agrees that planning ahead to regulate communications, surveillance, vaccination, health care services, infection control, and anti-viral drugs has "immediate and lasting benefits, increasing overall response capacity for all threats to public health."
Meanwhile, on June 19 the Saskatchewan Ministry of Health advised that physicians, health clinics, and hospitals will only test patients for the H1N1 flu virus if severe flu-like symptoms are evident or if there are other clear medical reasons for testing.
According to the advisory, the growing number of confirmed cases in the province "reflect the unusually high number of specimens being submitted by physicians' offices, particularly in Regina. Changes in the numbers are not an indication of an increase in the severity ofÝflu symptoms in the community."
Testing patients with mild flu symptoms for H1N1, said the Ministry, is unlikely to affect the treatment. Therefore, patients should not be concerned if their health professional decides not to test for H1N1.
At the same time, the Ministry also changed its policy with regard to reporting confirmed cases of H1N1 in recent weeks. It no longer provides specific information on which Health Care Region new patients tested positive for the virus, but is now providing only the provincial total for confirmed cases.
"The H1N1 flu virus is present in Saskatchewan communities," stated the advisory. "Residents are encouraged to continue taking precautions against infection through frequent hand washing, coughing and sneezing into the arm, and staying home if feeling unwell."
Renal outreach clinic makes difference in fight against diabetes
With an astonishing 15 per cent of Siksika residents suffering from diabetes, Melvin (Tyler) White, CEO for Siksika Health Services, knew something had to be done to prevent kidney disease or slow down its progression.
Now, eight years after Alberta Health Services brought its weekly renal outreach clinic to Siksika First Nation, over 100 people are being seen.
"The need to prevent the complications from diabetes early, to prevent the development of kidney failure, was the reason this program started. The focus was on management of patients in their home communities in contrast to most specialty clinics, which are only run in large cities," said White, who gave the province the go-ahead to operate on Siksika, although First Nation health care falls under the jurisdiction of the federal government.
Nephrologist Dr. Brenda Hemmelgarn and Nurse Practioner Ellen Novak helped develop the outreach clinic for the Southern Alberta Renal Health Services.
"Aboriginal people are at high risk of developing kidney disease because there is a high prevalence of diabetes among this population," said Novak.
Siksika is one of the top three communities in Alberta with the highest rate of diabetes.
Health Canada estimates Type 2 Diabetes rates are three to five times higher among First Nations people on reserves than among all other Canadians accounting for at least 90 per cent of diabetes cases.
Initially, the renal outreach clinic was run by a nurse, who would assess high-risk patients and communicate with a physician for medication changes and suggestions on management. The nurse would then implement the suggestions.
"Over time, we found that the communication…was delayed and patients were not receiving optimal care," said Novak.
That realization prompted changes and since 2006, Novak has been assessing patients in the clinic independently and managing their blood pressure, diabetes and cholesterol, either making the necessary medication changes or initiating medications independently.
"I consult Dr Hemmelgarn as needed," said Novak.
Patients requiring specific nephrologist expertise are referred by Novak to Hemmelgarn, who visits the clinic a few times a year to work with difficult cases.
Siksika has expanded services to the reserve schools with the assistance of pediatric nephrologist Dr. Susan Samuel. A school screening project identifies markers and risk factors for kidney disease and diabetes in school children.
"Research has shown us that if we manage patient's blood pressure, cholesterol and diabetes and reach suggested targets, we can prevent kidney disease," said Novak.
White noted they hope to expand the program to other First Nation communities. That expansion has already begun with Standoff, in the Blood First Nation, the newest site for a renal outreach clinic.
Said White, "I would definitely recommend this program to other First Nations wanting to make a difference and prevent this disease for future generations."
Service gaps identified for low income Aboriginal families
The findings of a study looking at the social determinants of health for Aboriginal families residing in Edmonton reflect similar circumstances for Aboriginal families living in other urban centres in Alberta.
"This being a trend in Edmonton, we would expect the same barriers in Calgary, for example, and partially because we also see it in our non-Aboriginal population," said Dr. Laura Templeton, with the University of Alberta and one of three lead authors of the Families First Edmonton study, a community-university partnership.
While the report provides no "over-arching message," said Templeton, it is clear that "around social determinants, we know there are so many correlates to eventual health for parents, children and families."
The study followed low income families from December 2005 to June 2011. Because of recent interest expressed by the provincial government regarding low income urban Aboriginal families, Templeton said FFE pulled out the results pertaining to the 207 Aboriginal families that participated in the study and provided those to Alberta Centre for Child, Family and Community Research and Ministry of Human Services in June.
The study, which examined education, employment, housing, social inclusion and health information, identified definite gaps in service.
Settlement services for urban Aboriginals was one such need noted by FFE steering committee member Cheryl Whiskeyjack, executive director with Bent Arrow Traditional Healing Society.
"A lot of people do move to the city and they may lack social resources, kin connections to help them adjust to life in Edmonton," said Templeton.
Edmonton has the second highest urban Aboriginal population in Canada.
In the fall of 2011, Bent Arrow combined with Boyle Street Community Services and Boyle Street Aboriginal Services, and with money from the provincial government opened the New In Town Aboriginal centre. The service provided by the centre, which connects people to available resources, is available to those who have lived in Edmonton for a year or less. Whiskey Jack said the service is expected to help 2,400 people annually.
Templeton noted that the First Nations families that took part in the survey indicated connections with 83 per cent of the First Nations spread across the province – as well as connections to First Nations in British Columbia, Saskatchewan, Manitoba, Ontario and the Northwest Territories – increasing the chance of relatives from any of these First Nations moving to Edmonton because of kin connection.
"Some (of the findings) were not specific to Aboriginal low income families," said Templeton.
As with other low income families in Edmonton who participated in the study, the majority are single parent-led. For Aboriginal families, 96 per cent of single parent families are headed by women. Education is also low. Approximately half of the Aboriginal caregivers had less than a high school education. As well, child care provided a barrier, with approximately 75 per cent of Aboriginal caregivers not working for pay outside of the home. Housing was also an issue, with affordability, over-crowding and disrepair all being concerns for more than half of the Aboriginal families. Social isolation was also noted. Ninety-two per cent of Aboriginal families expressed a desire to get involved in the community but factors such as child care, lack of transportation, and awareness of what is available all make it difficult.
The mental health component of the survey was "quite revealing," said Templeton. "We have a lot of people who have mental health concerns perhaps who aren't receiving mental health services necessarily."
Mental health findings indicate that both Aboriginal caregivers and children requiring mental health care, for such issues as depression or anxiety, are significantly greater than expected.
Of the 207 Aboriginal families who participated in the study, 60 per cent self-identified as First Nations and 40 per cent as Métis.
Templeton is hoping that the study will be used by social organizations and the government to fill the service gaps.
"This (report) can really speak to some of the hidden issues," she said.
Templeton expects the study to go out to the university community as well as other government departments, such as Health Services and Education, shortly.
TB another big threat to communities
By Isha Thompson
Windspeaker Staff Writer
CROSS LAKE, Man.

H1N1 may be the hot topic at the moment, but it is only one of the many health issues that need immediate attention on First Nation reserves across the country, said Shawn Atleo, Assembly of First Nations (AFN) national chief.
Atleo referred to the H1N1 virus as "the tip of the iceberg" when it comes to major health issues like HIV/AIDS and Tuberculosis that First Nations people are suffering from at an alarming rate.
"I don't think the Canadian public understands how our people are impacted by TB," said Atleo. "We definitely have to open up the discussion and dialogue."
The national chief has been aggressive when it comes to ensuring secluded First Nation communities are well informed about H1N1.
Atleo, along with Minister of Health Leona Aglukkaq, signed a communications protocol in September that vowed to relay information and necessary resources to help First Nations defend themselves against the pandemic.
Atleo said his push for more attention on how severely the new flu strain is impacting Aboriginal communities was also a strategy to put the spotlight on living conditions that are also contributing to the escalating cases of TB.
"They're inextricably linked," said Atleo about the overcrowding and substandard housing that make First Nation communities more susceptible to H1N1, as well as TB. "That's why the work on H1N1 needs to be the first step, so we can tackle broader issues like TB."
Assembly of Manitoba Chiefs Grand Chief Ron Evans agreed with Atleo and firmly believes that root issues that are behind severe illnesses in First Nations communities must be addressed.
"Over-crowding, shortage of homes, moldy conditions; it all boils down to the living conditions of our people in the communities that lead to all the diseases that are of a respiratory nature," said Evans. He added that reserves in his province not only need additional housing, but homes that are higher quality.
Tuberculosis is an infectious disease that typically affects the lungs. As it progresses it can result in serious infections that, if left untreated, can result in death. TB on reserves where too many people are forced to live in a single home is a particular concern due to its easily contagious nature.
"It is not something you or I would want to experience," said Chief Evans.
The Lung Association of Manitoba said they too are aware of the high numbers of First Nations who are infected with TB. The association contributes by providing X-rays, free information brochures for nursing stations and occasionally with in-person visits by staff members, said executive director Margaret Bernhardt-Lowdon by E-mail.
Cross Lake First Nation is a Manitoba reserve that considers TB one of the biggest threats to its 6,000 band members.
Cross Lake First Nation Chief Garrison Settee said treating symptoms of TB is not helping. Instead, the newly elected chief echoed Evans by explaining that living conditions for First Nations across the country need to be improved.
"How can we live healthy lives if we live in Third World conditions," asked Chief Garrison, who explained that many of the households on his reserve have several families residing under one roof.
"When you don't have adequate housing, your health problems will continue to be there."
The AFN has joined forces with the Stop TB Partnership, which has vowed to put an end to the disease that affects the most vulnerable around the world.
Traditional diet leaves film-maker with a bounce in his step
Author: By Jennifer Ashawasegai
Windspeaker Contributor
TORONTO
Windspeaker
Volume: 30 Issue: 5
Year: 2012
Bossy Ducharme lost a whopping 80 lbs when he decided to eat a diet made up of primarily traditional fare.
Ducharme feasted daily on berries, wild rice and fish.
One of the surprising things is that the 41-year old didn't exercise while he was on the diet for more than a year.
Bossy decided to do something about his health after his doctor told him he was obese and headed for a heart attack. That was four years ago. Two years ago, he decided to go to film school, plus planned on documenting his diet.
"In my first film I was going to be like our Native ancestors for one year, and see what happens, and I did it," said Ducharme.
Sticking to the diet and losing weight wasn't very easy in the beginning. Ducharme said he had to adjust his eating habits to not allow himself to go hungry, plus there was a lot more thinking about what and how he would put food in his body. "I started having to prepare foods for a day, the day before. I never did that before. I was also cooking."
The diet actually lasted nearly a year-and-a-half, from September 2010 to about the end of January 2012.
Ducharme said the change in his body was dramatic. Not only did he lose weight, he had really good energy, plus great skin.
Ducharme isn't the first one to go back to his dietary roots. A documentary was done a few years ago, and it followed a handful of Namgis people in Alert Bay, B.C. That diet wasn't nearly as strict as Ducharme's though. It allowed for other fresh produce from local markets in addition to salmon and oolichan grease. Meat, eggs and cheese were also allowed. Starchy carbohydrates and sugar were really the only diet no-nos. After losing nearly 100 lbs, one diabetic dieter used less insulin.
Not only can obesity lead to heart disease, it can lead to Type 2 diabetes. According to the Canadian Obesity Network, the disease has become an epidemic in First Nation communities. A three-year research project has found that up to 40 per cent of First Nation adults on-reserve have Type 2 diabetes, versus seven per cent in the general population. Also, about a quarter of the people participating in the study were overweight and another quarter were obese, while a third were morbidly obese.
Losing weight for Ducharme while on his traditional diet may seem almost fast and easy, but there's nothing to gaining weight. Since Ducharme has been filming his journey for his documentary, 'A Good Day not to Die', he allowed for a month to scrap the diet to find out what would happen.
"I returned to the typical North American diet, including fast and processed foods and gained about 30 lbs in that month."
Not only did he gain nearly a third of the weight back, Bossy lost the bounce in his step. His energy level went down quite significantly and found he was also tired again much of the time.
"I think the physical changes of gaining weight, 30 lbs in 30 days, is a lot right there," said Ducharme.
After that experience, Ducharme returned to his traditional diet, and has started to shed the pounds again and re-gain his energy.
While Ducharme lost a lot of weight on his diet, his doctor is cautious about recommending it to other people of Aboriginal heritage. Dr. Arbess says, "This is one case, and I can't really comment. Typically when we make recommendations, it's based on a clinical trial of numerous people. But I think anecdotally, this is very impressive."
"I suspect that the traditional diet is much healthier than the typical western diet, which is high fat, high salt, processed foods. I think that's what's driven obesity epidemic in the general population as well as the Aboriginal population," Arbess said.