2013 Review: The Strength of Women: Ahkameyimowak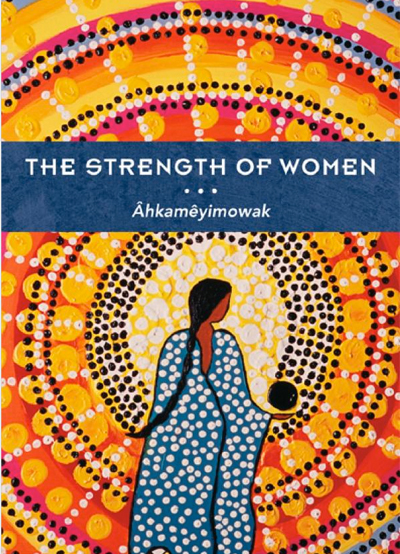 Book Review by Christine Smith
The Strength of Women: Ahkameyimowak
By Priscilla Settee
Published by Coteau Books
121 pages
"The Strength of Women" celebrates women's spirit as the backbone of Native communities, and the stories within are about 15 incredible Native women who show vision, inspiration and leadership despite the challenges facing them throughout their lives.
Author Priscilla Settee says "Colonization has been particularly devastating for Native women. There are multiple ways women have disproportionately suffered from the affects of colonization, from sexual violence and forced sterilization to the undermining of women's central role as community organizers, planners and leaders."
Settee documents stories that show a range of life experiences that involve injustice, racism, genocide and sexism and of hope, awakening and fierce struggles. She uses the Cree word 'ahkameyimowak' to describe a strength that has helped women to survive, flourish and work for change.
"The Strength of Women" is divided into five sections: Beginnings, Work, Art, Spirit and Community. In the section, Beginnings, Aleyna May Stene writes an intriguing poem
"Did you ever worry about me
When I was running in the streets
You never asked
Never asked
"Where were you?"
You never cared where I was or what I did
Still to this day
I love you…"
The poem is especially moving because it is indicative of how story or poetry can contribute to a way of healing. After all, "in the Indigenous world, stories are a means of transmitting vital information from within our community as well as outside our communities."
Settee explains "Women are the unsung heroes of their communities, often using minimal resources to challenge oppressive structures and create powerful alternatives in the arts, education and workplace."
This is especially indicative of the women that are in this book, including Freda Ahenakew, a pioneer of First Nations women's writing in the province of Saskatchewan, Rita Bouvier, a Saskatchewan educator, poet and writer, Judy Da Silva, who has been working in her community of Grassy Narrows to bring attention to the terrible legacy of environmental destruction caused by major pulp mills in her territory, Lindsey Knight, aka Eekwoll, a widely recognized youth model and rapper, Sally McKenzie, a community leader in health and community healing, Aleyna Mae Stene, a young urban Métis woman involved in the work organizing inner city youth, and Patricia Margaret Ningewance, an Anishnaabe-kwe linguist and artist.
This book is important in part because it features Native women as playing a central role in our culture. It speaks of an unwavering spirit and tenacity that often no one hears about, because women's achievements and economic contributions are often not counted. The stories told within this collection are both inspiring and thought-provoking, and the reader becomes privy to some very strong women who fought against adversity to become leaders in their communities and beyond.