2011 Review: Midnight Sweatlodge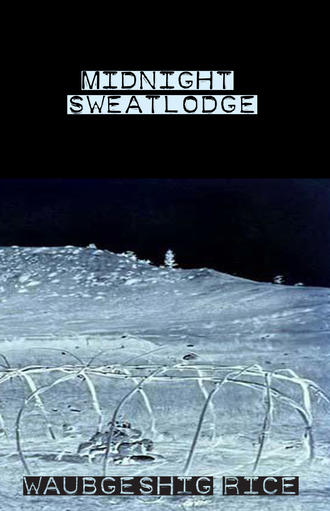 Healing and struggle are central themes in new book
Midnight Sweatlodge
By Waubgeshig Rice
Published by Theytus Books
Review by Christine McFarlane
"Midnight Sweatlodge" is a collection of short stories written by Waubgeshig Rice, a member of Wausasking First Nation and a CBC reporter based in Ottawa.
It tells the tale of a group of young people who have gathered to take part in an ancient Aboriginal ceremony—the sweatlodge.
Each person who takes part in the ceremony looks for healing and gives us a glimpse into the difficulties in his or her life.
Each story in Midnight Sweatlodge reflects a struggle of sorts, whether it is dealing with isolation, loss, an identity crisis, depression or substance abuse. Each person participating in the ceremony takes his turn in baring his soul, recounting painful experiences that have been witnessed.
Within the very first story, "Dust", the reader learns about two brothers who grew up on their reserve, their closeness and camaraderie apparent, and how their lives change after a standoff in their community when they witness the police shooting of their father.
The two young boys are catapulted from living carefree, playing baseball and swimming with their friends, to dealing with the grief and loss of their father.
Through this story, Rice discusses an issue that is all too familiar for many First Nations communities these days, the terrible toll that comes with the fight for land rights. The story relays both a personal and political side to hanging "onto identity, tradition, the bond between Mother Earth and her children—us," and how the death of the brothers' father impacts the young storyteller sitting around the fire in the sweatlodge.
In another story, "Bloodlines", the reader is exposed to the love between a First Nations man and his non-Native girlfriend in a contemporary urban city and how the young man deals with being amongst people not used to hanging out with an Aboriginal person.
The young man says his presence is still a novelty to the urban community around him and how, with his girlfriend, he wants to draw his own bloodlines, be in control of making life and "being able to control how that life turns out."
For his first book, Rice does a great job in each story by conveying that, though each situation is unique to the individuals, everyone struggles in one way or another and it is possible to heal through sharing with each other.
Rice also exposes non-Native readers to some of the difficulties that young Native people face in Canada, and attempts to break the negative stereotyping of young Aboriginals. This book is a great collection that gives important issues a platform.