2011 Review: UnSettling the Settler Within: Indian Residential Schools, Truth Telling and Reconciliation in Canada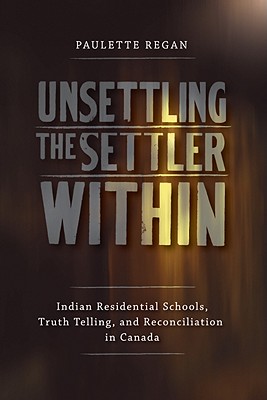 Settler education the gap that needs bridging for true reconciliation
UnSettling the Settler Within: Indian Residential Schools, Truth Telling and Reconciliation in Canada
By Paulette Regan
Published By UBC Press 2010
Review by Christine McFarlane
On July 11, 2008, the Canadian government apologized to the victims of the Indian residential school system and established a Truth and Reconciliation Commission that is tasked with attempting to mend the deep rifts between Aboriginal peoples and the settler society that engineered the system.
"UnSettling the Settler Within" by Paulette Regan opens with a foreword by Taiaiake Alfred who states "In a global era of apology and reconciliation, Canadians, like their counterparts in other settler nations, face a moral and ethical dilemma that stems from an unsavoury colonial past." Alfred explains that Canadians grow up believing that the history of their country "is a story of the cooperative venture between people who came from elsewhere to make a better life and those who were already here." He writes "Canadians do not like to hear that their country was founded through frauds, abuses and violence perpetrated against the original peoples of this land."
"UnSettling the Settler Within" is a book that gives a counter argument to the peaceful creation myth and offers up the history and legacy of colonial violence that characterizes the Indian residential school system.
Author Regan rejects a self-congratulatory version of Canadian history and challenges her readers to re-think the myths that form the basis of settler identity.
She argues that in order to truly participate in the transformative possibilities of reconciliation, non-Aboriginal Canadians must undergo their own process of decolonization, and in order for the process of decolonization to happen Regan believes "they must relinquish the persistent myth of themselves as peacemakers and acknowledge the destructive legacy of a society that has stubbornly ignored and devalued Indigenous experience."
"Today's truth and reconciliation process must make space for an Indigenous historical counter-narrative in order to avoid perpetrating a colonial relationship between Aboriginal and settler peoples."
Regan, a non-Indigenous individual and academic, writes this book from the perspective of her own work within the Canadian government, and as a result of her own learning journey as a Director of Research for the Truth and Reconciliation Commission of Canada.
She relays how the 2008 apology to Indian Residential School survivors marked a watershed moment of national truth telling about Canada's past, and as a settler on these lands in Canada, the apology itself had her asking herself "what would it mean in concrete terms for the settler majority to shoulder the collective burden of the history and legacy of the residential school system."
She argues "history teaches us that, despite the cry of "never again," societies are quite capable of replicating in new forms the harmful societal attitudes and government policies of the past."
She also questions how non-Indigenous people can make good on the promise to ensure that the attitudes that inspired the residential school system for more than a hundred years will never again prevail in Canada.
Interestingly, Regan brings up the issue of "Settler Responsibility: Knowing versus Not Knowing Indigenous People" and asks her readers to consider that if reconciliation was to be conceptualized as an intercultural encounter, it would need to entail "creating a space for critical dialogue-rooted in testimonial, ceremonial, and commemorative practices—between Indian residential school survivors and settlers who are either directly or indirectly implicated in the school system itself, as well as other assimilationist policies."
She reminds readers that it remains challenging to design appropriate truth telling and reconciliation processes when there is a relatively high level of settler ignorance about Native issues in general, and it is this very issue of "claiming ignorance" that is at one of the roots of this rift between non-Indigenous and First Nations people.
This book is a must read for anyone who is interested in reconciliation and how it can work.