Confidential: Robyn Goodwin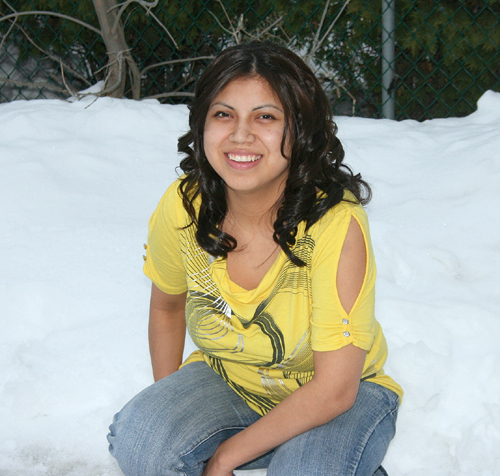 Robyn Goodwin
June 2009
Windspeaker: What one quality do you most value in a friend?
Robyn Goodwin: The quality I value most in a friend is trust. I believe, in this day and age, for young women you have to be strong and have a firm belief in humanity to be able to possess this quality. I also think that trust works both ways and that you also have to be trustworthy.
W: What is it that really makes you mad?
R.G.: Failure. To leave something unaccomplished or unfinished always leaves a void and raises the question, what if?
W: When are you at your happiest?
R.G.: Playing hockey. It's what I love doing. All the stress of life and impending difficulties vanish while I'm on the ice.
W: What word best describes you when you're at your worst?
R.G.: Irritable.
W: What one person do you most admire and why?
R.G.: My dad. He tries to show us the right way by letting us know the wrong paths he took as a young person, but he never forces us to do it his way. He tells us that through hard work and determination you can be what you want to be. Never be content with your present situation.
W: What is the most difficult thing you've ever had to do?
R.G.: Moving to Pittsburgh, Pennsylvania in the United States as a 17-year-old. I had to leave my family, friends and Canada to pursue a university education and continue my hockey career.
W: What is your greatest accomplishment?
R.G.: Attending university and playing hockey in the United States.
W: What one goal remains out of reach?
R.G.: Getting a job that includes the sport of hockey in which I would be able to apply myself completely; and in that job I'd like to also be able to help youth.
W: If you couldn't do what you're doing today, what would you be doing?
R.G.: I would definitely be involved in community sports programming for youth.
W: What is the best piece of advice you've ever received?
R.G.: Just to enjoy and have fun in what you are experiencing today. Enjoy life and what it is presenting to you now.
W: Did you take it?
R.G.: Yes.
W: How do you hope to be remembered?
R.G.: Hopefully as someone who took the time to use her talents in hockey and who tried to help those who are in need. Also someone who was competitive and determined.
Robyn Lee-Anne Goodwin was born on Oct. 4, 1989 in Winnipeg, Man. She is the youngest child of the family and has two older brothers. No wonder she started playing hockey on an outdoor rink near her house. She was always the only girl skating with the guys. Her days would consist of going to school and then heading straight to the rink to play hockey until the rink was shut down. Her parents would have to come and get her and her brothers, or they would play on even after the lights were turned off. When she wasn't skating she was at her brothers' hockey games. At one game Robyn noticed a girls' team getting ready to hit the ice and she decided she wanted to be one of them. At the age of 10, she began playing organized hockey, and at 16 she was selected to represent Manitoba at the National Aboriginal Hockey Championships. Her team took the bronze medal, a first for a female team in Manitoba. Robyn loved the experience and continued to represent Manitoba for two more years.
After graduating from high school in 2007 she attended university in Pittsburgh, Pennsylvania. While attending secondary school, she continued to play hockey at the university level, and it was while she was there that she received news that one of her former coaches had passed away from cancer. When she returned from university she wanted to do something special and unique in memory of her coach, so she spearheaded "Play for the Cure 2008," a women's only hockey tournament that raises funds for Cancer Care Manitoba. As Robyn says: "Losing a friend is always hard so to be able to use your talents and have so many other players believe in the cause you're standing up for makes the loss a little less painful. It's great to try and make a difference. This year the tournament is back and the work in organizing it is worthwhile if we can help at least one person beat this disease."