Confidential: Suzette Amaya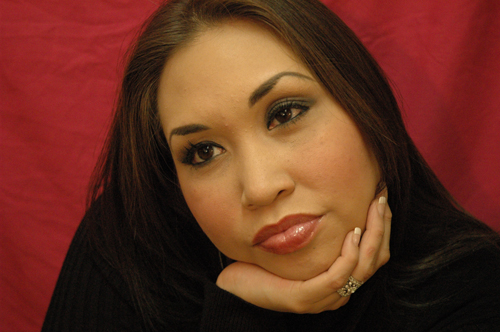 Suzette Amaya
March - 2009
Windspeaker: What one quality do you most value in a friend?
Suzette Amaya: In a friend I value honesty. I believe someone who is honest with themselves and others is someone I can truly feel free to be myself with and share wonderful interactions with. Being true to oneself is a great quality and opens you up to self discovery.
W: What is it that really makes you mad?
S.A.: Lateral violence. I am not an angry kind of person, but it upsets me that lateral violence is ever-present in our communities. So many more people could be leaders, and successful, but lateral violence can harm a person's soul, dignity, and self-esteem, and is a terrible disease that breeds negativity and unhealthy behavior.
W: When are you at your happiest?
S.A.: I am at my happiest just being home with my family: My sons Julian and Josiah and my husband Stanley. If I can't be at home, then a wonderful walk around a lake, feeding ducks, or bike riding makes me happy. Enjoying the simple pleasures. And I must say soccer practice with the North Shore Renegades, my soccer team in the Metro Vancouver Women's League, that's some good Soul Food as well.
W: What one word best describes you when you are at your worst?
S.A.: Tired. After working a double shift at my regular job as a Shelter Support Worker in the Downtown Eastside of Vancouver, I am at my most non-glam, emotionally drained, and non-creative mode.
W: What one person do you most admire and why?
S.A. I admire Elaine Bomberry. She is inspiring, other than Oprah and my BFF my Mom! Elaine is definitely one of my mentors. She is the queen of networking and getting the job done. Her passion for Aboriginal media and arts (Google Murray Porter and Rez Blues and the Junos) excites me! She is a professional and a leader in the industry! My mom is also, of course, on the top of all lists. She is a survivor and the kindest, most loving person I know. She is a drug and alcohol counsellor and is so multi-talented. Her humble, kind, non-judgemental personality has carved who I am today. I definitely aspire to be just like her!
W: What is the most difficult thing you've ever had to do?
S.A.: The most difficult thing I have ever had to do was Psychology 300 stats in college and maybe that log rolling contest I did in Kyuquot! But on a serious note, a challenge was facing my abuser when I was in high school and taking him to court and charging him for abuse. It was a new beginning and an end; I was reborn the day I allowed myself to heal and I pat myself on the back for having the courage to not allow myself to be controlled by my negative experiences.
W: What is your greatest accomplishment?
S.A.: My children. My sons are such angels. Being a mother is my ultimate priority–just working, never sleeping and ensuring their routine and life needs are met is my greatest accomplishment. I pray that they will also be successful leaders with kind loving hearts! I have other monumental accomplishments I must say I am proud of, like creating ThinkNDN (Best Aboriginal Radio Show at the Aboriginal Peoples Choices Awards 2008) and becoming a National Aboriginal Role Model for Canada in 2007.
W: What one goal remains out of reach?
S.A.: Out of reach? Never! I would love to get into television and become like the Native Oprah without the money and all–just something to share others' talents, share their stories and provide Canada with a quality show of Aboriginal pop culture!
W: If you couldn't do what you're doing today, what would you be doing?
S.A.: I would love to eventually go into law. I could be a student forever! My educational background is criminology, so law school has always been something that interests me, or running my band, GwaSala-Nakwaxda'xw Nation.
W: What is the best piece of advice you've ever received?
S.A.: Love one another and pray, pray, pray! I live by faith alone and truly "let God and let go! Also, love your enemies.
W: Did you take it?
S.A.: Yes! I love, love, love! Who are we to judge and not love others? There are times when I have to let God fight my battles and so I truly believe that we reap what we sow!
W: How do you hope to be remembered?
S.A.: I would like to be remembered as that girl people felt comfortable with and who made a positive impact in some way ... or, well, as that "ThinkNDN" girl; that works for me too!
Suzette Amaya is on her way to becoming the Aboriginal Oprah. Her love of media has led her to create ThinkNDN, a radio show, and SAMAYA photography. She is a motivational speaker who has just begun her Love, Live, Lead Tour 2009 across Canada, speaking to youth about everything from sexual abuse to employment strategies. She is in the music industry, but also reaches out to people as a Shelter Support Worker in the Downtown Eastside of Vancouver.