Book Reviews
Each year AMMSA and Windspeaker reviews dozens of books relating to Aboriginal/ Native Canadian news, issues and culture. Those reviews are published in print and online.
If you are an author or publisher and would like us to consider a particular book for review, you will need to send us a promotional copy.
Please contact us at news @ ammmsa.com for shipping information prior to sending us a review copy. We are not responsible for books lost or misdirected in nthe mail and due to time limitations we cannot review all books.
---
2014 Review: Medicine Walk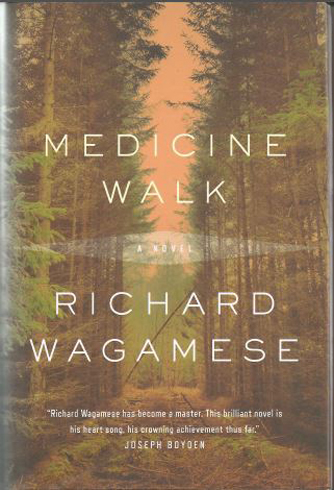 Medicine Walk
Richard Wagamese
(Published by McClelland and Stewart.)
Review by Shari Narine
Set with the backdrop of the BC wilderness, author Richard Wagamese
intricately weaves the hardship of the physical journey with the
emotional journey as estranged father and son travel a rocky ascending
path to the beginning of understanding and forgiveness.
Franklin Starlight has grown up knowing little about his father Eldon
and nothing about his mother. Frank's caregiver, or the old man, has
provided "the kid" with everything he needs, from a grounding in First
Nation's culture that the old man is not part of to an understanding of
the value of hard work. The old man's need to care for the kid becomes
clearer as the story unfolds.
Eldon Starlight is a man haunted by his decisions and the love he
lost. When Eldon asks Frank to take him on his final journey so he can
be laid to rest in the traditional Ojibway manner, Frank grudgingly
complies out of duty and not love.
What transpires is an awakening for both the 16-year-old and his
dying father. After years of bottling up his feelings and experiences,
Eldon finally lives up to his name. Starlight, he was told by his
boyhood friend Jimmy, is the name "given to them that get teachin's from
Star People" and these people are meant to be teachers and
storytellers. But up until this point, Eldon has only been able to deal
with the harsh secrets he holds through alcohol and it is dying through
"the drink" that has spurred this final journey.
Eldon tells Frank the secret he has kept about Jimmy, both of them
having served in the Korean War, and he also tells the story of Frank's
mother. These incidences combine to lead Eldon to delivering a newly
born baby into the arms and home of the old man. It is the old man who
names the baby Franklin, after Benjamin Franklin, who "was trying to
catch lightning. Said he knew the world would change if he caught it.
Took courage … to want something for others like that."
In the end, Frank is left with a feeling he cannot understand, but
the start of forgiveness for the man, who has always let him down. Frank
also comes to put into words what he has always known: that the old man
is his father.
The pieces slot together to deliver the larger story of what has
brought Eldon to the point of dying from the drink and in so doing,
Wagamese is careful to relate the tale of a man, who initially the
reader judges as just another drunk and deadbeat dad, but for whom the
reader comes to feel compassion and empathy.
Wagamese raises questions about how we move throughout life. Is it
what we prove each day, as the old man says, or is whether we choose to
run away or run to, as Eldon says. Or is what Frank has learned – that
loss can be dealt with in different ways and both define how life is
lived.
Wagemese's tale of love and loss and moving into forgiveness is
strengthened by the depth of his characters. It is a harsh life that
Eldon lives, and a hard-working life that the kid and the old man lead
and Wagemese's choice of language, the beauty of his words convey their
reality.
2014 Review: We Are Born with the Songs Inside Us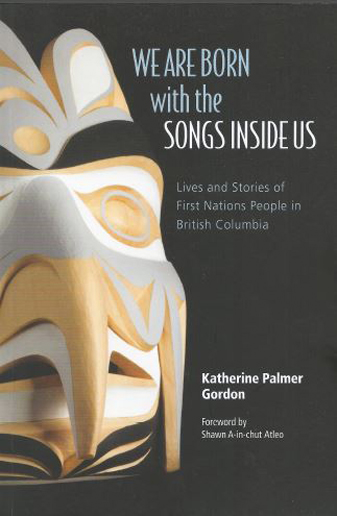 We Are Born with the Songs Inside Us
By Katherine Palmer Gordon
(Published by Harbour Publishing)
Review by Shari Narine
Recent health developments surrounding former Vancouver Canucks'
hockey player Gino Odjick is a clear indication that he is a man, who
has broken through the racial divide.
Odjick is one of 16 First Nations people in British Columbia
highlighted in Katherine Palmer Gordon's book We Are Born with the Songs
Inside Us. And Odjick's song is strong.
Odjick, who is Algonquin from Kitigan Zibi Anishinabeg First Nations
in Quebec, is claimed by Gordon as a west coast face because upon
retiring from hockey in 2002, Odjick made B.C. his home. Gordon refers
to Odjick as "put(ting) his money where his mouth is, investing in
numerous initiatives and partnerships supporting First Nations
development and employment." Odjick's commitment to bettering other
peoples' lives was recognized by fans, who gathered outside Vancouver
General Hospital to show their respect when Odjick made it known through
the Canucks website that he had been diagnosed with AL amyloidosis, a
rare terminal disease. And Odjick, despite shortness of breath, went
outside to acknowledge his fans, once more showing his commitment to
others.
"I believe that seeing us as human beings, as people with our own
unique perspectives and lives, is a fundamental first step toward
understanding who we are, rejecting false and imposed stereotypes, and
ultimately reaching reconciliation," writes former Assembly of First
Nations National Chief Shawn Atleo in the foreward of We Are Born with
the Songs Inside Us.
It is this connection between First Nations people and the rest of
Canada that Gordon strives to relay through the array of people, whose
lives she celebrates.
Reading about these people, who range from artists to
environmentalists to scientists to actors, it is clear that they have
one thing in common: a belief in the importance of their cultural
heritage in all aspects of their lives. However, not all of them were
raised with this belief. Some of them came to this understanding through
trial. But all of them are now at that point and it is no accident
that they are successful both in their professional and personal lives.
Gordon does not gloss over the struggle that continues for First
Nations people when it comes to etching out a place for themselves.
Individual stories talk about growing up in the face of racism and
continuing the battle to be respected.
What stands out about Gordon's collection of people is that they
exist in the modern-day realm and whether the reader is Aboriginal or
non-Aboriginal, references to such events as the 2008 residential school
apology from Prime Minister Stephen Harper or the Idle No More
movement, are relevant today. This is not a collection to be considered a
history book.
By highlighting the people she has chosen and their variety of
careers, Gordon also highlights that First Nations people are active
participants in today's society and have a bright future. First Nations
people are by no means to be relegated to the past.
Writes Gordon, "… there really are literally thousands upon thousands
of creative, energetic, ordinary and extraordinary and inspirational
people in this country who happen to be of First Nations heritage and
are simply living their lives…"
Writes Atleo, "We need these stories to be told, read and celebrated."
2015 Review: A Cree Healer and His Medicine Bundle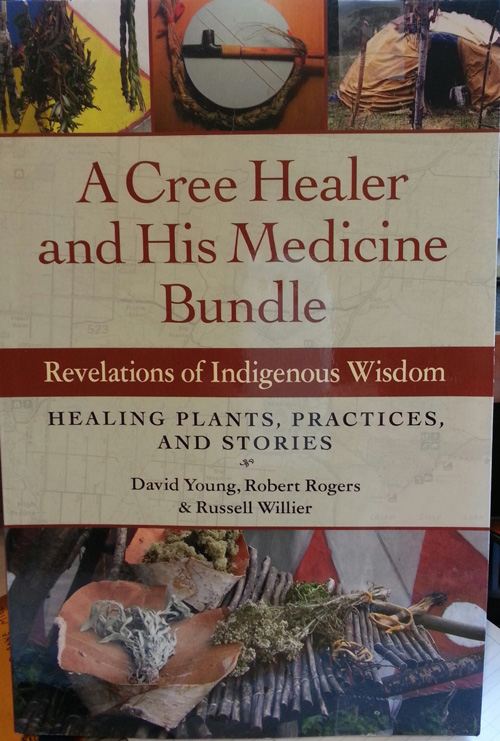 Healer passes his knowledge on to youth
Written by Russell Willier
Reviewed by Dianne Meili
Windspeaker Contributor
Hoping to help young people, Indigenous healer Russell Willier teamed
up with anthropologist David Young once again to produce an excellent
book — A Cree Healer and His Medicine Bundle: Revelations of Indigenous
Wisdom – Healing Plants, Practices, and Stories—that preserves Cree
medicinal knowledge, plant by plant.
Following the 1989 release of Cry of The Eagle, a book tracking
Willier's life as a traditional healer and his treatment of 10 patients
afflicted with psoriasis, the duo this time enlists botanist Robert
Rogers to provide commentary on folk uses and the explicit properties of
61 plants in Willier's repertoire.
As a teenager, the healer rejected the responsibility that came with
accepting his grandfather's medicine bundle. In his 30s, however, aging
medicine people convinced him to abandon his everyday life in favour of
studying their healing methods to help preserve their knowledge.
Cree cosmology figures large in Willier's approach to healing; he
describes his spiritual views with the help of diagrams. He also
discusses how and where he finds his plants and herbs, offers practical
advice on how to approach a healer, and laments the loss of natural
habitats where his wild medicines grow.
Willier's favourite healing stories are engaging, especially the one
about the call he received from the family of a dying Elder who saw
spirits emerging from a round flying vehicle "with little windows" to
collect him.
Through Young's research diary, we ride along with them on a 1,000 km
journey across northern Alberta to collect plants in July. The men slog
through bogs and ride quads on rutted roads to locate medicine, along
the way visiting with Willier's old mentor, and taking photographs of
flowers, stems and roots.
From "ice cream trees" (Trembling Aspen whose sweet-tasting cambium
tastes like honeydew melon) to "frog pants" (the carnivorous pitcher
plant), Russell provides information about how traditional Cree people
interacted with various †plants, herbs and trees. Rogers provides
additional information about uses and properties of each plant, while
nearly 200 of Young's color photos illustrate how they appear in the
summer and fall.
The authors revisit their 1986 Psoriasis Research project in the
book's final section, relying on dramatic before-and-after photos to
help demonstrate the effectiveness of natural plant medicine on severe
skin eruptions.
Six of 10 patients improved significantly over the course of seven
months, one of whom was completely cured of psoriasis on his hands.
Maps and descriptions of Northern Alberta locales where Willier finds
his medicine plants underscore his generous wish to guide young people
in using them. There's also an index of referenced plants in English,
Latin and Cree, plus a list of references cited in the book, published
by North Atlantic Books, 2015.
Fully accomplishing what it sets out to do, the book offers evidence
that traditional medicine really works, and aspiring healers can
reference text, pictures, and maps to identify and locate them.
Providing, that is – as Willier repeatedly stresses in the book – that
humans stop destroying the habitat of wild, medicinal plants.
Photo caption:
A Cree Healer and His Medicine Bundle: Revelations of Indigenous Wisdom
– Healing Plants, Practices, and Stories - Written by Russell Willier
2015 Review: Autumn Leaf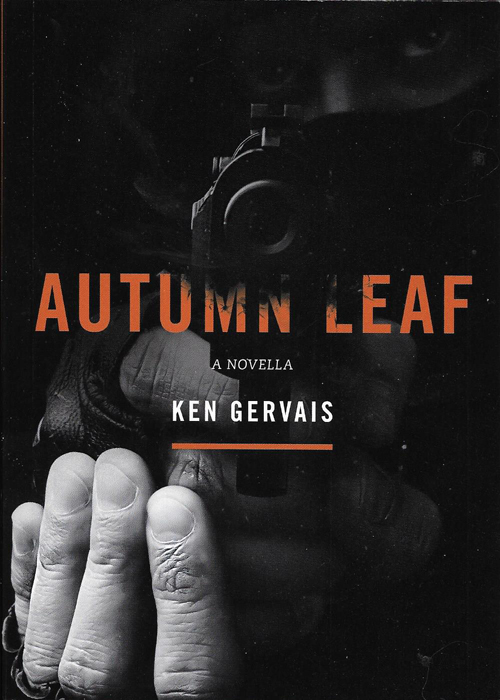 Action-packed and breezy read with Autumn Leaf
Written by Ken Gervais
Published by Pemmican Publications
Reviewed by Shari Narine
Windspeaker Contributor
Autumn Leaf is the story of a friendship that develops when
three people are thrown together by circumstance in remote British
Columbia. However, like the leaf that floats on the wind, author Ken
Gervais chooses to keep the story breezy instead of delving into the
psyche of three troubled individuals, who choose not to be blown in
every direction but to take control of their paths.
The story, published by Pemmican Publications Inc., revolves around
one-time Commonwealth middleweight boxing champion Victor, now 54. It's
easy to assume that Victor is a washed up boxer, never having been able
to recover from his bout of fame. But that isn't the case. As the story
unfolds, it is revealed that Victor's medic-on-the-move gig came about
because of the tragic loss of his son followed closely by the death of
his wife. Victor had a life after boxing, has money from boxing, and has
a grown daughter, who lives in Vancouver with her two children and
husband. As Victor later tells Pauline, one of the two young people he
befriends, he chose not to be around his grandchildren because they
didn't deserve to be exposed to a man, who was always sad.
Pauline is a young, recovering drug addict, whose brother, a drug
dealer, has disappeared. She expects he has been murdered. Pauline takes
to Victor's lessons of self-defence in only the way a woman fighting
for her life can and she repays Victor, grudgingly, by helping Victor
steal painkillers so Victor can properly treat the workers at the camp
he is stationed at.
Sean is the third member of this motley crew. He is the good looking
First Nations man that talks Victor into heading up to Fort Nelson to
work at the camp and introduces Victor to Pauline. Sean ends up
idolizing Victor and hooking up long term with Pauline.††
Autumn Leaf is not short on action. It moves quickly from
one action scene to the next, from Victor being knocked out in the bar
brawl that opens the story to Pauline knifing Victor's attacker at the
work camp. Gervais establishes the physical setting of the work camp
well, which is where most of the story takes place, but he fails to set
up the emotional and mental aspects of working in an isolated camp. Had
he connected the characters in their isolation to the barrenness of the
wintry north, the story would have been rich.
Gervais only skims the surface of Victor and Pauline and barely
touches on Sean. Pauline is the character with the most growth, changing
from a drug addict to someone, who decides to live a clean life. Her
motivations are unclear and her struggle is not chronicled. Victor's
attachment to these two twenty-somethings is equally unclear. He bemoans
connections and being hurt by relationships, yet he accepts the
friendship that Pauline, in particular, wants to give.
Autumn Leaf is a novella and Gervais' debut work. Novellas
are a tricky length of work. They don't have to be as tightly woven as a
short story but there's not as much room to play as with a novel.
Gervais' characters are flawed but endearing, and the setting of the
story is compelling. Deeper writing and stronger editing would have
produced an absorbing study in characters and settings. Instead, Autumn Leaf is an easy-read action novel.
2015 Review: Bearskin Diary - A novel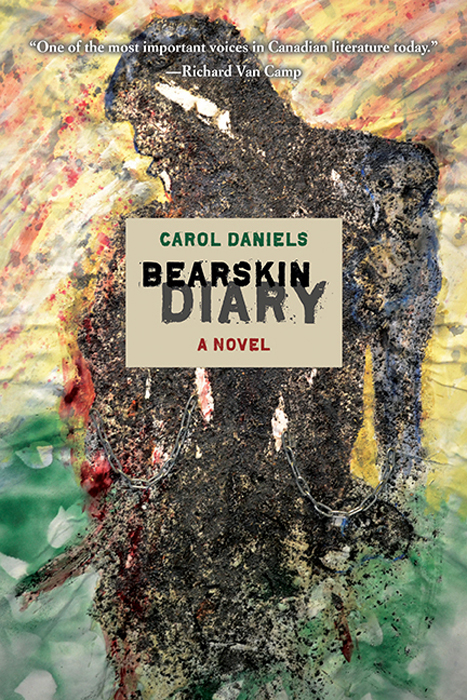 Honest, profane, difficult look at the 60's Scoop
Book written by Carol Daniels

Reviewed by Andrea Smith
Windspeaker Contributor

A novel recently published by well-known Canadian journalist Carol
Daniels brings to light issues surrounding missing and murdered
Indigenous women.
Bearskin Diary is the story of a young girl who was taken
from her family by the Canadian government, and placed in foster care
during the 1960's. To Daniels, the "60's Scoop" was one of the last
great efforts at the assimilation of Aboriginal Canadians, but the
effect of that historic act left a devastating mark.
"There's lot of things people aren't going to like… there's
sexuality, and some really ugly behavior," said Daniels. "Not
necessarily from the main character, though she does her fair share. But
it's a really frank look at racism, and a brutal look at what First
Nations have to go through," she said.
Daniels, who often writes children's literature and short stories,
acknowledges the book is much darker than many of her other works. But
she also acknowledges because the issues raised in the book are real
issues, faced by real people, being honest and sometimes even profane is
important.
The plight of the main character, which includes broken family ties,
experiences with abuse, and the erasure of her identity—all
after-effects of the 60's Scoop—is talked about candidly in the book,
and according to Daniels, for good reason.
"Sometimes I think 'What if anyone had done that to me?' I was a
single Aboriginal woman with children, and if they came and said 'You're
not married, you're not capable of taking care of these kids,' I think
'Oh my God, that would have destroyed me'," said Daniels.
The novel has actually been in the works for nearly eight years, but
raising three children, and working as a full-time news anchor kept her
from finishing earlier. Her children being her biggest concern in life,
gave her extra empathy for her characters' griefs, and outside research
added fuel to her fire.
"The young lady in the novel is placed with a Ukrainian family, so I
had to do research on the customs you would have in your family… I
didn't know Ukrainian families were put in concentration camps in Canada
during World War I. That made for a good story because the grandmother
could identify with her granddaughter (the main character) who was
Cree," she said.
Even Daniels' own artwork is featured on the cover. The piece, in
real life, is a 5-ft by 4-ft painting modelled after a story told to her
by an Aboriginal Elder. The Elder vividly recalls running to hide as a
child, every time he heard the Indian Agent's vehicle driving up along
the road near his home.
The man's experiences took place before the 1960's, but because the
government was already taking Aboriginal children from their families to
be placed in Indian residential schools, that fear was already
commonplace.
"It's made with dirt, and acrylic, and all sorts of materials," said
Daniels of her painting. "And if you look closely, there are skulls in
the body of the Indian Agent. I'm happy they went with my image, because
for the story of the scoop up, it was the same thing…" she said of the
similarities between stolen children in the residential school system,
and the stolen children of the 1960's.
Daniels' novel has actually been placed on the winter syllabus at the
First Nation's University in Regina. And she is eager to educate the
public about the larger picture behind her novel.
As for her favorite part of the story, she is most proud of the fact
that the main character, Andy, at one point is finally able to come to
terms with her life experiences, and challenge some of the identity
issues she has picked up along the way.
"She goes to a powwow," said Daniels. "And she's terrified because
she doesn't know what to expect. But before you get to that part you
realize she's got a lot of ideas that are not hers that have come to her
because of her brown skin...† And she's touched by her experience, in a
good way that changes her life," she said.
This is where Daniels really hopes she'll be able to reach people.
While the novel is only one year of the main character's life, it's the
year that is most significant. Daniels hope that as the main character
unravels some of her trauma, readers, too, will find a new understanding
of themselves, or people they might know.
"If there are people out there who don't know anything about our
culture, it might serve as a starting point to learn about us," she
said.
"And if you happen to be an adult who doesn't know anything about the
culture because of the 60's scoop, I'm hoping they'll say 'Gee, I need
to learn, and undo some of the things that were said to me…' And stop
believing somehow they aren't worthy'," she said.
2015 Review: Languages of our land - Indigenous Poems and Stories from Quebec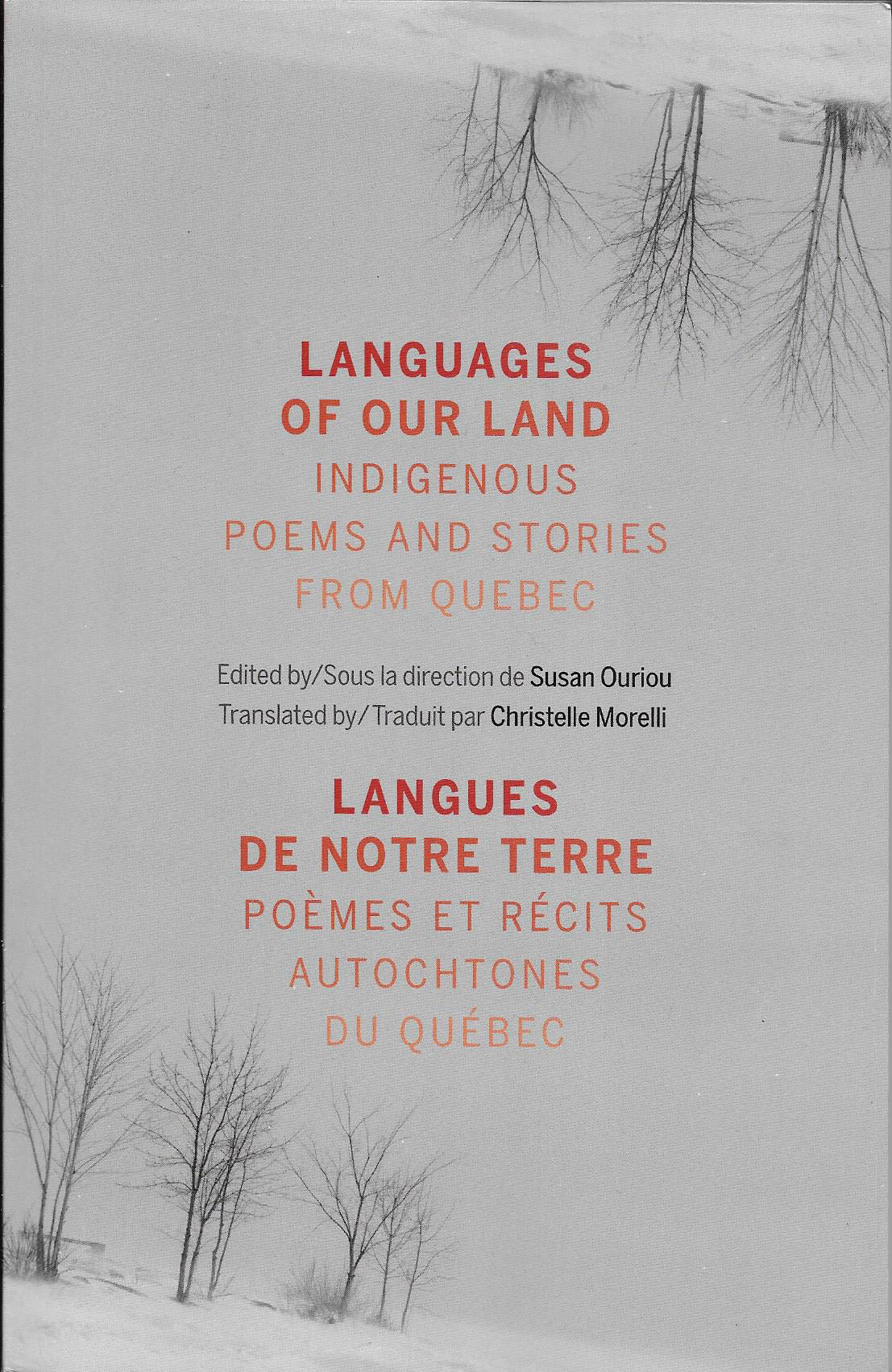 Rich and compelling, writers reach emotional depth
Languages of Our Land
Published by Banff Centre Press
Reviewed by Shari Narine
Windspeaker Contributor
Languages of Our Land is a compelling collection of works by
12 emerging and established Indigenous writers living in Quebec,
published by Banff Centre Press.
The original work is in French, which is included side-by-side with
the English translation. For English only readers, the English
translation is rich and captivating.
And for lucky readers of French, one can only imagine how much richer
and more captivating both the prose and the poetry – especially the
poetry, with the special attention that must be paid to rhythm and flow–
must be.
And what if the stories could have been related in the true first
languages of the authors – Wendat, Innu-aimun, Cree or Algonquin? The
writing would have been even more beautiful. However, although the
writers did not use their mother tongues, it is evident that the writing
is influenced by the lived culture and the original language.
The writers have all been touched by the Indian residential school
experience. Indeed, a couple of the poets use the word "genocide" to
talk about what happened to their families, their communities, their way
of life.
"Cultural genocide" was the phrase spoken by Truth and Reconciliation
Commission Chair Murray Sinclair to sum up the federal government's
policy of Indian residential schools.
In "Dust of our Blood," poet Jean Sioui writes, "My father … /One day
you were the trapper/the next day you were the trapped/My father …/One
day you were the hunter/the next day you were the hunted." It is easy to
feel the loss of a way of life and of culture in those few simple
lines. The work of Sioui, who is Wendat from the Bear Clan, is the first
in the collection and sets the tone for what is to come.
In "Lost Origin," Manon Nolin's despair is clear in her words: "I
turned away from my origins/I lost my heart of a child/I don't know who I
am/Am I Innu?/Am I other? I am rootless."
The way of life, of what it has become, is captured honestly in the
thoughts of an old woman: "Poor Marie trying to get away from her man
when the bottle turned him mean." Simple, straightforward, and bare is
the work provided by Carole Labarre in the short story, "Pishimuss."
These poignant words capture the struggle of a people who have lost
seven generations to Indian residential schools. With no culture, no
language, no spiritual practises, where does the strength and direction
come from to move beyond hurt and self-destructive coping techniques?
Not all the poems and short stories are about loss.
"Though the shadows of residential schools/hovers still over our
communities/I know today's youth will find there/a way to free
themselves," writes Real Junior Leblanc in the poem "Uprooted
Childhood."
And in "Day by Day," Melina Vassiliou writes about hope: "my son's
pure gaze/his winning smile/my son's pure gaze/my winning smile/day by
day."
In the greys and blacks of loss, the writers also share the bright colours of hope.
Writes Virginia Pesemapeo Bordeleau in the poem "Women's Declaration
of Peace," the final selection of the anthology, "Peace is an answer/to
all the wounds inflicted/on our dignity,/day after day./Peace is the
condition of our healing."
Languages of Our Land was written at the Banff Centre in
Alberta. Says editor Susan Ourious in her introduction, "In the majestic
setting of the Rockies, the chosen Canada Council writers were given an
opportunity to reunite with the land, the river, the forests and the
sky." That reunion has created a stirring collection of prose and
poetry.
2015 Review: My Story: The Riverton Rifle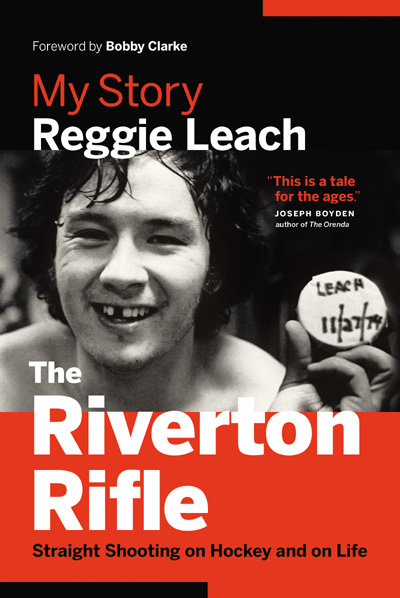 Hockey's Reggie Leach a straight shooter in new book
Written by Reggie Leach
Reviewed by Sam Laskaris
Windspeaker Contributor
When he was in the prime of his professional playing days, Reggie
Leach was one of the National Hockey League's most prolific scorers.
It's little wonder then that Leach continues to be a straight shooter
these days. His recently released autobiography published by Greystone
Book called The Riverton Rifle tells it just like it was.
He manages to stay humble and doesn't omit the bad parts, which
included his excessive drinking, the breakup of his first two marriages
and a stint at a rebab facility in New Jersey.
The Riverton Rifle concludes with a chapter titled Full Circle, in
which Leach, who has been sober for 30 years, talks about his current
life. Married for a third time, Leach lives in Aundeck Omni Kaning on
Manitoulin Island in Ontario.
He spends a good chunk of his time assisting his son Jamie, who was
also a pro hockey player, with the Shoot To Score hockey school. The
elder Leach is also a sought after motivational speaker, who prides
himself on being an Aboriginal role model.
Leach preaches the importance of making good choices in life. As he
himself knows, at times bad decisions are made. He stresses to never
blame anyone else for those choices.
Leach, a member of the 1975 Stanley Cup champion Philadelphia Flyers,
netted a career high 61 goals in 80 matches the following season.
The Ojibwe, who grew up in the Manitoba community of Riverton, played in more than 1,000 games during his 13-season NHL career.
Leach devotes a chapter in The Riverton Rifle (a nickname he acquired
for his accurate shooting) to his championship season with the Flyers.
The chapter, simply dubbed The Cup, includes numerous recollections
of the Flyers' playoff run. Though he was part of a Philadelphia club
nicknamed The Broad Street Bullies because of their aggressive and
intimidating play, one can't help but secretly cheer for him as he
describes the pandemonium inside the club's locker room after clinching
the Cup.
Leach also details the bedlam in the ensuing championship parade
through Philly streets, which included a nude woman running alongside
the players on the route.
Even those who did not grow up as Flyers' fans can be forgiven for
feeling happiness for Leach as he concludes the chapter by stating how
special it was – even more so today than back then – to have his
childhood dream come to fruition thanks to plenty of hard work.
The expression It Takes A Village To Raise A Child is certainly true
in Leach's case. He was born to a pair of young unmarried parents in
Winnipeg. But when he was a mere few weeks old he was sent to live with
his paternal grandparents who raised him in Riverton.
Starting from a young age, members of the community would give Leach some odd jobs to do.
It wasn't until Leach was 11 years old that he found out the man who
would drop by for visits for a few days was his biological father.
Despite ups and downs, The Riverton Rifle details how Leach became a winner on and off the ice.
Personalized signed copies of The Riverton Rifle ($35, plus shipping)
are available by contacting Leach directly at zreg27@yahoo.com or by
sending him a message via Facebook through his page at
www.facebook.com/reggie.leach.16
Photo caption: My Story: Reggie Leach, The Riverton Rifle, Written by Reggie Leach, Published by Greystone Book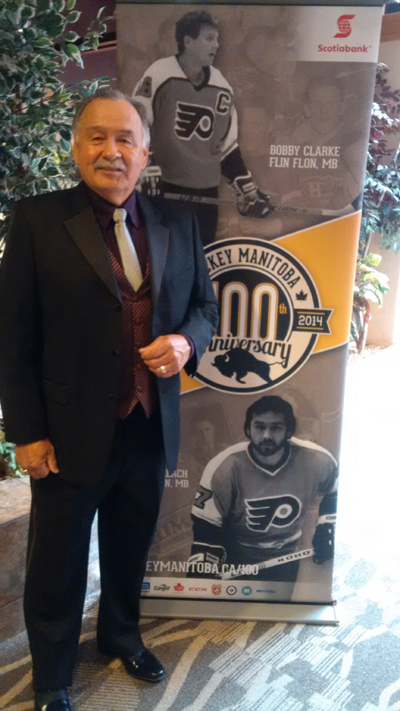 2009 Review: Meshom and The Little One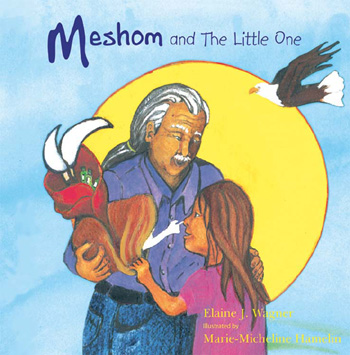 Children's book promotes culture and respect
Meshom and The Little One
By Elaine J. Wagner
Illustrated by: Marie-Micheline Hamelin
Theytus Books
56 Pages, (sc)
Ages 3 and up
Review by L. Christine Suthers
Meshom and The Little One is published by Theytus Books, a First Nations publishing house based in Penticton British Columbia. Theytus Books produces and promotes Aboriginal authors, illustrators and artists. Meshom and The Little One is Elaine J Wagner's first book.
It is full of vivid descriptions of landscape and expresses the feelings of her characters' with we can relate. In Meshom and The Little One, Wagner has found a way to enlighten us to some of the Ojibwa culture and language that adds an educational element and enhances the story.
The illustrations in this book are the work of Marie-Micheline Hamelin. They complement the story of Meshom and The Little One perfectly. The drawings are playful and full of life. Hamelin has captured the essence of the story and the love shown by the characters in her drawings.
Meshom and The Little One is a story about a young Ojibwa girl, Shawna, and her difficult time adjusting to moving across the country with her mother. Her new home is very different from what she is use to. The small town on the prairies in Manitoba changes to a city near the mountains of British Columbia. Ten-year-old Shawna is sad and lonely. She misses her friends and cousins but she misses her grandparents the most.
Shawna sees her Meshom (Grandfather) and Kokum (Grandmother) when they fly in to visit and to celebrate her birthday. Her grandfather gives her an unpainted plaster figure of a Ka-agashinshidig, a Little One, to watch over and protect her. He explains to her how the Little Ones' were tricksters and how they liked to play jokes and mischievous games. Meshom told Shawna that the Ka-agashinshidig was as unique as she was and that she should paint it by herself.
After her grandparents leave, Shawna and her mother visit a craft store and buy paints. Shawna sets about painting her Little One. She paints him in the colours that remind her of the traditional clothing of the Ojibwa. While she is painting she thinks of her Meshom and Kokum, the Elders, the lake her grandfather fished, and the colour of her father's eyes who died when she was very young.
Shawna talks to the Little One while she is painting. She tells it of the colours she is using, what she is feeling, and the friends she was looking forward to making when she started school. Shawna was happy.
She names her Little One Ogi-ma, which means Man of Esteem. As Shawna finishes painting Ogi-ma, Meshom and Kokum surprise her with a return visit. Her grandfather brought another a Ka-agashinshidig to paint and as a friend for Ogi-ma. Shawna names her new Little One Ogi-ma-kwe which means Woman of High Esteem.
Meshom and The Little One is an endearing story with characters full of love for each other and the Ojibwa culture. You and your children will enjoy this book. It is definitely worth the read.
2009 Review: Motorcycles and Sweetgrass
Trickster plays with small-town minds in Otter Lake
Book Review
By Christine McFarlane
Motorcycles and Sweetgrass
Author: Drew Hayden Taylor
Award-winning playwright, columnist and comedy-sketch creator, Drew Hayden Taylor from Curve Lake First Nation, Ont., is at his fast-paced, comedic best with his latest book
Motorcycles & Sweetgrass, which is set in the fictional sleepy Anishnawbe community of Otter Lake.
The premise addresses many issues that First Nations people currently deal with, including community politics, identity, mythology and intergenerational legacies—the impact of children removed from their communities to attend residential school, and the problems that caused, including alcoholism, lost retention of traditional ways, repressed memories of long ago hurts, and rifts in familial relations. Throw in a few Windigos and a new government granted land parcel for the band that unleashes a swarm of local lobbyists with competing schemes for development and you've got the makings of a funny and compelling story by Hayden Taylor.
The reader is allowed into the life of Maggie Second as she tries to juggle several roles, including motherhood and the stresses that come with being in a very public role as chief, a position she inherited after the sudden loss of her husband in a boating accident.
Maggie finds that the issues she often deals with in her political life drift into her personal life. She is distracted by the demands of her job and the impending loss of her mother and a wayward son Virgil, who tends to skip more school than he attends.
Maggie also finds that the paperwork involved with the newly-acquired land parcel is more of a hassle than it should be. She has to deal with "three levels of government, four, if you included the reserve, that has to sign off on the transfer. She finds that most non-Natives believe the idea of granting the band more land is an absurd concept. After all, "five hundred years of colonization had told them you took the land away from Native people, you didn't let them buy it back."
The stage is set as Maggie's focus shifts when a six-foot-plus dreamboat riding a 1953 humdinger of an Indian motorcycle arrives in the community. The motorcycle rider is possibly the mischief-making incarnation of the Ojibwa's trickster figure Nanabush, and the town of Otter Lake turns upside with a silliness that they have never experienced before.
No one really seems to know what's going on except for the raccoons that track this bike around like a posse, and they're not happy.
Taylor writes this book with comedic ease, but he pokes at some very serious issues, such as language. In one scene, Maggie Second and her dying mother are speaking in their native Ojibway and the book reads "she spoke it like all the old-timers did, with strength and confidence, not hesitantly and softly like the youngsters who took the language in university, if they took it at all."
Hayden Taylor's book generates much thought about small-town small-mindedness, and he mixes it with the problems brought by a trickster figure let loose in a community already preoccupied with fooling itself.
The book's real strength is the underlying account of a community struggling to weave a traditional past with some kind of meaningful future. In these matters Taylor's humour yields to a tone that is variously caustic and melancholy.
Hayden Taylor's Motorcycles and Sweetgrass was the Governor General's Award nomination for fiction in 2010.
It is published by Alfred A. Knopf Canada, and can be purchased at your nearest bookstore.
2009 Review: Shedding Skins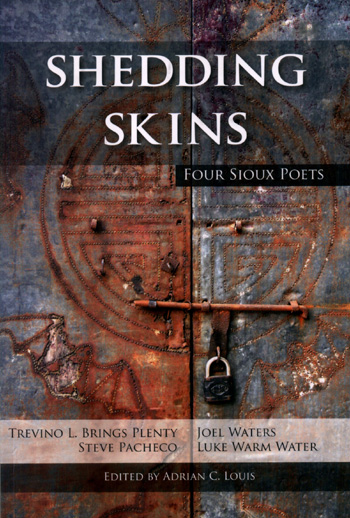 Poetry book breaths inspiration and reflection
Shedding Skins
By Trevino L. Brings Plenty, Steve Pacheo, Joel Waters, and Luke Warm Water
Michigan State University Press
123 pages (sc)
$15.95
Review by Thomas J. Bruner
In order to illustrate the power of poetry, one should have passion, must know pain, and must be able to breathe it onto the page. Shedding Skins is poetry in the truest sense of the word.
Shedding Skins is the brilliant result of a consortium of four Sioux poets. Each one of them bring something unique and powerful to the pages. Some of the poems play with the mind, while others punch you in the stomach with their brutal honesty.
"I don't dream anymore, I only remember." – an excerpt from Building Rooms To Sell Dreams, by Trevino L Brings Plenty.
The first of the poets is Trevino L. Brings Plenty, who not unlike his name brings plenty of thoughts to the book. His poetry is both clever and sharp, in the way that he conveys a thought and could force one to either laugh or cry, but at the same time, could have you shaking your head in disbelief at how he managed to say it. His poetry manages to be the words when everyone else is speechless.
"The afternoon smell of fish frying in the kitchen, masking the smells of the night before" – excerpt from Indian Country, by Steve Pacheo.
Steve Pacheo, as second contributor to this book, cleverly speaks of old family memories, and you kind of get the feeling that he wishes that his past didn't hold so much pain and dysfunction while at the same time you sense a thinly veiled fondness for it as well. It is yesterday's memories spoken from today's mind.
"I will never put anything before the importance of my own skin" – excerpt from Wannabe, by Joel Waters
The third poet is Joel Waters who conveys either the pride of being Native American or the lack thereof. The anger, pain, or impatience with the world can be felt with every carefully chosen word.
"This has been the gospel according to Luke Warm Water" –excerpt from The Jesus Of Pine Ridge, by Luke Warm Water.
Last, but certainly not least in the quartet of poets is Luke Warm Water who appears to be the most seasoned of the poets. His poems are the "full meal deals" of poetry and require a sit down and read regimen to gather the true meaning. Shedding Skins is like walking through four abandoned homes with every memory in tact. All four poets are brilliant regarding their ability to turn something as ugly as the past into something as beautiful as a poem.
2010 Review: America's Gift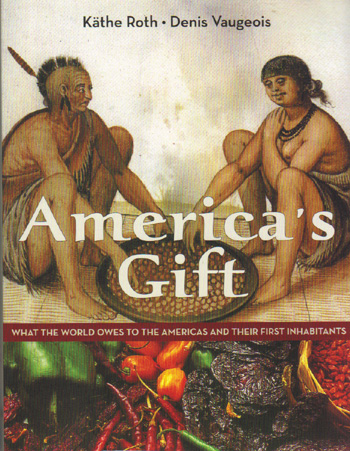 Review by Shari Narine
America's Gift
By Kathe Rothe and Denis Vaugeois
Published by Baraka Books
December 2009
Originally published in 1992 in French, America's Gift, by Kathe Rothe and Denis Vaugeois, came out in English in 2009.
The authors say the book "started with the idea it would be built on etymology," and while it is, it's also a strong testament to what Native Americans contributed to European culture and the enduring quality of those contributions.
The goal of the book is twofold, say Rothe and Vaugeois: to both point out what the Indigenous people gave (both willingly and unwillingly) to the explorers and to look at what the "discovery" of the Americas meant to the rest of the world.
The fact that the first Europeans, who arrived in the Americas, tried to learn the Indigenous language, is one reason why many words spoken by the Indigenous peoples became part of the mainstream language. It is believed that the Native people of the Americas spoke 2,200 different dialects.
It is fascinating to learn that the food we eat, the clothes we wear, our system of government, the animals we watch and the stars above our heads all have a heavy influence in the Indigenous language.
The book lists approximately 300 words in easy-to-follow alphabetical order and includes the language of origin. As well, an easy-to-use reference in the back of the book separates the words into their languages of origin as well as subjects such as animals, plants and objects.
The Algonkian language supplied the most words to French and English, just a small sampling being the common North American animals woodchuck, opossum, moose and raccoon.
Much of our fruit and vegetables have their roots in Native American words: papaya (Carib), avocado (Nahuatl), squash (Naragansett), and potato (Taino).
Other words that are common in the mainstream household include toboggan (Micmac), barbecue (Taino), tobacco (Maya), and hammock (Carib).
Even obviously Native American words are part of the mainstream language: sasquatch (Salish), moccasin (Ojibway), and anorak (Inuktitut).
Authors Rothe, who is a translator, and Vaugeois, who is a historian, have worked together for 15 years producing history books.
America's Gift is a strong collaboration that uses the strength of both Rothe and Vaugeois to present an interesting look at Native American linguistics, its longevity and its adaptability and how it has made the English and French languages stronger, and in some ways, poetic.
The way in which America's Gift is organized makes it not only an easy read but also an easy reference guide.
2010 Review: Everything You Know About Indians is Wrong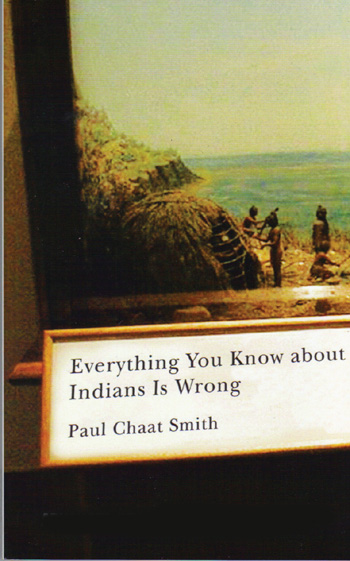 Review by Shari Narine
Everything You Know About Indians is Wrong
By Paul Chaat Smith
Published by University of Minnesota Press 2009

December 2009
Paul Chaat Smith's Everything You Know About Indians is Wrong is a hard hitting collection of essays that examines mainstream society's inability to clearly understand the significance of Indian civilization prior to the coming of the Europeans and mainstream society's need to continue to perpetuate the myths and stereotypes.
While Smith's essays are compelling, they are at times confusing and contradictory.
Perhaps the most important point to keep in mind is Smith's comment in his Afterword: "I continue to find buried history, pop music, failed revolution, television, and future that never quite arrived subjects of endless interest. But the truth is, I'm not really the same guy who wrote these essays." The changes in Smith can be seen in this very collection, which spans from 1992 to 2008.
Smith lambastes mainstream culture in its depiction of Indians in media, all the way through from film and television to history books and art – and hence the title of his collection of essays. However, Smith doesn't offer answers and perhaps he doesn't because he believes filmmaker Zacharias Kunuk is correct when he approaches his work with questions and not statements. Writes Smith, "Too many Indian artists approach their work with statements, not questions. And the statements are along the lines of: This is who we are, and this is what happened to us."
However, on one hand Smith clearly states that much of the depiction of Natives is through the hand of the white man and thus must be approached with healthy skepticism. But in noting that there is now a first generation of Indian artists, Smith vacillates on whether this new generation is doing any better of a job in depicting Indians. Too many Indian artists, he says, attempt to walk the two worlds of mainstream and Indian and only succeed in producing confusion.
Smith is probably no more critical of the media than he is in his take on film. He points out that the early westerns depict Indians in the stereotypical fashion, moving from savage to noble savage. He also notes that westerns are the creation of white men not Indians. Smith is vocal in his dislike of the critically acclaimed "Dances With Wolves." While he says, "An Indian film aesthetic must challenge the manufactured images if it seeks to represent our lives and experiences," he knocks Indians for taking the movies too seriously. Says Smith, We've crossed the line somewhere and forgotten that it's entertainment and not a vehicle invented to first denigrate and then uplift our race."
However as critical as Smith is of the various media that are used to depict Indians, whether it be at the hand of whites or Indians, he does point out a handful of Indians that he thinks are getting the job done. Along with Kunuk, Smith mentions conceptual artist James Luna and in particular his "outrageous and brilliant" installation The Artifact Piece; Kanai artist Faye HeavyShield and her installation blood, which premiered in the Southern Alberta Art Gallery in Lethbridge; and Baco Ohama's Miyoshi, which also opened in Lethbridge.
Smith's essays also touch on the Indian demonstrations in the United States, particularly the take over of Alcatraz Island in 1969; the creation of the American Indian Movement; and the significance of the Nixon administration.
Smith's writing could be seen as a throwback to the title of his book. Indian people are known to have a dry wit and caustic sense of humour; throughout Smith's early essays that wit and sarcasm comes through. It makes the reading of his essays interesting, but also challenging, because with his tongue-in-cheek approach it's sometimes difficult to know exactly what he's being serious about.
Smith, a Comanche, is the associate curator at the National Museum of the American Indian of the Smithsonian Institution in Washington.
2010 Review: Fatty Legs, a true story
Young girl lets nothing stop her from reading
By Lillian Blackstar
Windspeaker Contributor
TORONTO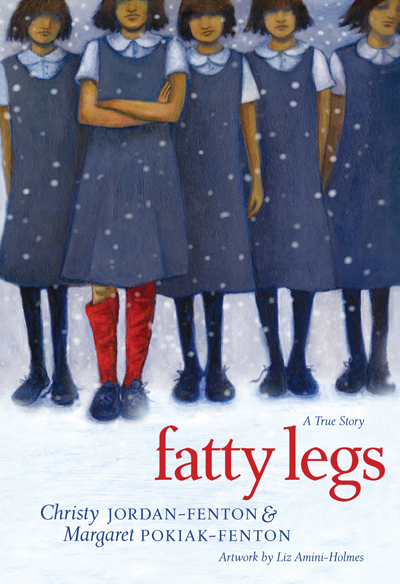 Fatty Legs, a true story written by Margaret Pokiak Fenton and Christy Jordan Fenton, has been chosen as the First Nation Communities Read program 2011/12 selected title.
It's a story of courage and great endurance.
The story was selected by a six-member jury of librarians from First Nation public libraries in Ontario, with support from the Southern Ontario Library Association. It was selected from 29 titles submitted by 13 publishers from across Canada and timed to fit with Ontario Public Library Week (Oct. 16 to Oct. 22).
First Nation Communities Read encourages family literacy and intergenerational storytelling, and promotes the publication, sharing, and understanding of Aboriginal voices and experiences.
Fatty Legs provides readers with a glimpse into the residential school experiences of a young Inuvialuit girl named Olemaun, later known as Margaret Pokiak.
Margaret, now 75, grew up in the northern community of Banks Island in the Northwest Territories. Her family consisted of 16 kids and her parents and subsisted on hunting and trapping.
One day at the age of seven, as her older sister was reading to her, Margaret began to want to go to school. With much pressure put upon her parents from little Margaret, she was allowed to go to the Immaculata Catholic School in Aklavik where she attended from age eight to 12 years of age.
After a few days there, however, she says she wished she had never gone and wanted to return home. She was immediately targeted by a nun who would bully her, and who gave her red stockings to wear to embarrass her in front of everyone. She was the only girl at the school forced to wear them.
From the time of the customary cutting off of the hair, to the other humiliations of institutionalization, Margaret decided to fight back. In the face of bullying and oppression, she learned to knit and sew, an occupation she still does today.
Margaret decided to allow her story to be written when her daughter-in-law convinced her that her story would take others on an empowering journey.
"At first I did not like the idea. I was worried that my grandchildren would know I was naughty at one time," said Margaret.
She said she was also reluctant for her son to know about her having to wear red stockings. Now Margaret is happy that by sharing her story she is helping others.
Margaret married in 1962 and with her husband had six children. Her co-writer, and wife to her son Garth, is Christy Jordan-Fenton. Christy wanted Margaret to write her touching story, so she helped her to write it.
Today, Christy and Margaret live on little farms beside each other in Fort St. John, B.C. They share their stories, and Margaret still does her baking and does traditional crafts to sell at the local market garden.
Public libraries in Ontario, Nova Scotia, Manitoba, British Columbia, and the Yukon will receive the 2011/12 First Nation Communities Read poster promoting Fatty Legs; A True Story, and 19 other titles recommended for adults and young adults.
Fatty Legs, written in 2010 and illustrated by Liz Amini Holmes, is published by Annick Press and was shared at the Truth and Reconciliation National Event in Halifax.
There is also a sequel that is called A Stranger at Home, and a music video by Keith Secola coming out. Secola was just inducted into the Native American Music Awards Hall of Fame.
2010 Review: she walks for days inside a thousand eyes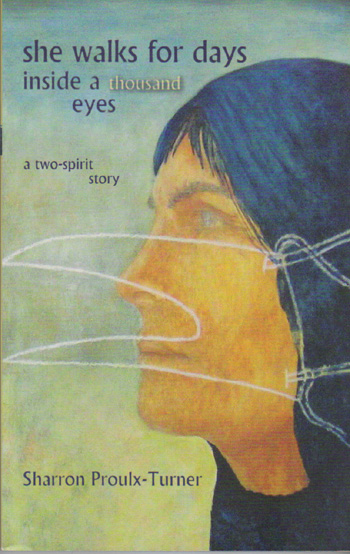 Review by Shari Narine
she walks for days inside a thousand eyes: a two-spirit story
By Sharron Proulx-Turner
Turnstone Press, 2008
December 2009
she walks for days inside a thousand eyes: a two-spirit story is a riveting mixture of prose and poetry, myth and modern day. Sharron Proulx-Turner's combination in telling the tale is part of the beauty and intrigue of the two-spirit story.
The story is ambitious; it's a story of confirmation and pride; a plea for two-spirit people to accept their role in today's society as they accepted it in the past. It's a plea to fulfill the roles of leader, mentor, warrior, protector, provider and mediator. It's a plea to accept that "two-spirit people are not a typo but are here for good, for all time to ensure balance in body, mind, heart, spirit."
she walks for days inside a thousand eyes is told in the voices of many as the "fleshly woman" seeks out understanding of who she is in a sweat lodge. Fleshly woman's journey is told through myth, where she learns of the lives of two-spirited people, what they suffered, what they endured, and what they accomplished. At the end, fleshly woman's visions tell her what she must do: "what you've learned here will return home with you and you're to share this knowledge as far and as wide as your remaining years will allow you."
Part of Proulx-Turner's myth includes the role of the European in shaming the two-spirits, by forcing man-woman unions "without heart and mindlessly label the union of two-spirits an abomination."
Proulx-Turner follows fleshly woman's movements and growth through the words of Small Spotted Eagle, Young Crow, Maw-Caw and Gopher (With One Eff), and fleshly woman addresses her grandmother Germaine on her journey to discovering who she is and what it means to be two-spirits. Proulx-Turner's literary devices make for interesting reading, in which even the prose is as poetic as the verse. And in the end, Proulx-Turner reveals that all her talking, learning animals are poetic devices, much to Young Crow's disappointment. Explains Maw Caw to Young Crow: "you, because you and your ego were brought back to life by the fleshly woman when she was still a girl and you were just a chick-kak. Small Spotted Eagle because she holds the history for the two-spirit women. And me? Because of our centuries with the Metis."
In revealing the proud history of the two-spirits, Proulx-Turner works to convince two-spirited people that they need "to break out of the mold that's been created by centuries of terror."
she walks for days inside a thousand eyes is a journey about learning about one's self and being open to accept what is revealed. And once accepting what has been revealed, the journey continues in using those gifts of who we are. "The fleshly woman is returned to her home knowing the gifts of the two-spirits, and ever so slowly, she'll begin to understand her role, a crucial role in opening the doors that resist opening."
In she walks for days inside a thousand eyes,Proulx-Turner makes it clear that the history of the two-spirits is proud and the future can be just as proud.
Proulx-Turner is a Metis writer raised in the Ottawa River valley. She has taught writing and literature at the University of Calgary and presently resides in Calgary.
2011 Review: Broken Circle: The Dark Legacy of Indian Residential Schools—A Memoir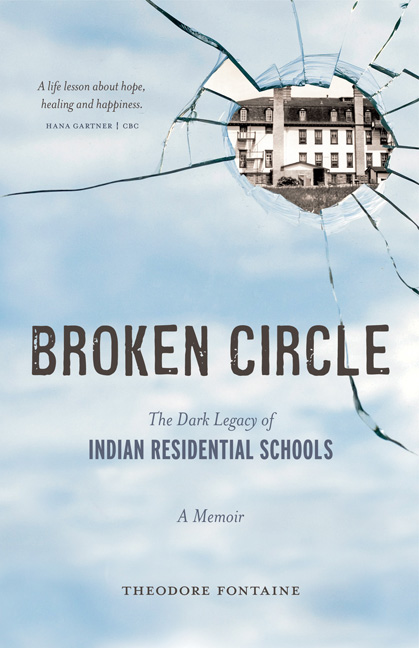 Light fades to dark in residential schools
Broken Circle: The Dark Legacy of Indian Residential Schools—A Memoir
By Theodore Fontaine
Published By Heritage House Publishing Company Ltd
Review by Christine McFarlane
"Broken Circle: The Dark Legacy of Indian Residential Schools—A Memoir" is a powerful book that gives testimony to the resilience of one residential school survivor and is also a hopeful and inspirational story that tells its readers that one can pick up the shattered pieces of life and use them for good.
Theodore Fontaine lost his family at the age of seven after his parents were forced to leave him at Fort Alexander Residential School, just days after his seventh birthday. It is poignant how he is able to capture the memory of his trip to the residential school, and the reader can envision Fontaine skipping down a dirt road on his reserve between his two parents and the excitement he felt at being able to go to school.
He writes about how he thought that he was on his way to a new adventure.
"I am going to be a 'school kid.' I'll learn to read; I'll be where my older brothers and sisters were, where they learned new things, coming back smarter, bigger and ready to find jobs and make money like Dad, my uncles and our older cousins. I will be a school kid, and I am excited!"
The excitement he felt quickly changes, however, and his experiences over the next 12 years would shape and control his life for the next 50 years. He recounts the courage it took him to climb up from a darkness that only a survivor of Canada's residential school system could understand.
While attending residential school, Fontaine realizes that his life would not be his own.
"I would no longer be a son with a family structure. I would be parented by people who'd never known the joy of parenthood and in some cases hadn't been parented themselves."
Fontaine explains how the "pounding into their minds that they were less than their keepers took its toll with more than two-thirds of his schoolmates dying early, mostly from lives lived trying to forget."
Ways of forgetting took form in many harmful behaviors, and while there are many stories about residential schools and the physical, sexual, spiritual and mental abuse endured there, Fontaine does an incredible job of humanizing the story of his experience.
The book confronts the truth and legacy of the Indian residential school. In its writing, Fontaine not only demonstrates the resiliency required to survive such experiences, he has taught himself that there is hope.
2011 Review: Gabriel Dumont: Li Chef Michif in Images and in Words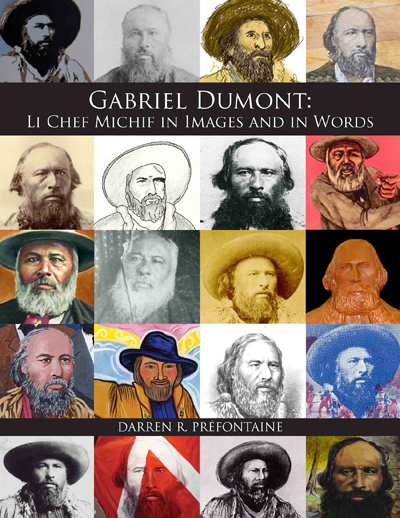 New book examines Métis leader through the eyes of his time
Review by Bernadette Friedmann-Conrad Sage Writer REGINA
A new book called Gabriel Dumont: Li Chef Michif in Images and in Words shows the life and times of the Métis leader through a new and different lens.
Author Darren Préfontaine said he wanted to compile this book because there was so much information about Gabriel Dumont in the oral histories and archival records that had never made it into the public sphere.
"The big story has always been about Louis Riel. There are only a couple of biographies on Gabriel Dumont and they don't talk about how he was viewed by Métis and non-Métis people. So I thought it would make a compelling story how this old rebel, if I may use that term, became a Canadian hero," said Préfontaine.
The book is a compilation of images and journalistic accounts of Dumont. With the help of staff at the Gabriel Dumont Institute, housed within the University of Regina, Préfontaine worked for three years to assemble photos, artist renderings and newspaper articles from around the world about this Plains Métis hero who was born in the Red River area in 1837 and died near Batoche in 1906. The book also shows material culture related to Dumont's life such as his pool table, artefacts he had in his possession, and his gravesite.
During their research, Préfontaine's team was surprised to discover that the 1885 Resistance and Dumont were very well covered in the newspapers and not just all over Canada but throughout the English speaking world. Préfontaine said he found out many things he didn't know about Dumont before.
"A lot of things came through serendipity during the research. For instance, there was a rich widow in Montreal who proposed to him; he saved some kids in a fire in the 1890s in Montreal, and he looked after orphans in Montana during 1885 — little vignettes like that. There are also some things in the book people might find unsettling, not so much about Gabriel Dumont, but about how 1885 played out," Préfontaine said.
Until the 1950s Dumont or the Resistance were hardly discussed in books. Préfontaine said Canadian society in general was under the impression that 1885 was over and didn't need to be talked about; it also wasn't going to recognize the bad things that had gone on, like how Métis people were marginalized and mistreated and what happened with the road allowance people. In the 1950s a few things changed however.
"For one, the prime minister at the time, John Diefenbaker, had met Gabriel Dumont as a young child and considered him one of his heroes. This is especially interesting since John A. MacDonald who smashed the Métis and First Nations in 1885 was Diefenbaker's hero as well. I think that led a lot of people to think that Dumont, even though you may not agree in the end with the actions he took, could be respected as a man of principle."
The book also includes a reference section that shows the oral traditions and archival documents about Dumont that were used in researching the book. Préfontaine included these in the hopes that readers may get inspired to write their own stories.
"My hope is that once this book is published more images and more things relating to Gabriel Dumont can come to life, and that'll only increase our knowledge of the man. Not only that, why not write a story about Madeleine Dumont, Gabriel's wife, why not about Poundmaker, why not Big Bear or Starblanket, why not any leader? The possibilities are endless; the Internet has made it so easy; all the old newspapers have been digitized. You don't have to live in Saskatoon, Calgary or Toronto any more to have access to the archives to do a book like this."
2011 Review: Louis Riel: The Heretic Poems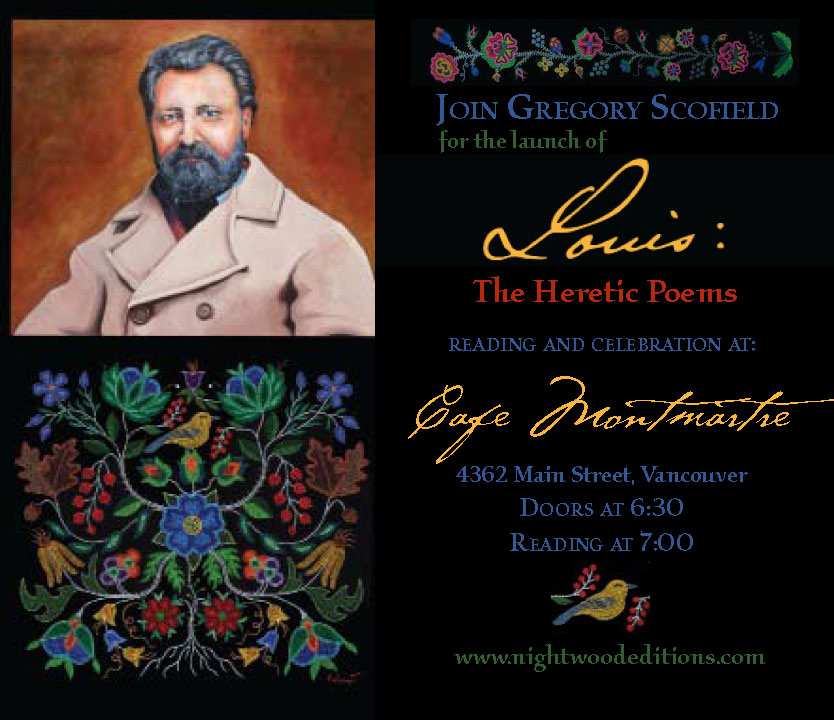 Riel, the icon, humanized through poetry
Louis Riel: The Heretic Poems
By Gregory Scofield
Published by Nightwood Editions
Review by Christine McFarlane
Louis Riel is a pivotal figure in Canadian history, and those who have never really understood him are taken on a journey by writer Gregory Scofield.
"Louis Riel: The Heretic Poems" is Scofield's new four-part book.
Metis poet Scofield draws attention to Riel by juxtaposing historical events and quotes with poetic narrative and this allows his readers a glimpse into each part of Riel's life, beginning with "Le Garcon (The Boy).
This section shows us Riel as a boy sitting on a train in the poem "Trip To Civilization, 1858" with Scofield recounting Riel's journey to St. Paul, and relaying the thoughts of Louis Riel from his journal notes.
"Twenty eight days we watch the trees grow sparse, and the oxen sway as if their legs are all tendon and marrow.
Finally we reach St. Paul, thank God
And what an exalted sight; to be a pane of glass
In one of the churches, a step at city hall."
Scofield gives his readers further insight into Riel's journey by showing us a glimpse of Riel's thoughts as travels sails by steamboat.
me, Louis Schimdt and Daniel McDougall
by steamboat
we are three crates of prairie dust
sailing down the Mississippi to Wisconsin
Then by train we go to Chicago.
Me, in a velvet seat. Louis Schmidt at the window.
Daniel McDougall asleep, Sister Valade
Plucking the hairs on her chin
Oh my! Oh my!"
Within the section titled Le President, we witness a reactive Riel in the poem "The Revolutionary." A note from Sir John A. Macdonald states "the impulsive half-breeds have got spoilt by this emeute (rioting) and must be kept down by a strong hand until they are swamped by the influx of the settlers" and Riel responds.
"Countrymen-
va chier! I say to him, pointing to all
the puppets of Parliament,
va chier!
I devote myself not to a masterpiece
Of rhetoric, a sermon of permission
Nor flowered admonition
What I declare here, to you
Is a sermon of salvation, a coaxing fire
We must set ablaze
A spark!
A flame!
A storm!
Within the section titled "The Spokesman" Riel is revered, and we are witness to another large figure in Metis history, Gabriel Dumont.
Finally in L'Homme D'Etat (The Statesman), the reader becomes a witness to Riel's prayer before being hanged.
In the poem"The Request" Riel laments:
"This is my fear.
To be put in a box. A poorly chosen box.
One that is constant quarrel over size and shape.
This is my greatest fear"
Scofield's ability to make his readers become a part of Louis Riel's life and journey is amazing. His voice is ideally paired with both the subject matter and Riel's own poetry and as you read each selection of poetry, the life of Louis Riel's is humanized.
Readers will see Louis Riel outside of being a folk hero and martyr. They see him within various roles, as a young boy, a friend, a husband, a father, lover, a poet and a visionary.
Louis: The Heretic Poems is 96 pages and published by Nightwood Editions, which is an independent publisher distributed and marketed by Harbour Publishing.
2011 Review: Midnight Sweatlodge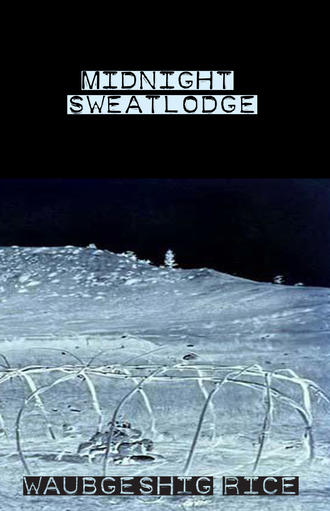 Healing and struggle are central themes in new book
Midnight Sweatlodge
By Waubgeshig Rice
Published by Theytus Books
Review by Christine McFarlane
"Midnight Sweatlodge" is a collection of short stories written by Waubgeshig Rice, a member of Wausasking First Nation and a CBC reporter based in Ottawa.
It tells the tale of a group of young people who have gathered to take part in an ancient Aboriginal ceremony—the sweatlodge.
Each person who takes part in the ceremony looks for healing and gives us a glimpse into the difficulties in his or her life.
Each story in Midnight Sweatlodge reflects a struggle of sorts, whether it is dealing with isolation, loss, an identity crisis, depression or substance abuse. Each person participating in the ceremony takes his turn in baring his soul, recounting painful experiences that have been witnessed.
Within the very first story, "Dust", the reader learns about two brothers who grew up on their reserve, their closeness and camaraderie apparent, and how their lives change after a standoff in their community when they witness the police shooting of their father.
The two young boys are catapulted from living carefree, playing baseball and swimming with their friends, to dealing with the grief and loss of their father.
Through this story, Rice discusses an issue that is all too familiar for many First Nations communities these days, the terrible toll that comes with the fight for land rights. The story relays both a personal and political side to hanging "onto identity, tradition, the bond between Mother Earth and her children—us," and how the death of the brothers' father impacts the young storyteller sitting around the fire in the sweatlodge.
In another story, "Bloodlines", the reader is exposed to the love between a First Nations man and his non-Native girlfriend in a contemporary urban city and how the young man deals with being amongst people not used to hanging out with an Aboriginal person.
The young man says his presence is still a novelty to the urban community around him and how, with his girlfriend, he wants to draw his own bloodlines, be in control of making life and "being able to control how that life turns out."
For his first book, Rice does a great job in each story by conveying that, though each situation is unique to the individuals, everyone struggles in one way or another and it is possible to heal through sharing with each other.
Rice also exposes non-Native readers to some of the difficulties that young Native people face in Canada, and attempts to break the negative stereotyping of young Aboriginals. This book is a great collection that gives important issues a platform.
2011 Review: Seeing Red: A History of Natives in Canadian Newspapers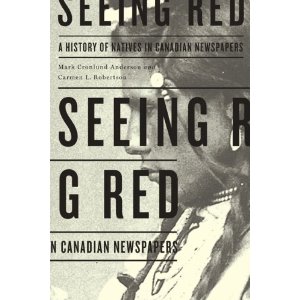 Don't believe everything you read.
Seeing Red: A History of Natives in Canadian Newspapers
By Mark Cronlund Anderson and Carmen L. Robertson
Published by University of Manitoba Press
Review by Christine McFarlane
"Seeing Red: A History of Natives in Canadian Newspapers" is a book that examines historical news coverage of formative events in Canada's history, from Confederation through to the present day, and demonstrates through the authors' research how overt racism against Natives has consistently existed in Canadian newspapers over this time.
Seeing Red is a groundbreaking study of how Canadian English-language newspapers have portrayed Aboriginal peoples from 1869 to the present day. It assesses a wide range of publications on topics that include the sale of Rupert's Land, the signing of Treaty 3, the North-West Rebellion and Louis Riel, the death of Pauline Johnson, the outing of Grey Owl, the discussions surrounding Bill C-31, the "Bended Elbow" standoff at Kenora, Ont., and the Oka Crisis.
Cronlund and Robertson write "Canada is home to more than 600 Indigenous nations as well as roughly one-half million Aboriginals living off reserve. Prior to the centuries-long European invasion, these groups spoke dozens of different languages, exhibited wide variety in architecture, child rearing, clothing, diet, gender relations, material culture, religion, rituals—in short they varied in all the ways one might expect of an enormous region occupied by a wide range of cultural groups."
The authors argue that despite these differences, "the country's most ubiquitous agent of popular education, the newspaper, has tended to conflate all of these peoples into one heavily stereotyped monolith, patterned on a colonial ideology that flourishes to this day."
If we were to believe the Canadian Press, Indians would have died off decades ago.
Take, for example, the Klondike press in the 1800s in which papers decided that "Natives were dying off, and, indeed, were intended by evolution to die off—even if the papers periodically reported that scientific study disproved this widely held late nineteenth century view."
The authors write The Whitehorse Star reported that "Indians…have no idea how to cope…(they) are rapidly disappearing before the unequal struggle for existence side by side with white men." The "average" Indian, the Star said, could only "mourn for the future of his race."
The Yukon Sun offered the observation that "Indians are dying off" in spectacular fashion and went on to cite "horrors beyond description among diseased natives."
"Seeing Red" also looked to today's writers for their musings on Aboriginal topics, including the writings of Globe and Mail columnist Margaret Wente.
"Wente expresses deep faith in an ideology that you might simply refer to as Canadian liberal pluralism of the latter twentieth century."
The authors quote Wente as writing "People are inherently tribal, and are inherently inclined to believe they are exploited…The job of civic society is to overcome these tribal resentments and replace them with a set of values and aspirations that are shared." Wente goes on to state "my own fantasy is of a multiracial society, where we all become pretty much indistinguishable through integration, assimilation and intermarriage. (Imagine how much better looking we would be.)"
The authors state "Wente presents the case for assimilation as an article of faith, that assimilation is necessary because it is tautologically, inevitable."
"Wente's columns rely on every imaginable alleged Native shortcoming," say the authors of Seeing Red, "from sexual depravity to financial corruption, thievery to alcoholism, poor parenting to childish behavior, receiving special rights to reverse racism against whites, inherent violence to being stuck in dying cultures without being smart enough to realize it."
The conclusion of the authors is that "overt racism has existed in newspaper coverage of 100 or even 50 years ago," and even in "contemporary newspapers, the same patterns of racism and subjugation continues to dominate how Aboriginal peoples continue to be seen within Canadian newspapers."
The authors argue that as a result of press content and pre-existing reader bias, the "news constitutes a kind of national curriculum, which emerges organically, as if nothing were more natural. In short, as curriculum news images do not present new material so much as they simply reinforce the status quo."
2011 Review: UnSettling the Settler Within: Indian Residential Schools, Truth Telling and Reconciliation in Canada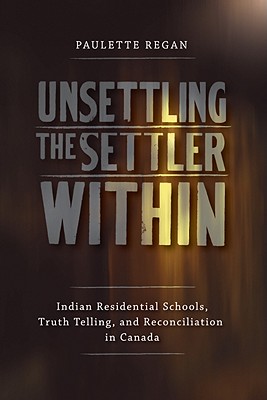 Settler education the gap that needs bridging for true reconciliation
UnSettling the Settler Within: Indian Residential Schools, Truth Telling and Reconciliation in Canada
By Paulette Regan
Published By UBC Press 2010
Review by Christine McFarlane
On July 11, 2008, the Canadian government apologized to the victims of the Indian residential school system and established a Truth and Reconciliation Commission that is tasked with attempting to mend the deep rifts between Aboriginal peoples and the settler society that engineered the system.
"UnSettling the Settler Within" by Paulette Regan opens with a foreword by Taiaiake Alfred who states "In a global era of apology and reconciliation, Canadians, like their counterparts in other settler nations, face a moral and ethical dilemma that stems from an unsavoury colonial past." Alfred explains that Canadians grow up believing that the history of their country "is a story of the cooperative venture between people who came from elsewhere to make a better life and those who were already here." He writes "Canadians do not like to hear that their country was founded through frauds, abuses and violence perpetrated against the original peoples of this land."
"UnSettling the Settler Within" is a book that gives a counter argument to the peaceful creation myth and offers up the history and legacy of colonial violence that characterizes the Indian residential school system.
Author Regan rejects a self-congratulatory version of Canadian history and challenges her readers to re-think the myths that form the basis of settler identity.
She argues that in order to truly participate in the transformative possibilities of reconciliation, non-Aboriginal Canadians must undergo their own process of decolonization, and in order for the process of decolonization to happen Regan believes "they must relinquish the persistent myth of themselves as peacemakers and acknowledge the destructive legacy of a society that has stubbornly ignored and devalued Indigenous experience."
"Today's truth and reconciliation process must make space for an Indigenous historical counter-narrative in order to avoid perpetrating a colonial relationship between Aboriginal and settler peoples."
Regan, a non-Indigenous individual and academic, writes this book from the perspective of her own work within the Canadian government, and as a result of her own learning journey as a Director of Research for the Truth and Reconciliation Commission of Canada.
She relays how the 2008 apology to Indian Residential School survivors marked a watershed moment of national truth telling about Canada's past, and as a settler on these lands in Canada, the apology itself had her asking herself "what would it mean in concrete terms for the settler majority to shoulder the collective burden of the history and legacy of the residential school system."
She argues "history teaches us that, despite the cry of "never again," societies are quite capable of replicating in new forms the harmful societal attitudes and government policies of the past."
She also questions how non-Indigenous people can make good on the promise to ensure that the attitudes that inspired the residential school system for more than a hundred years will never again prevail in Canada.
Interestingly, Regan brings up the issue of "Settler Responsibility: Knowing versus Not Knowing Indigenous People" and asks her readers to consider that if reconciliation was to be conceptualized as an intercultural encounter, it would need to entail "creating a space for critical dialogue-rooted in testimonial, ceremonial, and commemorative practices—between Indian residential school survivors and settlers who are either directly or indirectly implicated in the school system itself, as well as other assimilationist policies."
She reminds readers that it remains challenging to design appropriate truth telling and reconciliation processes when there is a relatively high level of settler ignorance about Native issues in general, and it is this very issue of "claiming ignorance" that is at one of the roots of this rift between non-Indigenous and First Nations people.
This book is a must read for anyone who is interested in reconciliation and how it can work.
2012 Review: Discovering Totem Poles: A Traveler's Guide
Discovering Totem Poles: A Traveler's Guide
Written By Aldona Jonaitis
Douglas & McIntyre Publishers Inc.
Book Review By Christine McFarlane
"Discovering Totem Poles: A Traveler's Guide" is the first guidebook to focus on the complex and fascinating histories of the specific totem poles visitors encounter in Seattle, Victoria, Vancouver, Alert Bay, Prince Rupert, Haida Gwaii (Queen Charlotte Islands) Ketchikan, Sitka and Juneau.
Author Aldona Jonaitis says that "this book is intended to present the histories of a number of poles, focusing on how each one came about as the result, in part of the interactions between Native and non-Native people."
It debunks common misconceptions about totem poles and explores the stories behind the making and displaying of 90 different poles. Each section of this guidebook is titled so that the reader is given an indication of what specific theme will be discussed.
Some of that discussion includes why poles are raised in Native communities, how they communicate information about the history and prestige of the families who own them, and how the actual raising of a pole is a great event.
She speaks briefly about the relationship of the totem poles to laws that limited Native freedoms, the ill effects of colonialism on Native traditions, and the dispossession of Native lands to the current resurgence of Native control over their heritage.
Jonaitis starts with the story of a Seattle totem pole at Pioneer Square and explores the intriguing history behind the raising of that pole, which includes theft, deceit and arson. The story behind this particular totem pole relays how "before 1899, the original of this Tlingit pole stood in the village of Tongass, located in the southernmost region of the Alaska panhandle. That year, a group of Seattle businessmen went north on a steamship trip to investigate possibilities for increasing trade and investment in Alaska," and "stopping in Tongass and seeing few people, decided the village was abandoned and that they could take whatever seemed interesting."
The theft of this pole and its transfer to Seattle by steamship and its intriguing journey back home is just one example of the stories collected in this book.
Another story speaks of a time in 1956, when a visionary British Columbian anthropologist by the name of Wilson Duff "traveled to the remote, uninhabited community of Sgaang Gwaii (Ninstints) on the farthest southern tip of Haida Gwaii, where an impressive stand of thirty totem poles still stood," and how in the late 19th century, missionaries and government officials encouraged the Haida to stop carving poles and to cease all traditional ceremonies like potlatches.
It was by the mid-20th century that this encouragement was being recognized as a larger attempt at cultural destruction that bordered on cultural genocide, and "in part to correct such past injustice and to preserve what had been almost entirely destroyed, Duff and his colleagues wanted to salvage these magnificent carvings, such as the totem poles of Sgaang Gwaii."
Unlike other guidebooks, this book demonstrates that "the totem pole is not a category of Native art invented hundreds of years ago that maintained its original significance, but is instead, a type of art that has over the decades been transformed by the colonial encounter."
Discovering Totem Poles: A Guide for Travelers is published by D & M Publishers Inc and is available in paperback and e-book format. It is 112 pages.
2012 Review: Finding A Way to the Heart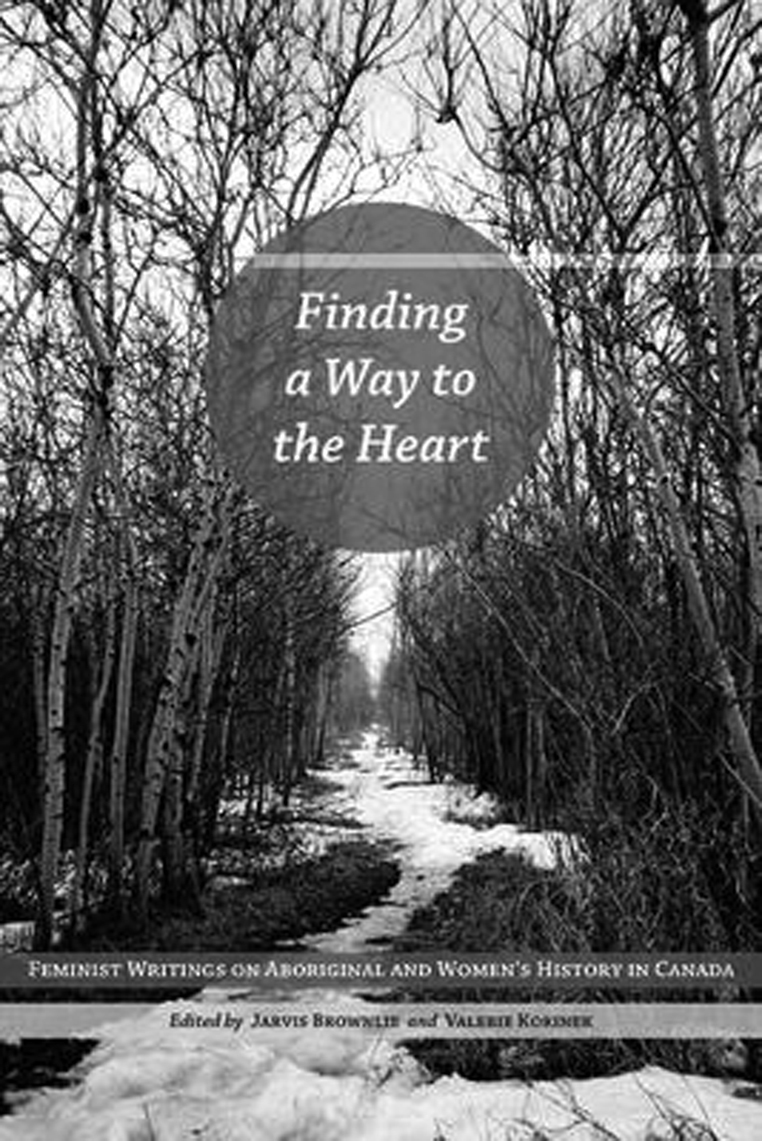 Influencing the world of scholarship
Book Review:
Finding A Way to the Heart: Feminist Writings on Aboriginal and Women's History in Canada
University of Manitoba Press 2012
Edited by Robin Jarvis Brownlie and Valerie J. Korinek
Reviewed By Christine McFarlane
Windspeaker Contributor
"Finding a Way to the Heart: Feminist Writings on Aboriginal and Women's History in Canada" is a scholarly book that examines race, gender, identity and colonization from the early 19th century to the late 20th century and illustrates renowned Canadian scholar Sylvia Van Kirk's extensive influence on a generation of feminist scholarship and women's history.
"Finding a Way to the Heart" initially began as a project in 2007 when a Canadian Historical Association Roundtable organized the panel "Many Tender Ties: A Forum in Honour of Sylvia Van Kirk" and brought together scholars, students and colleagues to provide a retrospective assessment of Sylvia Van Kirk's academic accomplishments.
When Sylvia Van Kirk published her groundbreaking book "Many Tender Ties" in 1980, she revolutionized the historical understanding of the North American fur trade and introduced entirely new areas of inquiry in women's, social, and Aboriginal history.
Using Van Kirk's themes and methodologies, "Finding a Way to the Heart" is an anthology featuring various scholars and how they were impacted in one way or another through Van Kirk's research.
Van Kirk's research has included "women's history, Native-Newcomer history, Canadian history, and has highlighted a number of issues that historians grapple with today still: the construction of racial, gender, and sexual norms in the West, the diversity of women's history and the way in which white female settlers (those individuals so often romanticized by the settlement histories) were themselves agents of colonialism."
Van Kirk's argument that "the fur trade could not have proceeded at all without the active participation of women" has not only "turned the conventional view of history upside down," but her feminist questions and insights have helped pry open the narrow parameters of historical inquiry to expand the areas of life considered worthy of investigation, and to admit new kinds of questions altogether.
Sylvia's work has impacted many and this is abundantly clear throughout the essays written for "Finding a way to the Heart."
Elizabeth Jameson contributed the essay "Ties Across the Border." She asserts that Sylvia Van Kirk has influenced the writing of American history as few Canadian historians have. She cites Van Kirk's influence as "most evident in the histories of the U.S. fur trade, women in the U.S. West, and in histories of Native-Newcomer relations," and how "the frameworks of these fields shifted in the 1980s through Van Kirk's influence and that of other path-breaking scholars who placed American Indian women and other women of colour at the centres of history, and whose scholarship established the intertwined significance of race and gender as analytical categories."
Another contributor, Angela Wanhalla, expresses in her essay "Beyond the Borders: The "Founding Families" of Southern New Zealand" that it is Sylvia Van Kirk's analysis of "interracial marriage and mixed race peoples in the western Canadian fur trade" that has influenced a generation of scholars working on Native women's history, the fur trade, Métis communities, and post colonial history in Canada and the United States. But Sylvia's work has also reached beyond the borders of North America, shaping the scholarship and approaches of those working on the history of interracial marriage, gender, and colonialism in other former frontier societies like Australia and New Zealand."
Wanhalla further argues "New Zealand has a distinctive history of hybridity where male newcomers entered into interracial relationships, contributing to the development of a hybrid population that was welcomed and celebrated by officials and Aboriginal peoples, and that this history of intermixing is not as well known as the social worlds and societies created out of the North America fur trade."
It is through this lens that Wanhalla explores this social world, taking Van Kirk's scholarship and methodology as a point of reference and extends it to the resource economies and frontier space of southern New Zealand while inviting connections with the histories of gender and colonialism in western Canada.
Sylvia's research was groundbreaking in its attention to race, class and gender and though her research career began before gender history developed as a field, it was Sylvia's attention to the difference gender made that helped reveal the tremendous potential this analytical framework offered for new insights into human experience and the workings of society.
Contributors throughout "Finding a way to the Heart" reflect on Van Kirk's influence and how it impacted on their own research and opened their eyes to new methods of inquiry.
These contributors include Jennifer S.H. Brown, Franca Iacovetta, Valerie J. Korinek, Elizabeth Jameson, Adele Perry, Angela Wanhalla, Robert Alexander Innes, Patricia A. McCormack, Robin Jarvis Brownlie, Victoria Freeman, Kathryn McPherson and Katrina Srigley. Finding a Way to the Heart is published by the University of Manitoba Press and is 269 pages.
2012 Review: First Nations 101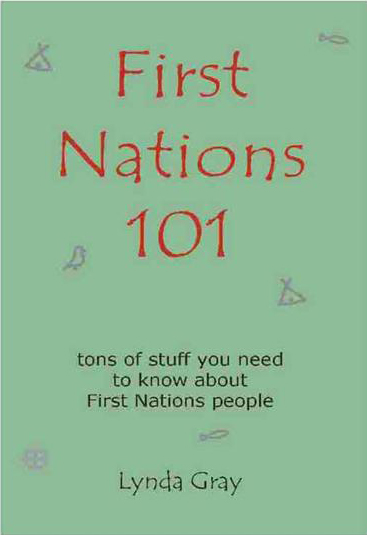 First Nations 101: Tons of stuff you need to know about First Nations people
Lynda Gray
Published By:
Adaawx Publishing
Pages: 275
Review by Christine McFarlane
"First Nations 101 written by author Lynda Gray is an informative and opinionated guide to First Nations issues. It is written in an accessible style and offers sections on Identity, Social Control, Community Issues, Fairness and Justice, Health and Wellness, Arts and The Road Forward: Forging A New Path.
Gray states in the opening of her book "It is not fair that educating the public about First Nations people, and concerns is left for First Nations people to do."
First Nation 101 is different from other books written on First Nations issues because a First Nations author writes this book. Gray understands the issues and wants others to envision First Nations people in a more contemporary fashion and does not want the reader to see Native people in the usual stereotypical and stoic ways often depicted in books written by non-Native authors.
The reader is given an overview of the history of First Nations people. Within the overview, Gray touches upon the many ways in which non-Natives and Canada's ensuing governments have imposed a form of social control over First Nations people through various actions, policies and laws, and the results of these actions.
As an example, Gray brings up community issues about First Nations people's health, and explains how after being forced to abandon traditional lifestyles, which were more active prior to contact, our physical health has declined due to a more sedentary life and the introduction of new foods.
It is through the introduction of new foods, such as white flour, sugar, and cow's milk, that our bodies have a hard time processing these foods. Due to the inability of being able to process these new foods, various health problems have arisen and are growing throughout First Nations communities. Health issues such as diabetes, heart disease and obesity are just a few that are named.
She also raises awareness of the many abuses that we all as First Nations have suffered, which have led to poor mental health, which includes low self-esteem, depression, anxiety, and suicidal ideation, the residential school era, and post-residential school era and the issue of our 500 Missing and Murdered Women.
Juxtaposing negative issues, Gray also speaks of the resilience of First Nations people, stating "it is important to remember that our people have such rich and vibrant histories, traditions and beliefs to draw from that can help us to overcome anything, "and speaks about First Nations artists and how they are our contemporary storytellers, and are at the forefront of First Nations culture, traditions and communities by sharing their work and inspiring others to find their own voices in creativity.
At the end of each section, Gray offers a list of other resources that the reader can draw upon for more information. Educating the non-Native population of Canada is needed in order to foster widespread and long lasting positive change.
First Nations 101 does an excellent job of starting the conversation especially since many First Nations issues have been caused by and/or perpetuated by external forces.
Please visit www.firstnations101.com for more info about the book and where to buy it.
2012 Review: Hope Faith & Empathy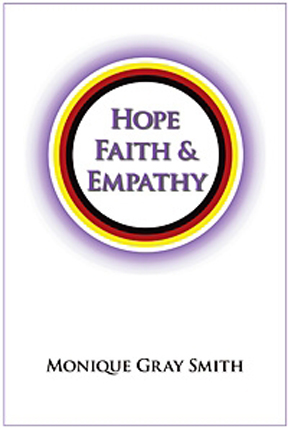 Book Review
Hope Faith & Empathy
Written By Monique Gray Smith
Published By Printorium Bookworks and Little Drum Consulting
139 Pages
"Hope, Faith & Empathy" is the story of Tilly, a young Indigenous woman growing up in Canada and the many ups and down she learns to navigate in the journey we all call life. The story is also about the people who have helped shape Tilly, her survival and her resilient spirit.
In the prologue to the story, author Monique Gray Smith writes "Hope, Faith & Empathy" will take you on a journey, a journey that is loosely based on my life's story as an Indigenous woman, of individuals who showed up at a pivotal time in my life to guide and teach me and of characters who came to me as I wrote."
The journey starts with an older Tilly receiving news at work from her doctor that she has a tumor in her lung and must go for surgery. The fears and anxiety that Tilly experiences with this news immediately pulls the reader into the main character's life, and has them wanting to learn more about Tilly and how she got the strength she carries within her.
Using the surgery as a backdrop to tell Tilly's story, the reader is then taken on a "healing journey—not just a physical journey, but also a spiritual journey," as Tilly revisits some of the pivotal moments in her life and remembers the people who have helped shape her experiences and the woman she has become.
Tilly's journey is one that a lot of Indigenous people can empathize with—turning to alcohol to mask an inner pain that can't often be spoken of, experiencing loss and coming to terms with it, and awakening to a cultural identity that family may have inadvertently kept from you.
It is intriguing to read about the various people that have helped shape Tilly, especially when she speaks about her Grandma Tilly, her Auntie Pauline, Mrs. Murphy, her elementary school teacher who took the time out to tell Tilly that she mattered, and later on in life, her drug and alcohol therapy counsellor Bea. Each of these individuals are strong in their own unique ways and the lessons they teach Tilly are not only inspiring but life changing, and something that Tilly takes away with her in her healing.
The story within "Hope, Faith & Empathy" gives a unique perspective of the history of the first peoples in Canada, and includes the Sixties Scoop, Indigenous adoption, Indian Day Schools, Residential Schools, and tuberculosis hospitals.
It shares stories of homecomings rooted in courage and resiliency, and interwoven throughout the book are thought-provoking teachings, humour and wisdom.
Author Monique Gray Smith writes and gives a unique twist to the heavy issues that Indigenous people have unfortunately had to face.
To help Indigenous and non-Indigenous readers understand the book further, there is a glossary of the various terms used throughout the book such as "internalized racism, band, ancestors etc." A diagram of the Umbrella of First Nations Resiliency that Gray Smith has used in talks is also included, as is a question section for your book club and educational groups.
2012 Review: Indian Horse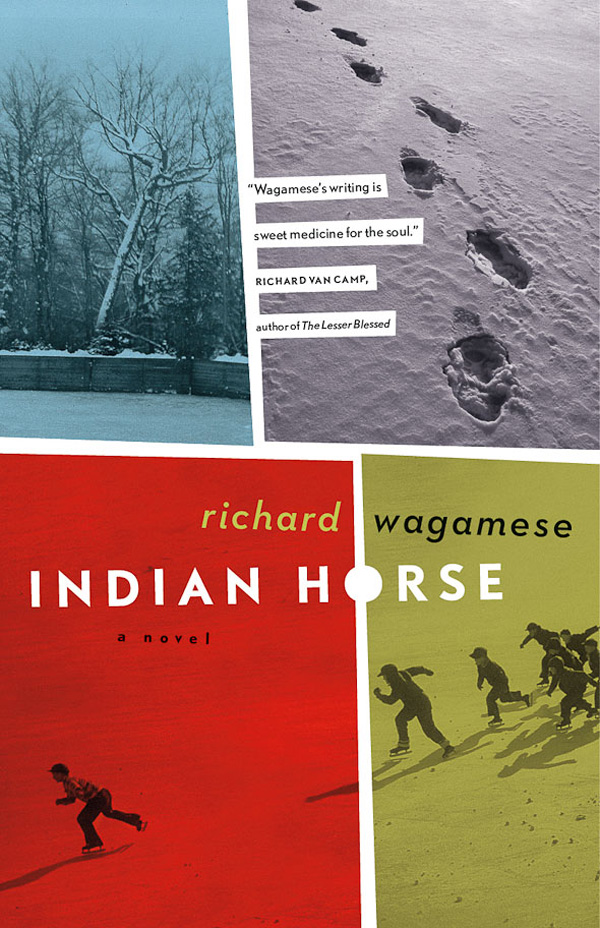 Indian Horse
By Richard Wagamese
Douglas & McIntyre
186 pages, $23.00
Award-winning author Richard Wagamese weaves an emotional and endearing story together in his latest novel Indian Horse that confronts the legacy of residential school in a young boy's life and how the game of hockey serves as a way of coping.
Saul Indian Horse's young life is marked by tragedy. His parents are residential school survivors, and his mother is so devastated by the experience that she turns so far inward that "she ceases to exist in the outside world."
Saul's parents lose their oldest daughter to the residential school. To prevent Saul and his younger brother Benjamin from being taken, they bring the boys into the bush to live off the land with an uncle and Saul's grandmother.
The family manages to escape the authorities for a while, but Benjamin is eventually snatched by the government officials and placed in a school in Kenora. Benjamin escapes from the residential school a few years later, and returns to his family in the bush, only to die soon after from the tuberculosis he contracted while in the school.
Saul Indian Horse's life is altered forever when his parents turn to alcohol and leave him with his grandma in the bush to take off for Northern Ontario's mining and mill towns.
Life in the bush is soon abandoned when Saul's grandmother decides to make a trip to the town of Minak where her brother Minoose lives. She says "We can stay with him through the winter if we have to," and she tells Saul that if they stay in the bush it will be where they will die.
Saul and his grandmother make the trek to Minaki, but during the final leg of their journey, the grandmother grows tired. She takes Saul in her arms and says, "We'll rest a minute."
The reader's heart goes out to Saul when, while huddled in the arms of his grandmother, he feels her grow cold and her spirit leave. It is while he is lying in the arms of his deceased grandmother that he is found and taken to the place he has worked so hard to avoid.
Indian Horse is a moving novel that takes readers inside residential school, and provides details of the abuses that went on there, but also talks about the hope that springs from the game of ice hockey, and how one priest takes Saul under his wing.
The reader sees how the game of hockey comes naturally to this young boy, and readers witness Saul's brutal journey through the racist ranks of minor-league hockey into an alcohol-ravaged adulthood to a place of personal endurance and recovery.
Wagamese is once again at his finest. He takes his readers on an emotional journey; a journey that exposes the horrors of Canada's residential schools, but also celebrates the triumphs of a young boy and his love for the game of hockey.
2012 Review: Jordin TooToo: The Highs and Lows in the Journey of the First Inuit to Play in the NHL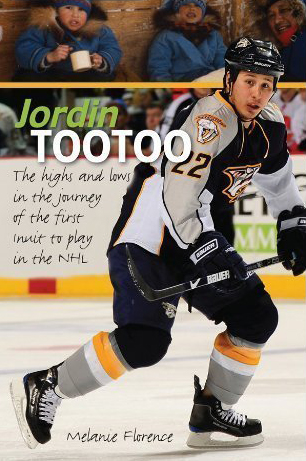 Book Review
Jordin TooToo: The Highs and Lows in the Journey of the First Inuit to Play in the NHL
Lorimer Press
Written By Melanie Florence
"Fight your way through." These were the words of Jordin Tootoo's father when Jordin left Canada's Far North to chase his dream of playing professional hockey.
Although Tootoo would become known as fearless on the ice, getting to the NHL took a lot of courage and determination. He had to overcome culture shock and homesickness, discrimination and racism, and the tragic suicide of his NHL bound older brother whom he worshipped.
Hailing from a small Inuit community called Rankin Inlet, Jordin Tootoo was four when he first laced up his first pair of skates. This book tells the story of Jordin Tootoo's journey to the NHL, the struggles and the positive attitude he learns to adopt.
Hockey was a part of the Tootoo boys' every day lives. They learned to play hockey on any frozen surface they could find in Rankin Inlet and they grew up watching their own father play hockey and make a name for himself. Their father, knowing that his boys could only go so far with hockey in Rankin Inlet, had to make the tough decision of allowing his boys to leave home so that they could pursue their dreams of playing with the NHL.
After leaving Rankin Inlet, Jordin encountered racism for the first time. He was used to Rankin Inlet where everyone looked alike and celebrated the same culture. Jordin recalled "I was the only Inuk in the area (Spruce Grove), and for the first time I experienced racism at school. I was living with a friend who was Aboriginal, and gangs of kids would come to the house yelling that we weren't going to take over their school."
To the local kids, there was no difference between Tootoo and his Aboriginal friend. They were both targets of abuse because of the way they looked. The attitude that he adopted to deal with the racism he encountered, was transferred over to his hockey playing. He believed that by taking negative situations and turning it into something to motivate him was what helped him the most in the early days of his career.
Though the primary focus of this book is hockey, the book covers a wide range of topics and issues that a young reader can take away with them, such as the rights of Inuit people on their land, the federal government's description and recognition of Indigenous peoples, racism and the higher incidence of Aboriginal youth suicide.
To many, Jordin Tootoo is a Canadian hockey hero, because he not only plays for himself but he also plays for his brother and family, and for all the kids who will come after him, and through it all, he never forgets who he is or where he came from.
This book is a part of Lorimer Press' RecordBooks. RecordBooks are action packed true stories of Canadian athletes who have changed the face of sport.
2012 Review: Louis Riel and the Creation of Modern Canada: Mythic Discourse and the Postcolonial State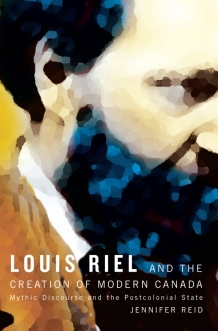 Louis Riel and the Creation of Modern Canada: Mythic Discourse and the Postcolonial State
Jennifer Reid
Published By University of Manitoba Press
Pages: 314
Review by Christine McFarlane
Jennifer Reid's book, "Louis Riel and the Creation of Modern Canada" gets readers to look at a complex and comprehensive history of the Metis peoples, Louis Riel and the ensuing response to Riel's life and work in the modern and political entity we call Canada.
Louis Riel as a revolutionary and as Canada's most celebrated 'traitor' has been a highly contested subject of debate since Riel's trial, the Red River uprising of 1869-70 and the Northwest Rebellion of 1885.
Reid notes that the uprisings at Red River and in the Northwest have been the subject of more books than any other in Canadian history; and more histories, biographies, novels and poetry have been written about Riel than any other Canadian figure.
Reid examines Riel's religious background, the mythic significance that has been ascribed to him and how these elements tie into and influence Canada's search for a national identity. Reid argues that a lot of why Louis Riel has become such an iconic Canadian historical figure has to do with the concepts of nationalism and the nation in the Canadian situation.
She gives a brief overview of the Metis uprisings and the area in which they transpired, speaks about the historically contested colonial space that became the Canadian West and delves into how all these issues tie into the Canadian mythic imagination.
The book provides a framework for readers to rethink the geopolitical significance of the modern Canadian state. We are also given a glimpse into how the historic role of Confederation played out in establishing the country's collective self-image, and the narrative space through which Riel's voice speaks in regard to these issues.
It is also intriguing to read how "in seeking a legitimate place for a Metis presence in Canada, Riel set forth a pattern and paradigm that became the template for all the major subsequent attempts to order the many and various regional, Euro-American ethnics, Metis, and Aborigines, as well as the various economic interests into some kind of ordered Canadian entity."
"Louis Riel and the Creation of Modern Canada: Mythic Discourse and the Postcolonial State" is an examination of myth and history. Reid examines in great detail "the mythicization of both Riel and the rebellions that have betrayed a desire on the part of many Canadians to locate a source of collective identity in a figure, and an event that are not only historical, but profoundly symbolic and enmeshed in consciously religious language."
This book is a great read for those with an interest in history, but can be difficult to read for those who do not often engage in historical texts that examine identity alongside a nationalist discourse.
2012 Review: My Mother Is Now Earth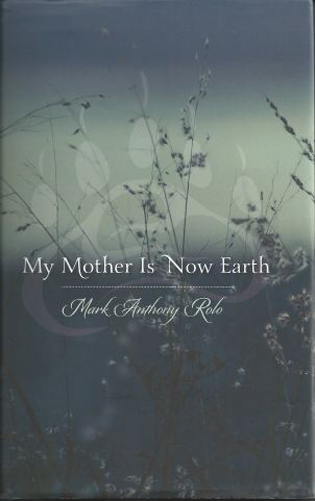 Poetic tale of a life of hardship
My Mother Is Now Earth
Mark Anthony Rolo
Borealis Books 2012
Reviewed by Shari Narine
In My Mother Is Now Earth, Mark Anthony Rolo tells the heart-wrenching story of the last three years of his childhood, which coincides with the last three years of his mother's life. In the way only a young child can view events and people, Rolo is stark in the presentation of his family: his Ojibwe mother, who even in her wedding picture is looking away; his drunk white father, who Rolo refers to as "the old man," until his mother's death; his older brothers, whom he both idolizes and criticizes; his only sister Philly, who pushes him away and then clings to him at the time of their mother's passing; and his younger brothers, who he argues with and then tends when he is thrown in to the role of caregiver.
The autobiography begins with the majority of the Rolo family, including dog Whiskey, making the trip from Milwaukee to Big Falls, Minnesota in the dead of winter in the father's Oldsmobile in 1971. The Rolo family has been uprooted by a fire and are on their way to a farm, where the house is uninhabitable, because of a fire. For the winter, they live in the garage.
What unfolds is continued hardship. Don Rolo, the family patriarch, is full of big plans – chickens and cows and a farm that can provide for the whole family. But Don's drinking colours those plans, leaves his wife Corinne and his children on edge. In the end, though, Don does realize his goal. His family is much smaller than when he arrived, the oldest boys moved out, Philly and the youngest son in foster care. Don makes his final payment on the farm four years after Corinne's death and immediately puts the farm up for sale.
To her death, Corinne Rolo remains a mystery to the young Mark. He is scared of her and the long-handled broom she uses to mete out punishment and he craves her affection. Corinne is always writing letters "to the sisters," her three sisters who remained behind in Milwaukee. But she carefully edits her letters. She exudes strength and dignity, but in return gives up the ability to present love openly.
In the summer of Rolo's tenth year, he goes off to camp. When he returns home, he finds his mother sick. Shortly after that she dies on the operating table. It is her return to him in a dream in 2010 that prompts him to write his memoir.
My Mother Is Now Earth is full of nuances as Rolo stays true to his childhood self, understanding only what a pre-teen can, but in some of those moments his understanding is brilliant, like when he refers to the letters Corinne receives: "we know she likes to think about what's in the letter, sometimes more than actually reading." And in this same adolescent way, Rolo is harshly judgmental of his brothers and father, yet soft toward his mother, his fear of her as palpable as his need for her.
The young Rolo must not only navigate the world of his family but he must also navigate the wider world around him. He is an Indian, and although he knows very little of his culture (his mother shares almost nothing of her people's ways), his Grade 5 teacher forces him to watch the news and orders him to make an oral presentation on the Indian standoff in South Dakota.
My Mother Is Now Earth is beautifully written. It paints the picture of a bleak, wintery landscape yet adds hope with such descriptions as "warm winds return as the winter weakens, drips away from the skies." This is the same picture that can be painted of Rolo's life. Although the young Rolo struggled in grade school, today he has a university degree and is a journalist, author and storyteller. He is also an enrolled member in his mother's band, the Bad River Band of Ojibwe of Wisconsin.
2012 Review: Original People Original Television: The Launching of the Aboriginal Peoples Television Network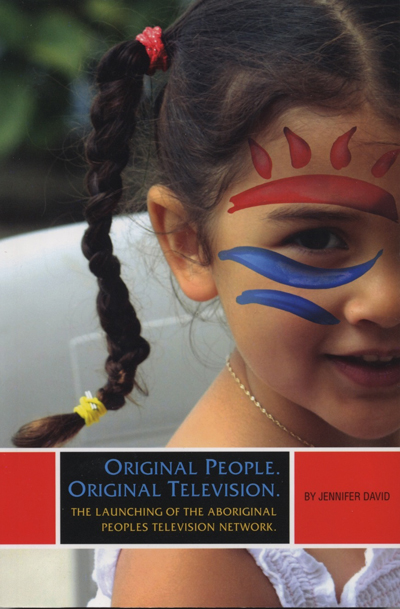 Original People Original Television: The Launching of the Aboriginal Peoples Television Network
Jennifer David
Published By: Debwe Communications Inc.
Pages: 214
Review by Christine McFarlane
"Original People: Original Television," is a behind-the-scenes look at Aboriginal Canadian broadcasting, beginning with Robert Flaherty's documentary Nanook of the North in 1922 to the creation and launch of the Aboriginal Peoples Television Network (APTN) in 1999.
The story of how the Aboriginal Peoples Television Network was created is not only intriguing, but it describes the positive leap for Aboriginal peoples of Canada. Before the creation of Aboriginal/native broadcasting, Aboriginal people were often depicted as the Other, "seen as exotic creatures to be observed, and even admired by the audience and narrator," writes author Jennifer David.
Within mainstream media, how Aboriginal people were portrayed was problematic because this included "decades of Western movies replete with bloodthirsty savages, shifty half-breeds, stoic warriors and exotic Indian Princesses in buckskin." David curiously asks "Aboriginal people are the original inhabitants of the land we now call Canada. So how did Aboriginal Canadians become the outsiders?
The creation of APTN started with two movements in the 1960s and early 1970s, which were backed by initiatives like the National Film Board's Challenge for Change program, and the Anik E-1 satellite experiments in northern Canada. Political and policy changes also brought about the creation of northern Aboriginal broadcasters and Television Northern Canada.
With the onset of television becoming Canada's primary source of information and entertainment, these movements brought together Aboriginal filmmakers and producers in southern Canada and attracted the attention and support of various political bodies, such as the Assembly of First Nations (AFN). This changed the face of media in Canada.
"Original People, Original Television" relays the story of decades of hard work and the dreams of people who wanted their own television network. APTN allowed First Nations people to have their own voice and to tell their own stories, and Jennifer David does a great job of letting reading audiences know about the creation of Canada's first Indigenous television network.
Original People, Original Television: The Launching of the Aboriginal Peoples Television Network is a must read for those interested in media, the arts and culture, contemporary Aboriginal life, grass roots and national politics, and those seeking confirmation that a dream can come true.
2012 Review: Outcasts of River Falls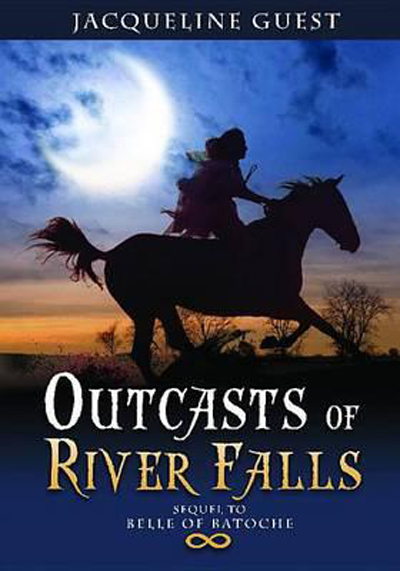 Outcasts of River Falls:
Published By Coteau Books for Kids
Written By Jacqueline Guest
242 Pages
Book Review By Christine McFarlane
Imagine growing up in a well-to-do home but because of a family death, having to move away from what you have always known to Alberta to live with an aunt you have never met. Now imagine learning that your familial roots are not what you were led to believe.
In 'Outcasts of River Falls,' the main character Kathryn experiences the loss of her father due to illness and has to leave her comfortable home and upper class school in Toronto to live with an aunt she has never met. Upon her arrival to Alberta, she is shocked to find out where she will be living, that the aunt she is going to be living with is not who she expected and discovers that her father had fled his home community to escape a problem he had no control over- 'being Metis.'
An historical book, 'Outcast of River Falls' details a young girl's journey of learning about her mixed identity and the troubles that come along with it.† Kathryn's Aunt Belle does a great job of explaining the history of the Metis people of River Falls to her niece and does everything she can to make Kathryn comfortable with what she has.
It's almost comical at first but also sad how Kathryn was used to living in a comfortable home and having money, and then upon her arrival in River Falls, she has to learn a whole new way of life. She goes from having people do things for her, to having to learn how to do things for herself, like fetching water to wash the dishes, using an outhouse, building her own bedroom in the shack she now has to live in, and using a horse and buggy for transportation.
Her indignation at how the people of River Falls are treated is typical of how present day relations of First Nations, Inuit and Metis communities can be seen by those who don't understand a rich and complex history. There is also an element of mystery in 'Outcast of River Falls' because there is a mysterious Highwayman that appears, that the local officials want to get rid of. The mystery is discovering who this Highwayman is.
"Outcast of River Falls" is a sequel to Metis writer Jacqueline Guest's book "Belle of Batoche." Like other books written by Guest, this book is unique in the sense that the main characters are well drawn out and face issues that are common to every child, such as bullying, blended families, physical challenges, and personal journeys into discovering who they are and what they can be. This book is great for young readers, and is a great page-turner.
2012 Review: Racialized Policing: Aboriginal People's Encounters with the Police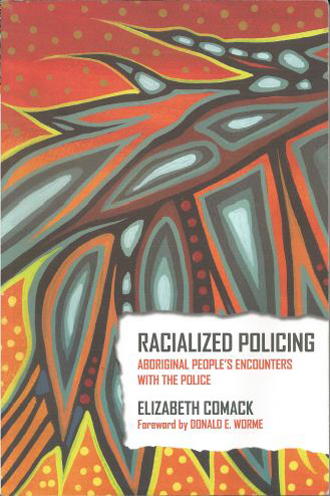 Widen the gaze beyond profiling and racism
Racialized Policing: Aboriginal People's Encounters with the Police
By Elizabeth Comack
Fernwood Publishing – Halifax and Winnipeg, 2012
Review by Shari Narine
The most disturbing aspect of Elizabeth Comack's Racialized Policing: Aboriginal People's Encounters with the Police is not the first-hand experiences it relates in the pages, but the stories it mirrors from today's headlines.
Take for example a recent case in Ontario which has pushed a coalition of First Nations led by Nishnawbe Aski Nation to file a complaint with the Ontario Human Rights Tribunal. The coalition claims that an internal email, written by a Thunder Bay Police Services detective and mistakenly released publicly, is an indication of the lack of respect Aboriginal people face. That email was entitled "Fresh Breath Killer Captured" and referred to a murder investigation that involved a First Nations victim and the arrest of a Thunder Bay man for second-degree murder. NAN pushed for an investigation by the police service. While the police service agreed to investigate, both the chief and the mayor of Thunder Bay (who happens to serve on the police commission and is a former police officer) claimed there was no racism involved. Not expecting a fair inquiry by the police, the First Nations coalition took its concerns to the Human Rights Tribunal.
This sort of incident is exactly what Comack talks about, making the distinction between racism and racialized policing. Says Comack, "While racial profiling and individual racism are significant issues and must receive attention, we need to broaden our gaze to include the ways in which race and racism play out in institutional practices and systemic processes." This wider picture is what Comack refers to as "racialized policing."
There is no lack of incidents for her to choose from when making her point. And these cases are not focused in a single province or one region of the country, but right across Canada.
Ontario Provincial Police shot and killed unarmed protester Dudley George during a 1995 standoff with Aboriginal people in Ipperwash Provincial Park. In Winnipeg, there were the shooting deaths by the police of JJ Harper (1998) and 18-year-old Matthew Dumas (2005). In Saskatoon spanning from 1990 to 2000 there is the infamous Starlight tours, in which Aboriginal people were taken from the downtown area and dropped on the outskirts of the city. Such treatment resulted in the deaths of Neil Stonechild (1990) Rodney Nastius (2000) and Lawrence Wegner (2000).
In Comack's examination of the system, she also looks at why Aboriginal people sometimes react the way they do to police or figures of authority. Many don't have the expectation of fair treatment, whether that's based on present occurrences or having grown up with family who were part of the residential school system. After all, it was police who accompanied the priest or school master to the homes to take away the children. The roots of distrust are deep and there is no clear indication that there are reasons for that distrust to change.
Comack also examines the inquiries called as a result of some of the questionable deaths of Aboriginal people. These are as disturbing – if not more so – than the actual incidents. They are more disturbing because there is always the belief that an inquiry starts from a place of wanting answers and will end in a place of getting those answers. However, in a system where the police department investigates the actions of its own police officers, often times the officer is not found culpable or receives a light reprimand. It is no wonder NAN and the other First Nations in the Thunder Bay situation are pushing for an outside inquiry. It is the wider commissions that seem to get results.
Comack is clear in presenting her work that it is not about police bashing but about examining the system.
Comack raises the issues, examines them carefully, and leaves disquieting truths.
And those truths are upheld in today's news.
2012 review: Hook Up
Hook Up
Lorimer Press
Written By Kim Firmston
151 pages
Book Review
By Christine McFarlane
"Hook Up" is a young teenage fiction book that takes readers on a journey with Cody Manywounds, a First Nations teenager from the Tsuu T'ina Nation who is trying to find his place in the world.
In the past, Manywounds had gotten into trouble with two of his best friends Silas and Jarrod, and as a result of that trouble, the police and social services became involved.
After his mother calls on the Elders in his family for advice, and has a talk with his Uncle Tom, Cody takes up the sport jiu-jitsu. Cody figures that taking up jiu-jitsu is a way to honour his people because his nation is "a nation of warriors after all, and mixed martial arts is cool."
As a Native living in Calgary and not on the reserve, Cody faces a lot of racism at school. He says, "yeah there is an anti bullying policy but that seems to only work on paper." He is called names like "chief, spear-chucker, or injun," and if he skips a day of school, the teachers think it's because he's been drinking and not because he had a cold.
After taking up jiu-jitsu, Cody's life turns around for the better. He meets his jiu-jitsu sparring partner's twin sister Miranda, and thinks she is hot. His grades are good and the escape to university (and more girls) is just around the corner.
Manywounds gets caught up in his feelings for Miranda and loses touch with his friends and what they are going through. It is after one night of fooling around with Miranda that he finds out she is pregnant.
When he gets a text message from Miranda saying, "I'm pregnant, call me" Cody finds that his plans to go to university could be torn to pieces.
Miranda, an athlete herself, is supposed to be going to university in the fall on a soccer scholarship, but with her pregnancy, she finds that she has to make the toughest decision possible—to get an abortion.
Cody then finds himself dealing with conflicting emotions, and discovers how little a say he is given in the matter, and this causes both Miranda and Cody heartbreak.
In one sweep, Cody Manywounds has to grow up and learn that there is more to the world than just himself and his feelings to consider.
Written by Kim Firmston, "Hook Up" is powerful, well written, and suspenseful with characters that are appealing, convincing and complex.
2013 Review: Aboriginal Rights are Not Human Rights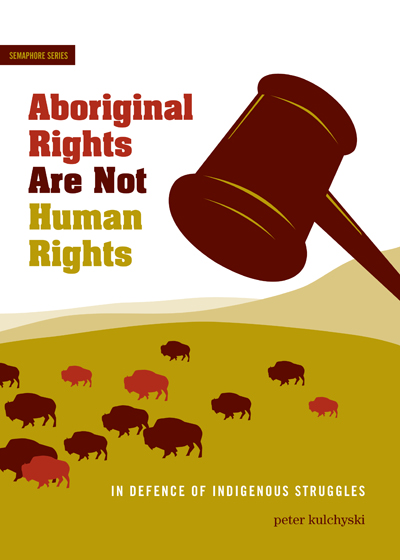 Aboriginal Rights are Not Human Rights
In Defence of Indigenous Struggles
Author: Peter Kulchyski
Review by David P. Ball
When hundreds of police raided a Mi'kmaq anti-fracking blockade near Elsipogtog First Nation only days after the United Nations Indigenous rights envoy left the country, many immediately appealed to James Anaya to speak out against the RCMP action.
Over the years, sustained–and successful–pressure was aimed at a recalcitrant Prime Minister Stephen Harper to sign onto the UN Declaration on the Rights of Indigenous Peoples (UNDRIP), which the Conservative leader finally did in 2007.
But the widespread push to hold Canada accountable to international rights norms when it comes to Aboriginal communities caused one University of Manitoba Native Studies professor to examine the celebrated document more closely.
The result: Peter Kulchyski's provocatively titled new book, Aboriginal Rights are not Human Rights (Arbeiter Ring, 2013). He admits his conclusions about UNDRIP, outlined in one of the 173-page book's chapters, might raise some eyebrows in Indian Country.
"I took a more serious look at the UN Declaration, and realized that really it confuses Aboriginal rights and human rights," he told Windspeaker. "Aboriginal rights are distinct.
"Much of the struggle of Aboriginal people is oriented around trying to gain recognition and protection for Aboriginal and treaty rights ... I found (UNDRIP) was deeply flawed. That's not popular for me to be saying that!"
As he defines them, Aboriginal rights are communally held rights rooted in distinct cultures and practices enshrined in the Canadian Charter of Rights and Freedoms. The constitutional document also ensures that the human rights enjoyed by all individual Canadians cannot trump the inherent collective rights and culture of Aboriginal communities.
On the other hand, he argues that human rights are European concepts applying only to individuals, not to communities or cultures.
"There are good things about the UN Declaration," he argued, "but structurally there's a problem in that it doesn't see the fact that human rights can be used to violate Aboriginal rights."
Former Neskonlith First Nation chief Arthur Manuel, chairman of the Indigenous Network on Economies and Trade, told Windspeaker that Kulchyski argues valid criticisms of UNDRIP, but that international human rights mechanisms are still important because "you need to use all the tools you can access."
While Kulchyski agreed that both forms of rights can be useful as tactics, Manuel agreed that inherent Aboriginal rights under Charter Section 35 continue to form a backbone of many struggles.
"There have been issues about the UN Declaration," Manuel acknowledged. "It's not really a law, but a declaration between nations.
"But UNDRIP does another thing: it applies self-determination to Indigenous Peoples. Canada tried to water it down a bit, but they are accountable, without question, to it ... Section 35.1 hasn't been able to force the government to recognize and accommodate Aboriginal title, but has given us enough protection that they have to get our approval to modify or extinguish it.
That's where Canadians have to realize that Canada is a real human rights violator and culprit under the present UN policy – you can't extinguish title."
Lest anybody mistake his slim, accessible book's title for some Tom Flanagan-esque rightwing tract denying Aboriginal people have rights, Kulchyski's offering is subtitled, In Defence of Indigenous Struggles – struggles to which the scholar, as a longtime non-Aboriginal activist, is no stranger.
His decades of advocacy and accompaniment with Aboriginal communities, including Grassy Narrows First Nation in Ontario, northern Manitoba's Cree communities, and Inuit on Baffin Island, have shaped his driving call to a "bush philosophy" rooted in rural hunting culture.
His previous book, The Red Indians, explored a history of Indigenous resistance to capitalism in Canada, and as a non-Aboriginal, his close involvement with the group Defenders of the Land has highlighted a strategy of linking together remote rural Indigenous communities in the disparate reaches of the country.
Several chapters explore the controversial politics of his own Manitoba backyard – Indigenous struggles against hydroelectric power projects in the province's north, an injustice Kulchyski hopes to draw more attention to despite rare media attention nationally.
"Once again there's a wave of hydro projects in northern Manitoba," he said, "but they're not on the national radar because the energy issues we're more interested in today nationally are tar sands.
"What's happening here is tragic in many, many ways. They've re-engineered the rivers ... They have to flood significant acreages of land, which releases mercury into the water that gets into the food chain through the fish. There are absolutely disastrous local and ecological impacts. Yet they keep advertising (hydro) as 'clean.' They should recognize the damage they're doing."
Aboriginal Rights are not Human Rights deals with far more than the United Nations or specific protests. Kulchyski brings much-needed and long-overdue attention to anti-hydroelectric movements in his province, which he described as being unfortunately eclipsed by other priority environmental issues, but deserve criticism.
"I learn something from every community I travel to," he said. "They're all unique and their particular problems are always unique.
"I find it's the hunting families in any community I go to where I am going into the bush, and whenever I get a chance I go into the bush with them and see how people are living. It gives me a particular perspective on Indigenous peoples' struggles."
As he writes in the book, the "bush ... allows us to think a lived relation to and in this landscape… You can find the bush, even in the Eaton Centre, but first you have to get the mall out of your head."
As Kulchyski sees it, it's in the "bush" where we find "the ghosts of this country," from the violence of Canada's history; he adds that "no amount of pavement" can pave over that dark history. But the bush is both a philosophical symbol and lived reality for many rural communities, and one Kulchyski hopes might inform a forward-looking strategy for Indigenous peoples seeking liberation from ongoing colonialism.
"We're in a moment when things are still reactive, as happened out on the east coast," he said, alluding to events at Elsipogtog First Nation. "A community is responding to a threat, that struggle escalates, and there's a fairly large solidarity movement.
"We will turn a page when communities decide themselves not to wait for something to happen, but to push the issues and be proactive – to plan coordinated actions that push the government to change some of its worst policies."
2013 Review: Blasphemy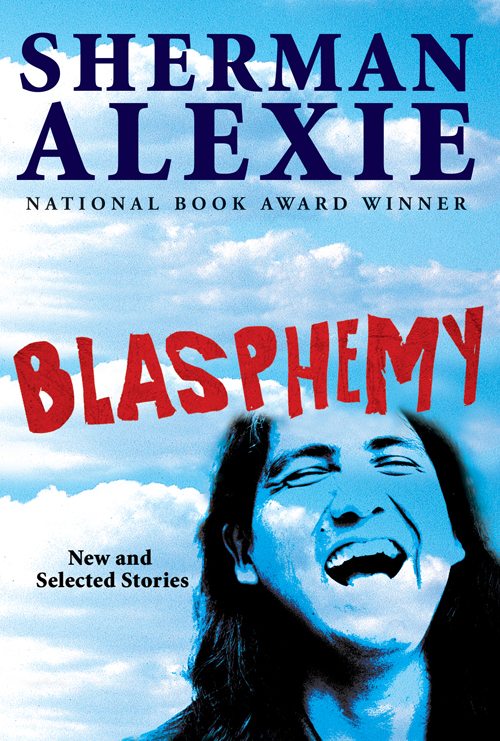 Blasphemy
Author: Sherman Alexie
Published By: Grove Press
Pages: 465
Review by Christine Smith
Author Sherman Alexie never fails to make you laugh when you read one of his books. Blasphemy is an anthology of 15 of his classics, such as "War Dances," "The Toughest Indian in the World," and "The Lone Ranger and Tonto Fistfight in Heaven", and a compilation of 16 new stories.
Thought-provoking and intriguing, Alexie's characters in each story grapple with such issues as racism, resilience, damaging stereotypes, poverty, alcoholism, broken marriages and single parenthood, domestic violence, the loss of languages and customs, diabetes, dreams of days gone by and homophobia.
It is about resilience, for example, when you read "The Toughest Indian In the World," and how a fighter relays a story about a battle between himself and a kid to a features newspaper writer while hitchhiking. The kid's a boy called a Flathead; a kid who would not go down no matter how many times he was hit.
There's the story of "Whatever Happened to Frank Snake Church," a 40-year-old Native man who is living on memories from the past as he tries to re-invent himself. With both his parents gone—orphaned at 39-years-old—Snake Church quits his well-paying job as a forest ranger, hires a personal trainer to help him get himself back into shape to play basketball, a game that he was good at in his younger years.
You feel Snake Church's pain and empathize with the urgency of his grief as he undergoes a physical and emotional transformation. You feel it when he removes art from the walls of his apartment and sells it through want ads and garage sales, disconnects his phone and permanently stops his mail, or when he piles up old blankets and quilts that have been in his family for more than 80 years and gives them away to his neighbors without any thought, or scoops up various knickknacks and sentimental souvenirs and sets them out on the corner for strangers to carry away. You identify with these actions of a grief-stricken man, because it is like he is purging himself of the memories that remind him of his parents and his past, so that he can start anew.
Another story that really plays on the emotions is "Indian Country." Indian Country is about a Native woman who has fallen in love with a white woman, and how the parents are unable to accept that their daughter is gay. They come from the reserve and try to talk their daughter into leaving her girlfriend, only to get embroiled in a fight with a passing stranger Low Man, and their daughter and her girlfriend. The fight has their daughter walking away, and as the daughter does, the father rushes her and says, "You're coming with us." When the daughter says no, the father walks back to his wife in defeat, where they both cry. Low Man calls after the father.
"What are you going to do? "What are you going to do when she's gone?"
Sherman Alexie is a master at the craft of writing short stories. His stories bring about a blend of emotions. They can have you laughing, crying, angry or sad. This book is highly recommended.
2013 Review: Brighter Days Ahead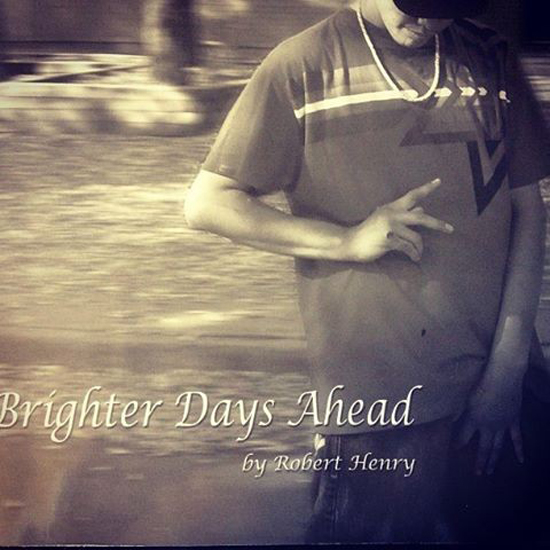 Brighter Days Ahead
Author: Robert Henry
By Shari Narine
Windspeaker Contributor
SASKATOON
Brighter Days Ahead is a photo voice book that provides a glimpse into University of Saskatchewan Ph.D. candidate Robert Henry's dissertation on masculinity, identity, Aboriginal men and gangs.
Nine of the 16 men to be featured in Henry's dissertation are included in the book, which was launched last month.
"Their stories didn't surprise me. What surprised me was how well they took hold of the project," said Henry. "It's a way to give something back because they've come to the understanding that they've taken so much from the community. Now they need to learn to give back to the community. And that's the hardest part, being humble, understanding what has gone on and trying to fix it so that other youth… much like themselves don't get caught up in the same type of lifestyle."
Henry is familiar with the life that leads men to join gangs. He has been a board member and events helper for a number of years with STR8 UP, a Saskatoon program operated by the John Howard Society, which focuses on helping men and women leave gangs.
Gang members are marginalized individuals, who the system has failed, said Henry. They normally join in their mid-teens (although some join in their 20s) as the gang provides the support system members desperately need and can't get elsewhere.
Henry spent time building a relationship with the men who participated in the book. Then he gave them digital cameras and asked them to take photos that spoke to who they were before they joined the gang and their experiences with the gang.
"It was really tough for some of them to go back and think about that life that they're trying to leave behind, that they're trying to move away from. So it was really tough for them to go back and try to show people what it's all about," said Henry.
Photos ranged from places they had lived or been to "spaces of violence" to inclusion of their own children. Henry ended up with almost 600 photos, taken between August 2012 and March 2013. While some participants took 10 to 12 photos and others took hundreds, the majority shot around 40 each.
"Some (photos) reflect metaphors of their lives," said Henry. "I was looking at the idea of how the gang has come to shape their concepts of masculinity and identity."
Of the nine that participated in the book, only three are over the age of 30. Four have left the gangs and the other five have made the "conscious decision to get out." Henry points out that joining a gang is a 12 to 16-year process, while leaving a gang is also a long-term process.
Those that have been successful in distancing themselves from the lifestyle have found something else to hold on to. For two, it is Christianity; one is through renewing his culture; and a fourth has thrown himself into working hard and making money.
"The way in which people are pulled out of the gang is very reflective of their lifestyle before they even got in. How did they connect before-hand?" said Henry.
Henry hopes to have his dissertation completed by April 2014.
The ownership the nine men took of the voice photo book project will be part of his dissertation, which will answer the broader question of "how has the gang-set space come to be an area or space for some Indigenous men to practise their identity and masculinity."
Henry, who is Métis from Prince Albert, has had his Ph.D. work funded through the Indigenous Peoples' Health Research Council, which gives out awards to students whose work relates to Indigenous health research.
IPHRC helped launch Brighter Days Ahead.
"The book is knowledge translation from his research that we wanted to make sure got out there because I think it's really important what he's doing," said Cassandra Ozog, IPHRC research officer in communications and knowledge transfer.
2013 Review: Creative Subversions: Whiteness, Indigeneity and the National Imaginary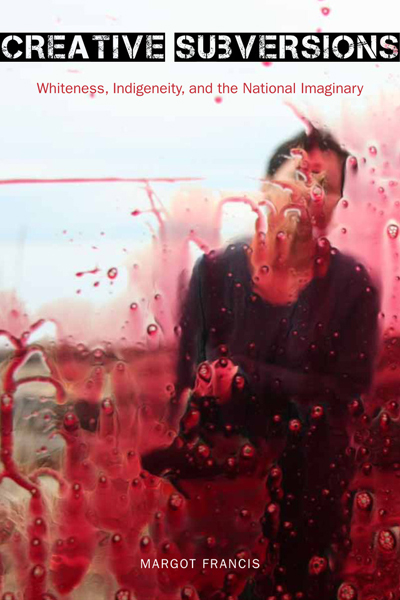 Creative Subversions: Whiteness, Indigeneity and the National Imaginary
Written By Margot Francis
Published By UBC Press
224 Pages
When you think of Canada and the nationalist image it presents to the world, are there certain images that come to mind? And with these images have you ever thought of where they came from, and the secrecy that lies behind them? Have you ever been challenged to rethink these images you have come to know as a part of Canada's image?
In Creative Subversions: Whiteness, Indigeneity and the National Imaginary, author Margot Francis explores the national imaginary of Canada using the unique concept of haunting. It is interesting to read that the images we have come to know as a part of Canada have a history and a secrecy behind them that is not considered.
In this text Francis states "although the intellectual work of this project led, on its own account, to a consideration of haunting, the material conditions of writing offered a parallel process, one that also invited me to consider how the experience of ghosts is implicated in the everyday geography of Canadianness."
She argues that the images we have come to see as a part of Canada's nationhood—the beaver, the railway, the wilderness of Banff National Park and Indianness—are all veiled in a secrecy and are haunted by ideas of race, masculinity, and sexuality, and it is these images that stem from Canada's early formative years that we as Canadians have learned to not question.
Francis says much of her writing on spectres was done after working at Algoma University College (AUC) in Sault Ste. Marie, which is "an institution built, literally, from the bricks and mortar of the now (in) famous Shingwauk Residential School," in quoting cultural theorist Kathleen Brogan.
Francis argues "one of the most frightening aspects of being haunted is its involuntary nature: we cannot choose our ghosts." Nor do we choose the open secrets of Canadianness. She goes onto explain how 'secrets' can provide a way of thinking through what Robert Jay Lifton calls "the potentially transformative influence of death on theory."
Francis argues that histories of death and dispossession through Canadian nation building is far from exemplary, and draws upon other scholars work, such as Bonita Lawrence and Victoria Freeman, who have similarly argued that if you were "to do an investigation into the history of Indigenous/Anglo-Canadian relations in southern Ontario," there would be very similar themes.
Creative Subversions: Whiteness, Indigeneity, and the National Imaginary is a complex book, and can be difficult to read. It not only explores aspects of haunting and secrecy in the making of the Canadian nation, it also explores the concepts of "how whiteness and Indigeneity are articulated through icons that we have come to associate with Canadian identity."
It is a text that is heavy on creative theoretical contributions of Aboriginal and Anglo-Canadian artists who wrestle with the ongoing meanings of Canada in its colonial past and present. Francis does a thorough job in investigating Canadian nationhood and challenges her readers to rethink how everyday objects can be reimagined to challenge how we (the Canadian public) perceive the history we are taught, the memory surrounding it and the national identity we have come to know as Canada.
2013 Review: Disinherited Generations: Our Struggle to Reclaim Treaty Rights for First Nations Women and their Descendants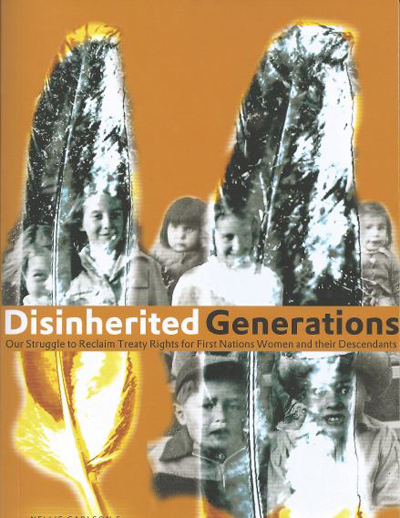 Valuable lessons to be learned from women's equality rights activists
Disinherited Generations: Our Struggle to Reclaim Treaty Rights for First Nations Women and their Descendants
Authors: Nellie Carlson and Kathleen Steinhauer as told to Linda Goyette
Published by The University of Alberta Press
Review by Shari Narine
It is only fitting to hear that strong women in Alberta not only furthered the cause of non-Aboriginal women to be seen as "persons," but that strong First Nations women in Alberta fought for the treaty rights of their own generation and descendants.
Born into the Saddle Lake Cree Nation, cousins Nellie Carlson and Kathleen Steinhauer are the founders and long-time activists with Indian Rights for Indian Women. Both women lost their treaty status when they married non-status Indians.
Their struggles, both personal and on behalf of other First Nations women is told mainly through anecdotes, both poignant and humourous, to award-winning journalist Linda Goyette. Steinhauer passed away in 2012 before the book was officially launched, while Carlson, 85, now resides in Edmonton.
In the book's foreword, activist Maria Campbell points out that, because of Carlson's and Steinhauer's relentless work, "170,000 First Nations people benefited from your struggle to restore an inheritance that is about identity, belonging and place."
Goyette does an admirable job of what had to be a difficult task: sorting through four separate conversations that took place between 2000 and 2011 and distilling the facts of the struggle while keeping the personalities of the women intact.
Writes Goyette, "I am aware that a transcriber shapes the story and becomes part of it as an invisible third author."
However, Goyette embraces the storytelling aspect of Aboriginal culture and at times that makes the narration somewhat disjointed.
Goyette traces the two women's fight for justice, which began when they married non-status Indians and lost their treaty rights.
Steinhauer told her husband Gilbert that while she would give up her treaty rights to get married, she would also get them back. In her words: "And I pounded the table. I was really angry, and he knew it. And I said, 'I'll get my rights and you'll get your rights and our children will get their rights.' He put on his jacket, and I said after him, 'and all our descendants!'"
Carlson points out that the Indian Act section on women and marriage changed six times over the years and on the sixth time, women and their children lost all rights. She also talks about the promise she made to her dying mother that she would fight for the disenfranchised children.
But it wasn't only the federal government that Carlson and Steinhauer had to battle; they also had to fight their own people. They fought the leadership of their own First Nation, stood firm against family members, and took on heavily male-dominated First Nations organizations, such as the National Indian Brotherhood (which later became the Assembly of First Nations) and treaty organizations in most provinces.
The creation of Indian Rights for Indian Women occurred in 1971, in the midst of the creation of other Aboriginal organizations, court battles for land and treaty claims, and marches against racism.
"In this lively atmosphere," writes Goyette, "disinherited First Nations women across the country demanded an end to the sexual discrimination in the membership rules of the Indian Act."
Indian Rights for Indian Women fought the battle for 18 years, much longer than the leaders or any of the women had anticipated.
On June 28, 1985, Bill C-31 was passed, bringing the Indian Act into line with the equality guarantees in the Charter of Rights and Freedoms.
Disinherited Generations provides valuable insight into the hearts and the minds of the women who led the Indian Rights for Indian Women.
2013 Review: For King and Kanata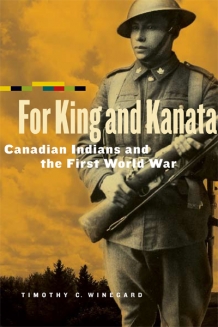 Author looks at warfare and First Nations involvement [book review]
For King and Kanata:
Canadian Indians and the First World War
By Timothy C. Winegard
Published By University of Manitoba Press
Pages: 224
Reviewed by Christine Smith
In "King and Kanata: Canadian Indians and the First World War" author Timothy C. Winegard takes a comprehensive look at the history of First Nations people and their experience on the battlefield and home front during this time of war.
Winegard writes about the Indian and Settler-State experience and states early on that "warfare played an important role in the political, social, cultural and genetic frameworks of Indian nations," and "in pre-contact warfare, raiding parties which were led by proven war chiefs and usually numbered less than 200 warriors, were sent to settle scores, to acquire provisions, or to avenge the deaths of or replace deceased clan members (known as mourning wars)."
But despite earlier warfare experience and the First Nations' pledge to the Crown that their men would fight to honour their long-standing military alliances with the Europeans during times of war, the Canadian government was of the opinion that "status Indians were unsuited to modern, civilized warfare."
Under the British North America Act and the Indian Act, Canadian Indians did not have the rights and responsibilities of citizenship, and the government of Canada did not expect or need Canadian Indians to take up arms in what they saw as a foreign war.
Another apprehension the Canadian government had was that including Indians in "an expeditionary force could violate treaties, as evidenced by the position of the government during the Boer War."
Canada's stance on First Nations soldiers' involvement in the First World War changed when Britain intervened in 1915. Britain demanded Canada to actively recruit First Nations soldiers to meet the increasing need for more manpower on the battlefields. The number of First Nations soldiers that participated has never fully been disclosed. This is due to the fact that "there were undoubtedly cases of Indian enlistment which were not reported to the department," and most "status Indians were not recorded as such upon enlistment, as attestation papers did not record race."
After Britain intervened and demanded that First Nations become a part of the First World War, complications arose between the national and international forces that influenced the more than 4,000 status Indians who served in the First World War. Winegard reports that subsequent administrative policies affected First Nations soldiers at home, the battlefield and as returning veterans.
For history buffs, this book is a must read for the account of just how much Canadian First Nations participated in the First World War, why they participated and what happened to them after the war.
2013 Review: Healing Histories: Stories from Canada's Indian Hospitals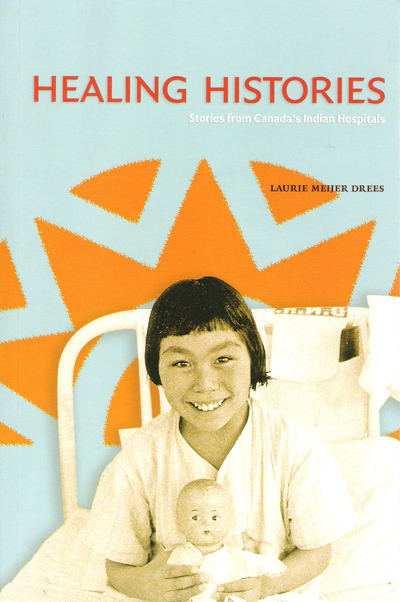 Book provides mixture of anecdotes, facts about TB hospitals
Laurie Meijer Drees
University of Alberta Press, 2013
Edmonton, Alberta
ISBN 978-0-88864-650-7
244 pages
Reviewed by Heather Andrews Miller
In the early twentieth century, infectious diseases ravaged the populations of Canada, especially in the north. The occurrence of tuberculosis and measles reached epidemic proportions and whole families and often whole communities were devastated.
Laurie Meijer Drees describes the government's practice of the day to heal those affected Indigenous people by sending them to hospitals in southern Canada, under threat of action by the law if they refused to go. Thus began another institutional experience for Aboriginal people in our country which, when paired with the residential school system, made a vast impact on the living culture of First Nations, Dene, Métis and Inuit people.
Drees, who is co-chair of the First Nations Studies Department at Vancouver Island University, states in her book that 18 hospitals offered treatment including Edmonton, Nanaimo, and Fort Qu'Appelle. The Charles Camsell Indian Hospital in Edmonton was considered one of the best. With 350 beds that later grew to number 500, the Camsell was a former Jesuit College refurbished by the American military during World War Two. However, unlike the hated Indian Residential School, the occupants at the Camsell were encouraged to pursue the making of traditional handicrafts, which were offered for sale in the hospital's gift shop. Those who were not bedridden were invited to play outside the facility and many overcame their homesickness by developing close friendships with other patients. For the older patients, movies, dances, visiting entertainers and music were provided to help pass the long hours of prescribed bed rest. TB, as tuberculosis is commonly known, can occur in people of any age, and there was a mixed population of children and adults who tried to help each other back to a healthy life and a return to their home communities.
As Drees explains, infection rates for Aboriginal people were 10 times the national average in 1944. The disease was unknown to the population until the European settlers introduced it in the 1700s. With the building of the railway and the establishment of the reserve system, First Nations people were confined in crowded living conditions and were often under-nourished, further facilitating the spread of the disease. Many more developed the condition in residential schools where death rates were high.
In addition to government statistics and commentaries by non-Aboriginal officials and health practitioners, also included are compelling revelations of former patients who benefitted from their stays at the hospitals. Some went on to careers as registered nurses and health care workers, inspired by their desire to improve their communities back home. Indeed, Drees credits these early professionals with spawning the seeds for self-determination in Aboriginal health care. Others stayed to work in the laundry, housekeeping or kitchen areas, making the most of their recuperation by participating in the hospital's educational and occupational programming.
The patients were usually from small isolated communities and they saw for the first time the bright lights of the city and experienced modern household conveniences. It was often a time of realization about a new world of which they knew nothing.
The intercultural book will be of value by those interested in the history of medicine and nursing, and of Canadian Aboriginal people. Oral histories have been captured to become part of the experience of a diverse group of individuals who were affected by tuberculosis in the middle of the 20th century in Canada and who shared an awakening during their healing. It moves beyond the colonialism, victimization, and cultural destruction of other experiences and leaves the reader well-informed about a period of Canada's history which changed lives forever.
2013 Review: Stories in a New Skin: Approaches to Inuit Literature
Stories in a New Skin: Approaches to Inuit Literature
Author: Keavy Martin
(Published by The University of Manitoba Press)
Review by Shari Narine
Keavy Martin presents a circular argument in her academically-heavy Stories in a New Skin: Approaches to Inuit Literature.
Martin holds that Inuit literature – which she takes as a broad category – demands to be acknowledged by the western world in the same manner that other Indigenous work is. However, she says that for Inuit literature to be understood by broader society it needs to be explained to such a point that it loses its true Indigeneity.
Inuit storytelling not only entertains but imparts a lesson. What the listener takes from the story is dependent on the place the listener comes from. So in true Inuit fashion, when a story is told, the lesson isn't drawn. However, Martin says, that isn't the case in the southern world where lessons need to be clearly stated in order for the non-Inuit to understand. In this way, in the need to have to explain not only history and the context of the tale (or song), but also the meaning, true Inuit literature is not what is being shared with the southern reader.
In Stories in a New Skin, Martin examines the literature that comes from Nunavut, looking at its storytelling tradition, its history and its politics – both politics that are true to the Inuit and politics that are forced upon the Inuit by a western political structure. Indeed the very title of her work emphasizes this belief.
She points out that "skins and skin clothing are obviously of enormous importance in Inuit tradition," yet an imposed political system forces Inuit literature into a broader audience, which if that audience is to understand what it is reading, forces the literature to grow a new skin or shed the old one.
"It represents both the possibility and the discomfort of adaptation," says Martin.
While the south is quick to think of Nunavut – and some would argue all three Canadian territories along with Alaska and Siberia – as having a "common land, language and culture," Martin points out that it is this vastness that means this isn't the case as is clearly seen in a broad array of storytelling in its many forms and detail.
She states the Inuit Circumpolar Council is partially to blame for promoting a single-minded approach to literature (and therefore downplaying the diversity) in the same way it has provided a single, unified voice for Inuit politics.
"The most important national trait is the tradition of telling stories that work to define Inuitness by raising the spectre of Otherness," says Martin.
While there is a lack of Inuit literature available to the broader audience, there is, perhaps surprisingly, a fairly large collection of Inuit work – songs, poetry and tales - available to scholars dating back almost a century.
While Stories in a New Skin is highly academic reading, reference heavy and therefore sometimes difficult to ascertain where Martin herself stands on the issue of sharing Inuit literature with a broader audience, she does offer food for thought.
She quotes the IQ Task Force report, which asks the question, "Should the Nunavut government try to incorporate the Inuit Culture into itself, or … should the Nunavut government incorporate itself into the Inuit Culture?"
This could be the question Martin intends to leave the reader with: "Should Inuit literature fit into the broader southern context or should the broader southern context work within the Inuit literature?"
2013 Review: The Inconvenient Indian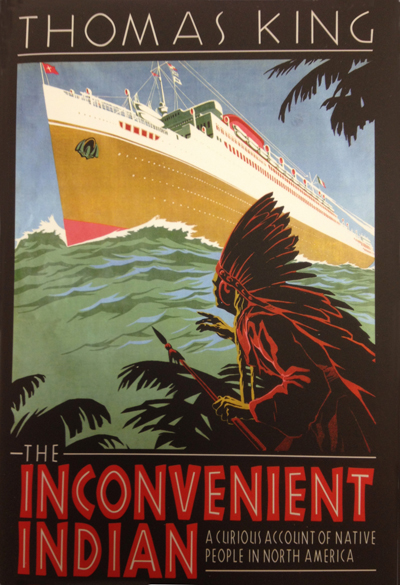 The Inconvenient Indian:
A Curious Account of Native People in North America
By Thomas King
Review by Christine McFarlane
Have you ever really looked at history and the stories behind them? Do you question if these stories are fact or myth or accept them as the absolute truth? You would like to think that what you are reading in your history books is truth, but…
In "The Inconvenient Indian: A Curious Account of Native People in North America," author Thomas King looks at the stories behind such events as the 1861 Almo massacre by the Shoshone-Bannock, the meeting of Pocahontas and Captain John Smith, the Rebellion of 1885 with Louis Riel, the 1876 Battle of the Little Bighorn with George Armstrong Custer, and many other stories and he points out the inconsistencies in each.
In the stories, we are made to believe facts that are based on tales someone has made up and told someone else. The massacre in the town of Almo did not happen, because at that time in history attacks with such a large number of casualties did not go without mention. Newspapers at that time made no mention of this so-called massacre, nor is there record of this in the National Archives or in the records of the Bureau of Indian Affairs that are kept for various states and territories.
King argues that it was not until 66 years after this supposed event that a plaque was erected in the town of Almo as part of "Exploration Day," which is an event that is designed to celebrate Idaho history and promote tourism in the area.
Similarly, there is the story of how Captain John Smith was saved by Pocahontas. It makes a great story for Disney where a beautiful maiden saves a hero. However, at the time of this meeting, there is questionable evidence as to the background of Smith and how he had been saved before by other beautiful women, not to mention the fact that in 1607, he was 27, and Pocahontas would have only been 10, maybe 12 years old.
History, as Thomas King points out, "may well be a series of stories we tell about the past, but the stories are not just any stories. They're not chosen by chance. By and large, the stories are about famous men and celebrated events. We throw in a couple of exceptional women every now and then, not out of any need to recognize female eminence, but out of embarrassment. And we're not easily embarrassed."
History is not always what we are taught to believe. King argues that our concept of history is often thought of as something grand happening, a national chronicle built upon by authenticities and truths that are melded together into narratives that explains how we get from one end to the other. This very fact is interesting because the stories we read in textbooks are presented as truth and we are taught not to question the stories that are told to us. To do so, goes against the accepted norm.
"The Inconvenient Indian: A Curious Account of Native People in North America" is a book that once you pick up, you cannot put down. It takes you on a historical journey of examining the stories we are told throughout history, speaks about the relationship between non-Natives and Natives throughout the centuries, and has you wondering how we might tell a new story for the future. Thomas King fans will not be disappointed!
The Inconvenient Indian is published by DoubleDay Canada and is 288 pages.
2013 Review: The Manager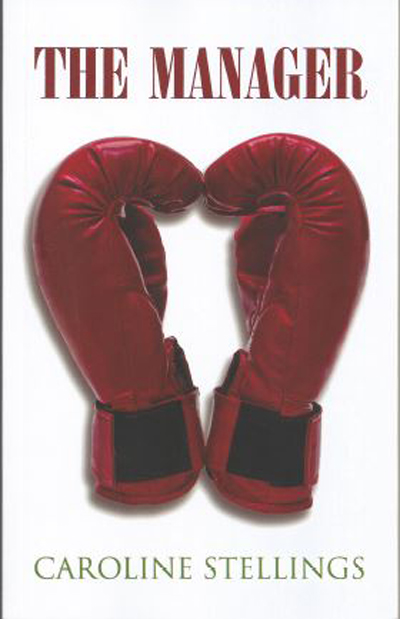 Road trip romp an easy, predictable read
The Manager
Author: Caroline Stellings
Published by Cape Breton University Press
Review by Shari Narine
The Manager by Caroline Stellings is a quick, easy, no-surprise read. Or, as the boxing world would say, an easily telegraphed shot from family conflict to family resolution with a bit of razzle-dazzle thrown in.
Classified as a fiction for young people, The Manager is set in 1979 and tells the story of the Mackenzies, a boxing family, which struggles to succeed both as a family and in the boxing world.
The story is told in first person by younger sister Ellie. Her mother is dead, her father is a boxing-obsessed man who runs a struggling gym, and her older sister Tina is a boxing-obsessed young woman who suffers from dwarfism.
When Tina hears about a medical procedure that could cure her dwarfism, she convinces Ellie to accompany her to Boston, where the operation will take place. So the pair leaves their home of Whitney Pier, a neighborhood in the industrial part of Sydney, with Bonita, the older daughter of a shop-owner friend who owns a car.
Along the way they meet a young Mi'kmaw boxer, Jesse Mankiller. As fate would have it – or perhaps a simple, straightforward plot – Jesse needs a manager and Tina takes the job. As they move through the boxing circuit, they meet a backwoods family in Maine, complete with lusty boy-crazy, breast-baring twins; fall into the good graces of a mobster; and have sufficient money to eat meals and get hotel rooms.
The characters are all too likeable and their flaws are all surface. Stellings misses the opportunity to dig deeply into what makes them who they are. Or as Tina would say, Stellings misses the combination. She's "throwing one punch at a time. No good. Jab, jab, hook."
Stellings has brought together a group of visibly different people but chooses to tell the story from the point of view of the only person who is "normal." She has a wide array of characters –Bonita, who is black; Tina, the dwarf, and Jesse, the Indian – who could have offered a stronger, more poignant look at life on the road.
At one point, Bonita comments, "I know what it's like to face discrimination on a daily basis, believe me." But Stellings fails to deliver the hook on what could be a powerful theme; instead she jabs around it, pokes at a hint here and there, but never delivers the final knock-out blow.
She does the same thing with stereotypes.
There are the jabs. The first time the sisters meet Jesse it is on his mother's Nova Scotia reserve. The family resides in a dilapidated trailer with a plywood door, Jesse's mother is in a wheelchair, his sister is an alcoholic, and there are oodles of half-dressed little children running around. Another jab: Tina apologizes for assuming that Jesse's father is in jail. Another jab: Tina assuming Jesse got stopped at the US-Canada border because he was driving a rich man's car. But no hook: how does all of this come together to make Jesse the ultimate fighter?
Instead, the reader is introduced to the backwoods twins who want a piece of the boy-with-the-ponytail.
Instead, Stellings knocks it all down to a love story: in Ellie's words (when she is not drooling all over Jesse or condemning Tina for not caring about their father), "Tina wanted to be loved."
2013 Review: The Strength of Women: Ahkameyimowak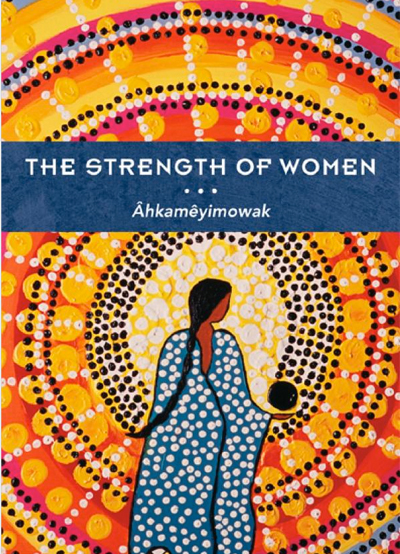 Book Review by Christine Smith
The Strength of Women: Ahkameyimowak
By Priscilla Settee
Published by Coteau Books
121 pages
"The Strength of Women" celebrates women's spirit as the backbone of Native communities, and the stories within are about 15 incredible Native women who show vision, inspiration and leadership despite the challenges facing them throughout their lives.
Author Priscilla Settee says "Colonization has been particularly devastating for Native women. There are multiple ways women have disproportionately suffered from the affects of colonization, from sexual violence and forced sterilization to the undermining of women's central role as community organizers, planners and leaders."
Settee documents stories that show a range of life experiences that involve injustice, racism, genocide and sexism and of hope, awakening and fierce struggles. She uses the Cree word 'ahkameyimowak' to describe a strength that has helped women to survive, flourish and work for change.
"The Strength of Women" is divided into five sections: Beginnings, Work, Art, Spirit and Community. In the section, Beginnings, Aleyna May Stene writes an intriguing poem
"Did you ever worry about me
When I was running in the streets
You never asked
Never asked
"Where were you?"
You never cared where I was or what I did
Still to this day
I love you…"
The poem is especially moving because it is indicative of how story or poetry can contribute to a way of healing. After all, "in the Indigenous world, stories are a means of transmitting vital information from within our community as well as outside our communities."
Settee explains "Women are the unsung heroes of their communities, often using minimal resources to challenge oppressive structures and create powerful alternatives in the arts, education and workplace."
This is especially indicative of the women that are in this book, including Freda Ahenakew, a pioneer of First Nations women's writing in the province of Saskatchewan, Rita Bouvier, a Saskatchewan educator, poet and writer, Judy Da Silva, who has been working in her community of Grassy Narrows to bring attention to the terrible legacy of environmental destruction caused by major pulp mills in her territory, Lindsey Knight, aka Eekwoll, a widely recognized youth model and rapper, Sally McKenzie, a community leader in health and community healing, Aleyna Mae Stene, a young urban Métis woman involved in the work organizing inner city youth, and Patricia Margaret Ningewance, an Anishnaabe-kwe linguist and artist.
This book is important in part because it features Native women as playing a central role in our culture. It speaks of an unwavering spirit and tenacity that often no one hears about, because women's achievements and economic contributions are often not counted. The stories told within this collection are both inspiring and thought-provoking, and the reader becomes privy to some very strong women who fought against adversity to become leaders in their communities and beyond.
2013 Review: Tilly, A Story of Hope and Resilience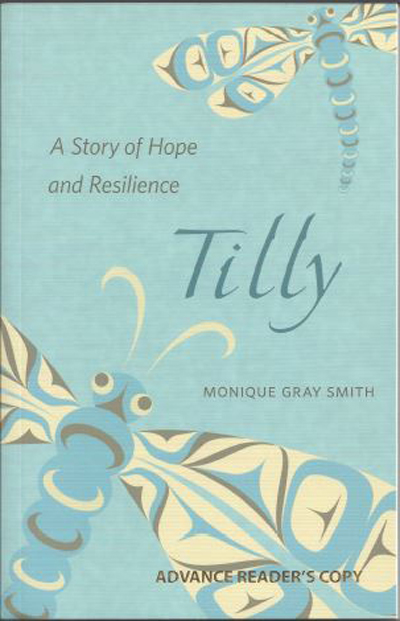 Tilly, A Story of Hope and Resilience
Author: Monique Gray Smith
Published by Sono Nis Press
Review by Shari Narine
It's hard not to pull for Tilly. After all, who doesn't want someone who becomes attached to alcohol when she's in Grade 7 to conquer her demons? But while Tilly, A Story of Hope and Resilience, does a remarkable job of entwining cultural teachings with Tilly's passage from alcohol-dependency to alcohol-freedom, it does little to help the reader understand Tilly.
Tilly is a loosely-based autobiography of Monique Gray Smith. It is story-telling in its fullest, chronologically following main character Tilly's life from the racist confrontation with a stranger on the sidewalk in Kelowna in 1974 to the death of her namesake grandmother when Tilly starts junior high and ending with Tilly's marriage in a loving, wholesome relationship, and the birth of twins.
But it doesn't delve into the character. It only provides a cursory examination.
I want to know why Tilly does what she does. I want to know why Tilly is finally ready to attend AA. I want to know why Tilly has the strength to not only walk away from the love of her life but to stay sober. I want to know why Tilly leaves her job as a nurse to be a helper for healing workshops. I want to know why Tilly becomes an alcoholic but her younger sister Marie doesn't. I want to know Tilly. And I don't.
Gray Smith does an admirable job in relating the Lakota teachings of Tilly's grandmother; the Ojibway ways of Bea, the woman at the Native Friendship Centre, who counsels Tilly; the Sunrise ceremony and smudging at the treatment centre Tilly enters for the full six weeks. Gray Smith even touches on residential schools, Indian hospitals, Harper's apology, and the '60s scoop.
But she also only touches on Tilly's life.
At the midway point of the novel, Tilly writes, "I didn't really know what made me happy. I'd become far removed from 'me.'"
The problem is, the reader doesn't know who Tilly was or is or why she becomes who she becomes.
Central to Tilly's story seems to be her discovery of her culture. She writes that her counsellor Bea "understood the importance of culture in recovery." Indeed, the treatment centre that Tilly eventually attends is marked by a sign stating "Culture is Treatment."
There are numerous studies that recognize this statement as truth. Gray Smith devotes pages to talking about Tilly's time in the treatment centre, what she learns, how she sticks out the full six weeks although for the first time ever she celebrates her birthday without her family. And though her roommate is a grandmother who befriends her, provides insight and guidance, the reader never learns how Tilly feels about everything.
Yes, she gets up early in the morning; yes, she likes to spend time by the river where it's quiet; yes, she participates in the ceremonies. But what does this all mean to her? What does it change in her?
She states, "I quickly realized how powerful it was to greet the day in a sacred way, from a grounded place and a place of thankfulness."
But what does that mean for Tilly? How does she take this and use it when she learns that the man she loves has betrayed her with lies? After this devastation, Tilly stays strong, never goes back to drinking. I want to know why. How did what she learn in the treatment centre give her this strength? How was she able to hold on now?
Gray Smith does an excellent job describing and providing an understanding of First Nations cultural teachings and traditions – she even includes a glossary at the end of the novel – but it leaves me still wanting to know the heart and soul of Tilly.
2014 Review: Ghost Detective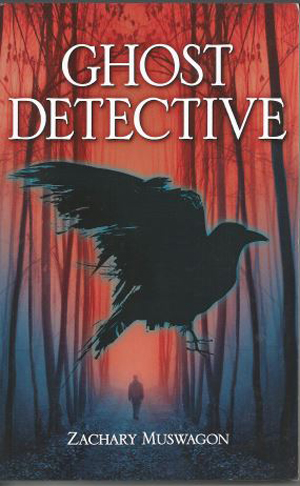 Ghost Detective
Zachary Muswagon
(Published by Eschia Books Inc.)
Review by Shari Narine
Ghost Detective is an engaging blend of supernatural and whodunit
wrapped around life on the reserve. It could easily have remained a
mystery novel with a twist, but author Zachary Muswagon makes it more as
he explores the conditions on reserves and the reasons that motivate
the antagonists.
Clearly written and easily read, Ghost Detective spins the tale of
the Ghostkeeper cousins, Billy and Dale, both of whom are flawed but
likeable, as they make their way through the unnamed Rez, trying to
piece together the murder of, yes, Billy Ghostkeeper.
Dale is Billy's reluctant helper, drawn into the fray when Billy
reminds Dale that he saved Dale's life from gang leader Gar all those
years ago when Dale was in Grade 7.
Ghost Detective also blends the traditional ways with the modern
ways. Billy is helped along by the Crow, his spirit guide. Crotchety
Aunt Kena, who has the Eyes of Fire, can talk to Billy (and others in
the spirit world) directly but Dale has to depend on his Bluetooth for
communication with Billy the ghost.
As the two work their way through the mystery of Billy's death, two
suspects become clear. First, gang leader Gar. In this way, Muswagon
tackles the issue of the ever-growing problem of gangs on reserves. A
little heavy-handed in his dealing of the topic, Muswagon refers to the
gang members as thugs who are wanna-be great Aboriginal warriors.
The second suspect is DBA Resources executive Grant, whose oil
company pumps so much money into the Rez that Billy, who holds the
position of assistant band compliance officer, turns a blind eye –
initially - to the company's deadly infractions. Muswagon is blatant in
slamming big oil for its unethical behaviour and its never-failing
pursuit of the dollar.
DBA Resources is so bad that at one point a dead Billy is confronted
by the ghosts of two children, who died of leukemia and who lived at a
house where Billy fudged water and air emission sample results. Muswagon
also takes an anti-government stand, with Grant telling Dale that even
if Billy had damning information against the company, the government
would not shut down a multinational billion dollar corporation,
regardless of deaths.
But of course, no whodunit is complete without a twist and Ghost Detective offers just that.
And more. Muswagon examines the conditions on the reserves, pointing
to housing on Attawapiskat First Nation, and the attitudes of the
public towards the deaths of Aboriginal people, naming the Pickton
murders as one example.
But all is not lost for Billy. Before his death, Billy is on the road
to redemption and in his death, he finds forgiveness from the two
children he inadvertently led to their deaths, and he also connects with
his cousin. Billy realizes that he has been selfish and points out to
Dale, that while the younger cousin is a poser, he's also a good guy who
has stepped up to help Billy out more than he needed to. Billy learns
to control his ghost body and understand his role in the spirit world in
time to help solve his murder and get the help of Aunt Kena to rescue
Dale.
Ultimately, Ghost Detective is about trying to balance the
traditional ways of caring for the land and the people with moving
forward and providing for the people on the reserve. Can that happen?
Says spirit guide Bear to Crow, "We're moving in the right direction,
but we still have a long way to go."
Buffalo Spirit: Recommended readings
Teachings from the Longhouse
By Chief Jacob Thomas with Terry Boyle
Stoddart Publishing Co. Limited
151 pages (sc) $17.95
The late Jacob Thomas was hereditary chief of the Six Nations and one of North America's leading Native traditionalists. In Teachings from the Longhouse, he both shares and preserves the teachings of Handsome Lake, a Seneca Indian born in 1735 who developed a code of conduct for his people to live by to help them survive the changes brought about by European contact. That code has survived to the present, handed down orally and delivered twice a year in traditional longhouses.
---
The Good Path: Ojibwe Learning and Activity Book for Kids
By Thomas Peacock and Marlene Wisuri Afton
Historical Society Press
127 pages (sc) $17.95 (U.S.)
The Good Path introduces children, Native and non-Native, to the history, stories and beliefs of the Ojibwe people. The book looks at the lessons of co-operation, courage and honor that make up the Good Path, and gives young readers activities that make them think about what they have read, and to encourage them to learn more.
---
Returning to the Teachings: Exploring Aboriginal Justice
By Rupert Ross
Penguin Books
287 pages (sc) $19.99
As an assistant Crown attorney in northwest Ontario, Rupert Ross has been responsible for criminal prosecutions on more than 20 Cree and Ojibway First Nations.In his first book, Dancing with a Ghost, Ross looked at Aboriginal approaches to justice. In this second book, Returning to the Teachings, published in 1996, Ross looks at the role that traditional teachings and healing have within Aboriginal communities across the country, where the approach to justice is not to punish, but to heal.
Rare Intellect - Recommended Readings
---
---
April
Inuit art, past & present
Inuit Art: An Introduction
By Ingo Hessel
Photography by Dieter Hessel
Douglas & McIntyre
198 pages (sc)
$45
Review by Cheryl Petten
From a tiny ivory maskette carved by the Arctic's ancient inhabitants, to contemporary works created using both traditional and non-traditional styles and mediums, Inuit Art: An Introduction uses a mix of text and photographs to bring to the reader thousands of years of art, blanketed in the historical, cultural and societal contexts that helped form it.
While many factors have influenced the art created by the people of the Arctic, the largest of these, it can be argued, was contact with European newcomers to the area-missionaries, explorers, and traders-beginning in the late 1700s.
The book looks at the effects of this contact, which brought about a shift from Inuit artists creating items for themselves to creating them for a new and growing southern market.
Production of Inuit art today is no longer so bound to the whims of the southern outsiders, but Inuit artists are still well aware that, while they have more creative freedom than the artists that went before them, they still have to create works that appeal to the southern market if they intend to make a living with their craft.
The book dedicates most of its attention to contemporary Inuit art, looking at the various mediums being used by today's artists, as well as the themes and subjects that dominate their work-animals, the supernatural, illustrating myths and legends, the family, or scenes from everyday life.
The predominant styles of sculpture in the different areas of the Arctic are also examined, as are the work of some of the new breed of Inuit sculptor, who are finding their own balance between Inuit tradition and southern influence.
While the main focus of the book is on sculpture, mainly because that is the format most often chosen by Inuit artists, both graphic arts (drawing, printmaking and painting) and textile arts (weaving and sewing) are also examined.
The book has something to offer anyone with an interest in Inuit art. Those already familiar with the subject will find in the book a wonderful collection of photographs and reproductions of Inuit art from a variety of regions and time periods, and in a number of medium, formats and styles. And for those with little or no knowledge about the subject of Inuit art? This book can definitely change that.
---
Joane Cardinal-Schubert
Multi-media artist, writer
Recommends:
Vagina Monoloques
By Eve Ensler
Random House-2000
"On Feb. 14 and 15, I was part of a community theatre collective with producer Tantoo Cardinal and actors Michelle Thrush, Wilma Pelly, and director Robin Melting Tallow, as well as local luminaries (as the rest of us were described), who participated in the reading of the Vagina Monologues at the University of Calgary. This year was a special focus on Aboriginal women and girls, calling for an end to violence. As such, Tantoo read a special monologue entitled Crooked Braid written by Eve Ensler for the Lakota women. The Calgary performance included a slide-show tribute to missing and murdered local Aboriginal women, and those who disappeared in Vancouver. The director asked me to include some images of my paintings as well. Although the book is not one I would have chosen without this community involvement, I was surprised, informed, and invigorated by the expansion of the text into a theatre event, which personally allowed me to pursue an old theatre interest, as well as to be part of an Aboriginal collective that was providing support and information for other women."
---
James K. Bartleman
Lieutenant Governor of Ontario
Recommends:
The Bridge of San Luis Rey
By Thornton Wilder
New York: Albert & Charles Boni-1927

Literature should serve purposes other than mere entertainment. At their best, books provide readers with insights into their own lives and those of others. Thus The Bridge of San Luis Rey by Thornton Wilder, published in 1927 and available in any library, is one of my great favorites. Set in colonial Peru, this short book tells the stories of five people who fell to their deaths when a bridge over a deep valley collapsed. Read it to bring a deeper meaning into your life.
---
---
May
We all sing together
The Master Butchers Singing Club
By Louise Erdrich
HarperCollins
389 pages
$39.95 (hc)
Review by Suzanne Methot

Chippewa writer Louise Erdrich usually writes about Aboriginal people in her novels, which detail the interconnected lives of the Morrissey, Kashpaw, Lamartine, Lazarre, Nanapush, and Pillager families of North Dakota. In her eighth novel, using her own German-American ancestors as inspiration, Erdrich turns to non-Native characters.
The Master Butchers Singing Club begins with Fidelis Waldvogel, a sniper in the German Army who returns home after the First World War and marries Eva, the pregnant girlfriend of his best friend, who was killed in the war. Fidelis, trained as a master butcher, then sets off to find his fortune in America-and ends up in Argus, N.D. Fidelis, opens a butcher shop in the town, sends for Eva, and their lives eventually intersect with Delphine Watzka, a young woman who becomes Eva's confidante and a surrogate mother to her four sons. The novel follows Fidelis, Eva, Delphine, and the Waldvogel boys through the next 36 years, as they build their lives, face death, and learn to love.
Those familiar with Erdrich's other novels will recognize some of the settings in this book, but will meet entirely new characters. The good news is that Erdrich's non-Native characters are just as interesting as her Native ones. The Master Butchers Singing Club is filled with the usual cast of colorful Erdrichean individuals: an outcast garbage picker, an incorrigible alcoholic, a mean-spirited spinster, a traveling showman, and a feminist undertaker, among others. (The showman is Delphine's sometime lover, Cyprian Lazarre. He is one of two Native characters in the book, both of whom are important to the story but rather marginal in its telling.)
Like the previous novels, this book shifts back and forth among various narrative voices, but it features a much flatter and more linear timeline than any of Erdrich's other books. At one point, the author careens from a discussion of kids' toys to Fidelis's sausages to her school days with her undertaker friend in less than one page. But that accelerated pace also makes certain scenes- when one of the Waldvogel boys is trapped inside a mound of construction dirt, when Eva needs pain medicine for her cancer- stand out in sudden intensity. Their importance is highlighted by their incremental, concentrated sensibility.
Erdrich uses a blend of poetic language, surreal circumstances, and humor to convey the intricate connections of small towns: the debts, the secrets, the public and private faces, the assigned roles. As she reveals those connections, she shows the balance people must strike between happiness and misery, killing and living, and life and death.
Fidelis's cronies in the Argus singing club are of different nationalities. They sing together and share songs from their cultures.
All of the seemly disparate ideas in the book come together when Erdrich reveals the identity of the most accomplished master butcher, and the choir she conducts in the sky. The truth is, we sing alongside each other. In the spirit world, there are no sides. It is humans who choose sides.
A truly wonderful book.
---
Kim Ghostkeeper
Conference co-ordinator, Ghostkeeper Synergetics Inc.
Recommends:
A Fine Balance
By Rohinton Mistry
McClelland & Stewart-1995

For most of my life I haven't been much of a reader, so my selection of a book with 748 pages to read is rather amazing in itself. I've never really appreciated the gift of reading. Mostly reading has been a necessity, not something I did for pure enjoyment. When I started reading A Fine Balance I wasn't even sure I'd be able to finish it. In fact, the book had been originally purchased as a gift for a more prolific reader in my family, but since they hadn't picked it up, I decided to give it a go.
The book consumed me and called me to it each time I put it down. It was so engaging and such a compelling story that I decided to choose it as my book of choice for this assignment. A Fine Balance is a gritty story set in India in the 70s.
It's about four main characters drawn together under unusual circumstances. It paints a world of poverty so devastating that at times I had to set it aside. As I flipped pages describing a world so foreign to me with its caste system, religious fractions and politics, it proved that a great story can capture and keep even the slowest reader engaged while exposing them to a worldview that is hard and harsh and perhaps even beyond our own comprehension. And yet, within it, the telling of a story of how the smallest ray of hope can be the catalyst for enormous change.
---
John Bernard
President, Donna Cona
Recommends:
Out Of Muskoka
By James Bartleman
Punumbra Press-2002

For most of my adult life I have been attempting to explain what it was like growing up on a First Nation and having a Maliseet father and an American/Italian mother. After reading about James Bartleman's life in Out of Muskoka, I felt humbled and enlightened all at the same time. Out of Muskoka is truly a masterpiece and I often refer to it when talking about my own life growing up.
---
---
June
Build a better you
The Tiny Warrior: A Path to Personal Discovery
and Achievement
By D. J. Eagle Bear Vanas
Andrew McMeel Publishing (Kansas City)
63 pages, $9.95 US (s.c.)
Review by D. L. Webster
You've seen the child struggle through his teen years. You've tried in your own way to give him guidance, but some young people refuse to hear another point of view.
You've seen the choices he makes lead him down difficult, even dangerous, roads. Now, as a young adult, he's troubled, frustrated, down on himself and the world, angry about his past and pessimistic about the future.
One day he comes to you and says 'I need your help.' What magic words will you offer to ease his pain? What wisdom will you impart that will set him on a good path? How will you respond?
The answers to these questions are found in a slim little book called The Tiny Warrior by D.J. Eagle Bear Vanas, a motivational speaker of Odawa/Dutch descent. In just 60 or so pages, Vanas offers up a basketful of plain truth and deep wisdom with a charming story about Cricket, a young Indian boy, who desperately wants to be a warrior, but doesn't know how or even why.
Cricket's journey is set out in 10 easy-to-read chapters and recounted by Grandpa to Justin, his 27-year-old grandson whose choices in life have led him far away from his dream of becoming an engineer.
Justin, working in a dead-end construction job, comes home one day to find Grandpa sitting on the porch. A quiet visit turns into a series of powerful lessons that inspire a sea-change in Justin's life.
The beauty of this book is in its simplicity. According to Grandpa, "the simplest lessons in life are often the most powerful. Truth requires few words."
At first glance, this book seems to target the troubled youth who wants to make a change, or the concerned adult who wants to inspire change in a young person. In fact, this book will serve well every person who has a dream to be realized.
The book is sectioned off so that it can serve many purposes. Cricket's story can easily be taken and read as a bedtime story to very young children. Cricket's antics get him into a lot of trouble, but the lessons he learns from them lead him to discover the special place he holds in the hearts of his family and the community.
Take, for example, the time Cricket, who longs to be part of a group, decides to join a fun-loving pack of coyotes, tricksters who use him by pretending to be his friends.
He picks berries for them, hunts squirrels up trees for them, and even pulls rabbits from holes for the coyotes to eat, but when he finds himself in trouble, his friends don't come to Cricket's aid.
After each chapter about Cricket, Justin applies the lesson to his own life. He, too, had run with tricksters, who encouraged him to skip school, cut out of work early, and who let him down when he needed help. Justin's story helps older readers see how Cricket's experiences relate to them on a personal level.
At the end of each chapter there is a page that succinctly spells out the wisdom to be found in the story. In the case of the coyotes, there are six truths to be learned, paramount among them is that we must all choose our pack wisely.
This little book can be kept in a purse or coat pocket for quick reference or a daily dose of inspiration. According to Grandpa, "There is a tiny warrior that lives inside us all."
This little book will help you find that tiny warrior, develop his gifts, and feed his soul.
---
Rick Harp
Host, Contact,
APTN's national open-line program
Recommends:
Stolen From Our Embrace: The Abduction of First Nations Children and the Restoration of Aboriginal Communities
By Suzanne Fournier and Ernie Crey
Douglas & McIntyre-1997
With so many books out there worthy of attention, it is exceedingly difficult to pick just one. That said, I opted for a book that would offer something to both a long-time observer of Aboriginal affairs and someone who's brand new to our issues and concerns. Stolen From Our Embrace lays out in just 250 pages most of the immense, traumatic and unrelenting attacks Canada has inflicted on Indigenous peoples for the past 200 years. From residential schools to the ironically named 'child welfare' system, it documents how the impact of forced removal and relocation of Native people continues to play out today. Fournier and Crey do a masterful job of using personal testimony and thorough research to illustrate the personal toll of these criminal acts, such as sexual abuse and fetal alcohol syndrome. As you read through its pages, you realize what a miracle it is any of us are alive to tell the tale. Written in a straightforward, accessible manner, the book offers profound insight into how we got to where we are today, both good and bad. If you want a reminder or a record of how far we've come, and of how we have started to reclaim responsibility for our own wellness, this book is a must-read.
---
Duane Ghastant' Aucoin,
a.k.a.Cash Creek Charlie
First Nations cultural performer
Recommends:
Where the Wild Things Are
Stories and pictures by Maurice Sendak
HarperFestival-1992
OK, I know that this is a kids' book, but it had such a profound effect on me, even to this day. The reason being is that I can relate to its central theme. Inside of each of us is a place Where the Wild Things Are. Meaning, in a world of conformity and political correctness gone mad, the spirit of freedom and adventure can easily be lost. But all is not lost if we remember to, every now and then, put on our wolf suit and visit this place and let our spirits go wild.
---
---
July
Alexie's ordinary Indians
Did all those people in the World Trade Centre really die?
Or did some just walk away from miserable lives and start again...
Ten Little Indians
By Sherman Alexie
Grove Press
244 pages, $39.95 (hc)
Sherman Alexie is far from ordinary. The Spokane/Coeur d'Alene writer has written two novels, three books of short fiction, six books of poetry and one screenplay (for the film Smoke Signals). He is also a stand-up comedian, and recently wrote and directed his first film. But despite his extraordinary range, Alexie prefers to write stories about "ordinary" Indians.
His newest book, Ten Little Indians, is a collection of nine stories that, for the most part, describe ordinary Aboriginal people in the Pacific Northwest who face the ordinary pressures of work, school, home, and relationships.
The ordinary man in "Flight Patterns" has a house, a wife, a kid, and a sales job that has him on the road a lot. The ordinary woman in "The Search Engine" is a scholarship student with good grades and a nice mom.
The problem with Alexie's "ordinary" Indians is that they are not so ordinary, at least not to a young person on a remote reserve or a single mother in Winnipeg. Alexie's ho-hum attitude toward these characters' privileged circumstances is on the one hand admirable. (As the student in "The Search Engine" says, it may help "white folks finally [understand] that Indians are just as relentlessly boring, selfish, and smelly as they are.") On the other hand, however, any author who deliberately writes about "relentlessly boring" characters should expect some readers to be less than enthralled by these people and their pampered lives on the middle-class side of the tracks.
Although these characters inhabit a privileged world, the life-changing events they experience and the insights they share convey universal lessons. When the young lawyer responds to a racist incident with violence (in "Lawyer's League"), it stands to restrict his future choices, which might be just what he wants. When the man in "Flight Patterns" gets a taxi ride from an Ethiopian refugee, he realizes there are many ways people can leave behind the ones they love. These are simple tales, but Alexie doesn't tell them simplistically. In fact, he takes chances that other writers do not.
In one story, for example, he says the unsayable (at least in America) about 9/11: Did all those people in the World Trade Centre really die? Or did some just walk away from miserable lives and start again somewhere else? (Since the character in "Can I Get a Witness?" is Spokane, Alexie could also be asking whether or not Aboriginal people understand better the transformative aspects of disaster.)
Alexie has a wry sense of humor, and he uses that humor to criticize both Native and non-Native society. Sometimes he uses a soft touch (as when he mentions "highly sacred and traditional Indian bars"), and sometimes he lectures ("Let me tell you a dirty secret: Quite a few of the state's most powerful Indian men and women are functionally illiterate. There are tribal councilmen who cannot spell the word 'sovereignty.'").
Alexie is a smart guy, and he exposes the hypocrisies and failings of pretty much everyone, from white liberals to homeless Indians.
The problem with Ten Little Indians is that the characters' inner voices all sound alike. A character in one story uses a noun as a verb ("suicided"), and so does a character in the very next story ("earthquaked"). The author has characters in two stories talk about "Mr. Grief." "Mr. Death" is mentioned in another. All the characters are ironically self-reflective, and they express themselves in remarkably similar ways. Their personalities are also the same: most of these Indians are left-leaning, anti-capitalists who read lots of books. In fact, Alexie often seems to be writing about himself. Like many of his characters, he was a scholarship student and basketball champ.
All writers use their characters to put forward their own ideas, but Alexie is a lazy writer who changes only surface details (age, sex, job title) instead of creating complex characters that stand out from one another. (The one character who is different-a homeless man-still sounds like all the others.) He also never writes from the point of view of the councilman who can't spell "sovereignty," preferring instead to write from the point of view of educated characters like himself.
---
Bernd Christmas
Membertou CEO
Recommends:
Blindness
By Jose Saramago.
Harvill-1997

It is a novel about an epidemic of blindness that strikes a city. The authorities begin to isolate those people and put them in camps. One of the main character's husband is afflicted, but rather than be separated from him, she pretends she is blind like all others.
Eventually, everyone in this city is blinded and has been left to fend for themselves. The woman becomes somewhat of a leader attempting to help the blind "see". Without giving away the plot, the main characters have to survive as a group. As the story progresses we see the author describe the horrors human beings can inflict upon other human beings for the sake of survival. It truly gets sickening, but the glimmer of hope begins to arise when the group of main characters work together. I liked reading this book for two reasons. One, the old adage, no matter how bad you think you have it, there is always someone who is worse off, rings loud and clear. It makes you realize that you must be grateful for what you have. The second reason is that the novel is about being blind, both physically and emotionally. Sometimes we are so blind to who we are, where we are, how we are, that we become hurtful, greedy, cold, and heartless. We need to open our eyes to the world and experience life to the fullest. By seeing our inner selves we can see others in a positive light.
---
Brenda Chambers
TV Producer, Brenco Media Inc.
Recommends:
Leadership From Within
By Peter Urs Bender
The Achievement Group (republished 2002)
I am enjoying this book because it helps me to identify what I need to do for myself in my life and my work. I am very results-oriented, and I need to ensure that I can communicate my own desires personally and professionally. I think Windspeaker readers will enjoy this book because it helps to identify what personal traits they have and what they will need to do to make themselves happy. A lot of times in our community we blame other people for our sadness or situation, when in fact it is our own doing. I think this book a great tool to help us to take responsibility for ourselves and our communities.
---
---
August
Reality replaces romance
North Spirit: Travels Among The Cree And Ojibway Nations And Their Star Maps
By Paulette Jiles
Anchor Canada edition 2003
391 pages, $21(sc)
Review by Joan Taillon

In 1973, Paulette Jiles left behind a failed relationship in Toronto and accepted a CBC assignment to work in Big Trout Lake, where she helped establish a radio station that would be run by the local Aboriginal people. With a book of published poetry to her credit and work in progress on another, and a much greater body of publishing credits since, Jiles' precision with language comes through in a lyrical and evocative first-person account of her northern experience.
#She describes North Spirit as a book of creative non-fiction. Most of the book's characters are composites. So is the fictional community of North Spirit Lake, which is based on the real communities of Big Trout Lake and Sandy Lake. The events in the book are all true, the author says. North Spirit reads like a well-woven memoir, for that is what it is, selected accounts from a significant phase in an adventurous writer's life.
North Spirit is a lot more than that, however. Through Jiles' eyes, the reader gets to see the effect of the dawn of modern communications on remote communities and on Indian reserves in particular. A sense of nostalgia may come upon the reader for the traditional way of life that is vanishing in the sweep of technological change.
While the old values of sharing and caring remain, the compromises with the outsider culture are starkly evident. As television and VCRs creep in, consumerism gets a foothold, and the old gatherings for storytelling and family-centred entertainment decline. By the 1970s, the mythology that has underpinned both the stories and the beliefs of Indian peoples for eons is already fissured and split. Here and there, the old people remember and relate portions of their stories, and Jiles dutifully records them.
At the heart of Jiles' book, first published in hardcover in 1995, lies her fascination with the Star People and the night sky, and the Ojibway and Cree legends reflecting differing cultural beliefs about the constellations.
Anyone who has lived in the North will recognize that Jiles so often gets the details right: the culture shock on both sides, the daily interactions and interdependence of community life, the self-reliance and stoicism and humor of northern peoples, the seasonal transitions, the precarious balance of life and death.
Where Jiles falters a bit is in the first chapters, in places. There are a few too many speeches about the play she is writing, which struck me as self-absorbed and boring. I wondered if she had found it difficult to find a starting point for her tale. In addition, sometimes the dialogue by Native people just does not ring true-speeches there too-devices Jiles used to fold in the necessary exposition, when the likelihood is that a word or two, or a look, replaced a lot of the talk.
When Jiles describes something-a place, an incident-her voice is a waterfall cascading over little stones, eddying, carrying the reader deftly to a new experience, but the book would have benefited from stronger character development throughout.
The other weakness I found irritating for a book that has been reprinted several times is sloppy copyediting in the early pages, starting with page one of the preface. Either that improved after a few chapters, or my awareness of it was subsumed by a beautiful story told by a writer of great skill.
---
John Kim Bell
-Founder & President,
National Aboriginal Achievement Foundation
Recommends:
Barney's Version
By Mordecai Richler
Knopf Canada-1997
I recommend the book because it is exquisitely written by one of Canada's national treasures. It is a shame that due to Mr. Richler's untimely death, we will never again have the pleasure of reading another novel of such rich characters, wit and intellect. Not only does one laugh aloud while reading this opus, it is an experience that lasts well after the last page has been savored. It is a story about a man's three marriages, his friendships, children, business dealings and aging.
---
Dr. Cora Voyageur
Sociologist, University of Calgary

Recommends:
The Outlander series
by Diana Gabaldon
Dell Publishing-1991-2001
I am surrounded by books and must read as part of my job as a university professor. To me pleasure reading means escapism and using my imagination. I recommend the Outlander series. I came across these gems when my daughter Carly told me about this great historical fantasy she was reading. Trash I thought-looking down my academic nose. I purchased the entire series (Outlander, Dragonfly in Amber, Voyager, Drums of Autumn, and Fiery Cross) as her birthday gift-hiding the fact that Outlander was actually for me. Since then, these books have become my guilty pleasure and I cannot put them down. Diana Gabaldon tells the story of Clare Randall, a British Second World War nurse who accidentally steps through a standing stone and is transported back 200 years to rural Scotland where she meets Jamie Fraser. Gabaldon weaves a tale of historical adventure and romance that whisks the reader away to 18th century England, Scotland, and United States. These books are well-written, intriguing, and at times a bit racy. They are not for the faint of heart, each running about 750 pages. This is escapist, pleasure reading at its finest. Enjoy.
Review: Shoot!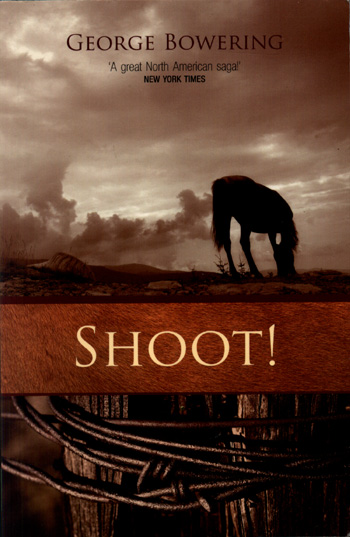 A refreshing tale told with imaginative short stories
Shoot!
By George Bowering
New Star Books
253 pages (sc)
$19.00
Review by Chereise Morris
Shoot! Is set in the late 19th century in British Columbia and focuses on the little known McLean gang which was notorious in their day.
Shoot! begins with the McLean boys' parents background, going on to pieces of the boys lives, then illustrating how their hatred for rich ranchers and 'land grabbers' eventually leads them to their execution.
The McLean gang consisted of three McLean brothers Allan, Charlie, Archie and one friend Alex Hare; they are all Métis and come from abusive or negative parents. Raised with no real place in the world the boys seek to carve out their own place with lives full of crime and bragging.
They rampage across the high Chilcotin ranch country of British Columbia in the 1870s, cattle rustling, stealing and eventually murdering two men in cold blood; this act sparks the change from wanted posters to a posse of over 100 men giving chase. At the time of their execution the youngest of the gang was 14 years old.
With approximately 60 books under his belt the British Columbian, award-winning author George Bowering began writing fiction novels in 1967. Born in 1935 with a B.A. in history as well as a M.A. in English literature, Bowering has been recognized as one of the foremost Canadian writers of his generation.
The book has so many threads of different 'side' stories, readers will have to pay close attention to grasp the complexities of the tale. At random, the book will wander from the McLean's to provide imaginative short stories in the same premise of the times, further illustrating the machinations of the storyline.
Shoot! is a book of historiographic metafiction filled mainly with examples of the prevalent prejudice of that century and followed closely by injustice, greed and violence.
The book is loaded with examples of racism in part when referring to the Mclean brothers. Near the end of the novel, when the judge is 'explaining' to the courtroom the 'epidemic' of 'half breeds' and states that the mixture of the white man with an Indian woman provides the offspring with a level of 'training' from the fathers blood but still not up to the 'father's grade'.
Shoot! is made interesting by the detailed attributes of each member of the gang, provided or imagined by Bowering, which when mixed with the little published facts about the gang makes for a refreshing tale.
Review: Traditional Narratives of the Rock Cree Indians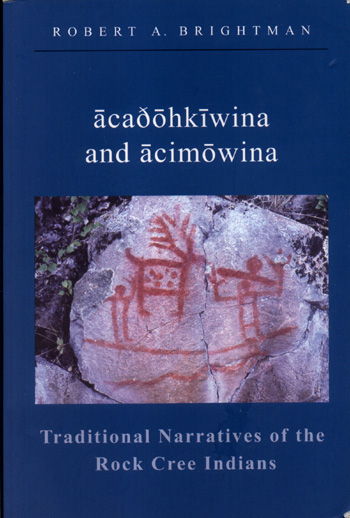 Book examines the history of the Rock Cree through stories
Traditional Narratives of the Rock Cree Indians
Compiled by: Robert A. Brightman
Canadian Plains Research Center185 pages (sc)
$29.95
Review by L. Christine Suthers
Traditional Narratives of the Rock Cree Indians was first published in 1980 by the Canadian Museum of Civilization and later released in 2007 by the Canadian Plains Research Center.
The stories presented in the book were compiled by Roger Brightman and are narratives from the Rock Cree in northwestern Manitoba. There are over 100 narratives. The folk literature includes medicine stories, humourous stories and stories of animal marriages and transformation.
The folklore narratives included in Traditional Narratives of the Rock Cree Indians are told to Brightman in English, some related to him in Cree and translated to English. Some of the narratives were from either Cree or English transcriptions.
The Cree expressions used by the narrators are retained in the Cree dialect. Some of the narrations are presented completely in the Cree dialect with the full English translation following.
Brightman includes a short history of the various dialects of the Rock Cree and in which regions these dialects are located. He includes a discussion of the structure and sequencing of w+sahk+chk the trickster-transformer stories between the different versions of some stories told.
Brightman includes bibliographical references within the text of the book and a list of the citations at the end.
Traditional Narratives of the Rock Cree Indians is for anyone who has a serious interest in learning more about the Rock Cree, their myths, legends and history through the stories and discussions presented in this book.